A ticketing solution made for you
Ticketing & Registration
Full customisation of the online sales module, registration management on location, dispatch of your invitations...Create and set up your ticketing based on you needs.
Start now!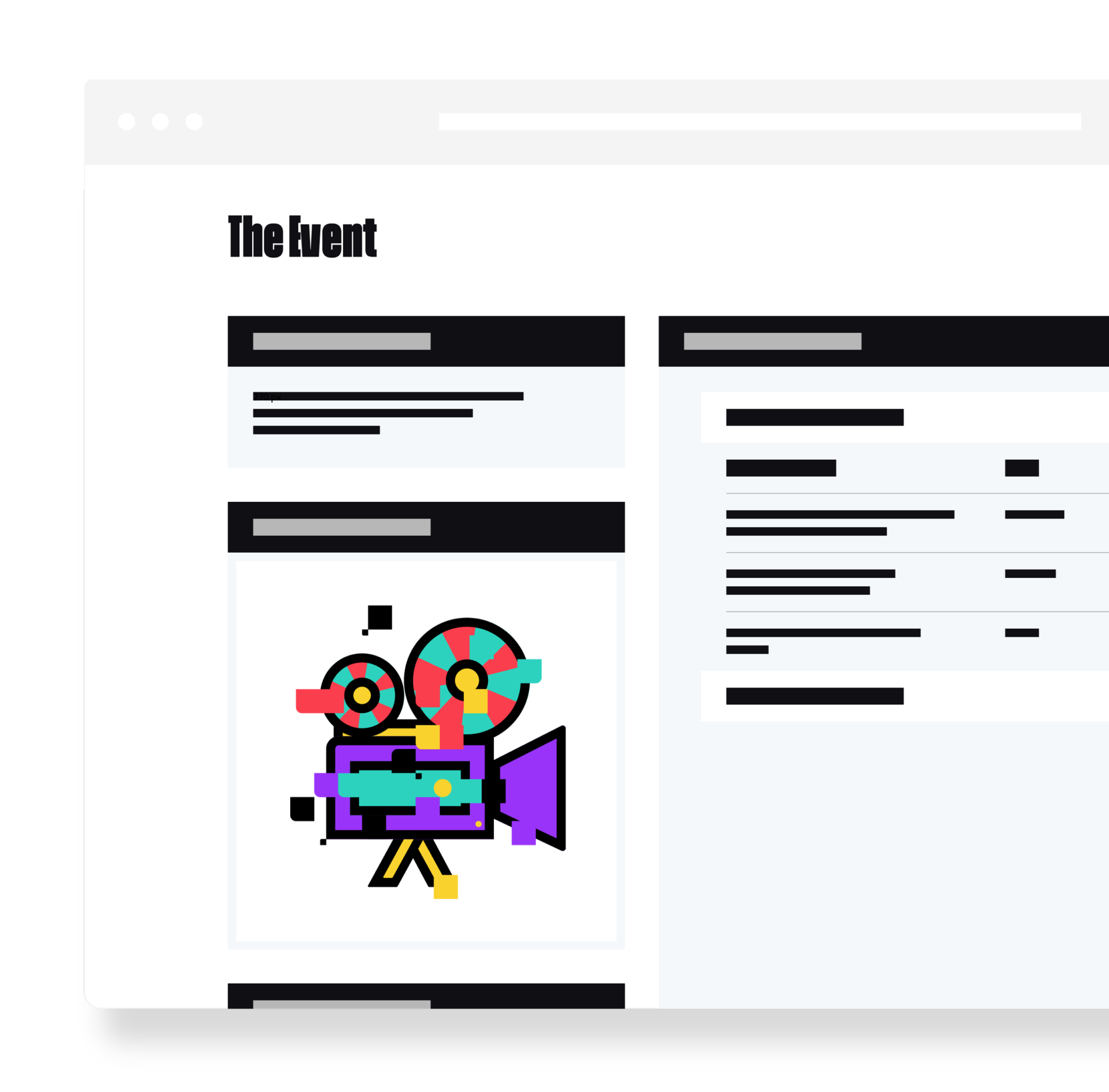 Your customer data belongs to you.
The data you col­lect is your own! It only belongs to you, Weezevent does not use it or sell it, and nev­er will. Safely col­lect all the data you need about your events' attendees by cus­tom­ising your forms' fields (drop down, open ended, etc.).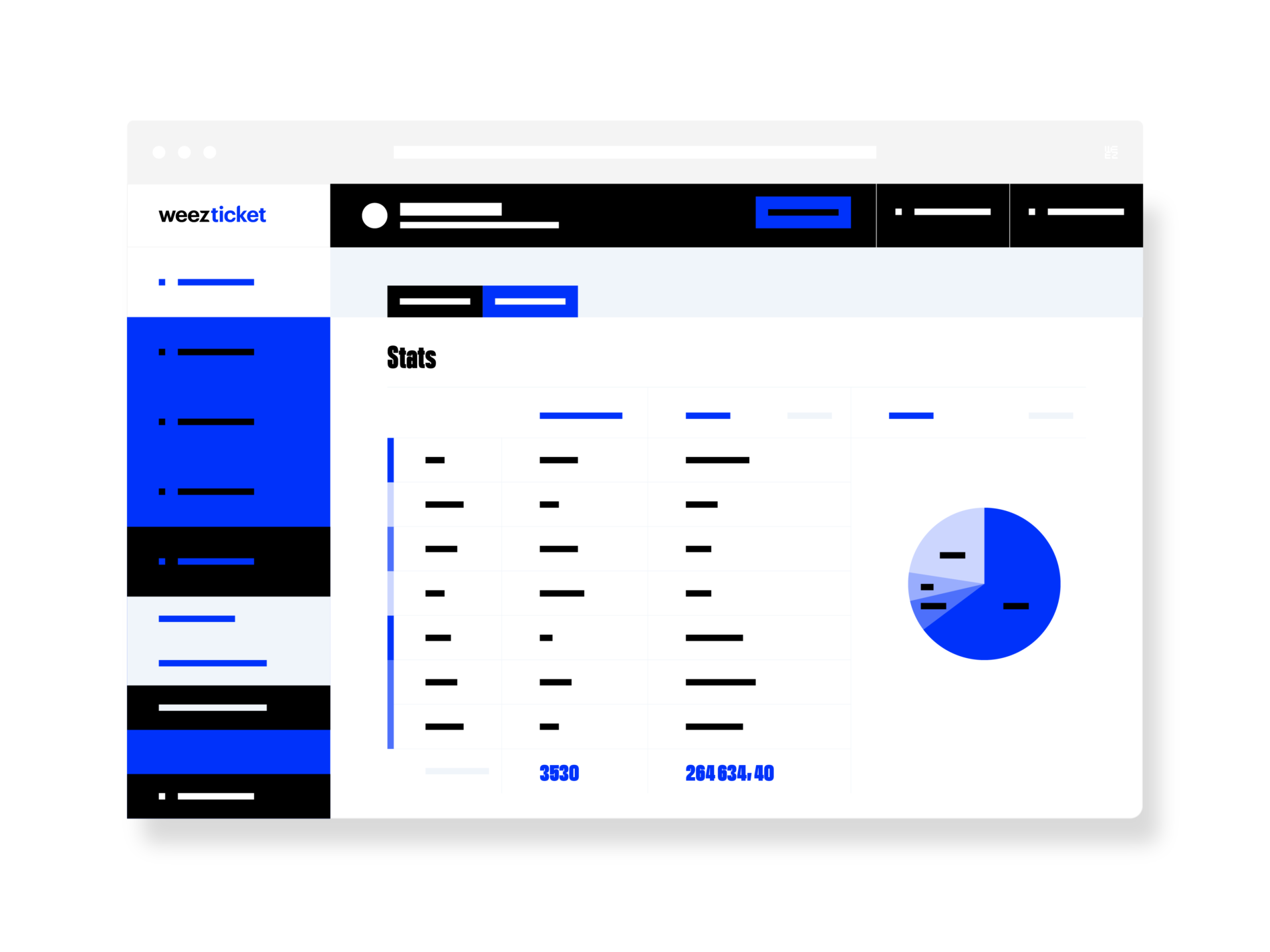 Made easy for all event planners.

In no more than 5 minutes, cre­ate your tick­et­ing and regis­tra­tions plug-in and start selling online! There is no need for train­ing or advanced know­ledge to become an tick­et­ing expert.

Complete, and yet stunningly easy.

Weezevent's tick­et­ing plat­form is fully set up in minutes and suits all your needs. All the tools you need are at your dis­pos­al to cre­ate and man­age your event tick­et sales your­self.

The best way to manage your online membership fees and payments.

We are more than a tick­et­ing plat­form. Weezevent allows you to cre­ate forms and man­age mem­ber­ships for your club or asso­ci­ation. Eas­ily man­age your online mem­ber­ship fees by integ­rat­ing our pay­ment plug-in to your web­site.
Your earnings paid twice a month. No invoicing needed.
Don't wait until your event is over to receive your tick­et earn­ings. At Weezevent, we auto­mat­ic­ally trans­fer your rev­en­ues onto your chosen bank account on the 1st and 16 of each month. We also provide you with a fort­nightly report for your book­keep­ing.
Start now
On your website, on Facebook, on location – sell everywhere. Easily!

Quickly integ­rate your tick­et­ing to a Face­book or web page with a few clicks. You can even sell on loc­a­tion using our pro­fes­sion­al solu­tion – Weezevent's tick­et office fea­ture – or from your own device, using the fea­ture dir­ectly avail­able from your tick­et man­age­ment inter­face.

Real time tracking of your sales and registrations. At a glance.

Track your tick­et sales and regis­tra­tions in real time from the Weezevent man­age­ment inter­face. A dash­board dis­plays all of your event's data and inform­a­tion in one place for a bird's eye view.
The biggest events use it, as well as the smallest ones.
For every situ­ation, we have a simple, turn­key solu­tion. Weezevent's tick­et­ing and regis­tra­tion plat­form is already being used by 140,000+ event plan­ners for work­shops, con­fer­ences, and con­certs or music fest­ivals. Join them!
Discover all our features
Frequently asked questions
Is it necessary for me to have a website beforehand?

No, we can provide one for you!
Cre­ate and tail­or your event's micro-site very eas­ily with Weezevent. Add your tick­et­ing plug-in, your logo, images, videos, and all you need for it to rep­res­ent your event!

Can I integrate the ticketing to my own website?

Yes, in a few clicks!
From your own «plan­ning area», export your tick­et­ing wid­get to your web­site with a simple copy-paste. It will only take your web­mas­ter a few minutes to do this. To find out more, read the steps to fol­low on our sup­port pages!

Is it possible to plan a multi-day event?

Of course, and very eas­ily.
If you are plan­ning a tour, sev­er­al shows, plays or any oth­er multi-day event, our tool enables you to set up the online tick­et­ing mod­ule with a few clicks and set up sev­er­al dates!