An event ticketing solution made for you
Ticketing & Registration
Create your own personalised online event ticketing and simply manage your registrations to ensure the success of all your events.
Create a free account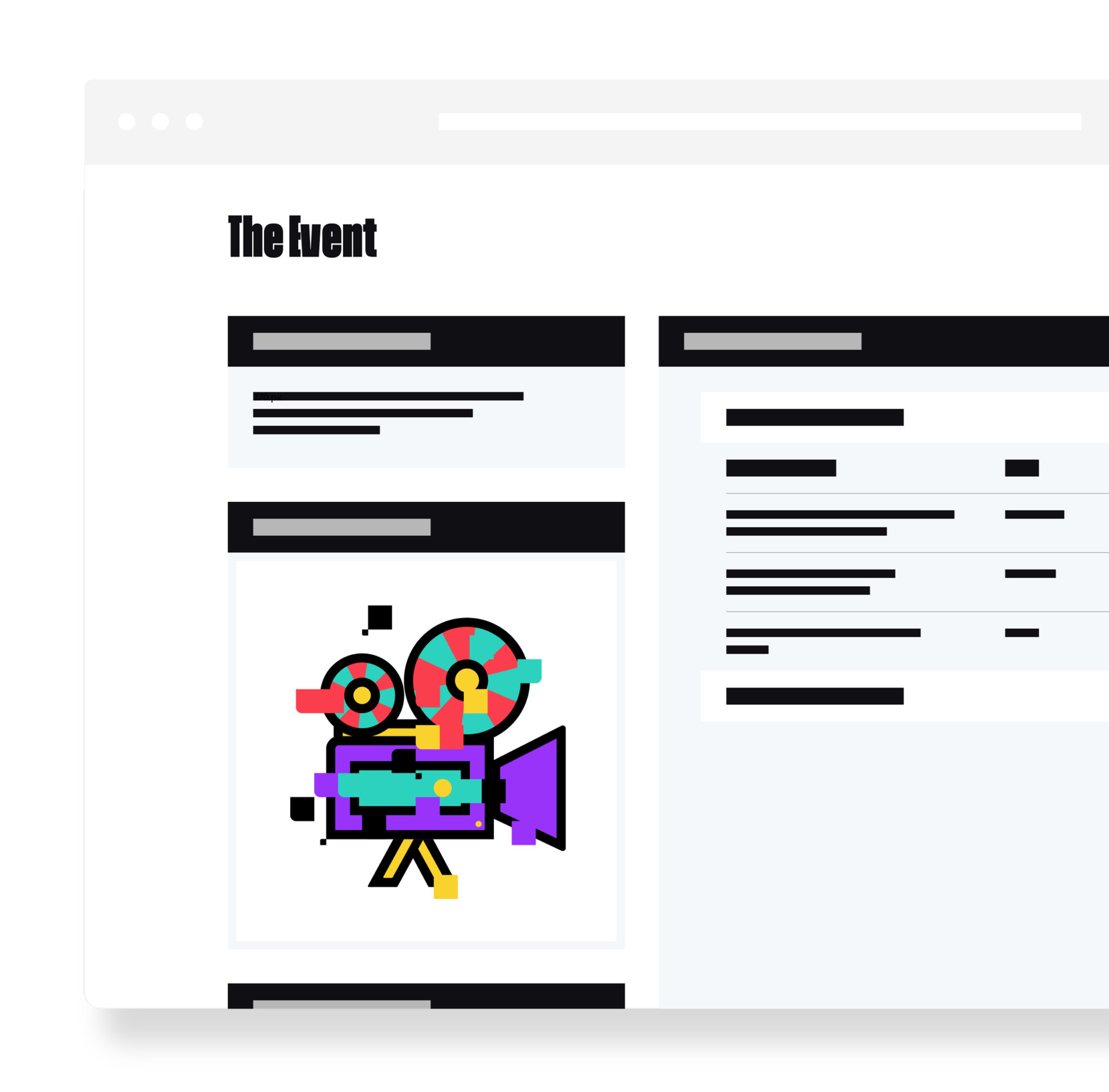 User-friendly event ticketing software.
Ful­ly set-up in just a few min­utes, our online tick­et­ing soft­ware — WeezTick­et — fits all your needs. You'll find all the tools you need to inde­pen­dent­ly man­age your reg­is­tra­tions and tick­et sales, no mat­ter the scope of your event and your indus­try. Become an online tick­et­ing ace with­out any train­ing or skills required.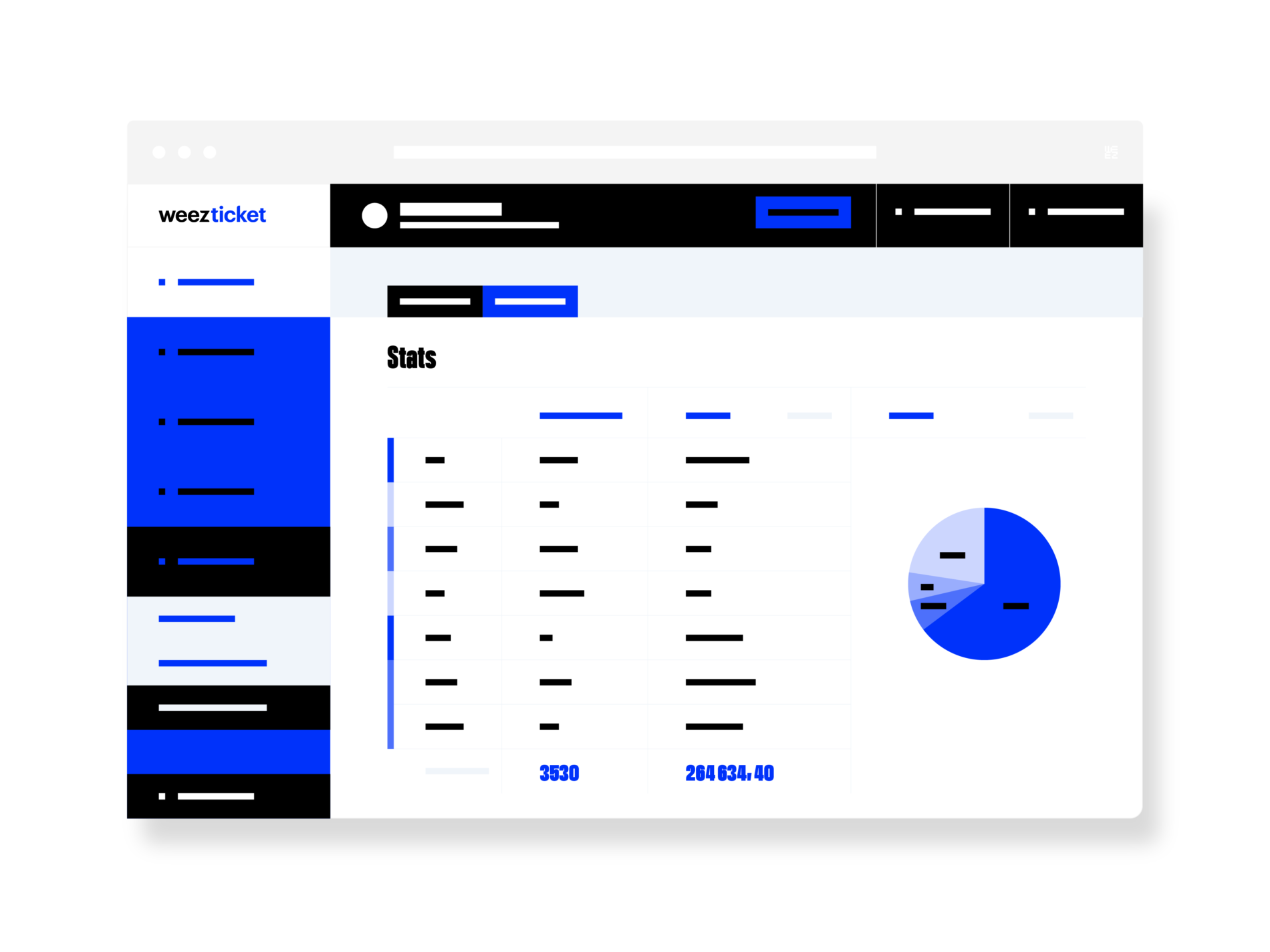 Easy to set up

Earnings paid every 2 weeks

Pay only if you sell

Ready in 5 minutes
Sell ​​your tickets in the blink of an eye.

Sell your tick­ets every­where! In just a few clicks, you can eas­i­ly and quick­ly inte­grate your tick­et­ing into your web­site, your Weezevent min­isite, or a Face­book Page and event. Also sell your tick­ets on loca­tion using our pro­fes­sion­al solu­tion — the Weezevent box office — or direct­ly from your tick­et man­age­ment inter­face with your own equip­ment.

Easily create your online ticketing.

Cre­ate your online tick­et­ing in 5 min­utes, watch in hand. Adapt your tick­et­ing to your brand­ing, your graph­ic char­ter, your indus­try, and more! The WeezTick­et solu­tion is with­in the reach of all event organ­is­ers. Sell ​​and dis­trib­ute tick­ets in your image and that of your atten­dees.
Free for free events.
You dis­trib­ute free tick­ets? Enjoy free online tick­et­ing for your free events. Our rates are designed to meet all bud­gets and our solu­tion does not charge fees or sub­scrip­tions. Cre­ate your tick­et­ing with­out com­mis­sion!
Create a free ticketing
A true virtual box office.
Cre­ate guest lists, gen­er­ate dif­fer­ent types of tick­ets — e‑tickets, ther­mal tick­ets, pass­books, and facil­i­tate num­bered seat­ing… Weezevent's vir­tu­al box office offers mul­ti­ple com­ple­men­tary fea­tures for the sale of tick­ets: reser­va­tions, reg­is­tra­tion, invi­ta­tions … Be tempt­ed by its com­plete offer and its ease of use!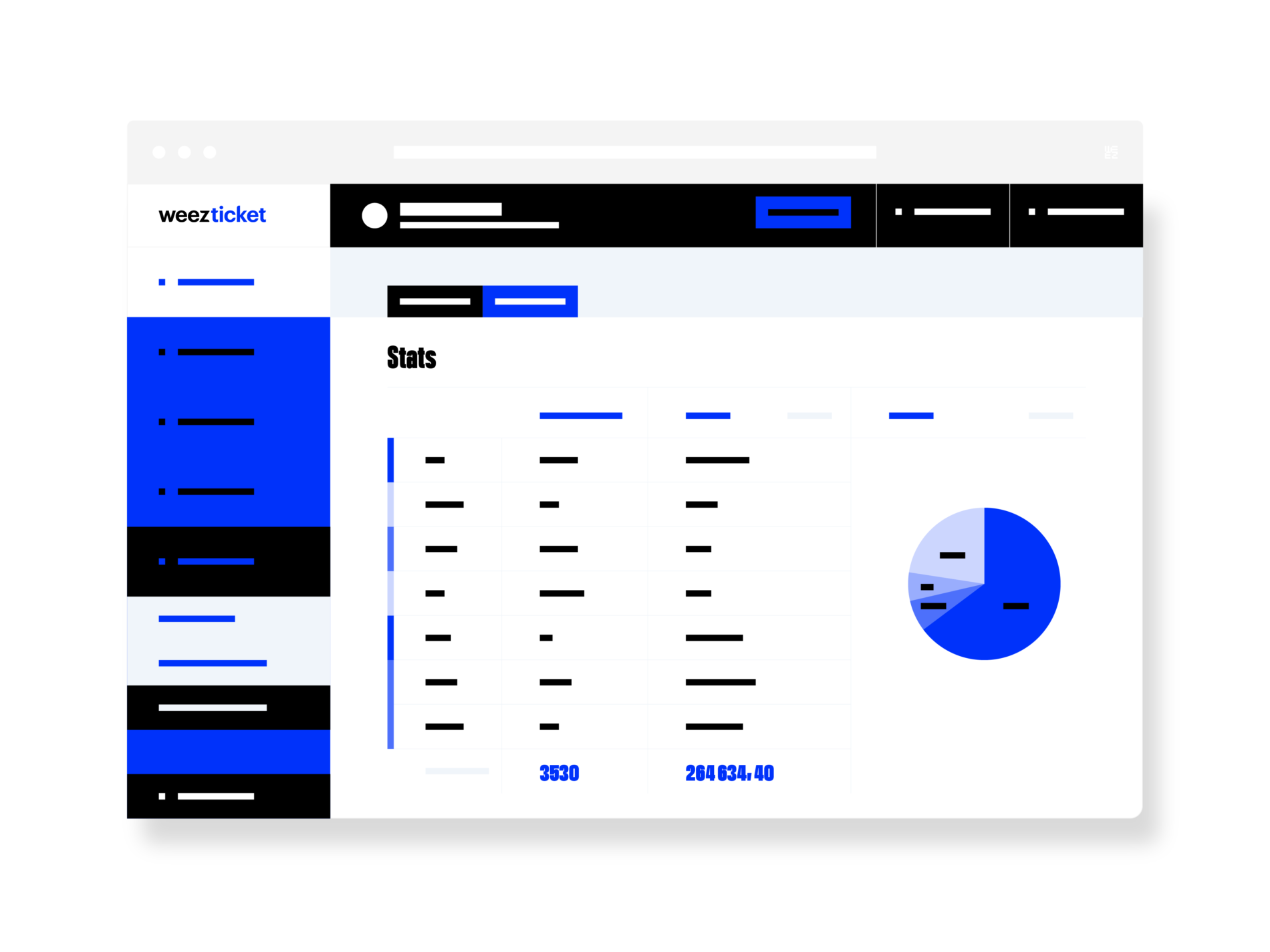 All reservations.

Cre­ate online reser­va­tions with Weezevent and get paid on loca­tion. Organ­ise your recur­ring activ­i­ties by offer­ing mul­ti­ple rates and ses­sions. Choose to receive a pay­ment or deposit from your atten­dees and man­u­al­ly add new reser­va­tions if need­ed.

Send invitations.

Stand out by cre­at­ing unique online invi­ta­tions. Upload the details of your atten­dees in the blink of an eye and send them orig­i­nal tick­ets. Cus­tomise the mes­sage as well as the tick­ets. Your atten­dees want to feel spe­cial. It's up to you to achieve that!

Receive your payments online.

Much more than just online tick­et­ing, Weezevent allows clubs and asso­ci­a­tions to inte­grate an online pay­ment mod­ule into their web­site, cre­ate forms and man­age mem­ber­ships. Man­age your mem­ber­ships, dues and dona­tions online safe­ly now!
Real time tracking of your sales and registrations.

At a glance, track your online tick­et sales, man­age your reg­is­tra­tions and book­ings in real time right from your Weezevent man­age­ment inter­face. A dash­board gives you all the num­bers and infor­ma­tion of your event for an overview.

Your customer database is yours and yours only.

The col­lect­ed data is your prop­er­ty, Weezevent does not exploit it, does not resell it and will nev­er do it. Secure­ly col­lect the infor­ma­tion you need to qual­i­fy par­tic­i­pants for your events. Cus­tomise the fields of your forms — drop-down lists, check­box­es, text box­es, etc.
Your revenue automatically paid twice a month.
Don't wait until the end of your event to col­lect your tick­et­ing rev­enue. Your rev­enues are auto­mat­i­cal­ly paid to the bank account of your choice on the 1st and 16th of each month. We also pro­vide you with a bi-month­ly state­ment for your book­keep­ing.
The biggest events use it, the smaller ones too.
For every need, we have a sim­ple turnkey solu­tion. Work­shops, con­fer­ences, con­certs or music fes­ti­vals, Weezeven­t's online tick­et­ing and reg­is­tra­tion solu­tion is used by 170,000+ event plan­ners of all types. Join them!
Create a free account
What our clients feel
"With Weezevent, I dis­cov­ered an intu­itive solu­tion who makes no com­pro­mise on the num­ber of func­tion­al­i­ties. With this tool, I can work on my own where I want, when I want. It's great­ly appre­ci­at­ed when I work on many projects at the same time."
Jean-Pierre Mar­cotte
Drum­mondville's Pou­tine Fes­ti­val's Pro­duc­er