Marathon events are on the rise, driven by the ever-increasing number of running and challenge enthusiasts. Organising this type of event, given its intense and especially long format, requires special expertise. In this article, we give you all our tips for successfully organising your first marathon!
Content
1. Date of the event
To determine the date of the marathon, you need to take several factors into account.
First of all, of course, check the weather forecast for that time. The long distance to be covered during a marathon makes the weather conditions all the more important. It can be just as difficult to run in constant rain as it is in blazing sunshine. Choose mid-season, in the spring or autumn, for more pleasant weather.
Next, review the various events taking place on the date you're considering. Major sporting events, such as national or international competitions, can weaken your participants' interest in your event. To attract as many enthusiasts as possible, try to predict their availability and set a date accordingly.
2. Marathon venue
To organise a successful marathon, choice of venue is key. You can decide to hold it in a rural or urban area, but it must always be held on a road.
In order to hold your marathon in the desired city, you need to obtain the necessary permits. Contact the town/city hall to make your request and obtain valuable information on the options available to you. You must be part of an association affiliated with the Federation of French Athletics (FFA), to which you must declare your event.
Before confirming the venue, try to outline your route so that the race is as smooth as possible, and avoid major obstacles. Gentle climbs and descents are acceptable, but climbing and jumping obstacles should not be part of the programme. The runners' safety should be your priority, and the route used should be well maintained.
Once the route has been outlined, decide how to set up the start and finish points and the markings along the route. You should also plan several refreshment points for the runners.
3.Budget management
The greater the distance covered, the greater the budget needed for your running event. A marathon is one of the longest types of races, so budget accordingly.
Construct a provisional budget taking into account all the expenses that your event will require (e.g. communication, drinks, snacks, awards, signage, sound system).
a) Sponsors
Almost all marathons are financed by sponsors. These are companies or organisations that undertake to make donations in money, services or in kind, to cover the needs of your event.
Sponsors will be more likely to commit to you if you offer them visibility. Whether through banners, flags, goodies, or bibs, your sponsors' logos can appear in a variety of places at your event. Don't forget to mention them and thank them in your various forms of communication (e.g. website, social networks, newsletter, flyers, posters, speeches).
We recommend that you propose different levels of sponsorship, with a greater or smaller offer of visibility depending on the investment.
To find out more about sponsorship, read our full article which will help you with this process.
b) Volunteers
To make sure your marathon is supervised without requesting the services of a private company, call on volunteers.
They will be of great help in distributing bibs, preparing the route, ensuring safety on the route during the race, distributing refreshments, and assisting with all other necessary tasks on the day of the marathon.
To properly secure volunteers for your marathon, we recommend reading our article on the 10 steps to follow for hiring and managing a team of volunteers.
c) Ticketing
In addition to the support received from your sponsors, it is common to ask for a financial contribution on registration. Setting up an online ticketing system prior to the event is widely favoured by marathon organisers. This solution has several advantages:
collecting registration fees before the event to fund the associated expenses
collecting participants' contact details in order to communicate with them via email before and after the event
forecasting the number of participants in order to adjust the purchase of consumables and awards accordingly
possibility of offering registrations for several start times thanks to the session mode
offering shorter distances for young people or those who don't wish to commit to a distance of 42.195 km
collecting certificates of no contra-indications to the practice of running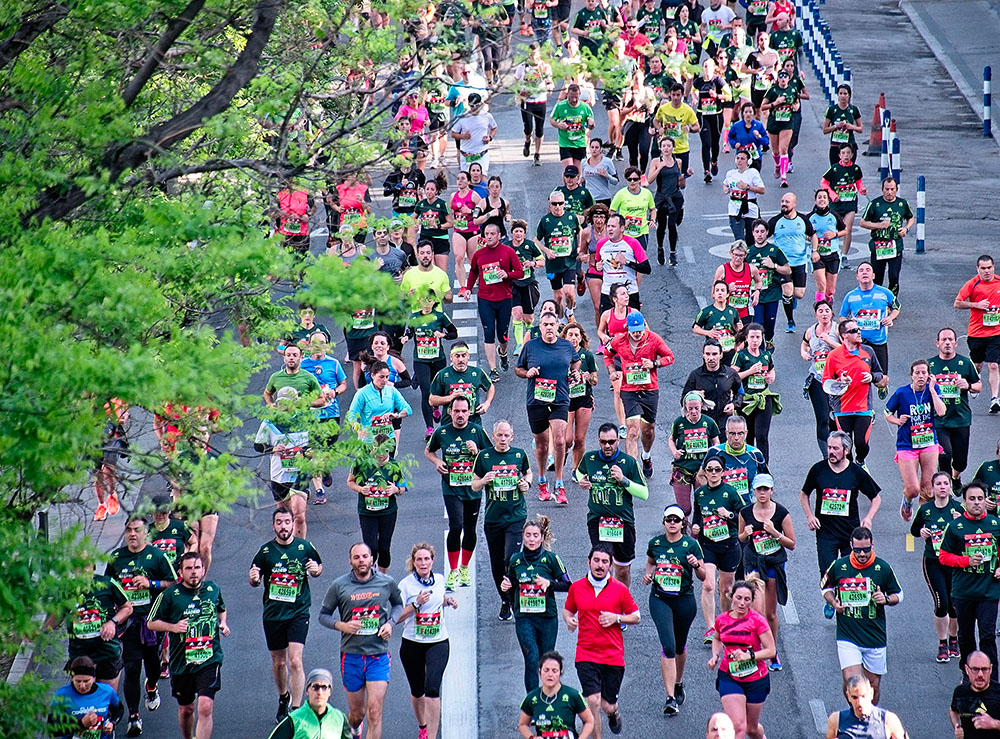 4) Safety
Running a marathon is a very intense and strenuous exercise for the body. Injuries can happen quickly during such events, so you must do everything you can to avoid this.
a) Marking
All key points on your route should be easily identifiable. Use highly visible signage to mark out your entire route.
Provide all participants with a map showing these key points. Print it out in large format and place it at the start of your race. It might be a good idea to put it on your website and/or social networks. You should also consider sending it by email to all participants using a mailing tool.
b) Refreshment points
Because of the distance to be covered, there should be numerous refreshment points on the route to avoid dehydration and lack of energy, which can lead to injury.
Provide:
a water and sugar supply point every 2.5 km
a complete refreshment point every 10 km, with water as well as fruit (fresh and dried), marzipan, gels and energy drinks
a first aid kit at all refreshment points
We recommend that you have a medical presence ready to intervene throughout your marathon.
To preserve the environment, remember to provide numerous bins on the route. Make the volunteers aware of the need to collect waste during the event to avoid a large accumulation of waste on the ground, which could lead to falls.
c) Insurance
As an organiser, to protect yourself and your participants, take out insurance that is specific to the event, even if your association is already insured. Organiser public liability insurance covers damage to the venue, goods and people present.
5. Organising for D-Day
It's the big day! Here are some points to bear in mind to ensure that everything runs as smoothly as possible:
a) The organising team
You and your team should be the first ones on site, several hours before the participants arrive. This time will allow you to set up all the necessary elements of the event (e.g. refreshment points, markings along the route, signage, start and finish lines, etc.).
Plan to receive your volunteers shortly after your arrival, so that you can brief them and assign them specific tasks before the race starts.
b) Welcoming the athletes
When your participants arrive, everything must be ready. Give them a welcome worthy of the physical feat they are about to undertake.
To better organise their arrival and the distribution of bibs, use an access control system. This system, as well as saving you time, will give you access to the bib number associated with each runner, and allow you to give it to them quickly.
Use scanning devices, or a mobile access control application, to monitor the number of participants on site in real time and, for example, escort groups of 25 people to a warm-up session before they start.
Inform your participants about the route and the safety measures to adopt and encourage them to make good use of all the refreshment points to avoid dehydration.
c) Start times
If you wish, organise several start times depending on the ages of the runners and the distances they want to run. It's possible that not everyone will run the whole marathon, and offering the option to register for a shorter distance will attract more people.
By having the marathon runners start first, followed by runners of increasingly short distances, you will be able to give the awards to each of them within the same time window.
To plan for these different start times, propose different time slots when registering participants. You will be able to validate registrations that meet the age restrictions through using a form that requires participants to state their date of birth.
d) Awarding prizes
The runners are starting to cross the finish line, in a brilliant victory for each of them! Congratulate them appropriately and announce their time on the clock.
Next, proceed to handing out the medals. You can individualise this stage as the runners arrive one by one, or decide to make it a joint award ceremony.
Whichever option you choose, close the event with a speech congratulating the runners and thanking all of the event's volunteers and sponsors.
---
Organising a marathon is no small task, and the event is so physically challenging that you will have a great deal of responsibility. Follow our advice to ensure success!
To track the number of participants and collect their registration fees, set up an online ticketing system. When combining this with an access control system, you'll have all the information you need to quickly hand out a bib to each runner on their arrival at the marathon venue.
Do you need help with organising your next marathon? Our advisors are available to answer all your questions.