Creating a regis­tration form is one of the first steps in your event organ­isation. It allows you to register your event's attendees and collect inform­ation that will help you refine your planning.
It is therefore paramount to the event organ­isation process and creating it requires special attention. The quality of your online regis­tration form will impact the quality of your event. We have compiled some valuable tips to help you create the perfect online regis­tration form, and success­fully organise your event.
Contents
---
1. Choosing your online registration solution.
The first thing you need, in this context, is a tool to create your online form. It has the advantage of helping you not only create and manage your fields and inform­ation, but also help you sell tickets and register attendees for your event. The chosen software must allow you to create your regis­tration forms based on your needs and the specificities of your event. All the inform­ation you will collect using the form should be used only by yourself. Data safety must be a priority!
In addition, make sure that the creation process is easy and fast, and does not require expert IT skills. Also, your online regis­tration solution must have all the features you need to create your perfect online regis­tration form (given the specificities of your event) and manage the number of attendees at your event.
2. Customise your form.
A customised regis­tration form is a successful form. You should always take into consid­er­ation the type of attendees inter­ested in your event in order to customise your form accord­ingly. You will not ask the same inform­ation from festival-goers as you would from workshop or conference attendees. Try to see things from the point of view of the audience and imagine what inform­ation they may be willing to share to an organ­isation that they more or less trust.
You can expect different types of responses. Make sure that you choose a solution that offers all types: text field, comment field, drop-down, attach­ments, date, check boxes, country. Also ensure that your chosen tool allows you to create custom fields.
"We also wanted to know who purchased which tickets/batch; and create simple forms with custom fields. For us that was the most important."
Custom­ising your form starts with the visuals. The essence of the event must be reflected in the visual aspect of the form. Of course, you should not saturate it with colours and images at the risk of looking unpro­fes­sional and tainting the visual aspect. The simplest and safest option is to play with colours – in the background, buttons, or texts.
3. Know what is important and aim right.
When you start organ­ising an event, collecting as much inform­ation as possible about parti­cipants is important for your planning. Asking for plenty of inform­ation is even more appealing if you do not intend to stop at this one event. Never­theless, do not give in to this temptation! All the data you collect should be relevant and appro­priate. Think about what you really need to know to carry out the event.
The questions asked must be concise and precise. Specify the mandatory nature of some questions if you feel the need to do so. Add a comment under said question if needed. Classi­fying questions based on their relationship to the parti­cipant is also a good trick to put into practice.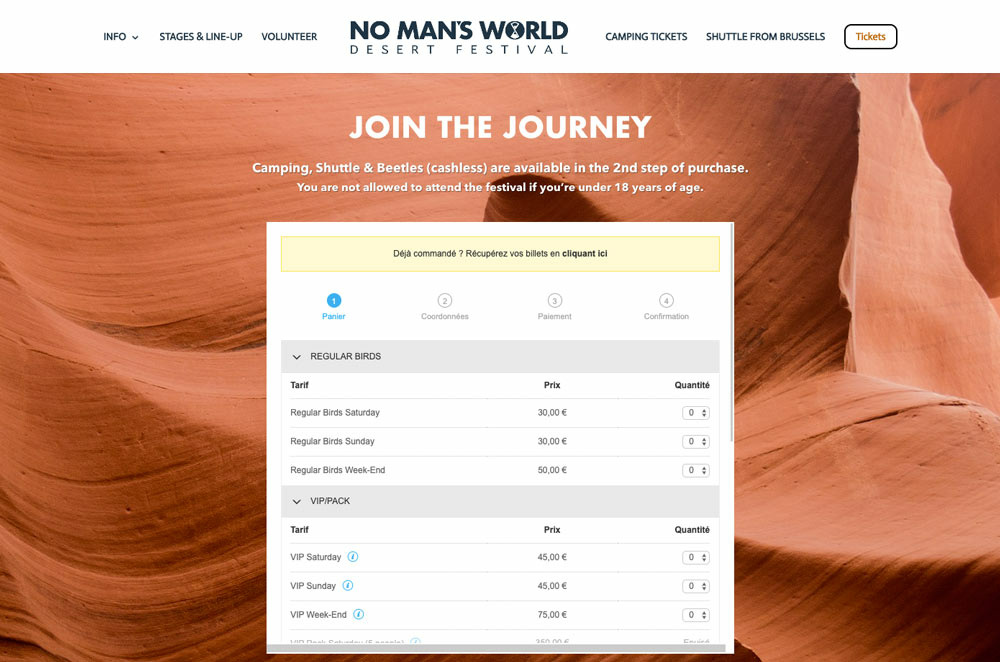 No Man's World Desert Festival designed a short form, asking only what was strictly necessary and remem­bering important details such as the country code in the phone number field and the option to receive an invoice.
4. Simplify access to the registration form.
The simplicity of the regis­tration process depends primarily on your chosen online solution. To simplify the regis­tration process, it must enable you to easily share regis­tration links with guests. You can share it via email, newsletters, your website or social media…whatever your chosen channel the selected parti­cipants should have easy access to the event's regis­tration form.
To allow them to use your services even more easily, you can pre-fill a few boxes of the regis­tration form for them using the inform­ation you already know about them. It may relate to their identity, location, etc. This will greatly simplify regis­tration, thereby encour­aging even more parti­cipants to take the plunge!
5. Make it quick.
Whether this is your first event or one in a long list of events, special emphasis should be placed on the speed of the regis­tration process. Several actions can encourage people to register faster for your event or membership of your club. The first is to always specify the total number of remaining tickets for sale – this shows the attendees that the event is popular and expected by many people. The fewer tickets remain, the faster the attendees will register.
Willingness to register will be stronger and regis­tration will follow immedi­ately. Another factor of regis­tration speed is the time a person needs to complete their regis­tration. You should always specify the remaining number of sections or pages so that the person filling in the form knows how much time they will need to complete it. You should also give a clear indic­ation of the time it takes to fill in the form.
6. Include suggested answers.
Filling in a regis­tration form can be tedious for the user – do not hesitate to include some drop-down lists with sugges­tions to simplify the inform­ation filling process. Therefore if your form includes a lot of questions, the parti­cipant won't have to manually enter each answer.
Also, your online regis­tration solution should allow you to automat­ically send confirm­ation emails to the attendees, telling them their regis­tration was received..
7. Add relevant information.
The main purpose of the regis­tration form is to allow parti­cipants to register for your event. It must therefore provide them with useful inform­ation and give them key details about the event. The name of the event is the first thing that should appear on your form.
The date and location of the event are also essential inform­ation that must appear on the form. Feel free to insert a Google Map link to help people locate your event. Also, add a short description of the event containing some useful inform­ation for your attendees. The importance of this small inform­ation is real and allows you to convince future parti­cipants to register for your event.
In short, several small tips can help you create and share the perfect regis­tration form for your events. It is important that this key step takes into account not only your own needs, but also – and above all – the needs and wishes of your future attendees!
You too can create an online regis­tration form using Weezevent by clicking here: