Marathon events are on the rise, dri­ven by the ever-increas­ing num­ber of run­ning and chal­lenge enthu­si­asts. Organ­is­ing this type of event, giv­en its intense and espe­cial­ly long for­mat, requires spe­cial exper­tise. In this arti­cle, we give you all our tips for suc­cess­ful­ly organ­is­ing your first marathon!
Content
1. Date of the event
To deter­mine the date of the marathon, you need to take sev­er­al fac­tors into account.
First of all, of course, check the weath­er fore­cast for that time. The long dis­tance to be cov­ered dur­ing a marathon makes the weath­er con­di­tions all the more impor­tant. It can be just as dif­fi­cult to run in con­stant rain as it is in blaz­ing sun­shine. Choose mid-sea­son, in the spring or autumn, for more pleas­ant weath­er.
Next, review the var­i­ous events tak­ing place on the date you're con­sid­er­ing. Major sport­ing events, such as nation­al or inter­na­tion­al com­pe­ti­tions, can weak­en your par­tic­i­pants' inter­est in your event. To attract as many enthu­si­asts as pos­si­ble, try to pre­dict their avail­abil­i­ty and set a date accord­ing­ly.
2. Marathon venue
To organ­ise a suc­cess­ful marathon, choice of venue is key. You can decide to hold it in a rur­al or urban area, but it must always be held on a road.
In order to hold your marathon in the desired city, you need to obtain the nec­es­sary per­mits. Con­tact the town/city hall to make your request and obtain valu­able infor­ma­tion on the options avail­able to you. You must be part of an asso­ci­a­tion affil­i­at­ed with the Fed­er­a­tion of French Ath­let­ics (FFA), to which you must declare your event.
Before con­firm­ing the venue, try to out­line your route so that the race is as smooth as pos­si­ble, and avoid major obsta­cles. Gen­tle climbs and descents are accept­able, but climb­ing and jump­ing obsta­cles should not be part of the pro­gramme. The run­ners' safe­ty should be your pri­or­i­ty, and the route used should be well main­tained.
Once the route has been out­lined, decide how to set up the start and fin­ish points and the mark­ings along the route. You should also plan sev­er­al refresh­ment points for the run­ners.
3.Budget management
The greater the dis­tance cov­ered, the greater the bud­get need­ed for your run­ning event. A marathon is one of the longest types of races, so bud­get accord­ing­ly.
Con­struct a pro­vi­sion­al bud­get tak­ing into account all the expens­es that your event will require (e.g. com­mu­ni­ca­tion, drinks, snacks, awards, sig­nage, sound sys­tem).
a) Sponsors
Almost all marathons are financed by spon­sors. These are com­pa­nies or organ­i­sa­tions that under­take to make dona­tions in mon­ey, ser­vices or in kind, to cov­er the needs of your event.
Spon­sors will be more like­ly to com­mit to you if you offer them vis­i­bil­i­ty. Whether through ban­ners, flags, good­ies, or bibs, your spon­sors' logos can appear in a vari­ety of places at your event. Don't for­get to men­tion them and thank them in your var­i­ous forms of com­mu­ni­ca­tion (e.g. web­site, social net­works, newslet­ter, fly­ers, posters, speech­es).
We rec­om­mend that you pro­pose dif­fer­ent lev­els of spon­sor­ship, with a greater or small­er offer of vis­i­bil­i­ty depend­ing on the invest­ment.
To find out more about spon­sor­ship, read our full arti­cle which will help you with this process.
b) Volunteers
To make sure your marathon is super­vised with­out request­ing the ser­vices of a pri­vate com­pa­ny, call on vol­un­teers.
They will be of great help in dis­trib­ut­ing bibs, prepar­ing the route, ensur­ing safe­ty on the route dur­ing the race, dis­trib­ut­ing refresh­ments, and assist­ing with all oth­er nec­es­sary tasks on the day of the marathon.
To prop­er­ly secure vol­un­teers for your marathon, we rec­om­mend read­ing our arti­cle on the 10 steps to fol­low for hir­ing and man­ag­ing a team of vol­un­teers.
c) Ticketing
In addi­tion to the sup­port received from your spon­sors, it is com­mon to ask for a finan­cial con­tri­bu­tion on reg­is­tra­tion. Set­ting up an online tick­et­ing sys­tem pri­or to the event is wide­ly favoured by marathon organ­is­ers. This solu­tion has sev­er­al advan­tages:
col­lect­ing reg­is­tra­tion fees before the event to fund the asso­ci­at­ed expens­es
col­lect­ing par­tic­i­pants' con­tact details in order to com­mu­ni­cate with them via email before and after the event
fore­cast­ing the num­ber of par­tic­i­pants in order to adjust the pur­chase of con­sum­ables and awards accord­ing­ly
pos­si­bil­i­ty of offer­ing reg­is­tra­tions for sev­er­al start times thanks to the ses­sion mode
offer­ing short­er dis­tances for young peo­ple or those who don't wish to com­mit to a dis­tance of 42.195 km
col­lect­ing certifi­cates of no con­tra-indi­ca­tions to the prac­tice of run­ning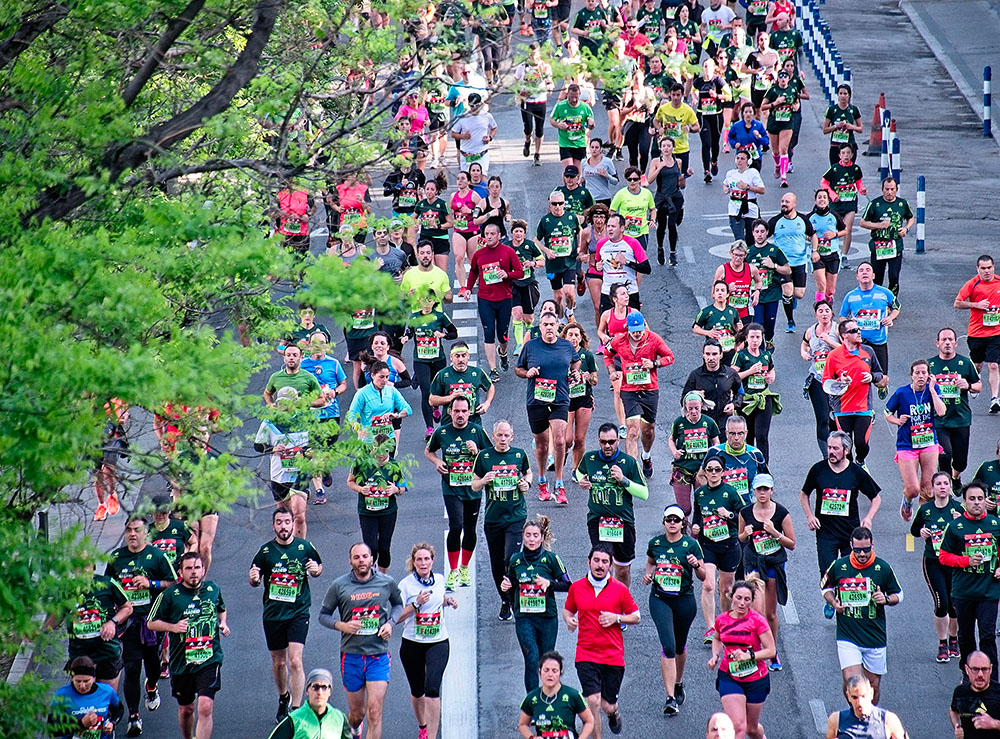 4) Safety
Run­ning a marathon is a very intense and stren­u­ous exer­cise for the body. Injuries can hap­pen quick­ly dur­ing such events, so you must do every­thing you can to avoid this.
a) Marking
All key points on your route should be eas­i­ly iden­ti­fi­able. Use high­ly vis­i­ble sig­nage to mark out your entire route.
Pro­vide all par­tic­i­pants with a map show­ing these key points. Print it out in large for­mat and place it at the start of your race. It might be a good idea to put it on your web­site and/or social net­works. You should also con­sid­er send­ing it by email to all par­tic­i­pants using a mail­ing tool.
b) Refreshment points
Because of the dis­tance to be cov­ered, there should be numer­ous refresh­ment points on the route to avoid dehy­dra­tion and lack of ener­gy, which can lead to injury.
Pro­vide:
a water and sug­ar sup­ply point every 2.5 km
a com­plete refresh­ment point every 10 km, with water as well as fruit (fresh and dried), marzi­pan, gels and ener­gy drinks
a first aid kit at all refresh­ment points
We rec­om­mend that you have a med­ical pres­ence ready to inter­vene through­out your marathon.
To pre­serve the envi­ron­ment, remem­ber to pro­vide numer­ous bins on the route. Make the vol­un­teers aware of the need to col­lect waste dur­ing the event to avoid a large accu­mu­la­tion of waste on the ground, which could lead to falls.
c) Insurance
As an organ­is­er, to pro­tect your­self and your par­tic­i­pants, take out insur­ance that is spe­cif­ic to the event, even if your asso­ci­a­tion is already insured. Organ­is­er pub­lic lia­bil­i­ty insur­ance cov­ers dam­age to the venue, goods and peo­ple present.
5. Organising for D‑Day
It's the big day! Here are some points to bear in mind to ensure that every­thing runs as smooth­ly as pos­si­ble:
a) The organising team
You and your team should be the first ones on site, sev­er­al hours before the par­tic­i­pants arrive. This time will allow you to set up all the nec­es­sary ele­ments of the event (e.g. refresh­ment points, mark­ings along the route, sig­nage, start and fin­ish lines, etc.).
Plan to receive your vol­un­teers short­ly after your arrival, so that you can brief them and assign them spe­cif­ic tasks before the race starts.
b) Welcoming the athletes
When your par­tic­i­pants arrive, every­thing must be ready. Give them a wel­come wor­thy of the phys­i­cal feat they are about to under­take.
To bet­ter organ­ise their arrival and the dis­tri­b­u­tion of bibs, use an access con­trol sys­tem. This sys­tem, as well as sav­ing you time, will give you access to the bib num­ber asso­ci­at­ed with each run­ner, and allow you to give it to them quick­ly.
Use scan­ning devices, or a mobile access con­trol appli­ca­tion, to mon­i­tor the num­ber of par­tic­i­pants on site in real time and, for exam­ple, escort groups of 25 peo­ple to a warm-up ses­sion before they start.
Inform your par­tic­i­pants about the route and the safe­ty mea­sures to adopt and encour­age them to make good use of all the refresh­ment points to avoid dehy­dra­tion.
c) Start times
If you wish, organ­ise sev­er­al start times depend­ing on the ages of the run­ners and the dis­tances they want to run. It's pos­si­ble that not every­one will run the whole marathon, and offer­ing the option to reg­is­ter for a short­er dis­tance will attract more peo­ple.
By hav­ing the marathon run­ners start first, fol­lowed by run­ners of increas­ing­ly short dis­tances, you will be able to give the awards to each of them with­in the same time win­dow.
To plan for these dif­fer­ent start times, pro­pose dif­fer­ent time slots when reg­is­ter­ing par­tic­i­pants. You will be able to val­i­date reg­is­tra­tions that meet the age restric­tions through using a form that requires par­tic­i­pants to state their date of birth.
d) Awarding prizes
The run­ners are start­ing to cross the fin­ish line, in a bril­liant vic­to­ry for each of them! Con­grat­u­late them appro­pri­ate­ly and announce their time on the clock.
Next, pro­ceed to hand­ing out the medals. You can indi­vid­u­alise this stage as the run­ners arrive one by one, or decide to make it a joint award cer­e­mo­ny.
Whichev­er option you choose, close the event with a speech con­grat­u­lat­ing the run­ners and thank­ing all of the event's vol­un­teers and spon­sors.
---
Organ­is­ing a marathon is no small task, and the event is so phys­i­cal­ly chal­leng­ing that you will have a great deal of respon­si­bil­i­ty. Fol­low our advice to ensure suc­cess!
To track the num­ber of par­tic­i­pants and col­lect their reg­is­tra­tion fees, set up an online tick­et­ing sys­tem. When com­bin­ing this with an access con­trol sys­tem, you'll have all the infor­ma­tion you need to quick­ly hand out a bib to each run­ner on their arrival at the marathon venue.
Do you need help with organ­is­ing your next marathon? Our advi­sors are avail­able to answer all your ques­tions.