Cre­at­ing a reg­is­tra­tion form is one of the first steps in your event organ­i­sa­tion. It allows you to reg­is­ter your event's atten­dees and col­lect infor­ma­tion that will help you refine your planning.
It is there­fore para­mount to the event organ­i­sa­tion process and cre­at­ing it requires spe­cial atten­tion. The qual­i­ty of your online reg­is­tra­tion form will impact the qual­i­ty of your event. We have com­piled some valu­able tips to help you cre­ate the per­fect online reg­is­tra­tion form, and suc­cess­ful­ly organ­ise your event.
Con­tents
---
1. Choosing your online registration solution.
The first thing you need, in this con­text, is a tool to cre­ate your online form. It has the advan­tage of help­ing you not only cre­ate and man­age your fields and infor­ma­tion, but also help you sell tick­ets and reg­is­ter atten­dees for your event. The cho­sen soft­ware must allow you to cre­ate your reg­is­tra­tion forms based on your needs and the speci­fici­ties of your event. All the infor­ma­tion you will col­lect using the form should be used only by your­self. Data safe­ty must be a priority!
In addi­tion, make sure that the cre­ation process is easy and fast, and does not require expert IT skills. Also, your online reg­is­tra­tion solu­tion must have all the fea­tures you need to cre­ate your per­fect online reg­is­tra­tion form (giv­en the speci­fici­ties of your event) and man­age the num­ber of atten­dees at your event.
2. Customise your form.
A cus­tomised reg­is­tra­tion form is a suc­cess­ful form. You should always take into con­sid­er­a­tion the type of atten­dees inter­est­ed in your event in order to cus­tomise your form accord­ing­ly. You will not ask the same infor­ma­tion from fes­ti­val-goers as you would from work­shop or con­fer­ence atten­dees. Try to see things from the point of view of the audi­ence and imag­ine what infor­ma­tion they may be will­ing to share to an organ­i­sa­tion that they more or less trust.
You can expect dif­fer­ent types of respons­es. Make sure that you choose a solu­tion that offers all types: text field, com­ment field, drop-down, attach­ments, date, check box­es, coun­try. Also ensure that your cho­sen tool allows you to cre­ate cus­tom fields.
"We also want­ed to know who pur­chased which tickets/batch; and cre­ate sim­ple forms with cus­tom fields. For us that was the most important."
Cus­tomis­ing your form starts with the visu­als. The essence of the event must be reflect­ed in the visu­al aspect of the form. Of course, you should not sat­u­rate it with colours and images at the risk of look­ing unpro­fes­sion­al and taint­ing the visu­al aspect. The sim­plest and safest option is to play with colours — in the back­ground, but­tons, or texts.
3. Know what is important and aim right.
When you start organ­is­ing an event, col­lect­ing as much infor­ma­tion as pos­si­ble about par­tic­i­pants is impor­tant for your plan­ning. Ask­ing for plen­ty of infor­ma­tion is even more appeal­ing if you do not intend to stop at this one event. Nev­er­the­less, do not give in to this temp­ta­tion! All the data you col­lect should be rel­e­vant and appro­pri­ate. Think about what you real­ly need to know to car­ry out the event.
The ques­tions asked must be con­cise and pre­cise. Spec­i­fy the manda­to­ry nature of some ques­tions if you feel the need to do so. Add a com­ment under said ques­tion if need­ed. Clas­si­fy­ing ques­tions based on their rela­tion­ship to the par­tic­i­pant is also a good trick to put into practice.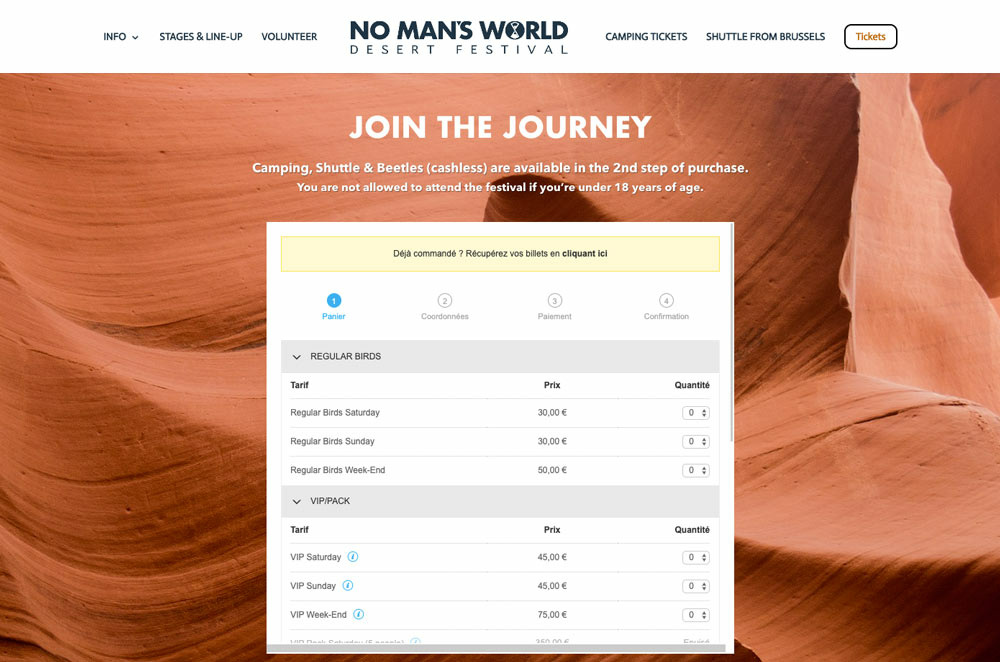 No Man's World Desert Fes­ti­val designed a short form, ask­ing only what was strict­ly nec­es­sary and remem­ber­ing impor­tant details such as the coun­try code in the phone num­ber field and the option to receive an invoice.
4. Simplify access to the registration form.
The sim­plic­i­ty of the reg­is­tra­tion process depends pri­mar­i­ly on your cho­sen online solu­tion. To sim­pli­fy the reg­is­tra­tion process, it must enable you to eas­i­ly share reg­is­tra­tion links with guests. You can share it via email, newslet­ters, your web­site or social media…whatever your cho­sen chan­nel the select­ed par­tic­i­pants should have easy access to the event's reg­is­tra­tion form.
To allow them to use your ser­vices even more eas­i­ly, you can pre-fill a few box­es of the reg­is­tra­tion form for them using the infor­ma­tion you already know about them. It may relate to their iden­ti­ty, loca­tion, etc. This will great­ly sim­pli­fy reg­is­tra­tion, there­by encour­ag­ing even more par­tic­i­pants to take the plunge!
5. Make it quick.
Whether this is your first event or one in a long list of events, spe­cial empha­sis should be placed on the speed of the reg­is­tra­tion process. Sev­er­al actions can encour­age peo­ple to reg­is­ter faster for your event or mem­ber­ship of your club. The first is to always spec­i­fy the total num­ber of remain­ing tick­ets for sale — this shows the atten­dees that the event is pop­u­lar and expect­ed by many peo­ple. The few­er tick­ets remain, the faster the atten­dees will register.
Will­ing­ness to reg­is­ter will be stronger and reg­is­tra­tion will fol­low imme­di­ate­ly. Anoth­er fac­tor of reg­is­tra­tion speed is the time a per­son needs to com­plete their reg­is­tra­tion. You should always spec­i­fy the remain­ing num­ber of sec­tions or pages so that the per­son fill­ing in the form knows how much time they will need to com­plete it. You should also give a clear indi­ca­tion of the time it takes to fill in the form.
6. Include suggested answers.
Fill­ing in a reg­is­tra­tion form can be tedious for the user — do not hes­i­tate to include some drop-down lists with sug­ges­tions to sim­pli­fy the infor­ma­tion fill­ing process. There­fore if your form includes a lot of ques­tions, the par­tic­i­pant won't have to man­u­al­ly enter each answer.
Also, your online reg­is­tra­tion solu­tion should allow you to auto­mat­i­cal­ly send con­fir­ma­tion emails to the atten­dees, telling them their reg­is­tra­tion was received..
7. Add relevant information.
The main pur­pose of the reg­is­tra­tion form is to allow par­tic­i­pants to reg­is­ter for your event. It must there­fore pro­vide them with use­ful infor­ma­tion and give them key details about the event. The name of the event is the first thing that should appear on your form.
The date and loca­tion of the event are also essen­tial infor­ma­tion that must appear on the form. Feel free to insert a Google Map link to help peo­ple locate your event. Also, add a short descrip­tion of the event con­tain­ing some use­ful infor­ma­tion for your atten­dees. The impor­tance of this small infor­ma­tion is real and allows you to con­vince future par­tic­i­pants to reg­is­ter for your event.
In short, sev­er­al small tips can help you cre­ate and share the per­fect reg­is­tra­tion form for your events. It is impor­tant that this key step takes into account not only your own needs, but also — and above all — the needs and wish­es of your future attendees!
You too can cre­ate an online reg­is­tra­tion form using Weezevent by click­ing here: