Event organ­is­ers are con­stant­ly exposed to all kinds of unfore­seen cir­cum­stances, includ­ing the weath­er, reduced sub­si­dies, increased com­pe­ti­tion, and so on. If your event expe­ri­ences one of these set­backs, it may be appro­pri­ate to launch a cam­paign for dona­tions and raise funds online. Here are the 5 essen­tial steps for under­tak­ing this in the best pos­si­ble way.
Sum­ma­ry
---
1. Why launch a campaign for donations?
It would be impos­si­ble to list all the rea­sons that lead organ­is­ers to launch a fundrais­er for their events, includ­ing unfore­seen cir­cum­stances that threat­en cash flow, a lack of funds for launch­ing a con­cept, a desire to invest in new equip­ment, and so on. And if you're here, you'll have your own rea­sons. If your event's can­cel­la­tion has prompt­ed you to launch a call for sol­i­dar­i­ty, we rec­om­mend that you also read this arti­cle: Com­mu­ni­cat­ing about your event's can­cel­la­tion.
2. Work on the coherence of the project
Before embark­ing on your fundrais­ing cam­paign, con­sid­er its rel­e­vance for your poten­tial donors. Who is already inter­est­ed in your project or per­haps attract­ed by the con­cept behind it? Will these peo­ple be will­ing to donate mon­ey to sup­port you? How much? How many donors will it take for you to reach the amount you're look­ing for? Is there already a sim­i­lar project that could out­shine you?
Find as many answers to these ques­tions as you can, as it's always wise to analyse your sit­u­a­tion as broad­ly as pos­si­ble in order to reduce uncer­tain­ty. This will also help you to bet­ter define your line of com­mu­ni­ca­tion.
3. Define a line of communication
Accord­ing to your research, is there a par­tic­u­lar audi­ence to which your project is rel­e­vant, and could your project be part­ly or entire­ly fund­ed by a fundrais­er? It's now a ques­tion of find­ing sol­id argu­ments with which to present your project and define an attrac­tive line of com­mu­ni­ca­tion. What would be the advan­tages for donors con­tribut­ing to your fundrais­ing cam­paign? How would your project ben­e­fit them indi­vid­u­al­ly or col­lec­tive­ly? Is it in the pub­lic inter­est? What val­ues does it rep­re­sent?
Even if a project is close to your heart, you must find argu­ments that res­onate for your poten­tial donors. Play to the audience's heart­strings while being real­is­tic and total­ly trans­par­ent — show why your project deserves sup­port.
Tip: Depend­ing on the coun­try, if your organ­i­sa­tion is classed as an asso­ci­a­tion of gen­er­al inter­est, your donors may ben­e­fit from tax relief.
4. Configure your donation module
With Weezevent, col­lect­ing dona­tions for your char­i­ty or event is child's play thanks to the pay-what-you-want option. To set it up, go to your man­age­ment inter­face or cre­ate an account on weezevent.com to con­fig­ure a new event. Next, go to "Con­fig­ure", then "Tick­et types and sell­ing".
Change the pre­vi­ous­ly cre­at­ed price by click­ing on the cor­re­spond­ing icon in the "ACTIONS" col­umn. In "Pric­ing", choose "Free con­tri­bu­tion". Your donors can now enter the amount of their con­tri­bu­tion.
5. Communicate and collect donations
Your mod­ule is ready for col­lect­ing dona­tions from your patrons, but you still need to ensure that these peo­ple have heard of it. You will there­fore need to com­mu­ni­cate strate­gi­cal­ly to attract as many peo­ple who are will­ing to par­tic­i­pate as pos­si­ble. With Weezevent, three main chan­nels are avail­able to you, but you are free to com­ple­ment them with oth­ers, includ­ing posters, online adver­tis­ing, etc.
On your website
Inte­grate your dona­tion mod­ule into your web­site in the blink of an eye with an iFrame or a pop-up win­dow. Every­thing is detailed in our ded­i­cat­ed online help arti­cle.
By email and on social networks
With an email­ing and mar­ket­ing tool that is tai­lored to events mar­ket­ing, design mes­sages that reflect your image and tar­get the audi­ences that are most like­ly to con­tribute to your fundrais­er, includ­ing the most loy­al atten­dees, the high­est aver­age spend, and so on. With Weez­Tar­get, our CRM designed spe­cial­ly for your needs, you can also mon­i­tor the num­ber of dona­tions made per cam­paign with our track­ing fea­tures — see the con­ver­sion table below: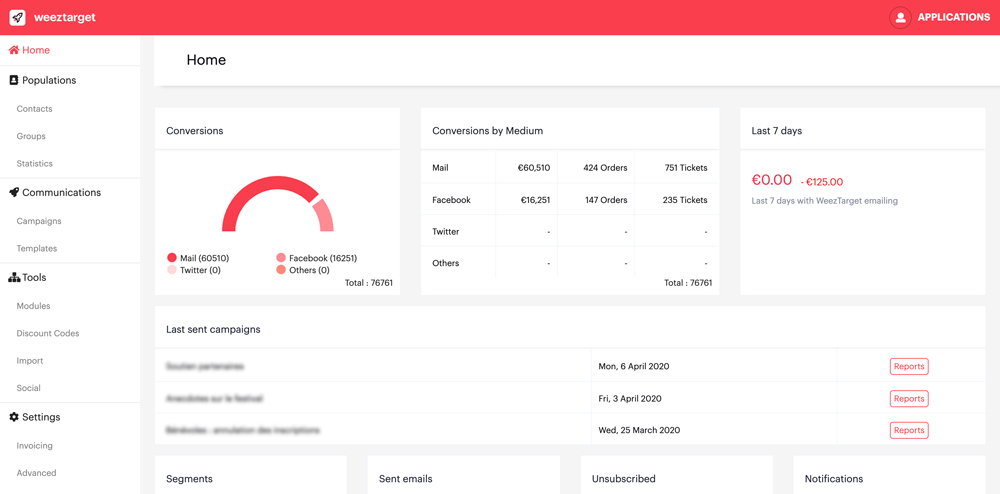 You now have all the essen­tial tools for launch­ing a cam­paign for dona­tions and rais­ing funds for your event. Dis­cov­er all the fea­tures of our online pay­ment solu­tion by click­ing on the but­ton below: