Event organisers are constantly exposed to all kinds of unforeseen circumstances, including the weather, reduced subsidies, increased competition, and so on. If your event experiences one of these setbacks, it may be appropriate to launch a call for donations and raise funds online. Here are the 5 essential steps for undertaking this in the best possible way.
Summary
---
1. Why launch a call for donations?
It would be impossible to list all the reasons that lead organisers to launch a fundraiser for their events, including unforeseen circumstances that threaten cash flow, a lack of funds for launching a concept, a desire to invest in new equipment, and so on. And if you're here, you'll have your own reasons. If your event's cancellation has prompted you to launch a call for solidarity, we recommend that you also read this article: Communicating about your event's cancellation.
2. Work on the coherence of the project
Before embarking on your fundraising campaign, consider its relevance for your potential donors. Who is already interested in your project or perhaps attracted by the concept behind it? Will these people be willing to donate money to support you? How much? How many donors will it take for you to reach the amount you're looking for? Is there already a similar project that could outshine you?
Find as many answers to these questions as you can, as it's always wise to analyse your situation as broadly as possible in order to reduce uncertainty. This will also help you to better define your line of communication.
3. Define a line of communication
According to your research, is there a particular audience to which your project is relevant, and could your project be partly or entirely funded by a fundraiser? It's now a question of finding solid arguments with which to present your project and define an attractive line of communication. What would be the advantages for donors contributing to your fundraising campaign? How would your project benefit them individually or collectively? Is it in the public interest? What values does it represent?
Even if a project is close to your heart, you must absolutely find arguments that resonate for your potential donors. Play to the audience's heartstrings while being realistic and totally transparent — show why your project deserves support.
Tip: Depending on the country, if your organisation is classed as an association of general interest, your donors may benefit from tax deductions.
4. Configure your donation module
With Weezevent, collecting donations for your charity or event is child's play thanks to the pay-what-you-want option. To set it up, go to your management interface or create an account on weezevent.com to configure a new event. Next, go to "Configure", then "Ticket types and selling".
Change the previously created price by clicking on the corresponding icon in the "ACTIONS" column. In "Pricing", choose "Free contribution". Your donors can now enter the amount of their contribution.
5. Communicate and collect donations
Your module is ready for collecting donations from your patrons, but you still need to ensure that these people have heard of it. You will therefore need to communicate strategically to attract as many people who are willing to participate as possible. With Weezevent, three main channels are available to you, but you are free to complement them with others, including posters, online advertising, etc.
On your website
Integrate your donation module into your website in the blink of an eye with an iFrame or a pop-up window. Everything is detailed in our dedicated online help article.
By email and on social networks
With an emailing and marketing tool that is tailored to events marketing, design messages that reflect your image and target the audiences that are most likely to contribute to your fundraiser, including the most loyal attendees, the highest average baskets, and so on. With WeezTarget, our CRM designed specially for your needs, you can also monitor the number of donations made per campaign with our tracking features — see the conversion table below: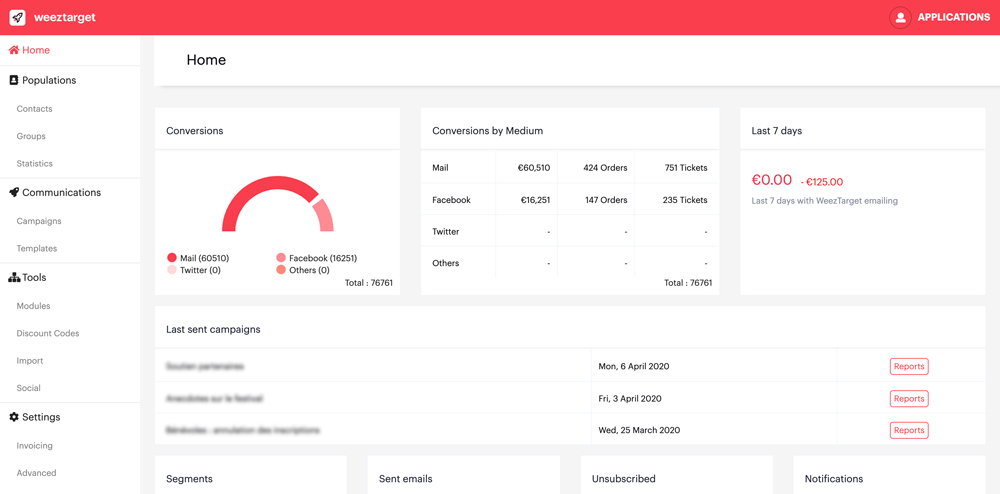 You now have all the essential tools for launching a call for donations and raising funds for your event. Discover all the features of our online payment solution by clicking on the button below: