Weather conditions, insufficient ticket sales, permits pending, non-compliant infrastructure, epidemics, temporary local restrictions… a large number of factors can jeopardise your ability to hold your event. Whatever the situation, it's important not to throw yourself head-first into a public announcement until the outcome for your event is clear. Delay until you are ready by preparing a communication strategy that includes a good CRM tool and the six avenues described in this article.
Summary
---
Communicate with your attendees now and free of charge with WeezTarget, our marketing and CRM tool. Available in your Weezevent account, access the tool via the Applications tab, and find all your attendee forms — surname, first name, address, email, etc. — by clicking on the following link: Log in.
1. Gather everything that will help you make the right decision
Before communicating with the general public, it's essential that you communicate well internally, within your team. Those who make decisions relating to your communication strategy must have all the information needed to make the right decisions.
If it's uncertain whether you will be able to hold your event, this means that you're waiting for a response from a contact or approval of a specific aspect of your event. Bring all this together in your meetings in order to clearly decide how you will communicate, at what times, at what stages, for whom, etc.
2. Inform your attendees according to the situation
Have you chosen to communicate about the uncertainty hanging over your event? You don't have to, but if you do, you will have to explain to your attendees why your event could be threatened. They don't have the same amount of information as you and need to know if anything will affect the event for which they will have spent money, set aside a slot in their diary, turned down another activity, etc. Even if you're concentrating all your efforts on your event, think of the attendees who would have to deal with any last-minute changes. Their feelings about your event would undoubtedly be affected.
With a CRM solution designed for your event, you can, for example, create two different communication initiatives to reassure two separate audiences: those who purchased tickets for the edition concerned on one hand, and attendees of previous editions who are still hesitant on the other. Our online help article shows you how to find your feet with WeezTarget.
3. Explain the avenues explored
Demonstrate to your attendees that you're doing everything you can and that you're exploring specific avenues to resolve the uncertainty, including postponing the event, creating new organisational conditions, and so on. When and how will you make the final decision? Where and when will it be announced? Be realistic and reassure your attendees while resisting naive optimism. Don't forget them, and show that you're doing your utmost to ensure that they enjoy your event as much as possible.
4. Plan a second wave of communication
Depending on the unique aspects of your event, it might be impossible for you to provide any details right now. In this case, announce to your attendees that you will get back to them in due course with reliable and definitive information. Broadcast exclusive or updated content to keep them entertained during the wait, including photos of the event's preparation, an aftermovie from your previous editions, etc.
5. Demonstrate empathy and give thanks for support
The continued success of your event is of course your main concern, but you must also remember to take a step back from the situation. Uncertainty around your event has an impact not just on you, but also on your attendees, partners, teams, and so on. Everyone would suffer if your event is postponed or cancelled. Without them, organising your event would be a completely different experience. You should therefore try to see this situation as an opportunity to express your empathy and thank them for their support.
6. Draw inspiration from other events
The COVID-19 epidemic has required many events to delay their communication plans. Among them, Standon Calling can provide inspiration to be adapted according to your specific situation:
Standon Calling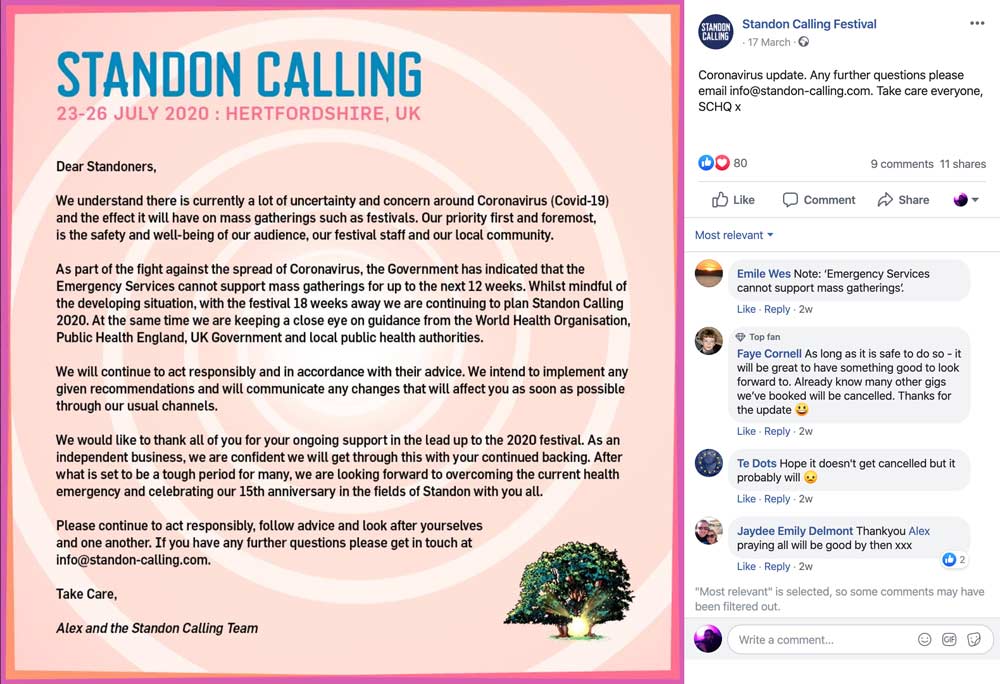 Communication is essential in times of uncertainty. If you choose our emailing and marketing solution to keep your attendees informed about the status of your event, get started by clicking on the button below: