Weath­er con­di­tions, insuf­fi­cient tick­et sales, per­mits pend­ing, non-com­pli­ant infra­struc­ture, epi­demics, tem­po­rary local restric­tions… a large num­ber of fac­tors can jeop­ar­dise your abil­i­ty to hold your event. What­ev­er the sit­u­a­tion, it's impor­tant not to throw your­self head-first into a pub­lic announce­ment until the out­come for your event is clear. Delay until you are ready by prepar­ing a com­mu­ni­ca­tion strat­e­gy that includes a good CRM tool and the six avenues described in this arti­cle.
Sum­ma­ry
---
Com­mu­ni­cate with your atten­dees now and free of charge with Weez­Tar­get, our mar­ket­ing and CRM tool. Avail­able in your Weezevent account, access the tool via the Appli­ca­tions tab, and find all your attendee forms — sur­name, first name, address, email, etc. — by click­ing on the fol­low­ing link: Log in.
1. Gather everything that will help you make the right decision
Before com­mu­ni­cat­ing with the gen­er­al pub­lic, it's essen­tial that you com­mu­ni­cate well inter­nal­ly, with­in your team. Those who make deci­sions relat­ing to your com­mu­ni­ca­tion strat­e­gy must have all the infor­ma­tion need­ed to make the right deci­sions.
If it's uncer­tain whether you will be able to hold your event, this means that you're wait­ing for a response from a con­tact or approval of a spe­cif­ic aspect of your event. Bring all this togeth­er in your meet­ings in order to clear­ly decide how you will com­mu­ni­cate, at what times, at what stages, for whom, etc.
2. Inform your attendees according to the situation
Have you cho­sen to com­mu­ni­cate about the uncer­tain­ty hang­ing over your event? You don't have to, but if you do, you will have to explain to your atten­dees why your event could be threat­ened. They don't have the same amount of infor­ma­tion as you and need to know if any­thing will affect the event for which they will have spent mon­ey, set aside a slot in their diary, turned down anoth­er activ­i­ty, etc. Even if you're con­cen­trat­ing all your efforts on your event, think of the atten­dees who would have to deal with any last-minute changes. Their feel­ings about your event would undoubt­ed­ly be affect­ed.
With a CRM solu­tion designed for your event, you can, for exam­ple, cre­ate two dif­fer­ent com­mu­ni­ca­tion ini­tia­tives to reas­sure two sep­a­rate audi­ences: those who pur­chased tick­ets for the edi­tion con­cerned on one hand, and atten­dees of pre­vi­ous edi­tions who are still hes­i­tant on the oth­er. Our online help arti­cle shows you how to find your feet with Weez­Tar­get.
3. Explain the avenues explored
Demon­strate to your atten­dees that you're doing every­thing you can and that you're explor­ing spe­cif­ic avenues to resolve the uncer­tain­ty, includ­ing post­pon­ing the event, cre­at­ing new organ­i­sa­tion­al con­di­tions, and so on. When and how will you make the final deci­sion? Where and when will it be announced? Be real­is­tic and reas­sure your atten­dees while resist­ing naive opti­mism. Don't for­get them, and show that you're doing your utmost to ensure that they enjoy your event as much as pos­si­ble.
4. Plan a second wave of communication
Depend­ing on the unique aspects of your event, it might be impos­si­ble for you to pro­vide any details right now. In this case, announce to your atten­dees that you will get back to them in due course with reli­able and defin­i­tive infor­ma­tion. Broad­cast exclu­sive or updat­ed con­tent to keep them enter­tained dur­ing the wait, includ­ing pho­tos of the event's prepa­ra­tion, an after­movie from your pre­vi­ous edi­tions, etc.
5. Demonstrate empathy and give thanks for support
The con­tin­ued suc­cess of your event is of course your main con­cern, but you must also remem­ber to take a step back from the sit­u­a­tion. Uncer­tain­ty around your event has an impact not just on you, but also on your atten­dees, part­ners, teams, and so on. Every­one would suf­fer if your event is post­poned or can­celled. With­out them, organ­is­ing your event would be a com­plete­ly dif­fer­ent expe­ri­ence. You should there­fore try to see this sit­u­a­tion as an oppor­tu­ni­ty to express your empa­thy and thank them for their sup­port.
6. Draw inspiration from other events
The COVID-19 epi­dem­ic has required many events to delay their com­mu­ni­ca­tion plans. Among them, Stan­don Call­ing can pro­vide inspi­ra­tion to be adapt­ed accord­ing to your spe­cif­ic sit­u­a­tion:
Standon Calling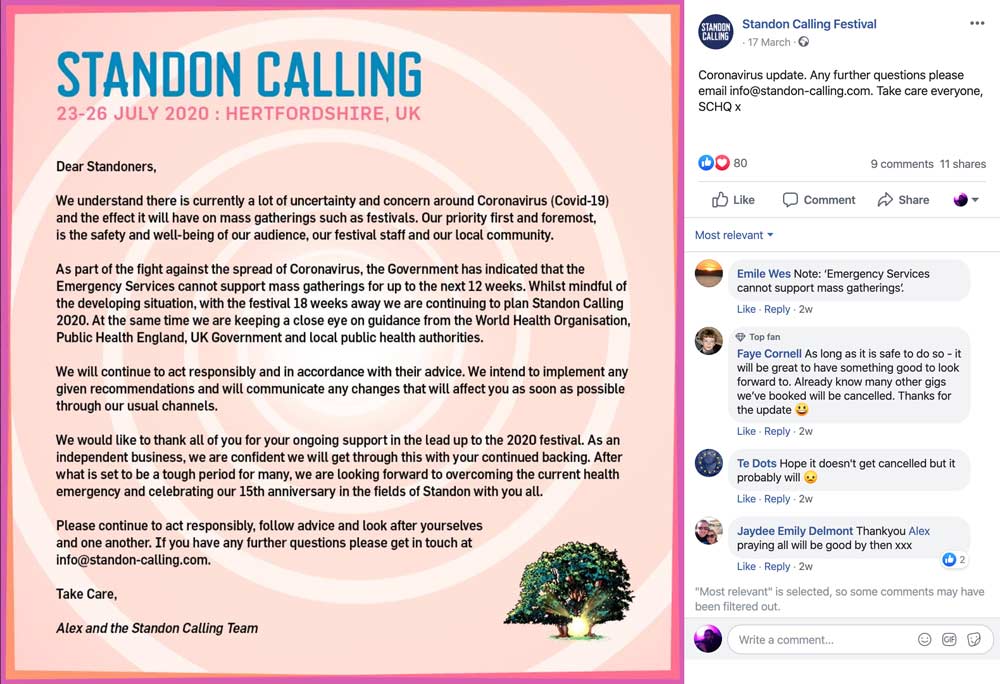 Com­mu­ni­ca­tion is essen­tial in times of uncer­tain­ty. If you choose our email­ing and mar­ket­ing solu­tion to keep your atten­dees informed about the sta­tus of your event, get start­ed by click­ing on the but­ton below: