The Blue Tour 2022 — Weezevent's inter­na­tion­al tour — is com­ing to an end, pro­vid­ing an oppor­tu­ni­ty for us to look back on an extra­or­di­nary sea­son.
Many of you will have crossed paths with our team mem­bers, who trav­elled to over 350 events between May and Sep­tem­ber 2022. This eager­ly await­ed return was more intense than ever!
Pierre-Hen­ri Debal­lon, CEO of Weezevent, said: "After two years of inter­rup­tions and in a tur­bu­lent glob­al con­text, our teams man­aged to expand abroad and con­tin­ue inno­vat­ing while offer­ing a lev­el of ser­vice that is recog­nised with­in the sec­tor. Once again, we demon­strat­ed our pur­pose and are proud of our con­tri­bu­tion to your events' return."
Twice as many events as in 2019
We are delight­ed to have been at your side for the strong recov­ery of the event sec­tor!
Weezevent was for­tu­nate enough to sup­port 350 large events, near­ly twice as many as in the sum­mer of 2019. Organ­is­ers were able to offer new for­mats this year, which the pub­lic wel­comed with clear enthu­si­asm. Accord­ing to data from our tick­et­ing and access con­trol solu­tions, many events broke their atten­dance records — includ­ing the French fes­ti­val Les Vieilles Char­rues (70k festivalgoers/day) and the Swiss fes­ti­val Gurten­fes­ti­val (80k festivalgoers/day).
These fig­ures are all the more impres­sive when you remem­ber that sum­mer events weren't guar­an­teed to take place just a few months ear­li­er! The chal­lenge of adapt­ing to new con­di­tions was faced by organ­is­ers and all oth­er actors in the event indus­try.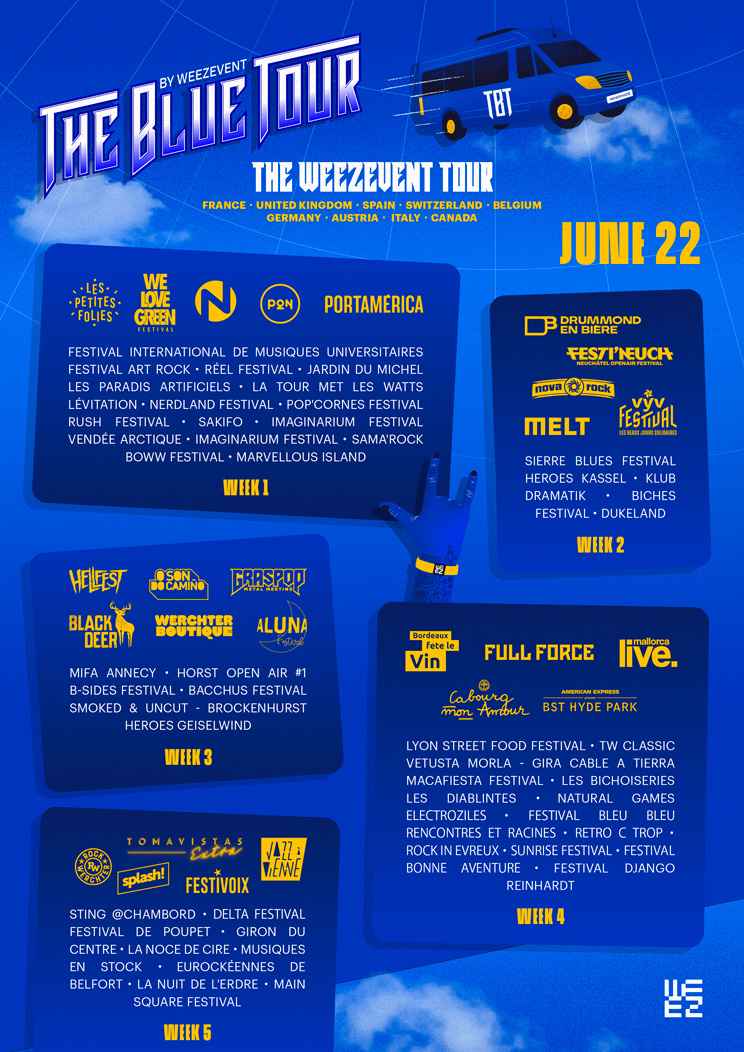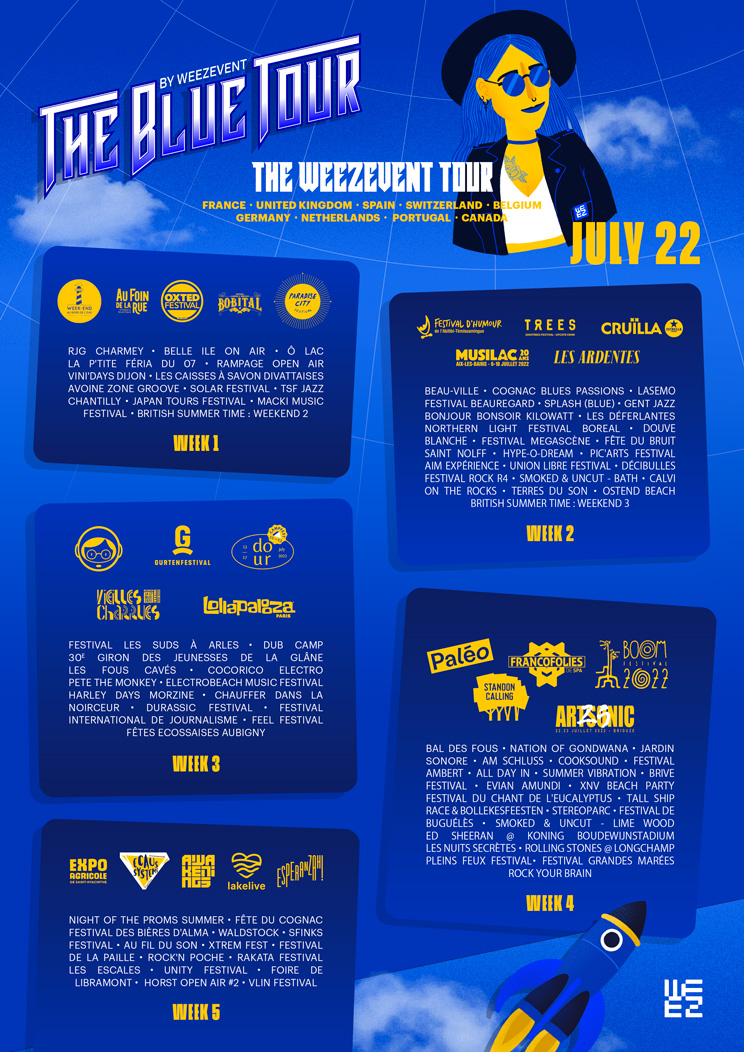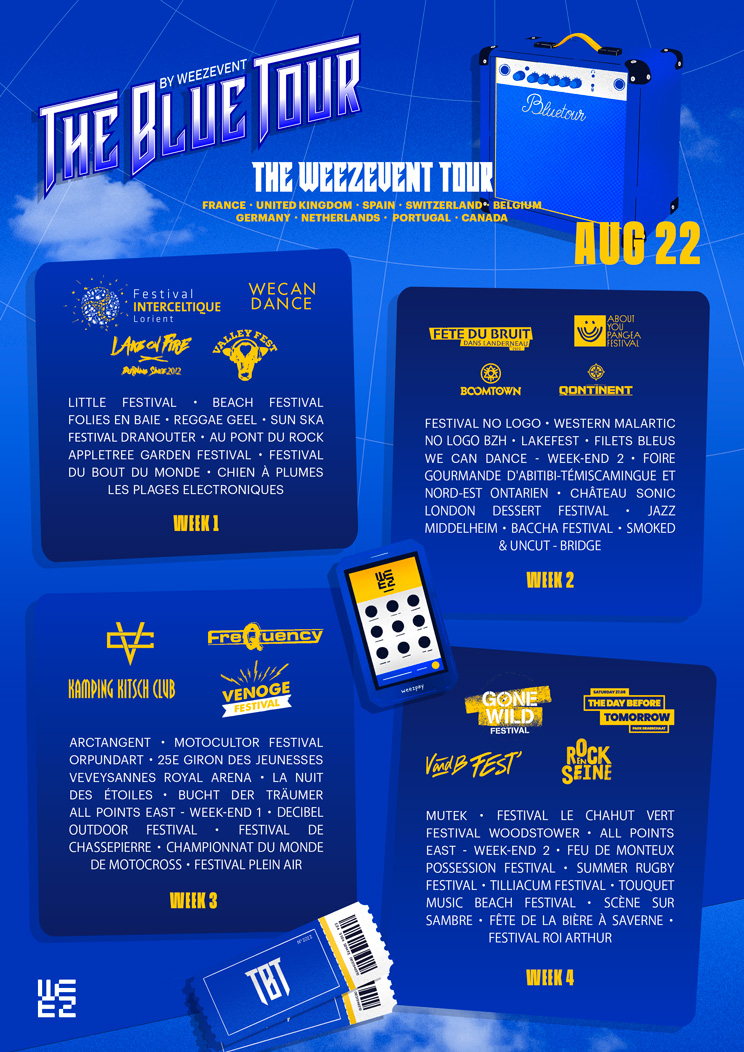 ↑ The biggest fes­ti­vals sup­port­ed by Weezevent dur­ing sum­mer 2022.↑
At the same time, Weezevent con­tin­ued to sup­port over 10,000 events of small­er sizes through­out the sum­mer who relied on our self-ser­vice tick­et­ing, access con­trol and CRM solu­tions.
Despite infla­tion, work­force short­ages and sup­ply chain dif­fi­cul­ties, the prices of our solu­tions have remained unchanged through­out Europe. We've cho­sen to do this to sup­port the event indus­try in these excep­tion­al­ly com­plex times.

Cashless: the great favourite of the summer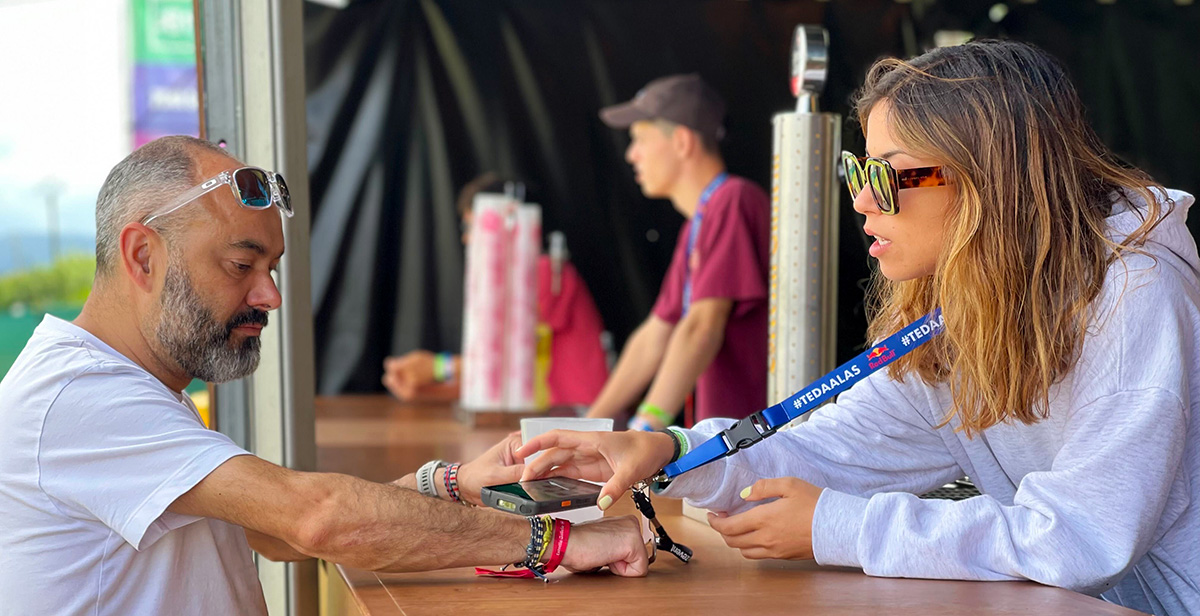 For large events, the trend is def­i­nite­ly towards cash­less.
Whether cash­less is adopt­ed for secu­ri­ty or ease of use, it has won over event organ­is­ers, par­tic­u­lar­ly those hold­ing fes­ti­vals.
Hav­ing been con­tin­u­ous­ly devel­oped and improved since 2015, Weezevent's cash­less tech­nol­o­gy is now the most used in Europe. In France, Weezevent sup­ports 90% of cash­less events — before, dur­ing and after D‑Day. For all inter­na­tion­al events, our teams were present on site to sup­port organ­is­ers. Thanks to the train­ing pro­vid­ed by our team mem­bers, each ser­vice provider and organ­i­sa­tion mem­ber is able to use our cash­less ter­mi­nals in less than 10 min­utes.
To bet­ter illus­trate the reach of our cash­less tech­nol­o­gy:
At Hellfest 2022, held over 7 days, more than 420,000 atten­dees were equipped with cash­less wrist­bands, mak­ing it the longest and most attend­ed cash­less event of the sum­mer.
In total over the sea­son, 5.5 mil­lion chips were dis­trib­uted to atten­dees — equiv­a­lent to the pop­u­la­tion of Fin­land!
Weezevent's international activity and team members
Since the merg­er with the Bel­gian firm Play­Pass, for the first time, Weezevent's activ­i­ty is equal­ly divid­ed between the inter­na­tion­al and French mar­kets. This inter­na­tion­al expan­sion was made pos­si­ble thanks to teams estab­lished in the heart of our mar­kets across 6 offices: France, Bel­gium, Switzer­land, Spain, the Unit­ed King­dom and Cana­da. This has allowed us to sup­port organ­is­ers from 20 dif­fer­ent coun­tries.
To meet this need for sup­port, we have strength­ened our teams: more than 200 free­lancers in the event indus­try lent a hand to Weezevent's 120 per­ma­nent employ­ees. At one point dur­ing the peak of activ­i­ty, 150 team mem­bers were sup­port­ing the organ­is­ers of 26 dif­fer­ent events. This was a record for Weezevent and an organ­i­sa­tion­al chal­lenge that we met with great suc­cess.
Lau­rent, Oper­a­tion Man­ag­er, said: "My team worked tire­less­ly, some­times night and day, to guar­an­tee the time­ly deliv­ery of our ter­mi­nals to the organ­is­ers. We are for­tu­nate to have over 6,000 devices, a fig­ure which we should be able to increase for 2024! For us, the sea­son isn't real­ly over, since we're now tak­ing care of a range of events in South Amer­i­ca."
Weezevent services in pictures
Go behind the scenes of a record-break­ing sea­son for Weezevent with this orig­i­nal doc­u­men­tary.

To access all of our videos and to receive alerts of upcom­ing ones, sub­scribe to our YouTube chan­nel.
You can also fol­low us on Insta­gram to dis­cov­er all our pho­tos of dif­fer­ent events.
---
We look for­ward to see­ing you in 2023 for a new sum­mer sea­son, which is sure to be just as rich in chal­lenges and fan­tas­tic events. Until then, our teams are already work­ing to offer our organ­is­ers new fea­tures.