To sell tick­ets for your event, your audi­ence needs to hear about it.
Sure, there are decent tech­niques already avail­able: mar­ket­ing strate­gies, invi­ta­tion e‑mailing, ear­ly-bird tick­et sales strat­e­gy, com­mu­ni­ca­tion on social net­works, qual­i­ty web­site.… But have you thought about tak­ing advan­tage of a tick­et resale plat­form? Let's dive into the best ways to use one of these plat­forms, Tick­etSwap, to dri­ve tick­et sales, with­out any extra has­sle or cost.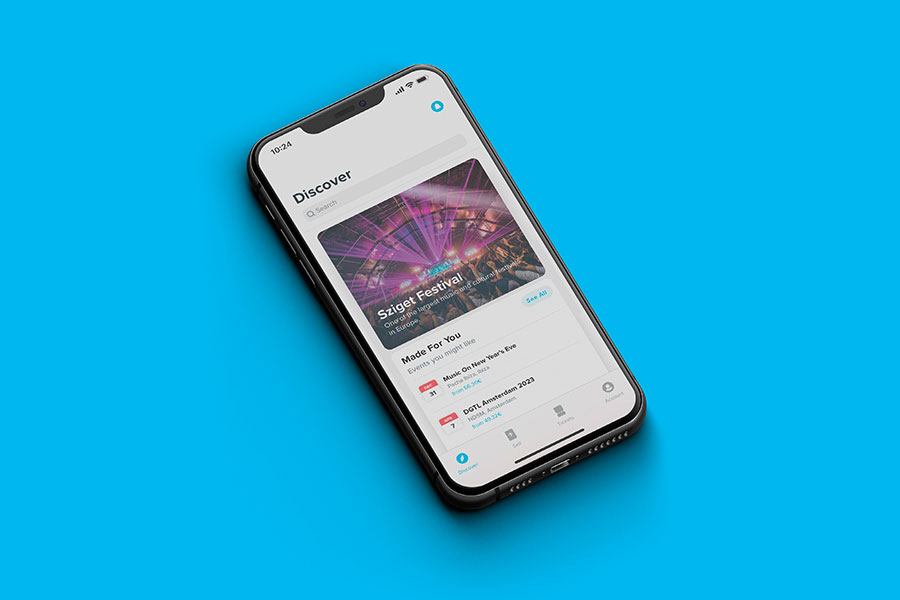 1. Why should I offer a resale solution?
Fans want flex­i­ble tick­et­ing. Resale options like Tick­etSwap offer peace of mind that fans will be able to recoup the costs of their tick­et from a sec­ond-hand buy­er, should their plans change. So, hav­ing your event list­ed on Tick­etSwap means fans are more like­ly to take the plunge and buy tick­ets in advance of shows.
And what's bet­ter than offer­ing your fans a resale solu­tion? Offer­ing one with access to 9 mil­lion poten­tial tick­et buy­ers. TicketSwap's com­mu­ni­ty has grown rapid­ly, from 6.5M to over 9M since March 2020. 1.5M of those users are reg­is­tered in the UK, and 1.1M are reg­is­tered in France.
"List­ing your event on Tick­etSwap means auto­mat­i­cal­ly join­ing an inter­na­tion­al com­mu­ni­ty of fans on a mis­sion to trade tick­ets safe­ly and eth­i­cal­ly. Tick­etSwap has been rep­re­sent­ing the needs of fans for over 10 years. In doing so, we've cul­ti­vat­ed a resale envi­ron­ment that's mutu­al­ly ben­e­fi­cial for both pro­mot­ers and the real peo­ple who demand flex­i­bil­i­ty in attend­ing events all over the world."
— Hans Ober, Tick­er­Swap Co-Founder and CEO.
2. How TicketSwap's discovery options empower promoters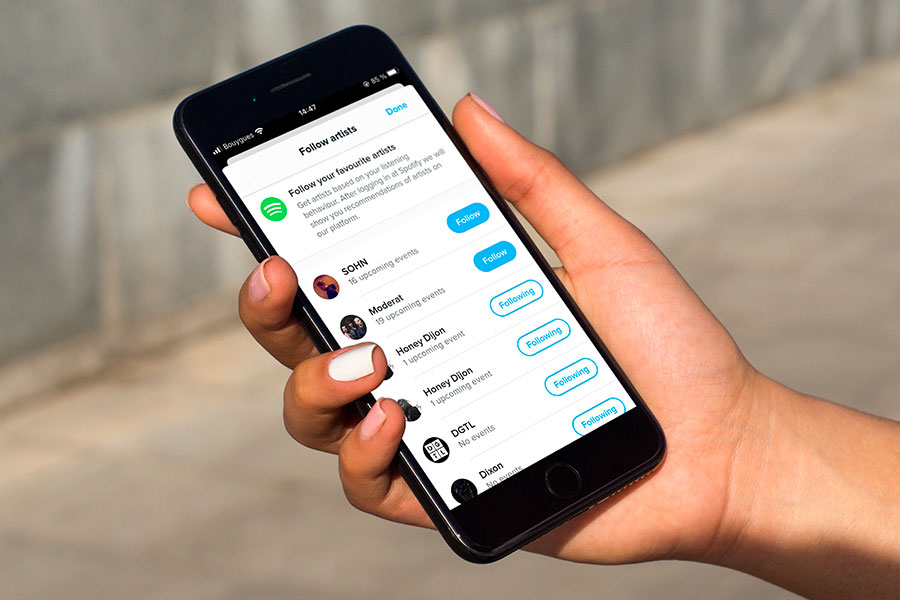 Filters spotlight your events to fans
Not only can fans find their dream tick­ets using loca­tion, date, event cat­e­go­ry and artist fil­ters on Tick­etSwap, but they can also find tick­ets for last-minute plans. The "today" and "this week­end" fil­ters sug­gest the most pop­u­lar events right here, right now. Use­ful for fans on the hunt for week­end plans – but also ide­al for pro­mot­ers hop­ing to sell out a venue. Win-win.
Spotify follow tool keeps things fresh
Tick­etSwap users can also con­nect their account to their Spo­ti­fy pro­file, cre­at­ing an end­less stream of inspi­ra­tion for upcom­ing events to browse and book.
Powerful algorithms drive discovery further
TicketSwap's 'made for you' or 'fans also like' rec­om­men­da­tions puts your event firm­ly on new fans' radars. There's also the platform's in-app dis­cov­ery feed, email updates and available/wanted list­ings – all solu­tions which help fans get first in line for the events they love (mean­while find­ing buy­ers for your events).
Communicate easily with your attendees
Fans count on Tick­etSwap for event infor­ma­tion and updates, because the platform's event pages include all the impor­tant details they need: the where, the when, the artist line-up for your event – plus, a link to your tick­et­ing shop and any exist­ing want­ed / avail­able listings.
Enjoy extra promotion
Tick­etSwap is free to use for event orga­niz­ers – and packed with oppor­tu­ni­ties to be fea­tured across the platform's social media plat­forms and on the in-app blog. Not only that, but TicketSwap's part­ner­ship man­agers can set you up with a help­ing hand in dig­i­tal mar­ket­ing, onsite sup­port, brand acti­va­tions and more.
3. A safety guarantee for your event attendees
Pro­tect your tick­et-buy­ers against fraud with TicketSwap's safe­ty measures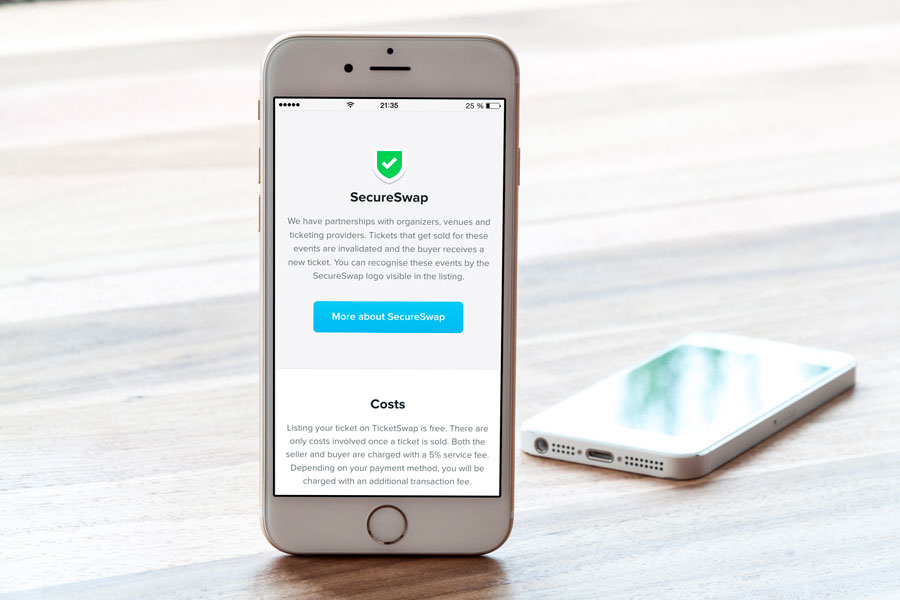 Complete protection for fans and organizers with SecureSwap
Part­ner­ing up with Tick­etSwap offers a fraud-tack­ling expe­ri­ence thanks to the platform's SecureSwap inte­gra­tion. When a tick­et is resold, the bar­code is replaced, guar­an­tee­ing easy entry for the new buy­er, and offer­ing reas­sur­ance for pro­mot­ers. Weezevent imple­ment­ed this secure process in 2019 to reas­sure buy­ers and avoid any issues at the entrance of events: https://www.ticketswap.com/how-does-it-work.
"Thanks to our part­ner­ship and an easy to set up inte­gra­tion, many buy­ers are ben­e­fit­ing from SecureSwap. It's a weight off their shoul­ders, as they no longer have to wor­ry about the valid­i­ty of their tick­et and can access events with­out any of the prob­lems his­tor­i­cal­ly asso­ci­at­ed with resale."
Pierre-Hen­ri Debal­lon, CEO of Weezevent
Tackle inflated prices
With Tick­etSwap, you're tak­ing a stand against black mar­ket preda­tors. Fans are con­stant­ly priced out of expe­ri­ences they deserve to attend, because of touts and preda­to­ry behav­iors. TicketSwap's answer to this – a max­i­mum resale price – puts fans' inter­ests first. Tick­ets can't be sold at more than 20% above the ticket's face val­ue, full stop.
Stay present through customer service
Fans need to know there's help on hand should they need it. Beyond TicketSwap's ergonom­ic App with a dynam­ic Q&A, there's also an in-house mul­ti­lin­gual sup­port team, pro­vid­ing cus­tomer ser­vice on the phone or via the App: https://www.ticketswap.com/contact.
---
The soon­er your event list­ing is cre­at­ed on Tick­etSwap, the big­ger the ben­e­fits you'll see from its dis­cov­ery options, safe and secure resale solu­tions, pro­mo­tion oppor­tu­ni­ties and more. So… what's the wait?
Head to the Tick­etSwap web­site to start sell­ing out your events – start­ing today.