Weezevent supports event organisers of all sizes and sectors in the deployment of our technological solutions.
During the peak season for events (from June to September), we call on freelancers, temporary workers and those seeking work experience to guarantee high-quality support for all organisers.
Would you like to join us for the season? Apply for one of our jobs!
To learn more about the role of a Seasonal Project Manager at Weezevent, we met Nicolas, who we've been working with since 2018.
How did you hear about Weezevent and why did you decide to join us as a Seasonal Project Manager?
I discovered Weezevent during the 2018 edition of the Les Vieilles Charrues festival in France. A friend, who was working at Weezevent at the time, called on his event network to meet the largest staffing need of the year. To cover the service, more than 40 workers and external support staff were deployed at the event.
This first experience was very intense and rewarding, given the nature and size of the event. I wanted to continue the experience as a freelancer because this flexible status allowed me to meet Weezevent's occasional needs while continuing with my studies.
What are your missions for Weezevent?
I am generally called on to support project managers in preparing and organising events and meeting any maintenance needs during the operations.
My missions are varied and have evolved as my knowledge of the solution and my skills on the ground have developed.
Specifically, I manage the equipment (deployment, monitoring and maintenance) and train the various teams in organising and using it, including staff managers, volunteers and security. I make sure that the scenario planned by the project manager runs smoothly in the event's key locations (e.g. access control, top-up banks, box offices) and, if necessary, I provide assistance to the solution's users.
When you join Weezevent as a seasonal worker, your initial responsibilities are simple. Afterwards, if everything goes well and if you're interested, you can take on more responsibility and manage certain operations independently. This has been the case for me, as I am now regularly contacted by Weezevent to support events, either as part of a team or on my own.
Can you tell us about an outstanding experience you've had with Weezevent?
I've had a lot of these with Weezevent, and I can say that the overall experience has marked my life.
At events, it's often solving problems in real time that creates memorable experiences. Generally, the more attendees an event has, the more intense our experience is.
I remember working at the Sakifo festival on Réunion Island, which had 14,000 participants. I was in charge of transporting the equipment and providing on-site services, and it was a phenomenal experience.
Whatever the event, taking a moment to step back, and remind yourself that you played a part in facilitating this amazing gathering, makes you feel proud! I know that everyone who works for Weezevent, whether internal or external, shares this emotion.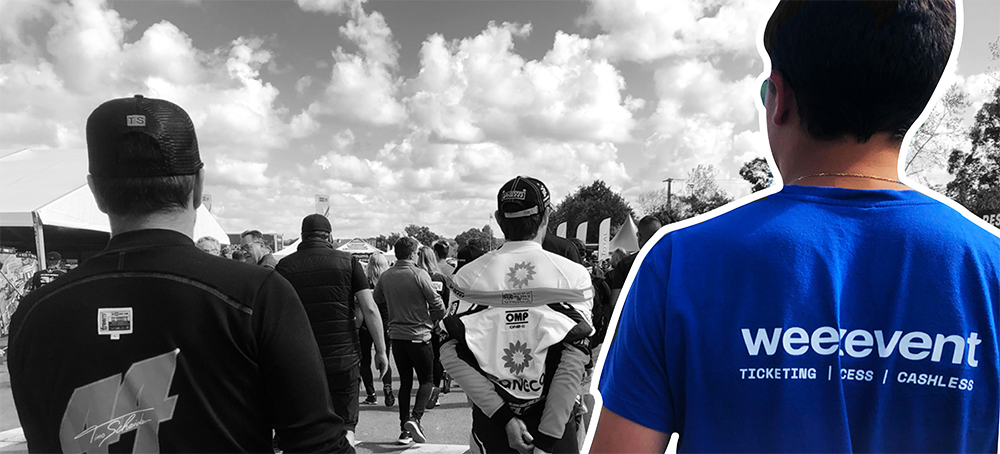 In your opinion, what are the necessary qualities for being a seasonal worker at Weezevent?
To succeed in your mission, foresight is key. You have to think about what will happen, what can happen, and what shouldn't happen. Anticipation is the key to success, and specualtion has no place in our services.
Each event is unique, and for that you also need to be adaptable, alert and versatile.
Moreover, it's important to have good customer relations. Experience in sales or consulting is a real plus. As seasonal workers, we're in contact with many different people (Weezevent employees, event organisers, attendees, volunteers, service providers, etc.), so knowing how to adapt your interactions is essential.
Concerning core skills, no technical prerequisites are necessary. The only exception is being at ease with technology, as we have to handle several different types (e.g. Mac, Android, NFC). You don't need to be a techie, just willing to learn.
How would you describe the role of a seasonal worker at Weezevent to a stranger?
It's an exceptional, enriching and intense experience on every level (professionally and personally).
The peak season at Weezevent is from June to September. During this period, you will be working on a large number of events, and will have a role behind the scenes. You will have unforgettable experiences, made of joy, stress, excitement, fatigue and pride.
---
Has Nicolas' profile inspired you and made you want to join the Weezevent adventure for the summer season? Send us your application!