Weezevent sup­ports event organ­is­ers of all sizes and sec­tors in the deploy­ment of our tech­no­log­i­cal solu­tions.
Dur­ing the peak sea­son for events (from June to Sep­tem­ber), we call on free­lancers, tem­po­rary work­ers and those seek­ing work expe­ri­ence to guar­an­tee high-qual­i­ty sup­port for all organ­is­ers.
Would you like to join us for the sea­son? Apply for one of our jobs!
To learn more about the role of a Sea­son­al Project Man­ag­er at Weezevent, we met Nico­las, who we've been work­ing with since 2018.
How did you hear about Weezevent and why did you decide to join us as a Seasonal Project Manager?
I dis­cov­ered Weezevent dur­ing the 2018 edi­tion of the Les Vieilles Char­rues fes­ti­val in France. A friend, who was work­ing at Weezevent at the time, called on his event net­work to meet the largest staffing need of the year. To cov­er the ser­vice, more than 40 work­ers and exter­nal sup­port staff were deployed at the event.
This first expe­ri­ence was very intense and reward­ing, giv­en the nature and size of the event. I want­ed to con­tin­ue the expe­ri­ence as a free­lancer because this flex­i­ble sta­tus allowed me to meet Weezevent's occa­sion­al needs while con­tin­u­ing with my stud­ies.
What are your missions for Weezevent?
I am gen­er­al­ly called on to sup­port project man­agers in prepar­ing and organ­is­ing events and meet­ing any main­te­nance needs dur­ing the oper­a­tions.
My mis­sions are var­ied and have evolved as my knowl­edge of the solu­tion and my skills on the ground have devel­oped.
Specif­i­cal­ly, I man­age the equip­ment (deploy­ment, mon­i­tor­ing and main­te­nance) and train the var­i­ous teams in organ­is­ing and using it, includ­ing staff man­agers, vol­un­teers and secu­ri­ty. I make sure that the sce­nario planned by the project man­ag­er runs smooth­ly in the event's key loca­tions (e.g. access con­trol, top-up banks, box offices) and, if nec­es­sary, I pro­vide assis­tance to the solution's users.
When you join Weezevent as a sea­son­al work­er, your ini­tial respon­si­bil­i­ties are sim­ple. After­wards, if every­thing goes well and if you're inter­est­ed, you can take on more respon­si­bil­i­ty and man­age cer­tain oper­a­tions inde­pen­dent­ly. This has been the case for me, as I am now reg­u­lar­ly con­tact­ed by Weezevent to sup­port events, either as part of a team or on my own.
Can you tell us about an outstanding experience you've had with Weezevent?
I've had a lot of these with Weezevent, and I can say that the over­all expe­ri­ence has marked my life.
At events, it's often solv­ing prob­lems in real time that cre­ates mem­o­rable expe­ri­ences. Gen­er­al­ly, the more atten­dees an event has, the more intense our expe­ri­ence is.
I remem­ber work­ing at the Sak­i­fo fes­ti­val on Réu­nion Island, which had 14,000 par­tic­i­pants. I was in charge of trans­port­ing the equip­ment and pro­vid­ing on-site ser­vices, and it was a phe­nom­e­nal expe­ri­ence.
What­ev­er the event, tak­ing a moment to step back, and remind your­self that you played a part in facil­i­tat­ing this amaz­ing gath­er­ing, makes you feel proud! I know that every­one who works for Weezevent, whether inter­nal or exter­nal, shares this emo­tion.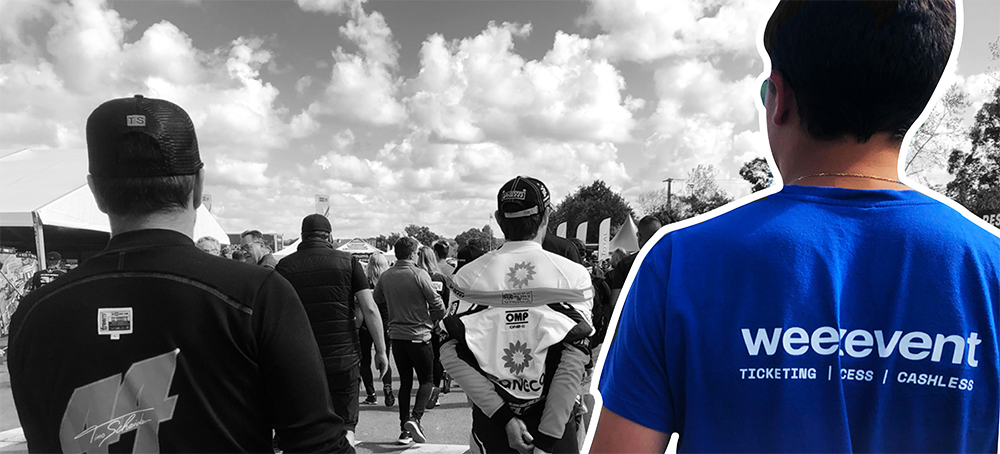 In your opinion, what are the necessary qualities for being a seasonal worker at Weezevent?
To suc­ceed in your mis­sion, fore­sight is key. You have to think about what will hap­pen, what can hap­pen, and what shouldn't hap­pen. Antic­i­pa­tion is the key to suc­cess, and specual­tion has no place in our ser­vices.
Each event is unique, and for that you also need to be adapt­able, alert and ver­sa­tile.
More­over, it's impor­tant to have good cus­tomer rela­tions. Expe­ri­ence in sales or con­sult­ing is a real plus. As sea­son­al work­ers, we're in con­tact with many dif­fer­ent peo­ple (Weezevent employ­ees, event organ­is­ers, atten­dees, vol­un­teers, ser­vice providers, etc.), so know­ing how to adapt your inter­ac­tions is essen­tial.
Con­cern­ing core skills, no tech­ni­cal pre­req­ui­sites are nec­es­sary. The only excep­tion is being at ease with tech­nol­o­gy, as we have to han­dle sev­er­al dif­fer­ent types (e.g. Mac, Android, NFC). You don't need to be a techie, just will­ing to learn.
How would you describe the role of a seasonal worker at Weezevent to a stranger?
It's an excep­tion­al, enrich­ing and intense expe­ri­ence on every lev­el (pro­fes­sion­al­ly and per­son­al­ly).
The peak sea­son at Weezevent is from June to Sep­tem­ber. Dur­ing this peri­od, you will be work­ing on a large num­ber of events, and will have a role behind the scenes. You will have unfor­get­table expe­ri­ences, made of joy, stress, excite­ment, fatigue and pride.
---
Has Nico­las' pro­file inspired you and made you want to join the Weezevent adven­ture for the sum­mer sea­son? Send us your appli­ca­tion!