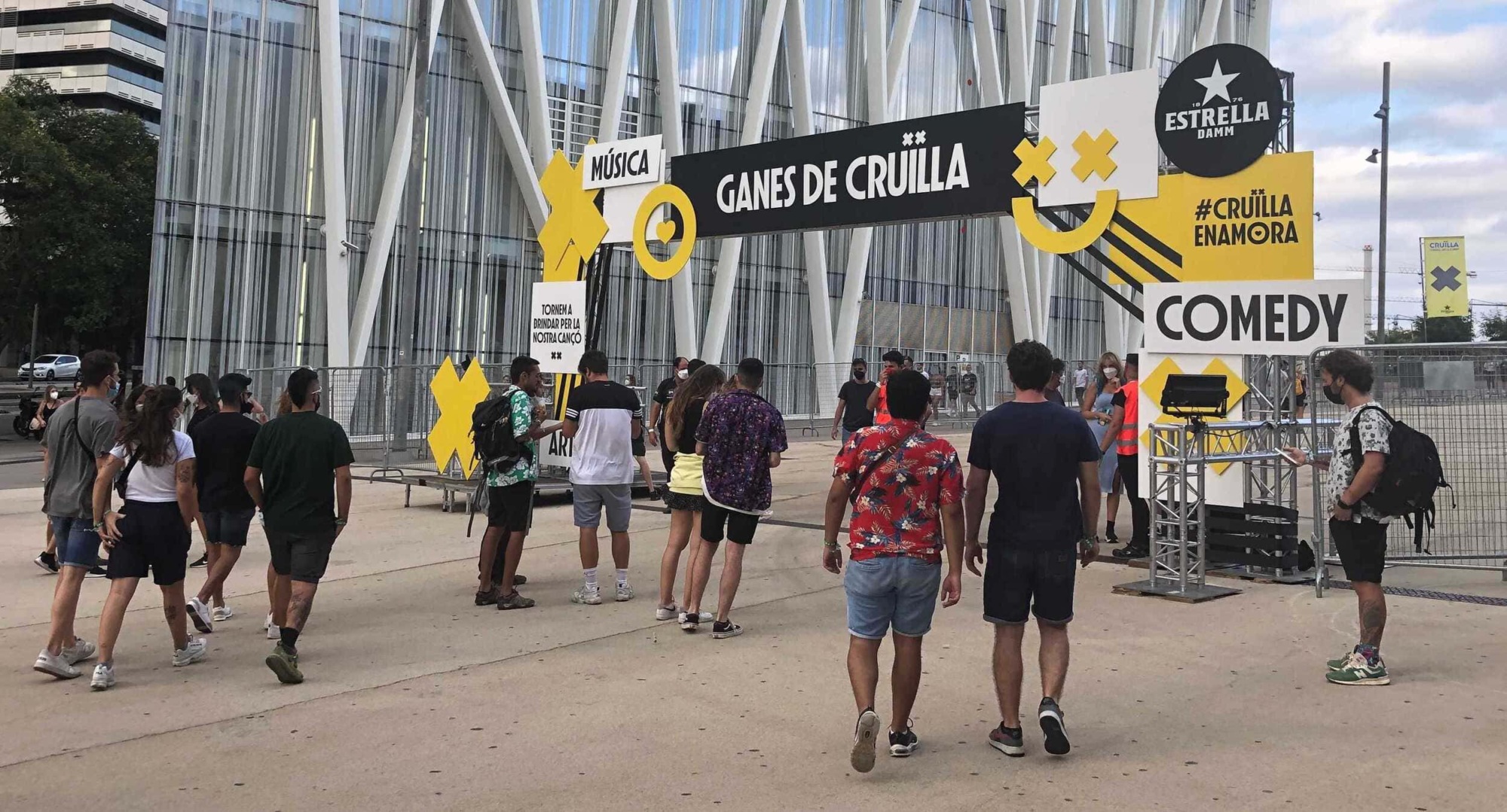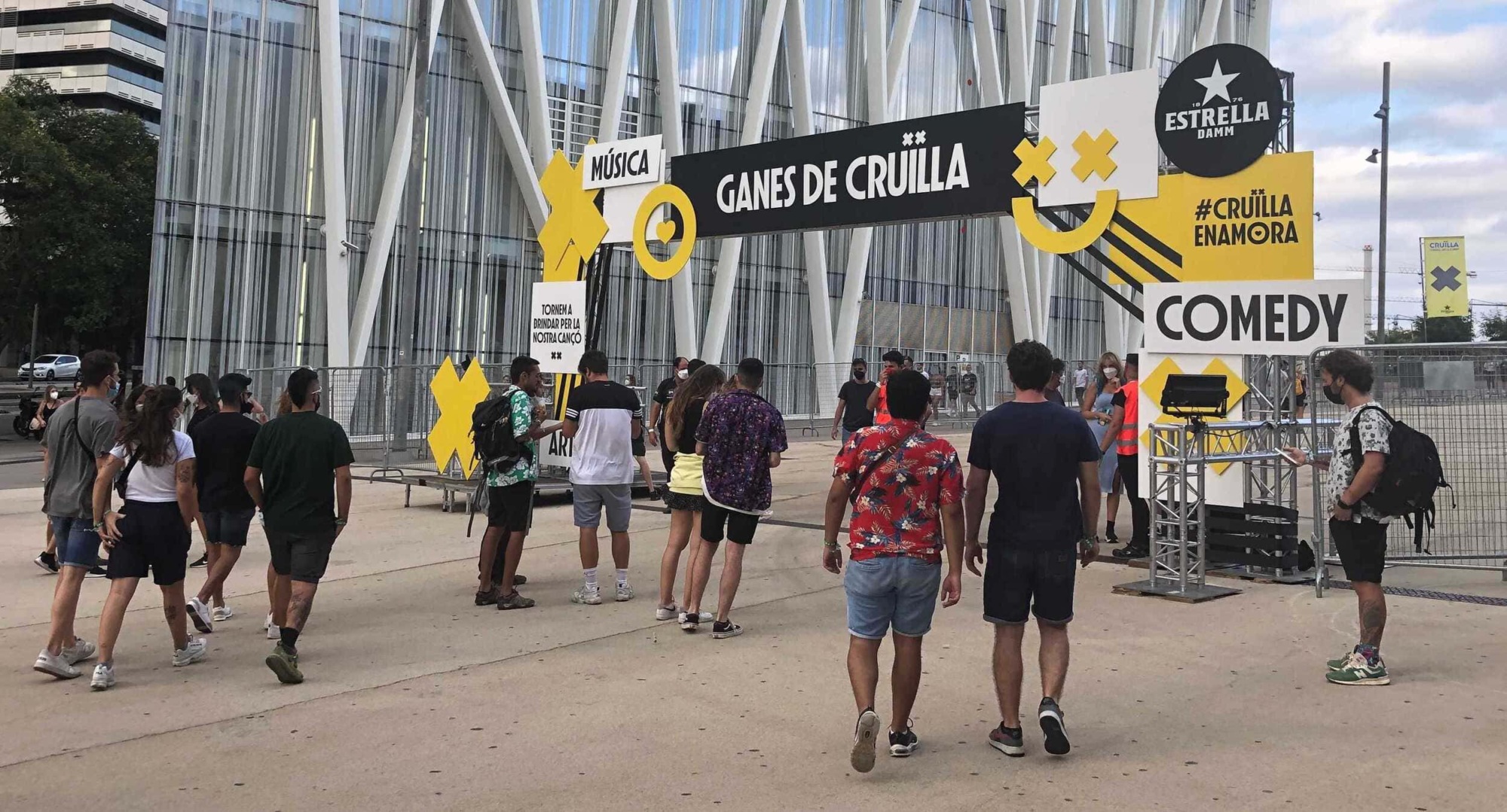 Festival Cruïlla
Festival Cruïlla: technology and expertise for a festival with no distancing.
Cruïlla Festival set up an unprecedented operation for the return of events amid the Covid pandemic, with the WeezPay cashless system and WeezAccess access control.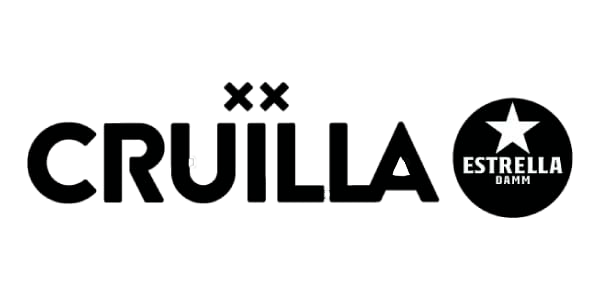 100%

online cashless top-up

5,000

Covid tests/hour

350

mobile points of sale

150

access control terminals
In July 2021, 50,000 peo­ple danced at the three-day fes­ti­val in Spain, with no restric­tions on move­ment or social dis­tanc­ing rules. The seem­ing­ly impos­si­ble was made pos­si­ble at Fes­ti­val Cruïl­la thanks to the imple­men­ta­tion of a strict admis­sion sys­tem. Our tech­no­log­i­cal solu­tions sup­port­ed the event for the var­i­ous cru­cial aspects of the oper­a­tion, includ­ing online pay­ment for anti­gen tests, access con­trol, ver­i­fi­ca­tion of test results, and cash­less pay­ments at the bars & cater­ing points.
Managing 50,000 attendees in the context of Covid-19
Payment for antigen tests and NFC access control
Our tech­ni­cal team devel­oped an inno­v­a­tive and unique solu­tion for the needs of this spe­cial edi­tion of Fes­ti­val Cruïl­la: a mod­ule inte­grat­ing cash­less top-ups, as well as the book­ing and pay­ment for anti­gen tests, which atten­dees had to car­ry out each day of the festival.Before the anti­gen tests were con­duct­ed, each attendee had to present their tick­et to prove its valid­i­ty and their iden­ti­ty. Each attendee was then giv­en a wrist­band with an NFC chip linked to their tick­et and per­son­al cash­less account. The com­pa­ny in charge of car­ry­ing out the tests were able to send the results of each test to Weezevent via an API. The wrist­band there­fore had three func­tions; a tick­et, proof of a neg­a­tive anti­gen test, and means to make cash­less pay­ments.
At the festival's access points the infor­ma­tion con­tained in the wrist­band was checked using the NFC chip and the iden­ti­ty of the attendee was ver­i­fied.
Discov­er the oper­a­tion in détail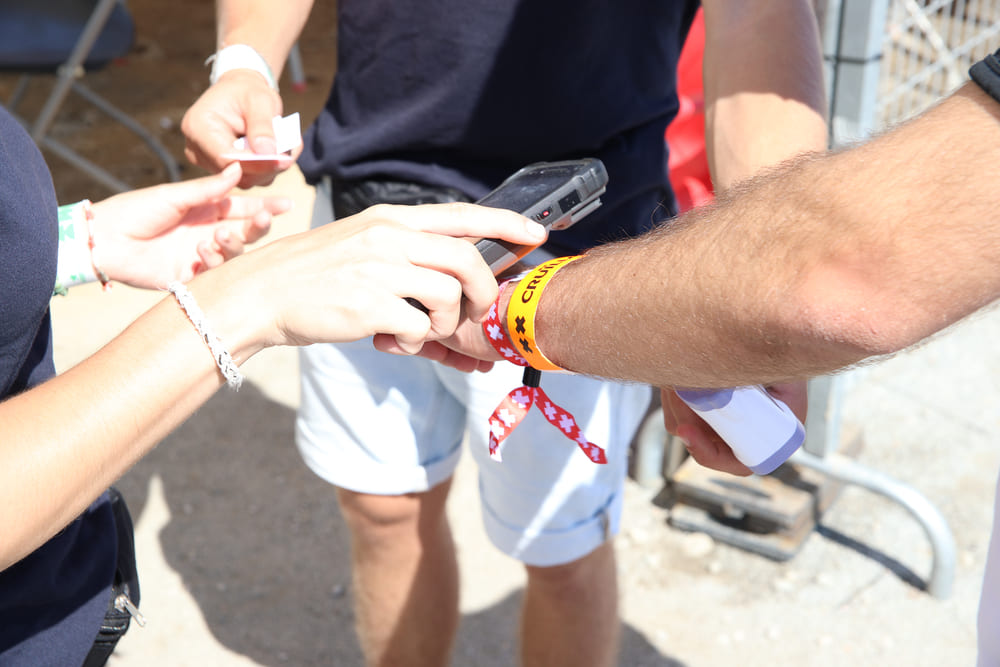 A cashless account adapted to all circumstances
The Weez­Pay tool allows for a high­ly flex­i­ble con­fig­u­ra­tion of cash­less accounts. At Fes­ti­val Cruïl­la, for exam­ple, the option to asso­ciate sev­er­al tick­ets with a sin­gle cash­less account was imple­ment­ed. This sys­tem is wide­ly used by fam­i­lies to man­age their con­sump­tion at events, and was par­tic­u­lar­ly use­ful at this fes­ti­val in enabling pay­ments for tests for whole fam­i­lies with no need to cre­ate an account for minors (from 7 to 16 years old). This also allowed for the man­age­ment of tick­ets for each day of the fes­ti­val as well as pay­ments for anti­gen tests from a sin­gle cash­less account.
In addi­tion, the infor­ma­tion on cash­less accounts facil­i­tat­ed the check­ing of minors' ages at all bars through a sim­ple process: when a minor's wrist­band was scanned at the bar the sys­tem imme­di­ate­ly noti­fied the oper­a­tor and made it impos­si­ble to sell them alco­holic drinks.
100% online cashless top-ups
Cash­less top-ups were opened before the event, togeth­er with pay­ments for the anti­gen test. Dur­ing the fes­ti­val there were no phys­i­cal top-up points, with all top-ups made online. This sys­tem, which avoid­ed unnec­es­sary con­tact, trav­el and queu­ing, was well received by the pub­lic and top-ups went smooth­ly.
Dur­ing the event, auto­mat­ic top-ups were acti­vat­ed for those who want­ed them. This meant that when the pre­vi­ous­ly topped-up bal­ance was spent, €20 was auto­mat­i­cal­ly topped up to the attendee's cash­less account, with­out the attendee need­ing to do any­thing. This option was lim­it­ed to a total of 5 top-ups, and required man­u­al reac­ti­va­tion by the attendee to restart the auto­mat­ic top-up cycle.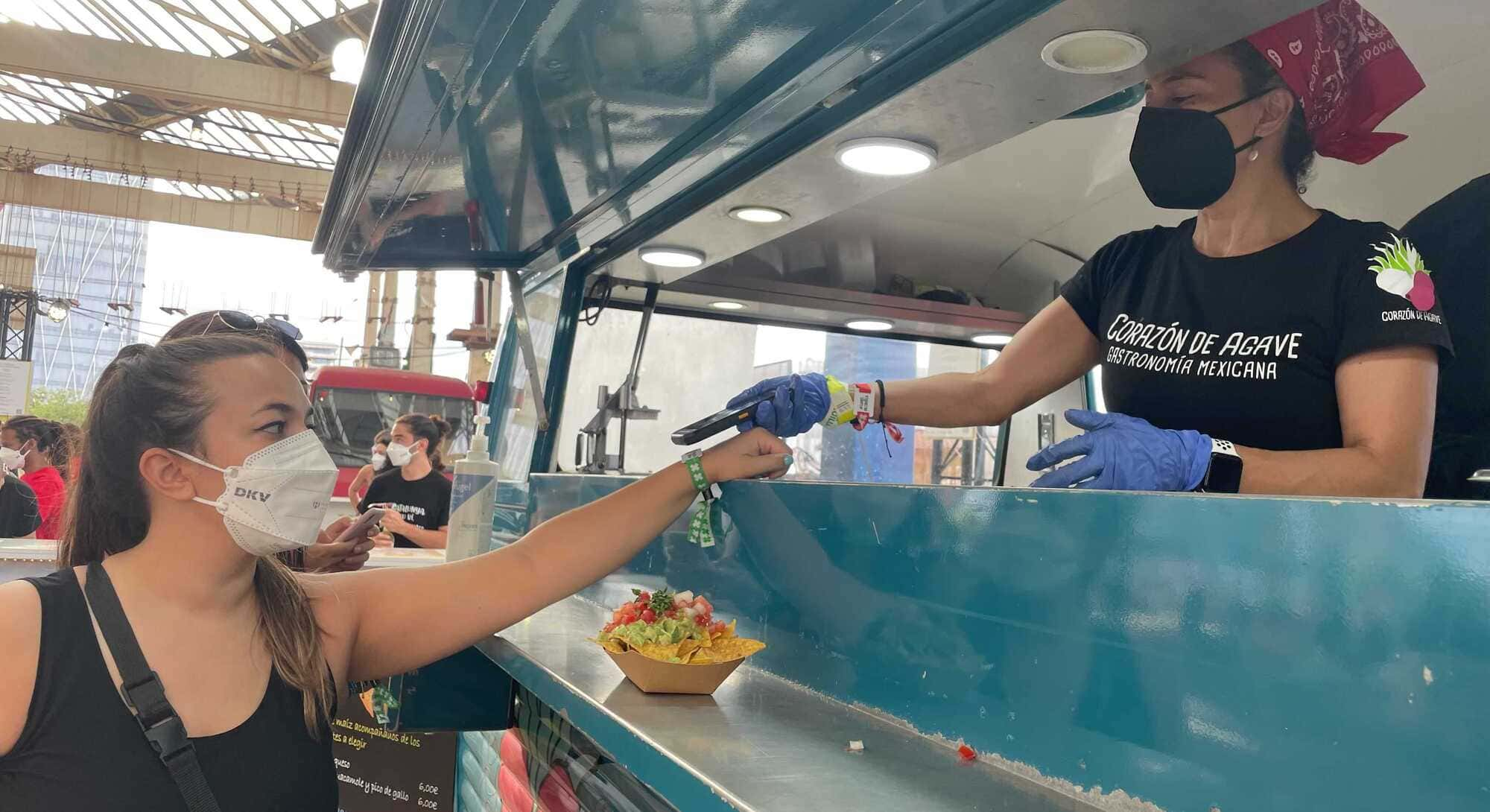 Use of key loyalty features
Brand activations
Brands such as Jäger­meis­ter, Coca-Cola, City Scout, DKV and Natur­gy were able to car­ry out brand acti­va­tions quick­ly and eas­i­ly. The Weez­Pay cash­less sys­tem made the process sim­ple: each brand had a cash­less ter­mi­nal on which it could select a free prod­uct to give to an attendee. Each of these free­bies was then record­ed and doc­u­ment­ed in reports from the back office.
Building loyalty among 2020 ticket holders
The organ­is­ers also want­ed to thank the atten­dees who had bought their tick­ets for the 2020 edi­tion and who did not ask for a refund when the post­pone­ment was announced, reward­ing their loy­al­ty with an offer of free drinks. Through Weez­Pay, this was eas­i­ly done by allo­cat­ing these free drinks to the cor­re­spond­ing atten­dees who could redeem them direct­ly via their cash­less wrist­band.
Returnable glasses
In most of the bars, the option to buy and return reusable glass­es was not acti­vat­ed due to the use of biodegrad­able cups. How­ev­er, it was decid­ed that they would be used in the VIP area, where atten­dees could get a refund on their cash­less account for returned emp­ty glass­es.
Monitoring in real time … and on large screens
Weezevent pro­vid­ed dash­boards to allow the organ­is­ers to mon­i­tor the var­i­ous key data points on the event in real time, includ­ing access num­bers, top-ups, the top 10 bars in terms of sales, the most pur­chased prod­ucts, and so on.
The organ­is­ers ded­i­cat­ed a room for this pur­pose, the Data Con­trol Cen­tre, where they installed large screens to dis­play these con­trol pan­els. In the era of data analy­sis the ini­tia­tive was a great suc­cess!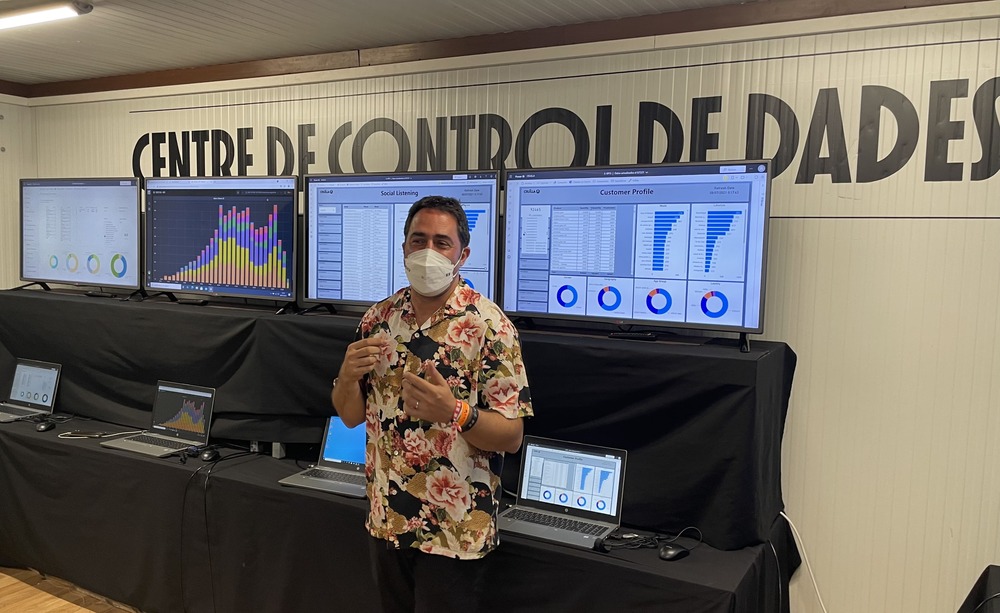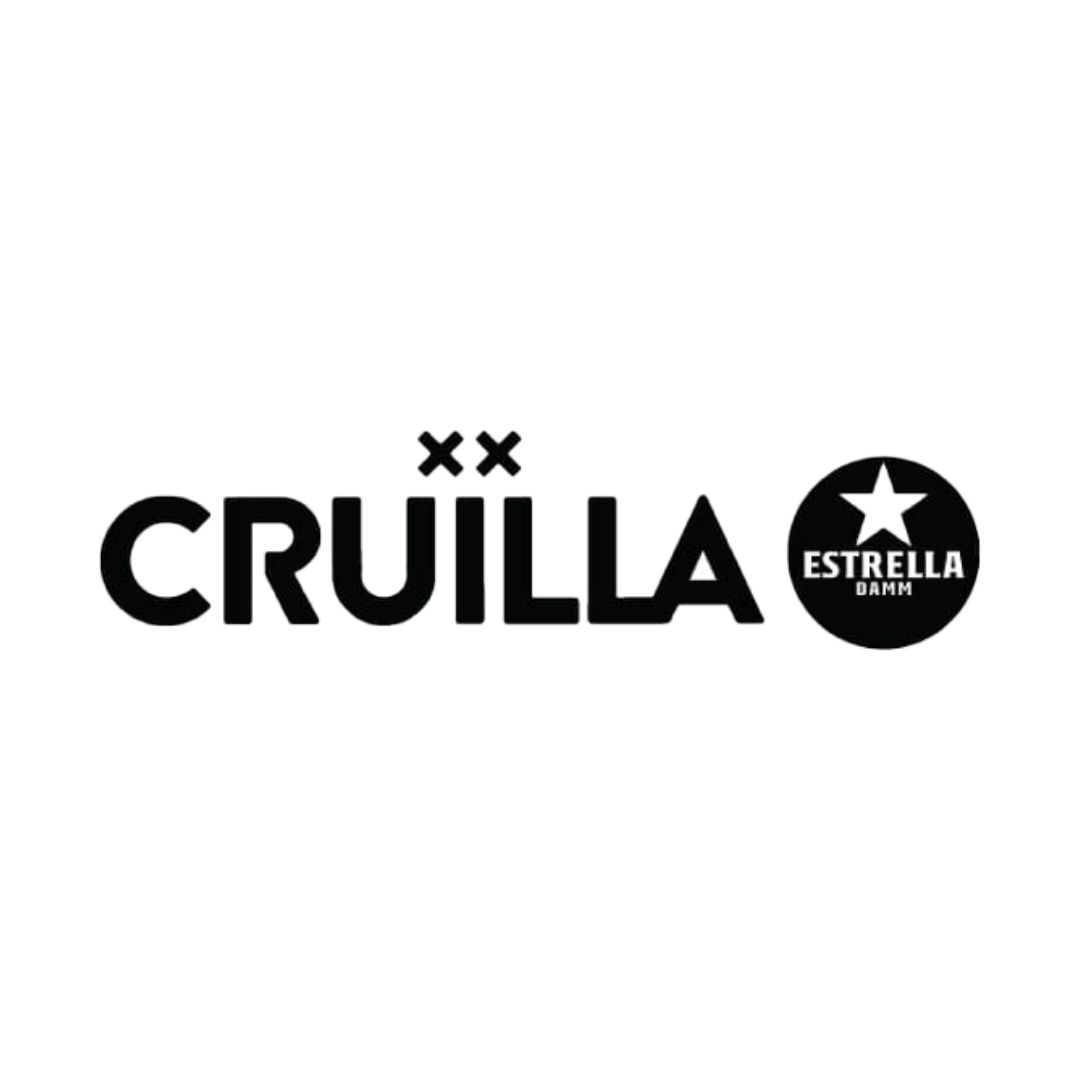 Hav­ing the sup­port of Weezevent is a guar­an­tee of reli­a­bil­i­ty in the deploy­ment of cash­less tech­nol­o­gy, for an edi­tion where it was vital that the entire process of book­ing tests, screen­ing, access and pay­ment worked smooth­ly and secure­ly.

David Rocasalbas CTO Festival Cruïlla Barcelona
Our success stories
Discover our greatest successes