Tick­et­ing is a sig­nif­i­cant source of income for most events. It's a strate­gic aspect for which organ­is­ers may or may not use dis­tri­b­u­tion net­works to pro­mote their event to a wider audi­ence, attract a new audi­ence and enable more tick­ets to be sold.
Although rev­enue pro­por­tions vary from one sec­tor to anoth­er, tick­et­ing rep­re­sents around 30% of a typ­i­cal event's turnover and is there­fore a lever that should be placed at the heart of your strategy.
Weezevent has been pro­mot­ing self-dis­tri­b­u­tion for more than 12 years.In this arti­cle we share the tools and best prac­tices to help you suc­ceed in sell­ing your tickets.
Summary:
1. Self-distribution
Self-dis­trib­ut­ing for your event means sell­ing tick­ets with­out an inter­me­di­ary. This means doing with­out tra­di­tion­al tick­et agents, either part­ly or wholly.
In some sec­tors self-dis­tri­b­u­tion is dif­fi­cult, if not impos­si­ble. This is not the case for events, as your brand iden­ti­ty and that of your event is intrin­si­cal­ly linked. When book­ing or reg­is­ter­ing for your event, atten­dees encounter a cer­tain aes­thet­ic or promise that's unique to you and which you've already developed.
This is the case for con­cert halls and their pro­grammes: they promise their audi­ence an expe­ri­ence and a care­ful­ly select­ed choice of artists. The same is true for every type of fes­ti­val where the per­cent­age of loy­al atten­dees from one year to the next is par­tic­u­lar­ly high.
Choosing self-distribution
Choos­ing self-dis­tri­b­u­tion to ensure suc­cess­ful sales is pos­si­ble thanks to two factors:
It's now tech­ni­cal­ly pos­si­ble thanks to self-ser­vice tick­et­ing solutions

Sim­ple and effi­cient com­mu­ni­ca­tion solu­tions, like Google or social media, allow you to pro­mote your event yourself.
On aver­age, Weezevent users self-dis­trib­ute 84% of their tick­ets, and entrust the sale of the remain­ing 16% to dis­tri­b­u­tion networks.
Challenges tied to distribution
Dis­trib­u­tors aggre­gate the mar­ket and become essen­tial mar­ket­places for suc­cess­ful sales. How­ev­er, in some cas­es, this sys­tem can weak­en rather than strength­en the posi­tion of the event producer.
Very often the dis­trib­u­tor is spe­cialised, or even ultra-spe­cialised, and will dom­i­nate your mar­ket. It's tempt­ing to want to be dis­trib­uted on a mar­ket­place that's close to your sec­tor. How­ev­er, keep in mind that this means your audi­ence can use the same plat­form to find events with sim­i­lar pro­grammes, aes­thet­ics and dates, offered against yours. Since attendee data­bas­es are shared, your atten­dees will also receive mar­ket­ing emails and mes­sages about these same events.
It's essen­tial that you know how to use dis­tri­b­u­tion chan­nels wise­ly and at the right time. The rest of this arti­cle will guide you in under­stand­ing your dif­fer­ent audi­ences and the dif­fer­ent sell­ing 'moments' asso­ci­at­ed with them.
2. Knowing your audience
To be able to sell your tick­ets direct­ly and free your­self from dis­trib­u­tors, you need to know your audience.
We can seg­ment audi­ences accord­ing to 2 types:
The cap­tive audi­ence: those who know you and your event. They've already been, and they'll be back. Your objec­tive is not to con­vince them, but to always deliv­er what they want.
The non-cap­tive audi­ence: those who are beyond your cur­rent reach. They know lit­tle or noth­ing about your event. Your objec­tive is to make them inter­est­ed in your event, this is more dif­fi­cult and may require the use of a dis­tri­b­u­tion net­work to reach them.It's par­tic­u­lar­ly help­ful to clear­ly iden­ti­fy your audi­ences in order to sell direct­ly to your cap­tive audi­ence, and then use a dis­tri­b­u­tion net­work to sell your tick­ets to your non-cap­tive audience.
3. Understanding sales curves
Your sales rhythm has an impact on when and how you should use a dis­tri­b­u­tion net­work. Antic­i­pat­ing your sales rhythm allows you to avoid cre­at­ing com­pe­ti­tion for your own event and get your dis­tri­b­u­tion net­work to sup­port you dur­ing peri­ods of low sales.
This will allow you to time the dis­tri­b­u­tion and know when to open the sale of tick­ets via your distributors.
Here is a rep­re­sen­ta­tive visu­al of 3 dif­fer­ent sales rhythms observed as a gen­er­al rule.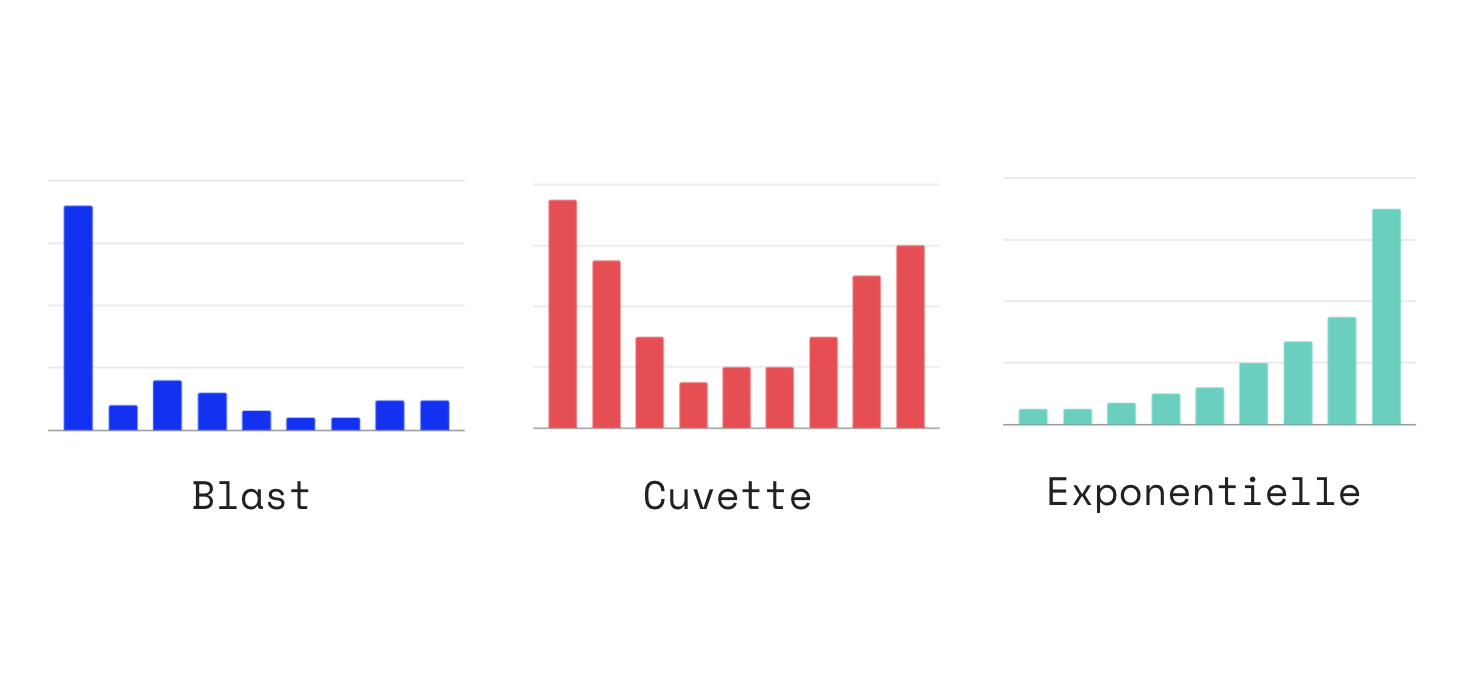 Blast: At the open­ing of the tick­et sales the fre­quen­cy of pur­chase is par­tic­u­lar­ly high. The rest of the sales process is more steady.
Bowl: Two pur­chase peaks are iden­ti­fied: at the tick­et launch or the announce­ment of the pro­gramme, and lat­er as the event approaches.
Expo­nen­tial: This cor­re­sponds par­tic­u­lar­ly to more niche events, with rel­a­tive­ly few ear­ly pur­chas­es, and the major­i­ty of sales made short­ly before the event.
Remem­ber: Make your dis­trib­u­tor sell tick­ets for your event at times when you can't sell them your­self. Don't let them com­pete with you at times when you can eas­i­ly sell your tick­ets yourself.
4. The benefits of self-service ticketing software
Using self-service ticketing software allows you to self-distribute with no need for technical knowledge. This solution brings you many advantages, of which here are some examples:
A con­sis­tent identity
Being able to inte­grate a tick­et­ing mod­ule into your own web­site, or cre­ate a mini-site in 5 min­utes, allows you to main­tain your visu­al iden­ti­ty through­out the pur­chase process. When some­one buys from a distributor's web­site, your iden­ti­ty dis­ap­pears in favour of the merchant's.
Lower costs
Using self-ser­vice tick­et­ing soft­ware allows you to save mon­ey and use your bud­get for oth­er expenses.
Gen­er­al­ly, there's a loss of mar­gin in order to fund the dis­trib­u­tor. If a direct sale costs around 5%, an inter­me­di­ate sale costs between 10–15% of the tick­et price.
And if the use of a dis­trib­u­tor does not direct­ly affect your mar­gin, its cost will be passed on to the tick­et buy­er, which can become a major source of frus­tra­tion for your cap­tive audi­ence, and can reduce sales among your non-cap­tive audience.
A friendly & agile mobile journey
On aver­age 80% of tick­et pur­chas­es are made via mobile. The pur­chase expe­ri­ence must be a flu­id and respon­sive one. Obsta­cles must be avoid­ed as these dis­cour­age cus­tomers from com­plet­ing the purchase.
The attendee wants to buy their tick­et as quick­ly and eas­i­ly as pos­si­ble. Hav­ing to cre­ate an account or remem­ber a pass­word can be a major obstruction.
When choos­ing a tick­et­ing ser­vice it's there­fore impor­tant that you check the solution's func­tion­al­i­ty on mobile phones.
Private sales
To attract and retain your atten­dees it's wise to offer them advan­tages and offers.
We rec­om­mend, for exam­ple, using exclu­sive pro­mo­tion codes. These can be used to buy tick­ets in advance, buy tick­ets at a low­er price, or pro­vide exclu­sive access and/or priv­i­leges. Pri­vate sales are easy to set up and allow you to devel­op a strong com­mu­ni­ty around your event, guar­an­tee­ing loy­al­ty and word of mouth rec­om­men­da­tions for future editions.
Create your own sales channels
Self-dis­tri­b­u­tion allows you to sell to your audi­ence direct­ly. This free­dom gives you the oppor­tu­ni­ty to cre­ate your own sales chan­nels. You can mobilise numer­ous part­ners to attract your tar­get audi­ence and, more wide­ly, your non-cap­tive audi­ence. Here are some exam­ples of part­ners already acti­vat­ed by our organ­is­ers who ben­e­fit from self-distribution:
Schools & universities
Tourism offices
Com­pa­ny boards
Cul­tur­al venues & halls
Record shops & clubs
Local part­ners
With these part­ners you can cre­ate your own sales net­work while remain­ing independent.
Cross-selling and upselling as a way of maximising turnover
If you've con­vinced an attendee to buy a tick­et for your event you've done the hard part. Once you've cap­tured their atten­tion and they've decid­ed to attend your event it will be eas­i­er to increase their shop­ping bas­ket by offer­ing them addi­tion­al services.
With the right tick­et­ing soft­ware you can enhance your audience's experience.
There are end­less pos­si­bil­i­ties, of which here are some examples:
buy­ing a camp­ing space for a mul­ti-day event,
pre-sales of drinks at a discount,
pre-sales of lim­it­ed quan­ti­ties of exclu­sive dishes;
the addi­tion of pre­mi­um options,
pur­chas­ing VIP access.
Data collection
It's very impor­tant that you know who owns the data col­lect­ed by your event (atten­dees' names, email address­es, etc.).
If you are the sole own­er of your data. Doing this guar­an­tees that the data is not used as a pro­mo­tion­al tool by a sales plat­form to attract your com­peti­tors. For exam­ple, your data­base of atten­dees at your elec­tro events could be used as a con­tact data­base for pro­mot­ing a com­pet­ing party.
In a digi­tised world tak­ing an inter­est in data is essen­tial. Amongst oth­er things, it allows you to set up spe­cial com­mu­ni­ca­tion cam­paigns addressed to pre­cise seg­ments of your audi­ence. Thanks to seg­men­ta­tion, you can send a dif­fer­ent mes­sage to atten­dees of each of the last 5 edi­tions than to an attendee who hasn't been for 2 edi­tions. To col­lect, analyse and exploit your event data, you can use a com­pre­hen­sive tool such as a CRM. This strat­e­gy allows you, once again, to retain your atten­dees, as it's much eas­i­er to retain a cap­tive audi­ence than attract a non-cap­tive one.
Once you've col­lect­ed the data you'll need to analyse and exploit it.
This will allow you to:
Know your audience
Send the right message
Auto­mate campaigns
Test and innovate
Mea­sure your activity
Do you want to take back con­trol of your tick­ets? Dis­cov­er our WeezTick­et solution.
Do you have any ques­tions? Con­tact our cus­tomer ser­vice via email, or by phone at +33 (0)1 86 65 24 00.