Ticketing is a significant source of income for most events. It's a strategic aspect for which organisers may or may not use distribution networks to promote their event to a wider audience, attract a new audience and enable more tickets to be sold.
Although revenue proportions vary from one sector to another, ticketing represents around 30% of a typical event's turnover and is therefore a lever that should be placed at the heart of your strategy.
Weezevent has been promoting self-distribution for more than 12 years.In this article we share the tools and best practices to help you succeed in selling your tickets.
Summary:
1. Self-distribution
Self-distributing for your event means selling tickets without an intermediary. This means doing without traditional ticket agents, either partly or wholly.
In some sectors self-distribution is difficult, if not impossible. This is not the case for events, as your brand identity and that of your event is intrinsically linked. When booking or registering for your event, attendees encounter a certain aesthetic or promise that's unique to you and which you've already developed.
This is the case for concert halls and their programmes: they promise their audience an experience and a carefully selected choice of artists. The same is true for every type of festival where the percentage of loyal attendees from one year to the next is particularly high.
Choosing self-distribution
Choosing self-distribution to ensure successful sales is possible thanks to two factors:
It's now technically possible thanks to self-service ticketing solutions

Simple and efficient communication solutions, like Google or social media, allow you to promote your event yourself.
 On average, Weezevent users self-distribute 84% of their tickets, and entrust the sale of the remaining 16% to distribution networks.
Challenges tied to distribution
Distributors aggregate the market and become essential marketplaces for successful sales. However, in some cases, this system can weaken rather than strengthen the position of the event producer.
Very often the distributor is specialised, or even ultra-specialised, and will dominate your market. It's tempting to want to be distributed on a marketplace that's close to your sector. However, keep in mind that this means your audience can use the same platform to find events with similar programmes, aesthetics and dates, offered against yours. Since attendee databases are shared, your attendees will also receive marketing emails and messages about these same events.
It's essential that you know how to use distribution channels wisely and at the right time. The rest of this article will guide you in understanding your different audiences and the different selling 'moments' associated with them.
2. Knowing your audience
To be able to sell your tickets directly and free yourself from distributors, you need to know your audience.
We can segment audiences according to 2 types:
The captive audience: those who know you and your event. They've already been, and they'll be back. Your objective is not to convince them, but to always deliver what they want.
The non-captive audience: those who are beyond your current reach. They know little or nothing about your event. Your objective is to make them interested in your event, this is more difficult and may require the use of a distribution network to reach them.It's particularly helpful to clearly identify your audiences in order to sell directly to your captive audience, and then use a distribution network to sell your tickets to your non-captive audience.
3. Understanding sales curves
Your sales rhythm has an impact on when and how you should use a distribution network. Anticipating your sales rhythm allows you to avoid creating competition for your own event and get your distribution network to support you during periods of low sales.
This will allow you to time the distribution and know when to open the sale of tickets via your distributors.
Here is a representative visual of 3 different sales rhythms observed as a general rule.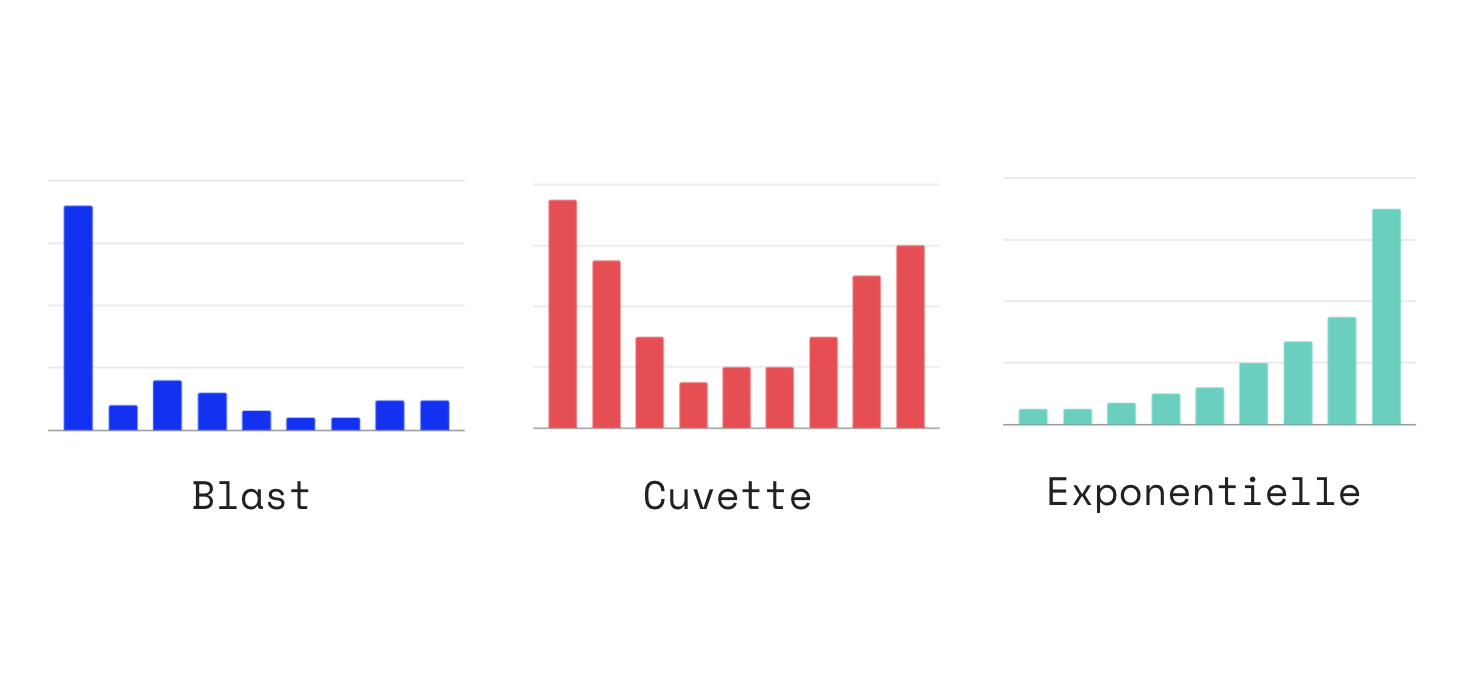 Blast: At the opening of the ticket sales the frequency of purchase is particularly high. The rest of the sales process is more steady.
Bowl: Two purchase peaks are identified: at the ticket launch or the announcement of the programme, and later as the event approaches.
Exponential: This corresponds particularly to more niche events, with relatively few early purchases, and the majority of sales made shortly before the event.
Remember: Make your distributor sell tickets for your event at times when you can't sell them yourself. Don't let them compete with you at times when you can easily sell your tickets yourself.
4. The benefits of self-service ticketing software
Using self-service ticketing software allows you to self-distribute with no need for technical knowledge. This solution brings you many advantages, of which here are some examples:
A consistent identity
Being able to integrate a ticketing module into your own website, or create a mini-site in 5 minutes, allows you to maintain your visual identity throughout the purchase process. When someone buys from a distributor's website, your identity disappears in favour of the merchant's.
Lower costs
Using self-service ticketing software allows you to save money and use your budget for other expenses.
Generally, there's a loss of margin in order to fund the distributor. If a direct sale costs around 5%, an intermediate sale costs between 10-15% of the ticket price.
And if the use of a distributor does not directly affect your margin, its cost will be passed on to the ticket buyer, which can become a major source of frustration for your captive audience, and can reduce sales among your non-captive audience.
A friendly & agile mobile journey
On average 80% of ticket purchases are made via mobile. The purchase experience must be a fluid and responsive one. Obstacles must be avoided as these discourage customers from completing the purchase.
The attendee wants to buy their ticket as quickly and easily as possible. Having to create an account or remember a password can be a major obstruction.
When choosing a ticketing service it's therefore important that you check the solution's functionality on mobile phones.
Private sales
To attract and retain your attendees it's wise to offer them advantages and offers.
We recommend, for example, using exclusive promotion codes. These can be used to buy tickets in advance, buy tickets at a lower price, or provide exclusive access and/or privileges. Private sales are easy to set up and allow you to develop a strong community around your event, guaranteeing loyalty and word of mouth recommendations for future editions.
Create your own sales channels
Self-distribution allows you to sell to your audience directly. This freedom gives you the opportunity to create your own sales channels. You can mobilise numerous partners to attract your target audience and, more widely, your non-captive audience. Here are some examples of partners already activated by our organisers who benefit from self-distribution:
Schools & universities
Tourism offices
Company boards
Cultural venues & halls
Record shops & clubs
Local partners
With these partners you can create your own sales network while remaining independent.
Cross-selling and upselling as a way of maximising turnover
If you've convinced an attendee to buy a ticket for your event you've done the hard part. Once you've captured their attention and they've decided to attend your event it will be easier to increase their shopping basket by offering them additional services.
With the right ticketing software you can enhance your audience's experience.
There are endless possibilities, of which here are some examples:
buying a camping space for a multi-day event,
pre-sales of drinks at a discount,
pre-sales of limited quantities of exclusive dishes;
the addition of premium options,
purchasing VIP access.
Data collection
It's very important that you know who owns the data collected by your event (attendees' names, email addresses, etc.).
If you are the sole owner of your data. Doing this guarantees that the data is not used as a promotional tool by a sales platform to attract your competitors. For example, your database of attendees at your electro events could be used as a contact database for promoting a competing party.
In a digitised world taking an interest in data is essential. Amongst other things, it allows you to set up special communication campaigns addressed to precise segments of your audience. Thanks to segmentation, you can send a different message to attendees of each of the last 5 editions than to an attendee who hasn't been for 2 editions. To collect, analyse and exploit your event data, you can use a comprehensive tool such as a CRM. This strategy allows you, once again, to retain your attendees, as it's much easier to retain a captive audience than attract a non-captive one.
Once you've collected the data you'll need to analyse and exploit it.
This will allow you to:
Know your audience
Send the right message
Automate campaigns
Test and innovate
Measure your activity
Do you want to take back control of your tickets? Discover our WeezTicket solution.
Do you have any questions? Contact our customer service via email, or by phone at (514) 419‑2666.