In 2022, Weezevent has supported 500 large events in 20 countries. In total, 5.5 million cashless devices have been activated and 43 million transactions have passed through our solutions.
Supporting so many events in their deployment of cashless systems has allowed us to integrate new knowledge and answer all the questions that organisers have.
It's clear that digital technology has taken on a considerable role in society, and particularly in the event industry. Whereas in the past having to go and buy your tickets at a physical point of sale was common, and very often the only solution, it would be difficult to imagine such a process today, when online ticketing is widely available. Digitising your event further will help you respond to a strong and ever-growing consumer habit.
This observation has allowed us to identify two key moments in an attendee's cashless experience: topping up and consumption. In this article, we give you our recommendations for digitising these experiences while continuing to support your attendees and meet their expectations.
1. Online top-ups
What percentage of top-ups are carried out online compared to on site?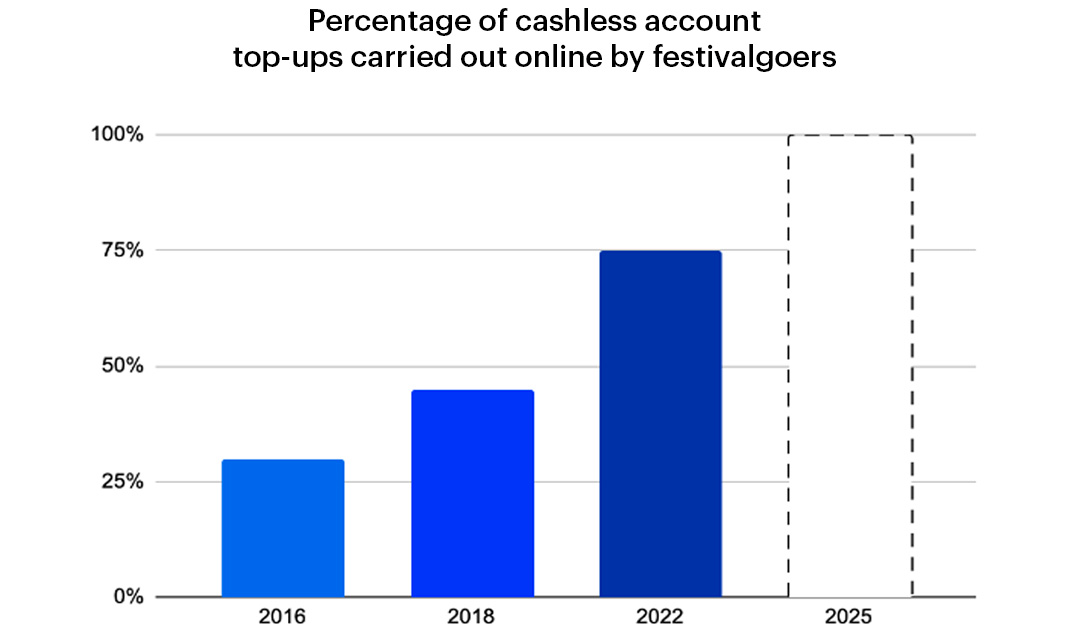 Comparing the percentage of online top-ups over the years (see graph), the conclusion is clear: the audience has adopted online cashless top-ups, and we can expect this trend to grow further.
By 2025, we predict that online cashless top-ups will be the norm.
When and how do attendees top up their cashless account?
We know from our cashless organisers that the majority (60%) of attendees prepare for their visit by topping up their cashless account before coming. For almost all of them, this preparation takes place within 48 hours before their arrival at the event.
As an organiser, referring to this data will help with imagining exclusive offers. To boost top-ups beforehand, a good idea is to offer promotions linked to the top-up period, such as:
A collector's T-shirt for every pre-event top-up
Access to a VIP area for pre-event top-ups of over £100
A free drink for top-ups made at least 24 hours before the event
For a short event (1-2 days), the average attendee will top up their account 1.4 times. This figure underlines the public's confidence in and knowledge of cashless technology: they know they can be reimbursed for the remaining balance of their cashless account after the event, and won't hesitate to top up a large amount, rather than topping it up for each purchase.
This habit allows them to spend less time topping up their account and more time enjoying your event.
The method used to top up an online cashless account varies from event to event. For the cashless festivals analysed, here's the breakdown:
Computer and mobile (cashless widget): 35%
Fast top-up (QR code scan): 35%
Mobile app (integration into the festival's app): 30%
The advantages of online top-ups
In Europe, 2 events have tested 100% online top-ups in 2022: Cruïlla Festival in Spain and Gurtenfestival in Switzerland. There are several advantages to the reduction, or even complete disappearance, of on-site top-up points:
Reduction of structural costs: If there are no more top-up points on site, there's no need for physical 'banks'. Nonetheless, an information point is still needed to guide attendees (lost cashless device, questions on usage, etc.).
Better service for other festivalgoers through overflow: As a result of the previous point, the staff usually in charge of the top-up points can engage in other tasks and strengthen the often very busy teams (bar, service, cleaning, etc.).
Each attendee becomes their own banker: The top-up action is performed independently and you considerably reduce the risk of disputes later on (since there's no risk of misunderstandings between the banker and the attendee).
Encouraging online usage with fast top-up
This summer, we deployed fast top-up for the first time and its usage rate (up to 65% at some festivals) promises even greater adoption as attendees discover its benefits. With this innovation, your attendees use their smartphone to scan a QR code that automatically redirects them to a form that requires only their cashless device number before the checkout stage. Offering this service alleviates the burden for on-site structures, reduces queues at the event's banks, and makes cash management more secure (with no hand-to-hand transactions).
To encourage its use, there are two ways to present the quick top-up option:
Display the QR code at strategic points (consumption points and top-up points).
Print the QR code on each attendee's wristband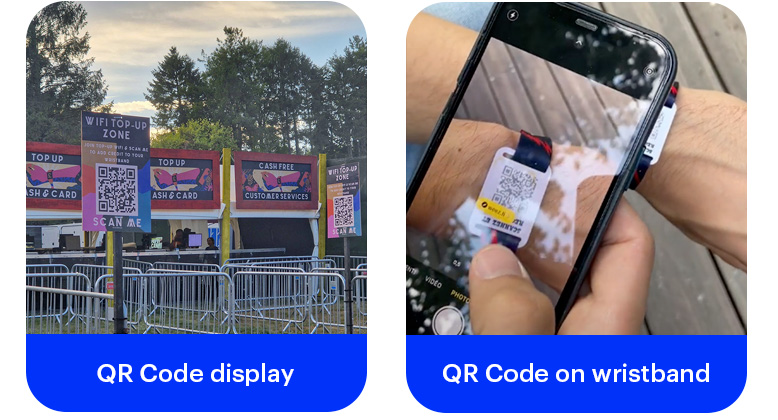 This independent top-up method requires an internet connection, yet at large gatherings, 3G/4G/5G coverage is often insufficient. To overcome this, we recommend using 'Wi-Fi umbrellas'. Capable of providing a connection to 60 festivalgoers at the same time (or more if the power allows it), these connection points are particularly useful for organisers. By deploying 4 Wi-Fi umbrellas at your event, you'll enable 240 simultaneous top-ups, which is hardly possible with traditional bank infrastructure.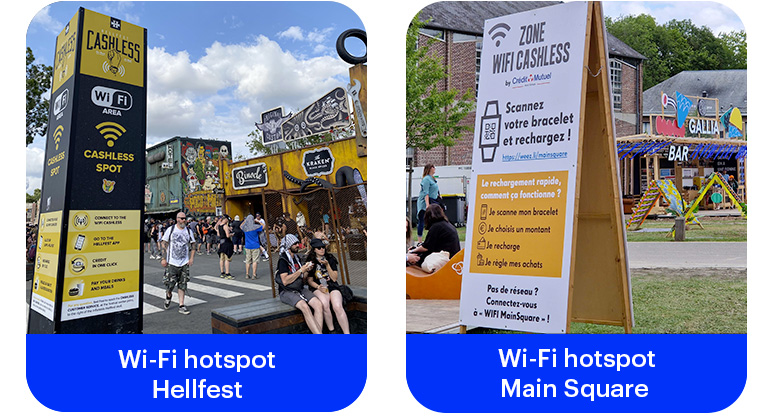 2. Online consumption
Data and projections
While online top-ups are widely adopted by attendees and used by cashless event organisers, online consumption is in its infancy, but promises many opportunities.
We now know that the turnover generated on site by festivalgoers is broken down as follows:
Bar: 59% (-5pts vs 2018)
Catering: 30% (+3pts vs 2018)
Merchandising: 5% (+2pts vs 2018)
Other: 6% (similar to 2018)
In addition to the undeniable importance of the 'bar' offering, catering is becoming an increasingly important part of festivalgoers' experience. However, these two points of sale are, in most cases, the places where queues can be the longest.
By digitising part of the bar and catering offerings, you'll allow attendees to save time and enjoy a more vibrant experience. To reach the highest possible level of satisfaction in 2023, this point must absolutely be taken into account when devising your food & drink offerings.
Advantages of click & collect
a) More profitability and better service
In 2022, the average productivity of a bartender is 60 orders per hour (with a minimum of 40/hour and a maximum of 120/hour). Since an order is divided into 3 stages – order taking, payment, and service – offering a click & collect service shortens the time taken for each order by ⅔.
Implementing click & collect also promises a better service for attendees, who save time by simply picking up their order which they previously made online in a dedicated queue. They can then take advantage of this time to discover your event and its concerts and activities.
b) Better distribution of information
By offering your attendees the option of ordering online, you can provide them with more information. In a society where movements are increasingly important, highlighting your environmental, economic and social actions can have significant benefits for your image.
Within a mobile app, you can easily offer information and messages that would be difficult to communicate in person (due to a lack of time, opportunity and means). For example, you can provide a better overview of your catering offering: which points of sale offer vegan products? Short-circuit products? Organic products? And so on.
From a commercial perspective, the systematic implementation of an app for your event will open up further sponsorship opportunities. In return for their support, you can offer your sponsors and partners increased visibility on the app, with the highlighting of a promotional offer or information about their organisation.
3. Conclusion
As we've seen, offering a 100% online cashless experience for your attendees comes with many advantages and opportunities which centre on 4 main points:
Security: You limit on-site operations and the associated risks.
Service: You can promote relaxation time for your attendees and reduce the time wasted topping up their cashless account at the bank.
Operations: Your queues are shortened and your structural costs are reduced.
Information: Communicate information more easily to the audience, which is now a real lever for consumption.
---
To help you make the transition to 100% online cashless payment, our experts are at your disposal to present you with every possible scenario adapted to your event with our WeezPay solution.