In 2022, Weezevent has sup­port­ed 500 large events in 20 coun­tries. In total, 5.5 mil­lion cash­less devices have been acti­vat­ed and 43 mil­lion trans­ac­tions have passed through our solu­tions.
Sup­port­ing so many events in their deploy­ment of cash­less sys­tems has allowed us to inte­grate new knowl­edge and answer all the ques­tions that organ­is­ers have.
It's clear that dig­i­tal tech­nol­o­gy has tak­en on a con­sid­er­able role in soci­ety, and par­tic­u­lar­ly in the event indus­try. Where­as in the past hav­ing to go and buy your tick­ets at a phys­i­cal point of sale was com­mon, and very often the only solu­tion, it would be dif­fi­cult to imag­ine such a process today, when online tick­et­ing is wide­ly avail­able. Digi­tis­ing your event fur­ther will help you respond to a strong and ever-grow­ing con­sumer habit.
This obser­va­tion has allowed us to iden­ti­fy two key moments in an attendee's cash­less expe­ri­ence: top­ping up and con­sump­tion. In this arti­cle, we give you our rec­om­men­da­tions for digi­tis­ing these expe­ri­ences while con­tin­u­ing to sup­port your atten­dees and meet their expec­ta­tions.
1. Online top-ups
What percentage of top-ups are carried out online compared to on site?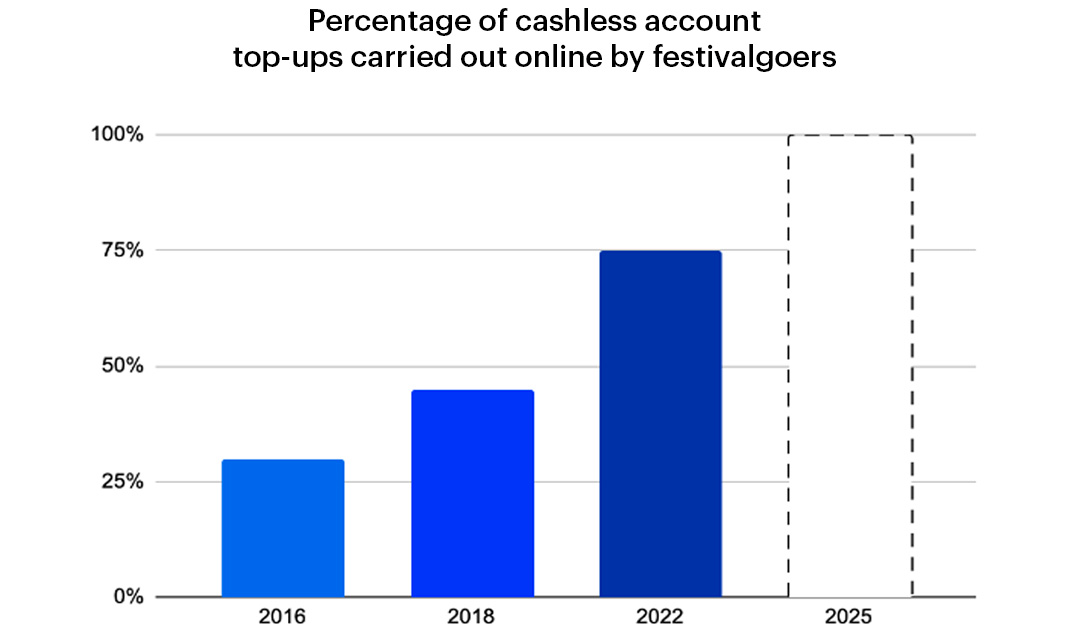 Com­par­ing the per­cent­age of online top-ups over the years (see graph), the con­clu­sion is clear: the audi­ence has adopt­ed online cash­less top-ups, and we can expect this trend to grow fur­ther.
By 2025, we pre­dict that online cash­less top-ups will be the norm.
When and how do attendees top up their cashless account?
We know from our cash­less organ­is­ers that the major­i­ty (60%) of atten­dees pre­pare for their vis­it by top­ping up their cash­less account before com­ing. For almost all of them, this prepa­ra­tion takes place with­in 48 hours before their arrival at the event.
As an organ­is­er, refer­ring to this data will help with imag­in­ing exclu­sive offers. To boost top-ups before­hand, a good idea is to offer pro­mo­tions linked to the top-up peri­od, such as:
A collector's T‑shirt for every pre-event top-up
Access to a VIP area for pre-event top-ups of over £100
A free drink for top-ups made at least 24 hours before the event
For a short event (1–2 days), the aver­age attendee will top up their account 1.4 times. This fig­ure under­lines the public's con­fi­dence in and knowl­edge of cash­less tech­nol­o­gy: they know they can be reim­bursed for the remain­ing bal­ance of their cash­less account after the event, and won't hes­i­tate to top up a large amount, rather than top­ping it up for each pur­chase.
This habit allows them to spend less time top­ping up their account and more time enjoy­ing your event.
The method used to top up an online cash­less account varies from event to event. For the cash­less fes­ti­vals analysed, here's the break­down:
Com­put­er and mobile (cash­less wid­get): 35%
Fast top-up (QR code scan): 35%
Mobile app (inte­gra­tion into the festival's app): 30%
The advantages of online top-ups
In Europe, 2 events have test­ed 100% online top-ups in 2022: Cruïl­la Fes­ti­val in Spain and Gurten­fes­ti­val in Switzer­land. There are sev­er­al advan­tages to the reduc­tion, or even com­plete dis­ap­pear­ance, of on-site top-up points:
Reduc­tion of struc­tur­al costs: If there are no more top-up points on site, there's no need for phys­i­cal 'banks'. Nonethe­less, an infor­ma­tion point is still need­ed to guide atten­dees (lost cash­less device, ques­tions on usage, etc.).
Bet­ter ser­vice for oth­er fes­ti­val­go­ers through over­flow: As a result of the pre­vi­ous point, the staff usu­al­ly in charge of the top-up points can engage in oth­er tasks and strength­en the often very busy teams (bar, ser­vice, clean­ing, etc.).
Each attendee becomes their own banker: The top-up action is per­formed inde­pen­dent­ly and you con­sid­er­ably reduce the risk of dis­putes lat­er on (since there's no risk of mis­un­der­stand­ings between the banker and the attendee).
Encouraging online usage with fast top-up
This sum­mer, we deployed fast top-up for the first time and its usage rate (up to 65% at some fes­ti­vals) promis­es even greater adop­tion as atten­dees dis­cov­er its ben­e­fits. With this inno­va­tion, your atten­dees use their smart­phone to scan a QR code that auto­mat­i­cal­ly redi­rects them to a form that requires only their cash­less device num­ber before the check­out stage. Offer­ing this ser­vice alle­vi­ates the bur­den for on-site struc­tures, reduces queues at the event's banks, and makes cash man­age­ment more secure (with no hand-to-hand trans­ac­tions).
To encour­age its use, there are two ways to present the quick top-up option:
Dis­play the QR code at strate­gic points (con­sump­tion points and top-up points).
Print the QR code on each attendee's wrist­band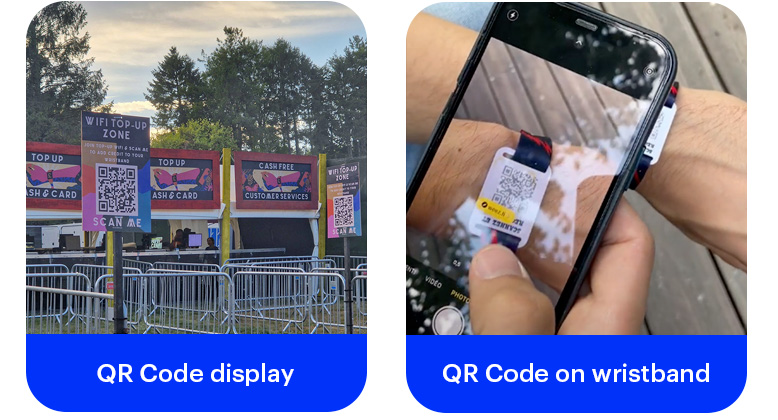 This inde­pen­dent top-up method requires an inter­net con­nec­tion, yet at large gath­er­ings, 3G/4G/5G cov­er­age is often insuf­fi­cient. To over­come this, we rec­om­mend using 'Wi-Fi umbrel­las'. Capa­ble of pro­vid­ing a con­nec­tion to 60 fes­ti­val­go­ers at the same time (or more if the pow­er allows it), these con­nec­tion points are par­tic­u­lar­ly use­ful for organ­is­ers. By deploy­ing 4 Wi-Fi umbrel­las at your event, you'll enable 240 simul­ta­ne­ous top-ups, which is hard­ly pos­si­ble with tra­di­tion­al bank infra­struc­ture.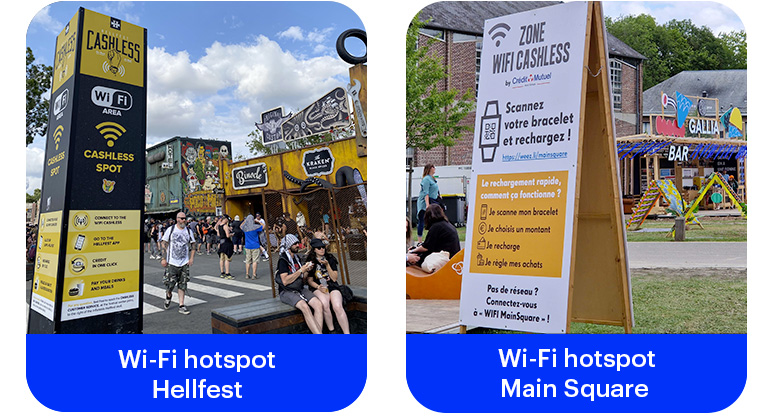 2. Online consumption
Data and projections
While online top-ups are wide­ly adopt­ed by atten­dees and used by cash­less event organ­is­ers, online con­sump­tion is in its infan­cy, but promis­es many oppor­tu­ni­ties.
We now know that the turnover gen­er­at­ed on site by fes­ti­val­go­ers is bro­ken down as fol­lows:
Bar: 59% (-5pts vs 2018)
Cater­ing: 30% (+3pts vs 2018)
Mer­chan­dis­ing: 5% (+2pts vs 2018)
Oth­er: 6% (sim­i­lar to 2018)
In addi­tion to the unde­ni­able impor­tance of the 'bar' offer­ing, cater­ing is becom­ing an increas­ing­ly impor­tant part of fes­ti­val­go­ers' expe­ri­ence. How­ev­er, these two points of sale are, in most cas­es, the places where queues can be the longest.
By digi­tis­ing part of the bar and cater­ing offer­ings, you'll allow atten­dees to save time and enjoy a more vibrant expe­ri­ence. To reach the high­est pos­si­ble lev­el of sat­is­fac­tion in 2023, this point must absolute­ly be tak­en into account when devis­ing your food & drink offer­ings.
Advantages of click & collect
a) More profitability and better service
In 2022, the aver­age pro­duc­tiv­i­ty of a bar­tender is 60 orders per hour (with a min­i­mum of 40/hour and a max­i­mum of 120/hour). Since an order is divid­ed into 3 stages — order tak­ing, pay­ment, and ser­vice — offer­ing a click & col­lect ser­vice short­ens the time tak­en for each order by ⅔.
Imple­ment­ing click & col­lect also promis­es a bet­ter ser­vice for atten­dees, who save time by sim­ply pick­ing up their order which they pre­vi­ous­ly made online in a ded­i­cat­ed queue. They can then take advan­tage of this time to dis­cov­er your event and its con­certs and activ­i­ties.
b) Better distribution of information
By offer­ing your atten­dees the option of order­ing online, you can pro­vide them with more infor­ma­tion. In a soci­ety where move­ments are increas­ing­ly impor­tant, high­light­ing your envi­ron­men­tal, eco­nom­ic and social actions can have sig­nif­i­cant ben­e­fits for your image.
With­in a mobile app, you can eas­i­ly offer infor­ma­tion and mes­sages that would be dif­fi­cult to com­mu­ni­cate in per­son (due to a lack of time, oppor­tu­ni­ty and means). For exam­ple, you can pro­vide a bet­ter overview of your cater­ing offer­ing: which points of sale offer veg­an prod­ucts? Short-cir­cuit prod­ucts? Organ­ic prod­ucts? And so on.
From a com­mer­cial per­spec­tive, the sys­tem­at­ic imple­men­ta­tion of an app for your event will open up fur­ther spon­sor­ship oppor­tu­ni­ties. In return for their sup­port, you can offer your spon­sors and part­ners increased vis­i­bil­i­ty on the app, with the high­light­ing of a pro­mo­tion­al offer or infor­ma­tion about their organ­i­sa­tion.
3. Conclusion
As we've seen, offer­ing a 100% online cash­less expe­ri­ence for your atten­dees comes with many advan­tages and oppor­tu­ni­ties which cen­tre on 4 main points:
Secu­ri­ty: You lim­it on-site oper­a­tions and the asso­ci­at­ed risks.
Ser­vice: You can pro­mote relax­ation time for your atten­dees and reduce the time wast­ed top­ping up their cash­less account at the bank.
Oper­a­tions: Your queues are short­ened and your struc­tur­al costs are reduced.
Infor­ma­tion: Com­mu­ni­cate infor­ma­tion more eas­i­ly to the audi­ence, which is now a real lever for con­sump­tion.
---
To help you make the tran­si­tion to 100% online cash­less pay­ment, our experts are at your dis­pos­al to present you with every pos­si­ble sce­nario adapt­ed to your event with our Weez­Pay solu­tion.