There is no magic solution to optimise and grow your event's revenue. However, exploring some best practices can give you ideas on where to find your next revenue source. Having worked with 200,000+ event planners, we found inspiration in their best practices as well as those of various industries. Gathering ideas from trade shows, nightclubs, and even airlines, here are a few tips to generate new sources of revenue.
Contents
---
Optimise your ticketing
1. Sell ad space on your tickets and emails
Event tickets offer an unparalleled advantage: ad space. You should consider selling ad space to a sponsor or business partner who is interested in being promoted using a logo or insert. It has become increasingly common in the sports industry over the past 25 years.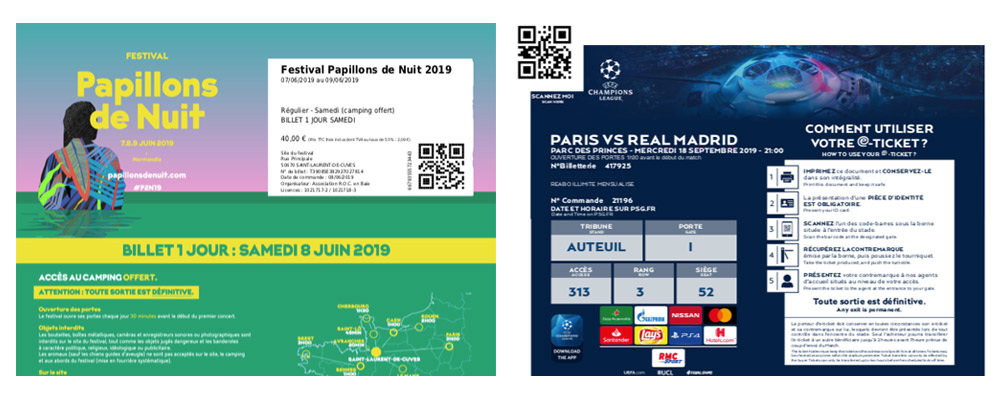 On the left, a festival ticket without sponsors displayed. On the right, a football game ticket with sponsors. 
You can also use this in the emails you send to your attendees – order confirmation, last minute information, etc. You can also include promo codes for the services offered by your partners. They are often interested in this as it's a marketing campaign with an easy-to-quantify ROI.
2. Add an option to refund tickets
Traditional cancellation insurance enables events to refund attendees who purchased insurance cover when they ask for a refund on the grounds mentioned and accepted by the T&C. Generally speaking, the revenues of insurance cover expenses are shared between the professional insurance provider and the event planner.
Two major festivals have collaborated with Weezevent to set-up an alternative to the traditional insurance. The idea is to offer a refund option. It doesn't require the involvement of an insurance provider as it is a marketing and sales campaign. Festival goers can ask for the ticket to be refunded – without justification – until a certain time before the event, to protect the event planner from last minute cancellations for weather-related reasons – let's say a month before the event.
On average, we have observed a 30% adoption rate to this option, with a price of around 7.5% of the total ticket price. About 5% of those who purchased the option actually ask for a refund. A festival welcoming 10,000 people on a weekend pass worth £100 can earn an extra £7,500 by offering such an option under the conditions mentioned above.
3. Adjust your sales curve
The challenge for events such as festivals and parties is to run campaigns so as to smooth out their ticket sales curve or at least reduce the dips between start and end of sales. The aim is to sell early because the people purchasing their tickets first will encourage their friends to do the same. Demand creates demand. With this in mind, it may be useful to offer discounted prices at the start of sales period – early bird tickets for instance.
Depending on each event's situation, we also recommend to run campaigns based on current events or key milestones – Black Friday, Halloween, Father's Day, etc. – to sell more tickets during historically low sales periods.
The danger of an inverted bell curve is that you are making as many sales at the last minute as you are at the start, and any factor may impact these last minute sales – weather conditions, an artist cancelling their show, transport strike, etc.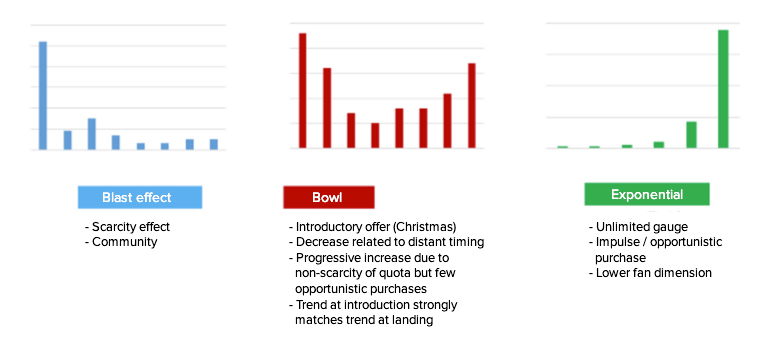 The 3 typical sales curves in the event industry. 
Segment your audience
4. Modulate prices based on arrival and departure times
It is common practice in the clubbing world: entry to the party is free until a given hour, after which any new entrant pays to get in. This encourages people to come earlier and purchase food & drinks on site. It also makes it easier to manage crowds as you'll avoid having waves of people arriving just before the headliner starts performing.
Another example comes from U.S. football stadiums where parking is free for people leaving 2 hours after the end of the game. It means less traffic and increases consumption of food & drinks on site.
Get inspired by cinemas and karting clubs – tickets are sold for more than the standard price on Saturday afternoons and at discounted prices on Tuesday mornings for instance.
5. Identify who is visiting each booth
At trade shows, entrance is generally free for the audience, and the exhibitors pay for their booth. The event can offer its partners to scan the badge of each visitor using a QR code reader in order to create a database that they will then be able to contact based on their goals. This practice enables exhibitors to identify the people who stopped by their booth, or calculate the return on investment if a purchase is made at a later date, etc.
We can imagine setting this up for festivals or any other event partnering with businesses – using tickets or cashless wristbands. You can give your partners the possibility to run targeted marketing campaigns using the list of people who visited their booth – interaction, game, promo code, gift, etc.
The number of people who visited a booth, and therefore the exposure you offer, suddenly become quantifiable for your current and future partners.
6. Offer priority access
Airlines earn a third of their revenues on a traditional flight from the 10% of tickets sold at Business class fare – La Tribune. Part of your audience is willing to pay more for additional services, whatever they may be. On a flight, it includes priority access to save time, additional space and access to the lounge but it's up to you to imagine what your event's premium offer can be.
Priority access alone is easy to set up and can be applied to any type of event.
7. Segment your offer
In France, access to a festival's VIP area is generally limited to business partners, sponsors, elected officials and the event planner's entourage. It is rarely open to the general public. Events don't offer the option to pay more to access the VIP area for those who wish it, although it is common practice in the U.K. and the U.S. when the VIP area is large enough to welcome more people than the aforementioned traditional VIPs.
At the same time, some of our clients sell tickets for Meet & Greets – where you get to meet an artist for a few minutes, have lunch with a celebrity, etc. Nowadays, organising an event is not enough, you need to create experiences and unique moments for attendees.
Another type of audience – already VIP – can also be offered experiences exceeding their expectations. Cognac Blues Passion – a user of Weezevent's ticketing, access control and cashless services – established partnerships with many Cognac houses. The latter then invite their best customers to dine with the festival headliners at Castles nearby the event. Cognac houses do this each year because getting their customers to spend an evening with a famous artist responds to a very specific and unique need. It is not easy to organise by it can definitely be worth it.
Finally, you should think about the festival's backstage area, where there is often just as much to see as on stage. It is fascinating to see behind the scenes, as well as the media organisation. Les Vieilles Charrues festival organises backstage tours for their sponsors. Every festival can offer this type of service, but you should be mindful not to turn it into a "visit to the zoo" or an "amusement park".
Make the most of your cashless system
8. Set-up brand activation campaigns
Brand activation is increasingly common, especially in the U.S. It means offering your partner brands the chance to run campaigns to encourage attendees to consume their products. That is what happened at Plages Électroniques festival in Cannes, where purchase of a RedBull drink using a cashless wristband gave access to a VIP area. Access rights were automatically enabled on the wristband at the time of purchase thanks to Weezevent's tech.
Agencies working with this type of brands are used to designing this kind of campaign. You just need to find a tech service provider with the ability to run it.
9. Sell space on cashless wristbands and cards
Same as tickets, cashless wristbands and cards have enough visible space to display a logo or an ad. Nowadays, only 40% of festivals working with Weezevent have created partnerships for their cashless cards or wristbands. However, banks and other payment solutions are keen to advertise on these supports, particularly when they are launching new offers. It is a good way for them to display their modernity and speak to a younger audience.
10. Look for your best customers
Through cashless payment systems, you can identify the people who consume the most at your events. A festival can have up to 100 people spending £400 each. You should consider triggering campaigns to thank them and ensure that they will attend your next event. You can even go so far as to invite them to increase their loyalty and encourage them to bring their friends.
Use your database
11. Don't get ticket-jacked
It may be tempting to resort to specialist retailers to sell tickets for your event. However, you need to take care that these sometimes powerful players don't run communication campaigns that would affect your own sales and your business. To find out more about these risky practices, read our article about ticket jacking : My retailer ticket-jacked me.
12. Enrich your data
Local councils tend to decrease subsidies to event organisers. One tip you can use to make them believe in your project is to show them how the local community will benefit. Ask your attendees to let you know where they live and then go to your local council and tell them that your event will generate x amount of nights at local accommodations, x amount of meals, and £x of benefits for the city and its shopkeepers. It may not increase the amount of subsidies you receive but you will at least ensure you receive it for years to come.
This is just an example, and you can create the perfect form to best help you collect the right data and use it well.
13. Send mobile notifications
Our WeezTarget service, in partnership with Greencopper, helps you encourage attendees to create or top-up a cashless account. You can also offer your partners the possibility to send a message to all attendees who downloaded the event's app. The message can be  "Welcome to [name of the event], head to [name of the partner]'s booth to try and win exclusive gifts!". Targeted and measurable, mobile notifications are one of the major trends often used at events, and they're here to stay.
With these 13 ideas, you can start thinking of ways to optimise and sustain your event's revenue. Whatever the themes mentioned, Weezevent can support you in setting-up innovative tech solutions that are easy to roll-out. Find out more about our other services now by clicking below: