There is no mag­ic solu­tion to opti­mise and grow your event's rev­enue. How­ev­er, explor­ing some best prac­tices can give you ideas on where to find your next rev­enue source. Hav­ing worked with 200,000+ event plan­ners, we found inspi­ra­tion in their best prac­tices as well as those of var­i­ous indus­tries. Gath­er­ing ideas from trade shows, night­clubs, and even air­lines, here are a few tips to gen­er­ate new sources of rev­enue.
Con­tents
---
Optimise your ticketing
1. Sell ad space on your tickets and emails
Event tick­ets offer an unpar­al­leled advan­tage: ad space. You should con­sid­er sell­ing ad space to a spon­sor or busi­ness part­ner who is inter­est­ed in being pro­mot­ed using a logo or insert. It has become increas­ing­ly com­mon in the sports indus­try over the past 25 years.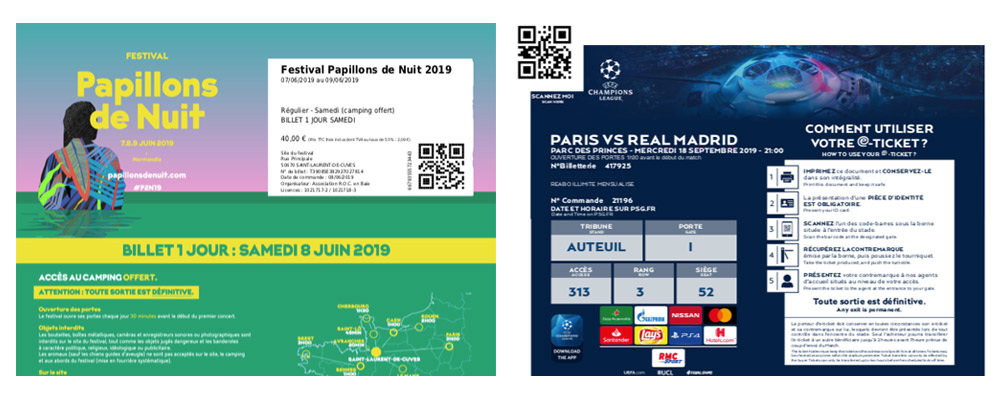 On the left, a fes­ti­val tick­et with­out spon­sors dis­played. On the right, a foot­ball game tick­et with spon­sors.
You can also use this in the emails you send to your atten­dees — order con­fir­ma­tion, last minute infor­ma­tion, etc. You can also include pro­mo codes for the ser­vices offered by your part­ners. They are often inter­est­ed in this as it's a mar­ket­ing cam­paign with an easy-to-quan­ti­fy ROI.
2. Add an option to refund tickets
Tra­di­tion­al can­cel­la­tion insur­ance enables events to refund atten­dees who pur­chased insur­ance cov­er when they ask for a refund on the grounds men­tioned and accept­ed by the T&C. Gen­er­al­ly speak­ing, the rev­enues of insur­ance cov­er expens­es are shared between the pro­fes­sion­al insur­ance provider and the event plan­ner.
Two major fes­ti­vals have col­lab­o­rat­ed with Weezevent to set-up an alter­na­tive to the tra­di­tion­al insur­ance. The idea is to offer a refund option. It doesn't require the involve­ment of an insur­ance provider as it is a mar­ket­ing and sales cam­paign. Fes­ti­val goers can ask for the tick­et to be refund­ed — with­out jus­ti­fi­ca­tion — until a cer­tain time before the event, to pro­tect the event plan­ner from last minute can­cel­la­tions for weath­er-relat­ed rea­sons — let's say a month before the event.
On aver­age, we have observed a 30% adop­tion rate to this option, with a price of around 7.5% of the total tick­et price. About 5% of those who pur­chased the option actu­al­ly ask for a refund. A fes­ti­val wel­com­ing 10,000 peo­ple on a week­end pass worth £100 can earn an extra £7,500 by offer­ing such an option under the con­di­tions men­tioned above.
3. Adjust your sales curve
The chal­lenge for events such as fes­ti­vals and par­ties is to run cam­paigns so as to smooth out their tick­et sales curve or at least reduce the dips between start and end of sales. The aim is to sell ear­ly because the peo­ple pur­chas­ing their tick­ets first will encour­age their friends to do the same. Demand cre­ates demand. With this in mind, it may be use­ful to offer dis­count­ed prices at the start of sales peri­od — ear­ly bird tick­ets for instance.
Depend­ing on each event's sit­u­a­tion, we also rec­om­mend to run cam­paigns based on cur­rent events or key mile­stones — Black Fri­day, Hal­loween, Father's Day, etc. — to sell more tick­ets dur­ing his­tor­i­cal­ly low sales peri­ods.
The dan­ger of an invert­ed bell curve is that you are mak­ing as many sales at the last minute as you are at the start, and any fac­tor may impact these last minute sales — weath­er con­di­tions, an artist can­celling their show, trans­port strike, etc.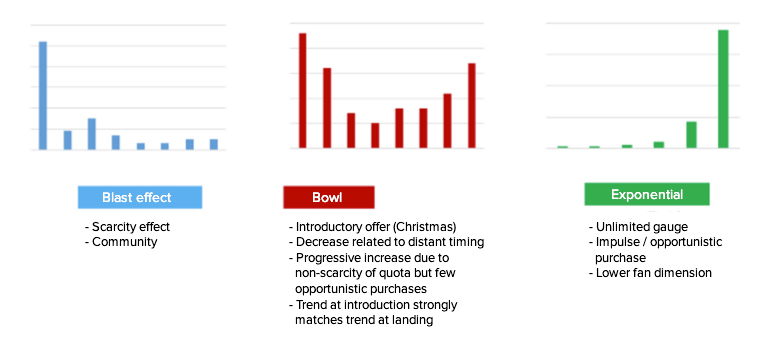 The 3 typ­i­cal sales curves in the event indus­try.
Segment your audience
4. Modulate prices based on arrival and departure times
It is com­mon prac­tice in the club­bing world: entry to the par­ty is free until a giv­en hour, after which any new entrant pays to get in. This encour­ages peo­ple to come ear­li­er and pur­chase food & drinks on site. It also makes it eas­i­er to man­age crowds as you'll avoid hav­ing waves of peo­ple arriv­ing just before the head­lin­er starts per­form­ing.
Anoth­er exam­ple comes from U.S. foot­ball sta­di­ums where park­ing is free for peo­ple leav­ing 2 hours after the end of the game. It means less traf­fic and increas­es con­sump­tion of food & drinks on site.
Get inspired by cin­e­mas and kart­ing clubs — tick­ets are sold for more than the stan­dard price on Sat­ur­day after­noons and at dis­count­ed prices on Tues­day morn­ings for instance.
5. Identify who is visiting each booth
At trade shows, entrance is gen­er­al­ly free for the audi­ence, and the exhibitors pay for their booth. The event can offer its part­ners to scan the badge of each vis­i­tor using a QR code read­er in order to cre­ate a data­base that they will then be able to con­tact based on their goals. This prac­tice enables exhibitors to iden­ti­fy the peo­ple who stopped by their booth, or cal­cu­late the return on invest­ment if a pur­chase is made at a lat­er date, etc.
We can imag­ine set­ting this up for fes­ti­vals or any oth­er event part­ner­ing with busi­ness­es — using tick­ets or cash­less wrist­bands. You can give your part­ners the pos­si­bil­i­ty to run tar­get­ed mar­ket­ing cam­paigns using the list of peo­ple who vis­it­ed their booth — inter­ac­tion, game, pro­mo code, gift, etc.
The num­ber of peo­ple who vis­it­ed a booth, and there­fore the expo­sure you offer, sud­den­ly become quan­tifi­able for your cur­rent and future part­ners.
6. Offer priority access
Air­lines earn a third of their rev­enues on a tra­di­tion­al flight from the 10% of tick­ets sold at Busi­ness class fare — La Tri­bune. Part of your audi­ence is will­ing to pay more for addi­tion­al ser­vices, what­ev­er they may be. On a flight, it includes pri­or­i­ty access to save time, addi­tion­al space and access to the lounge but it's up to you to imag­ine what your event's pre­mi­um offer can be.
Pri­or­i­ty access alone is easy to set up and can be applied to any type of event.
7. Segment your offer
In France, access to a festival's VIP area is gen­er­al­ly lim­it­ed to busi­ness part­ners, spon­sors, elect­ed offi­cials and the event planner's entourage. It is rarely open to the gen­er­al pub­lic. Events don't offer the option to pay more to access the VIP area for those who wish it, although it is com­mon prac­tice in the U.K. and the U.S. when the VIP area is large enough to wel­come more peo­ple than the afore­men­tioned tra­di­tion­al VIPs.
At the same time, some of our clients sell tick­ets for Meet & Greets — where you get to meet an artist for a few min­utes, have lunch with a celebri­ty, etc. Nowa­days, organ­is­ing an event is not enough, you need to cre­ate expe­ri­ences and unique moments for atten­dees.
Anoth­er type of audi­ence — already VIP — can also be offered expe­ri­ences exceed­ing their expec­ta­tions. Cognac Blues Pas­sion — a user of Weezevent's tick­et­ing, access con­trol and cash­less ser­vices — estab­lished part­ner­ships with many Cognac hous­es. The lat­ter then invite their best cus­tomers to dine with the fes­ti­val head­lin­ers at Cas­tles near­by the event. Cognac hous­es do this each year because get­ting their cus­tomers to spend an evening with a famous artist responds to a very spe­cif­ic and unique need. It is not easy to organ­ise by it can def­i­nite­ly be worth it.
Final­ly, you should think about the festival's back­stage area, where there is often just as much to see as on stage. It is fas­ci­nat­ing to see behind the scenes, as well as the media organ­i­sa­tion. Les Vieilles Char­rues fes­ti­val organ­is­es back­stage tours for their spon­sors. Every fes­ti­val can offer this type of ser­vice, but you should be mind­ful not to turn it into a "vis­it to the zoo" or an "amuse­ment park".
Make the most of your cashless system
8. Set-up brand activation campaigns
Brand acti­va­tion is increas­ing­ly com­mon, espe­cial­ly in the U.S. It means offer­ing your part­ner brands the chance to run cam­paigns to encour­age atten­dees to con­sume their prod­ucts. That is what hap­pened at Plages Élec­tron­iques fes­ti­val in Cannes, where pur­chase of a Red­Bull drink using a cash­less wrist­band gave access to a VIP area. Access rights were auto­mat­i­cal­ly enabled on the wrist­band at the time of pur­chase thanks to Weezevent's tech.
Agen­cies work­ing with this type of brands are used to design­ing this kind of cam­paign. You just need to find a tech ser­vice provider with the abil­i­ty to run it.
9. Sell space on cashless wristbands and cards
Same as tick­ets, cash­less wrist­bands and cards have enough vis­i­ble space to dis­play a logo or an ad. Nowa­days, only 40% of fes­ti­vals work­ing with Weezevent have cre­at­ed part­ner­ships for their cash­less cards or wrist­bands. How­ev­er, banks and oth­er pay­ment solu­tions are keen to adver­tise on these sup­ports, par­tic­u­lar­ly when they are launch­ing new offers. It is a good way for them to dis­play their moder­ni­ty and speak to a younger audi­ence.
10. Look for your best customers
Through cash­less pay­ment sys­tems, you can iden­ti­fy the peo­ple who con­sume the most at your events. A fes­ti­val can have up to 100 peo­ple spend­ing £400 each. You should con­sid­er trig­ger­ing cam­paigns to thank them and ensure that they will attend your next event. You can even go so far as to invite them to increase their loy­al­ty and encour­age them to bring their friends.
Use your database
11. Don't get ticket-jacked
It may be tempt­ing to resort to spe­cial­ist retail­ers to sell tick­ets for your event. How­ev­er, you need to take care that these some­times pow­er­ful play­ers don't run com­mu­ni­ca­tion cam­paigns that would affect your own sales and your busi­ness. To find out more about these risky prac­tices, read our arti­cle about tick­et jack­ing : My retail­er tick­et-jacked me.
12. Enrich your data
Local coun­cils tend to decrease sub­si­dies to event organ­is­ers. One tip you can use to make them believe in your project is to show them how the local com­mu­ni­ty will ben­e­fit. Ask your atten­dees to let you know where they live and then go to your local coun­cil and tell them that your event will gen­er­ate x amount of nights at local accom­mo­da­tions, x amount of meals, and £x of ben­e­fits for the city and its shop­keep­ers. It may not increase the amount of sub­si­dies you receive but you will at least ensure you receive it for years to come.
This is just an exam­ple, and you can cre­ate the per­fect form to best help you col­lect the right data and use it well.
13. Send mobile notifications
Our Weez­Tar­get ser­vice, in part­ner­ship with Green­cop­per, helps you encour­age atten­dees to cre­ate or top-up a cash­less account. You can also offer your part­ners the pos­si­bil­i­ty to send a mes­sage to all atten­dees who down­loaded the event's app. The mes­sage can be "Wel­come to [name of the event], head to [name of the partner]'s booth to try and win exclu­sive gifts!". Tar­get­ed and mea­sur­able, mobile noti­fi­ca­tions are one of the major trends often used at events, and they're here to stay.
With these 13 ideas, you can start think­ing of ways to opti­mise and sus­tain your event's rev­enue. What­ev­er the themes men­tioned, Weezevent can sup­port you in set­ting-up inno­v­a­tive tech solu­tions that are easy to roll-out. Find out more about our oth­er ser­vices now by click­ing below: