Weezevent was the tech­nol­o­gy part­ner of the test con­cert Ambi­tion Live Again which took place at the Accor Are­na in Paris on 29 May 2021, in col­lab­o­ra­tion with PRODISS, AP-HP, Accor Are­na, the French Direc­torate Gen­er­al of Health and IN Groupe. Our teams were able to deploy their exper­tise thanks to the trust placed in them by PRODISS (nation­al syn­di­cate of music shows) and the AP-HP (a pub­lic health estab­lish­ment and uni­ver­si­ty hos­pi­tal cen­ter), who we warm­ly thank.
Dis­cov­er the health pass check­ing sys­tem deployed for the Ambi­tion Live Again event in pic­tures: 5,000 spec­ta­tors attend­ed with­out social dis­tanc­ing, with the aim of eval­u­at­ing a spe­cif­ic pro­to­col to facil­i­tate the return of events in stand­ing for­mat and with­out phys­i­cal dis­tanc­ing.
Sum­ma­ry
---
1. Summary of the protocol
Ambi­tion Live Again is a new exper­i­ment for Europe whose goal is to eval­u­ate the risks of trans­mis­sion of Covid-19 dur­ing a large-scale con­cert, in stand­ing and non-dis­tanced for­mat.
Event pro­fes­sion­als mobilised with­in PRODISS and a team of sci­en­tists from the Assis­tance Publique—Hôpitaux de Paris hos­pi­tal trust are con­duct­ing this study to help bring con­certs and shows back to life.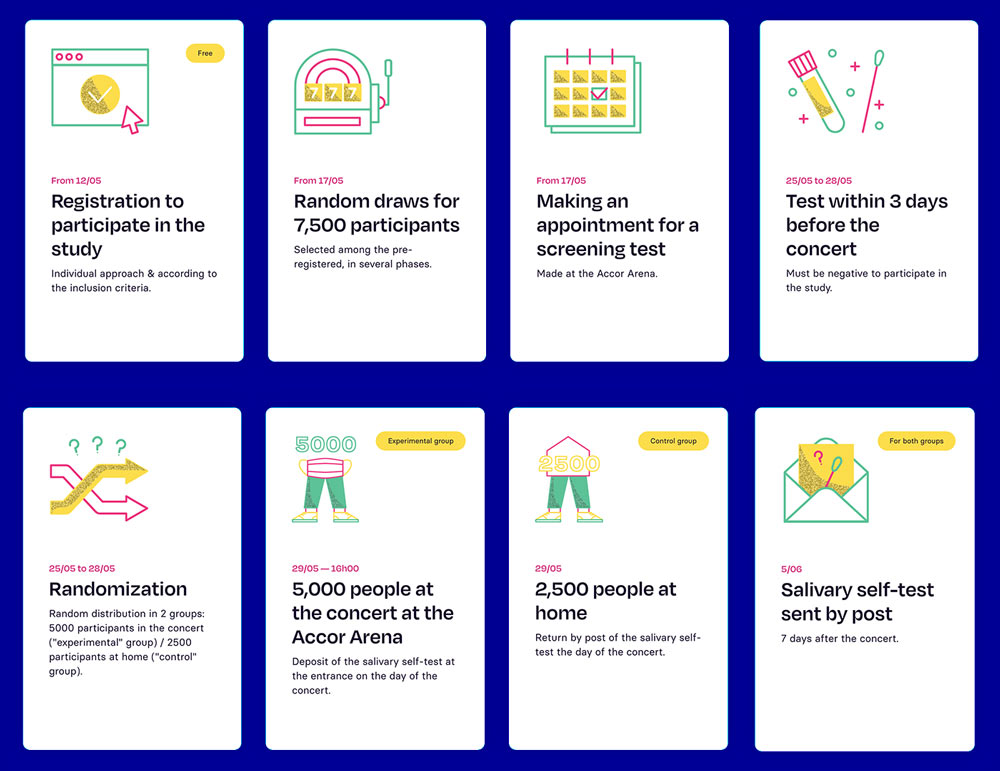 2. Registration for participating in the study
More than 20,000 peo­ple reg­is­tered on ambitionliveagain.org using a Weezevent reg­is­tra­tion mod­ule to take part in the study.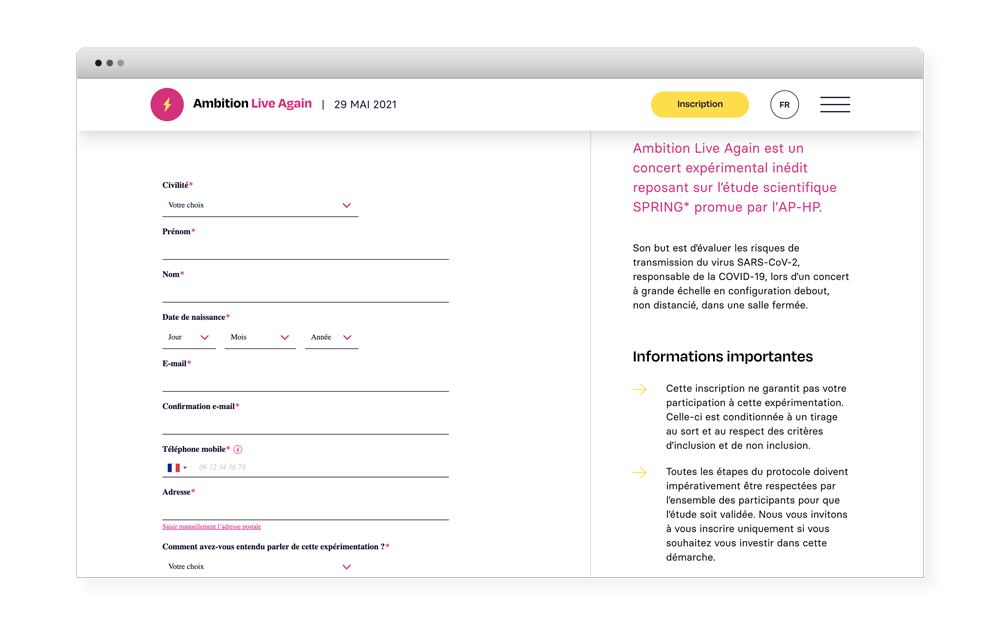 3. Booking an appointment for testing
Among those reg­is­tered, 7,500 were ran­dom­ly select­ed to under­go an anti­gen test at the Accor Are­na 3 days before the con­cert. The test­ing slot could be booked online via a Weezevent book­ing mod­ule.
Par­tic­i­pants were required to have a neg­a­tive test result to take part in the study. They were ran­dom­ly divid­ed into 2 groups: 5,000 in the 'exper­i­men­tal' group who attend­ed the con­cert, and 2,500 in the 'con­trol' group who stayed at home on D‑Day.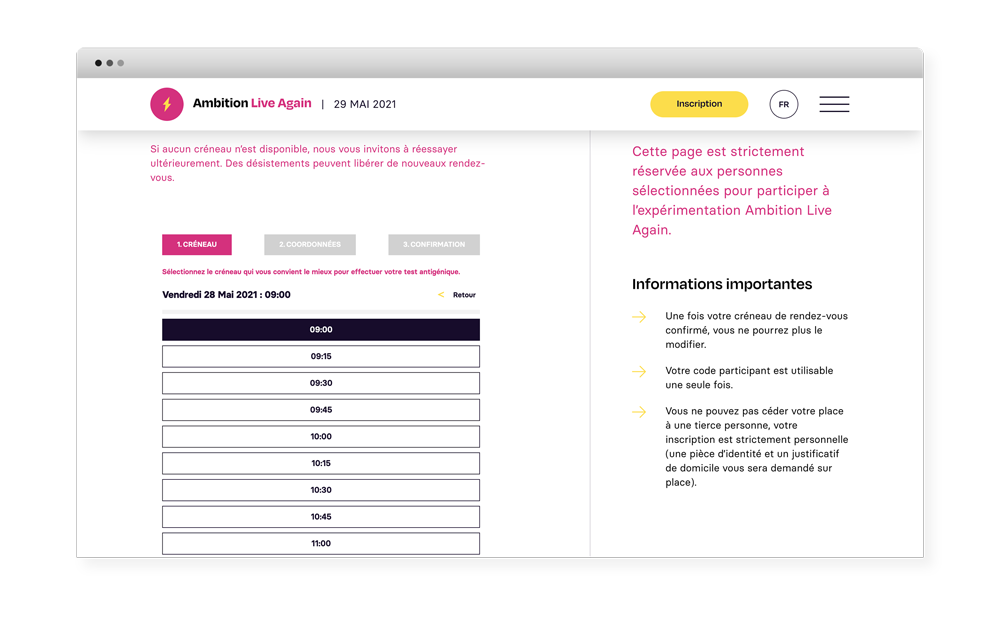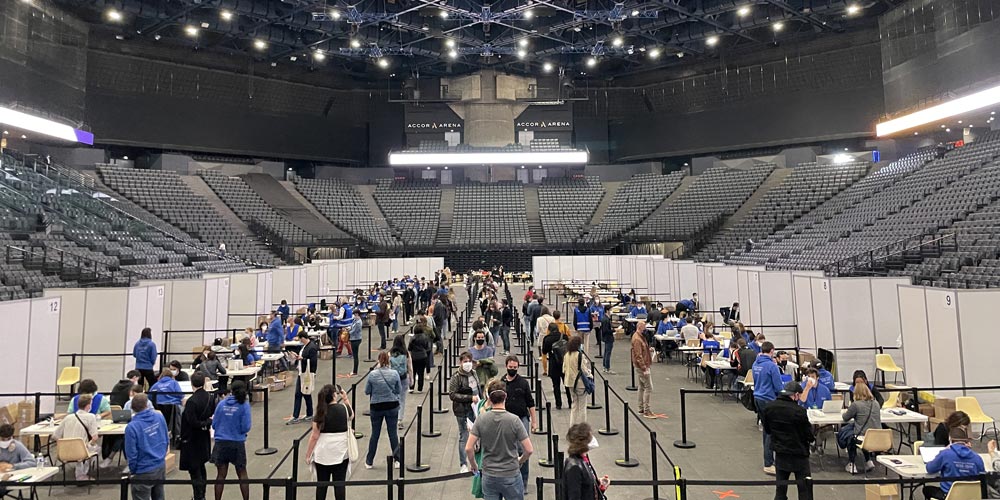 4. Checking health passes at the entrances
A first line of staff con­trolled the screen­ing tests, after which atten­dees were allowed or denied entry. A mask and gel were pro­vid­ed to each attendee.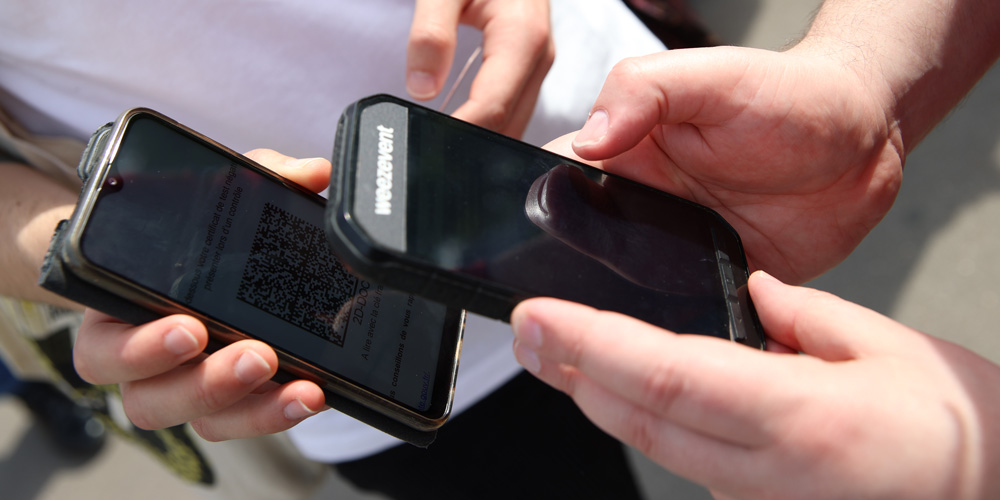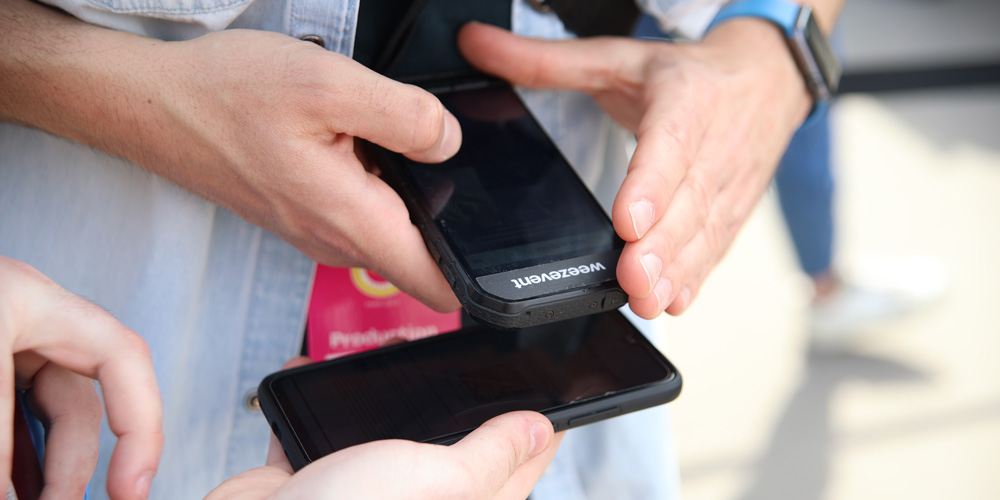 5. Checking tickets at the entrances
A sec­ond line was used for val­i­dat­ing or reject­ing tick­ets. This was also where search­ing took place. This 2‑step sys­tem (scan­ning the health pass, then the tick­et) allowed atten­dees to pre­pare the doc­u­ments to be pre­sent­ed at the right time for each step.
6. Submitting the self-swab on D‑Day
After the checks, atten­dees sub­mit­ted a sali­va self-swab tak­en on D‑Day. Atten­dees in the 'con­trol' group also took one and sent it by post.
7. Protocol during the concert
No dis­tanc­ing was required dur­ing the con­cert, but a strict hygiene pro­to­col was put in place to lim­it the trans­mis­sion of the virus between atten­dees, includ­ing:
Manda­to­ry wear­ing of masks
Pro­vi­sion of hydroal­co­holic hand-wash­ing solu­tion
No bars or cater­ing in oper­a­tion
Opti­mised air ven­ti­la­tion in the hall
Test­ing of the pro­duc­tion teams and artists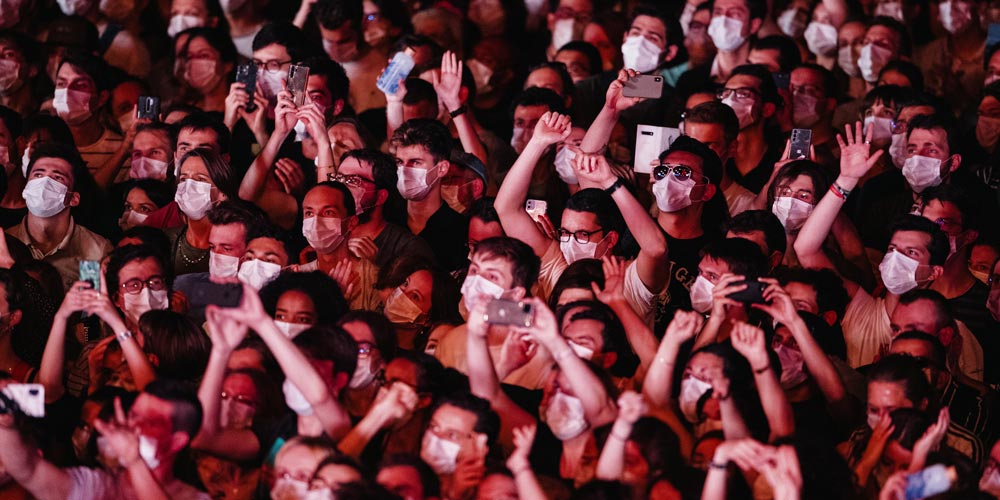 8. Self-swabbing 7 days after the concert
One week after the con­cert, all atten­dees will send back a sec­ond sali­va self-swab by mail in order to com­pare the pos­i­tive rate of the 2 groups of peo­ple.
The first results will be pub­lished in 1 month. They will help eval­u­ate which hygiene pro­to­cols are need­ed so we can final­ly return to fes­ti­vals and con­cert halls in stand­ing for­mat!
Would you like to be sup­port­ed in set­ting up these types of actions? Con­tact us now — we're already prepar­ing the organ­i­sa­tion of events like yours: