There is a mul­ti­tude of pro­fes­sion­al events for dig­i­tal & inno­va­tion play­ers and entre­pre­neurs. How can you stand out from the crowd? Offer­ing an event that com­bines sports and busi­ness will make you stand out from your com­pe­ti­tion and could tip the scales in your favour! The Mon­ster Start­up Golf Cup seized that oppor­tu­ni­ty and shows us how to roll out this strat­e­gy in 4 points.
1. Define your target and choose a sport that will attract it
The Mon­ster Start­up Golf Cup start­ed from an intu­ition: dig­i­tal play­ers of the French Tech cities prac­tice or would like to prac­tice golf. This idea did not come out of nowhere. Golf is recog­nised as a sport whose prac­ti­tion­ers main­ly belong to the upper socio-pro­fes­sion­al cat­e­go­ry, which includes CEOs and exec­u­tives of tech start-ups. How­ev­er, be care­ful with short­cuts that are too easy. A more or less detailed study can help you in your research. It is bet­ter to test your ideas on a small pan­el or start with a small event to see if there is real­ly inter­est, rather than going fol­low­ing your instincts too quick­ly.
2. Combine passion and innovation
Choose relevant themes
In the case of the Mon­ster Start­up Golf Cup, all the issues relat­ed to the dig­i­tal ecosys­tem are addressed dur­ing the event: launch­ing a start­up, vis­i­bil­i­ty (mak­ing your­self known), fundrais­ing, pitch­ing, start­up sup­port sys­tems, recruit­ing employ­ees. Cov­er­ing a whole top­ic or focus­ing on spe­cif­ic themes is a deci­sion you should make based on your par­tic­i­pants. You can ask them or check out sim­i­lar events to offer a unique and val­ue-adding pro­gramme.
Plan the whole day
The Mon­ster Start­up Golf Cup chose a for­mat that's both sim­ple and effi­cient:
Morn­ing

The­mat­ic round tables (See above)
Pitch­ing com­pe­ti­tion

After­noon

Job forum
Intro­duc­tion to golf­ing
Teams com­pe­ti­tion

Evening
3. Make the most of available venues
Indoor, out­door, unique­ness, view, num­ber of seats, etc. pay atten­tion to the venue where your activ­i­ties will hap­pen. If the weath­er per­mits it, favour out­door venues and switch up loca­tions. A few ideas inspired from the Mon­ster Start­up Golf Cup:
The CIC Pitch Chal­lenge is held out­doors, next to the club house.
The start­up part­ners of the com­pe­ti­tion ben­e­fit from vis­i­bil­i­ty on the golf course; thus the par­tic­i­pants of each of the 18 teams can dis­cov­er their prod­ucts or ser­vices while play­ing. Oth­er part­ners chal­lenge them on cer­tain holes to win great prizes.
Part of the prac­tice is ded­i­cat­ed to the Mon­ster Job Forum and open to the gen­er­al pub­lic. A foodtruck is also avail­able near­by.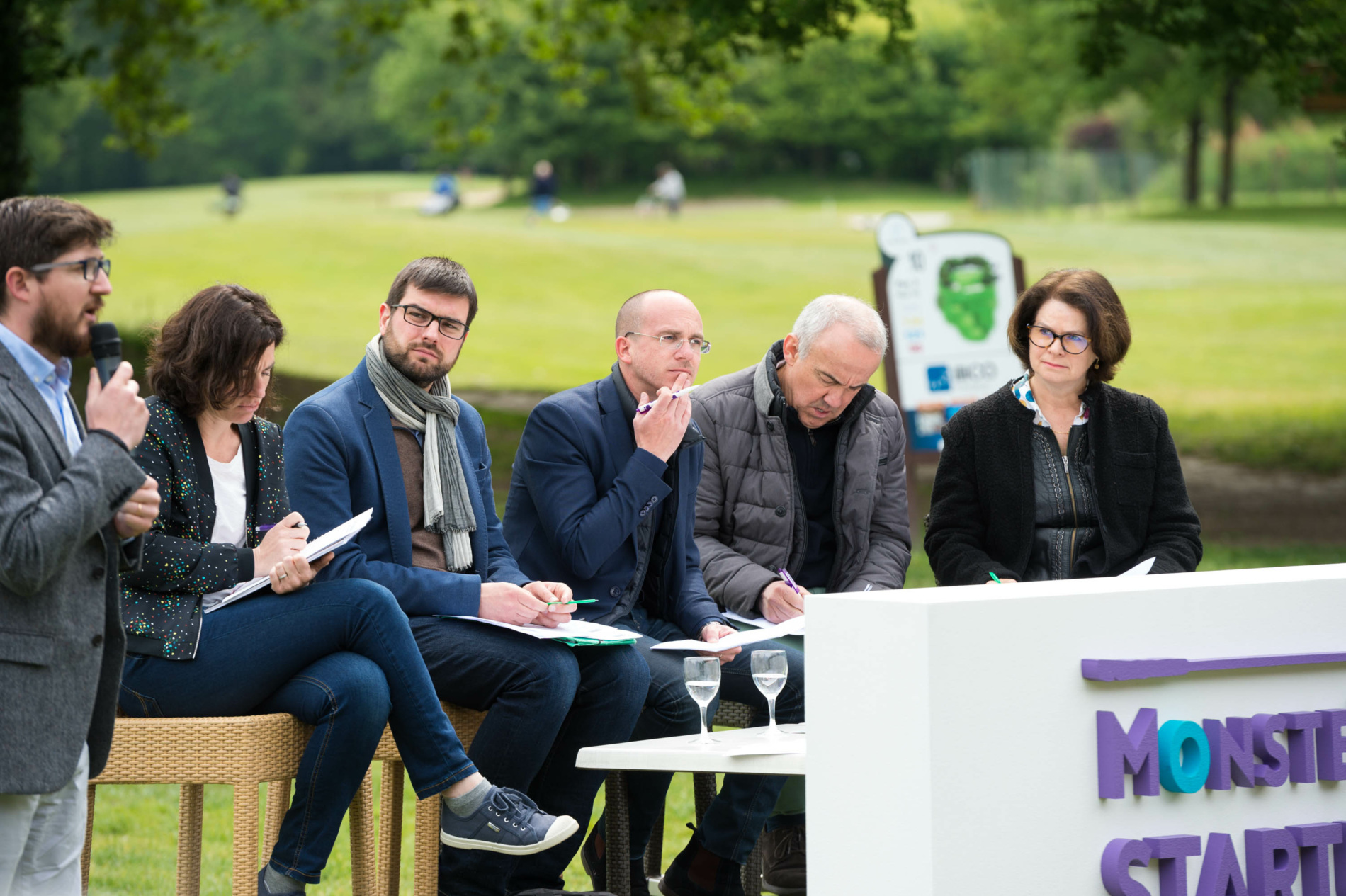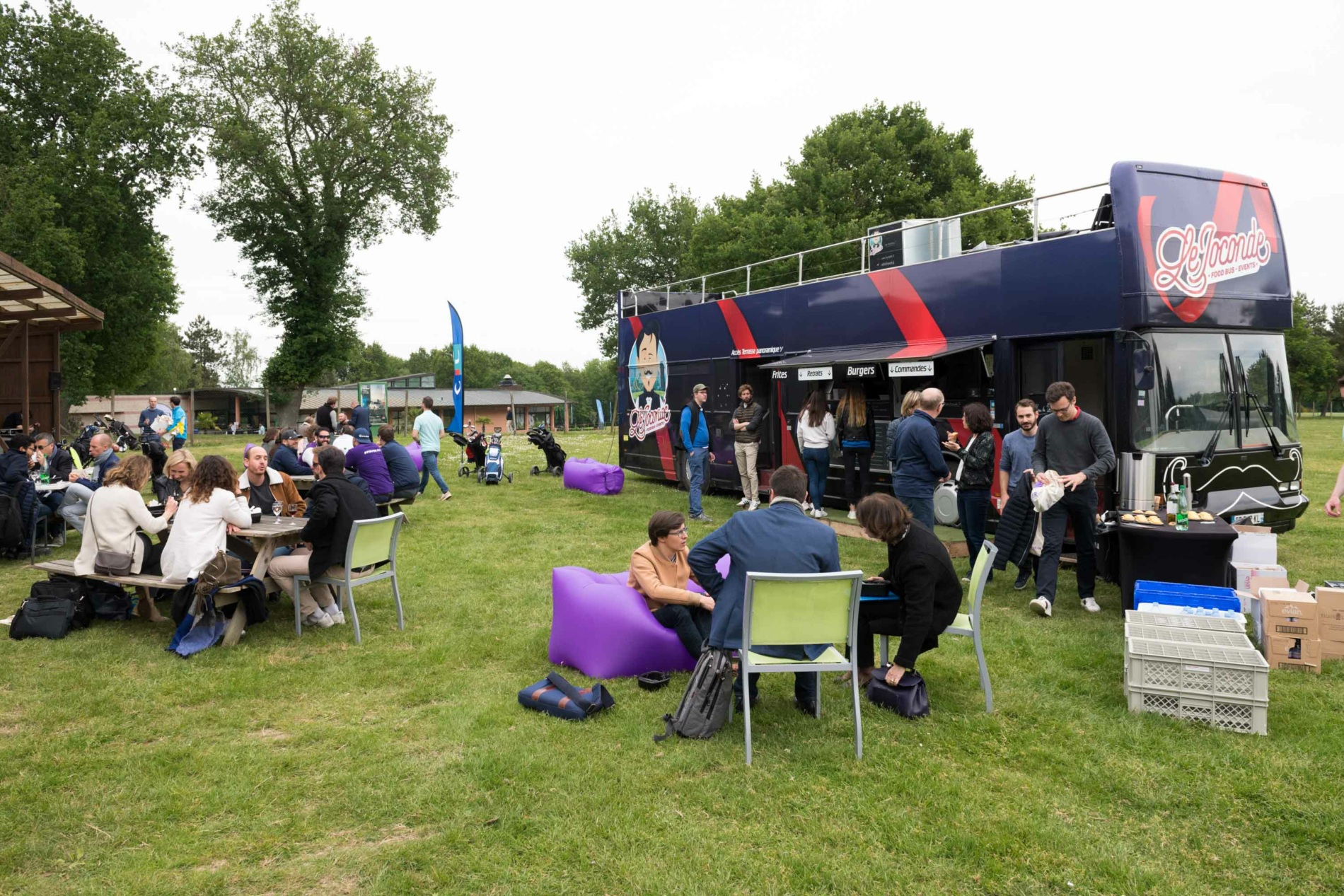 4. Open-up your event to various audiences
Bring in some spec­ta­tors. Cre­ate a pro­gramme that inter­ests dif­fer­ent audi­ences. Star­tups, com­pa­nies, part­ners, investors, accel­er­a­tors and incu­ba­tors are prime tar­gets; but schools and their stu­dents have just as much to offer you.
Offer intro­duc­tions to non-prac­tic­ing par­tic­i­pants at the same time as the com­pe­ti­tion. It can be dif­fi­cult to find peo­ple who play the same sport at the same lev­el. Adapt­ing prac­tice times to sev­er­al seg­ments will boost your num­ber of par­tic­i­pants.
Plan friend­ly moments away from pro­fes­sion­al activ­i­ties and sports. "After the effort, the relax­ation" has nev­er been more true than for this type of event. These activ­i­ties require a lot of ener­gy and it would be a shame to let your par­tic­i­pants leave feel­ing tired. Pre­pare breaks with a food and drinks and fin­ish off beau­ti­ful­ly with a unique after­work par­ty.
You now know how to boost the num­ber of atten­dees at a tech event by offer­ing a sports activ­i­ty. You too can organ­ise a pro­fes­sion­al event eas­i­ly with Weezevent by click­ing below: