Your free event ticketing with Weezevent
Setting up a free ticketing platform has never been so easy thanks to Weezevent. Start selling tickets for your event free of charge!
Start now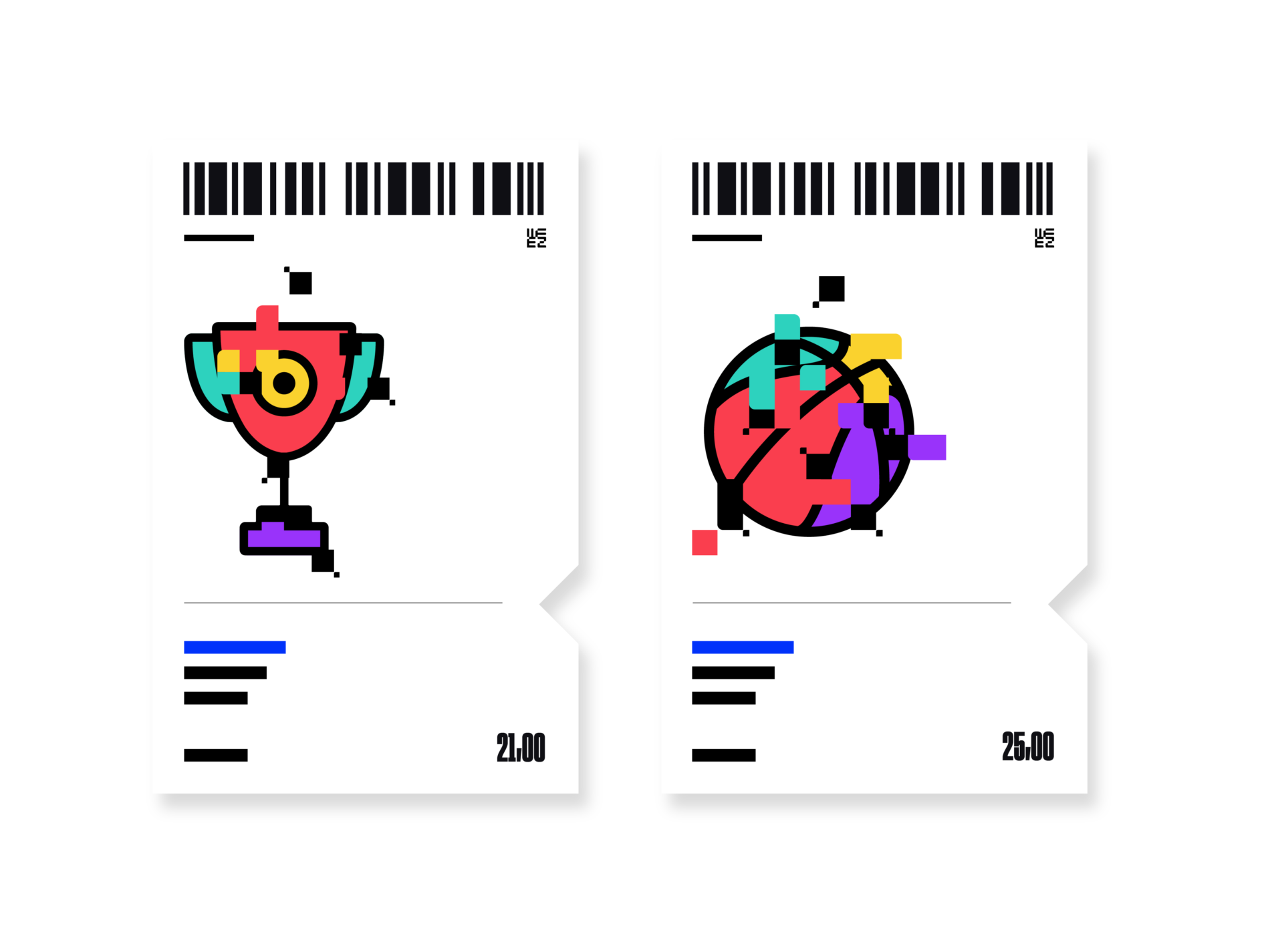 A free ticketing system for your free events
Are you plan­ning a free event and wish to dis­trib­ute tick­ets online and man­age your reg­is­tra­tions? Use Weezevent and skip book­ing fees! Design your tick­ets, cre­ate reg­is­tra­tion forms and track your sales in real time…
Fast

Cre­ate events and a box office in min­utes, free of charge.

Customisable

Design your tick­ets and add your logo for increased brand aware­ness.

Reliable

Your infor­ma­tion and that of your atten­dees is secure.
Create your ticketing platform without spending anything
A few sec­onds is all it takes to cre­ate your event plan­ner account and your events. Cus­tomise your box office adding a title, a descrip­tion, a venue and your brand­ing… Inte­grate your logo and a link to your web­site if you have one. We under­stand the impor­tance of hav­ing a cus­tom-designed tick­et­ing plat­form, and that's why we made ours free-to-use, with no sub­scrip­tion required.
I choose Weezevent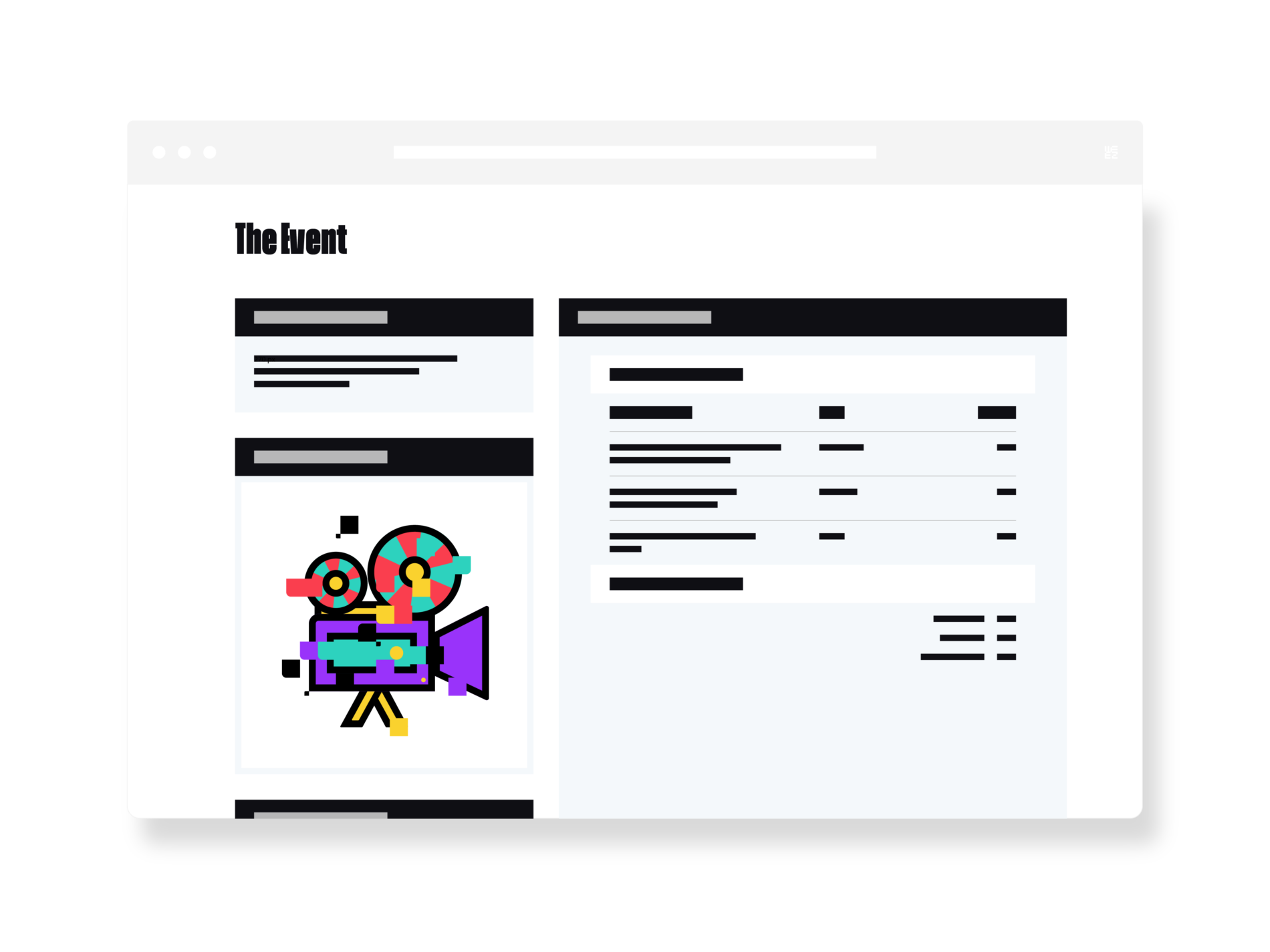 Choose your prices
Our solu­tion works for all event types. You can offer dif­fer­ent tick­ets for your var­i­ous audi­ences by cre­at­ing spe­cial rates. Clas­si­fy them in cat­e­gories. We will not charge you book­ing fees if your tick­ets are free, whether you dis­trib­ute 5 or 1,000. If you sell one or more cat­e­gories of tick­ets, a com­mis­sion will be retained, pro­por­tion­al to the rates applied for each cat­e­go­ry. Don't set your­self lim­its with Weezevent.
Your ticketing the way you want it, and free-of-charge
You can restrict the num­ber of avail­able tick­ets, for one or all price cat­e­gories. Increase or decrease the num­ber of avail­able tick­ets at any time, by cat­e­go­ry or for the entire event. Sched­ule your tick­et sales by price cat­e­go­ry: choose a start and end date, or open each cat­e­go­ry as the quo­ta of tick­ets for anoth­er cat­e­go­ry is full. It's up to you!
Bookings beyond your wildest dreams

Offer to your atten­dees to either pay online or on loca­tion. Set-up the book­ing option from your event plan­ner sec­tion. Add pay­ment instruc­tions to the con­fir­ma­tion email that your atten­dees will receive fol­low­ing their book­ing. Send them again at any time. Weezevent allows you to set-up a book­ing mod­ule free of charge!

Build a customer database free-of-charge

You can cre­ate a reg­is­tra­tion form at no extra cost. Your atten­dees can fill it in when they place their order. Weezevent will sug­gest some pre­de­fined fields — first and last name, email address… But you can cus­tomise it to your needs. You can cre­ate a form per price cat­e­go­ry or just one for the whole event. These forms will enable you to col­lect valu­able infor­ma­tion for you to com­mu­ni­cate about upcom­ing events.
Your information is secure
At Weezevent, we believe data pro­cess­ing and free­dom go hand in hand. Your pri­va­cy is our pri­or­i­ty. We guar­an­tee the pro­tec­tion of your data as well as that of your atten­dees. Our sys­tem ensures this safe­ty. Opt for seren­i­ty.
Design your tickets without spending a penny
Add text or an image to your e‑tickets and your print­ed tick­ets. Dis­play start and end times for your event. Cre­ate a tem­plate for each price cat­e­go­ry or for the whole event. Pre­view your tick­ets from your event plan­ner sec­tion and down­load exam­ples as many times as you would like. To fur­ther cus­tomise your design, choose our lim­it­less Pre­mi­um fea­tures.
I create my ticketing free of charge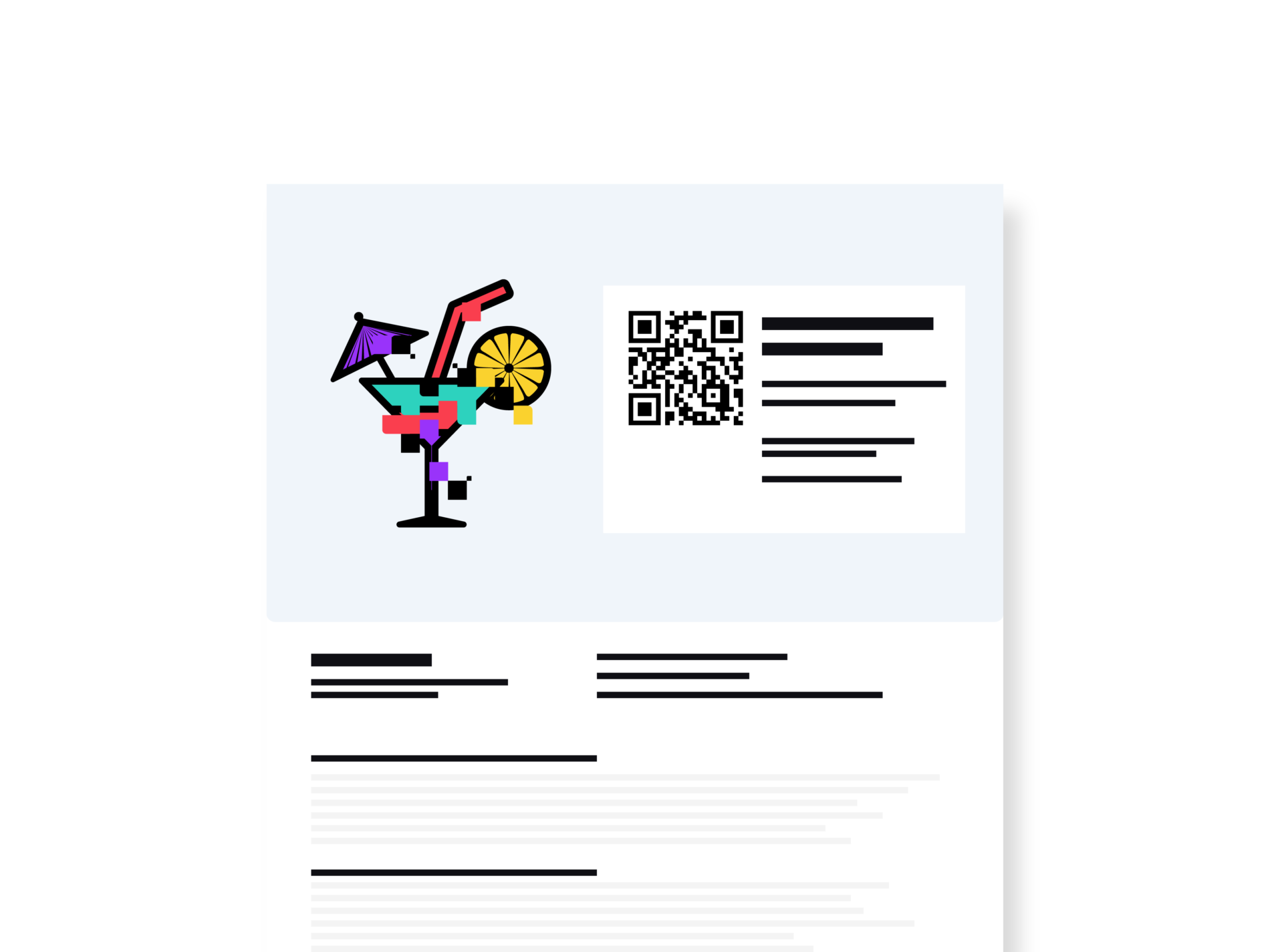 Directly integrate your box office to your website for free
You have a web­site and wish to add your box office to one of your pages? It's easy and free. Set-up the box office from your event plan­ner sec­tion. If you are plan­ning sev­er­al events, inte­grate the mul­ti­ple tick­et office wid­get to your site. Weezevent gives you the pos­si­bil­i­ty to cre­ate a min­isite ded­i­cat­ed to your event if you don't have a web­site. All of this is free-of-charge!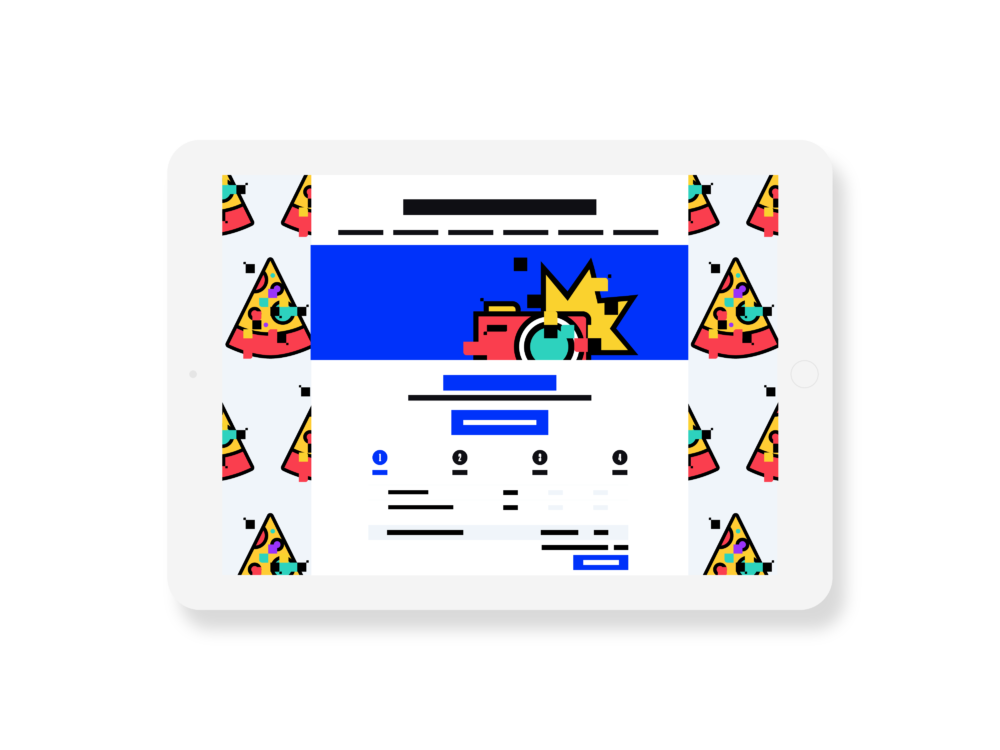 Share your event ticketing on social media
Increase aware­ness of your event by inte­grat­ing your tick­et­ing to your Face­book page and high­light it using a ded­i­cat­ed but­ton. You can also add it to your Face­book event. Whichev­er you choose, Weezevent will not charge any com­mis­sion on a free event.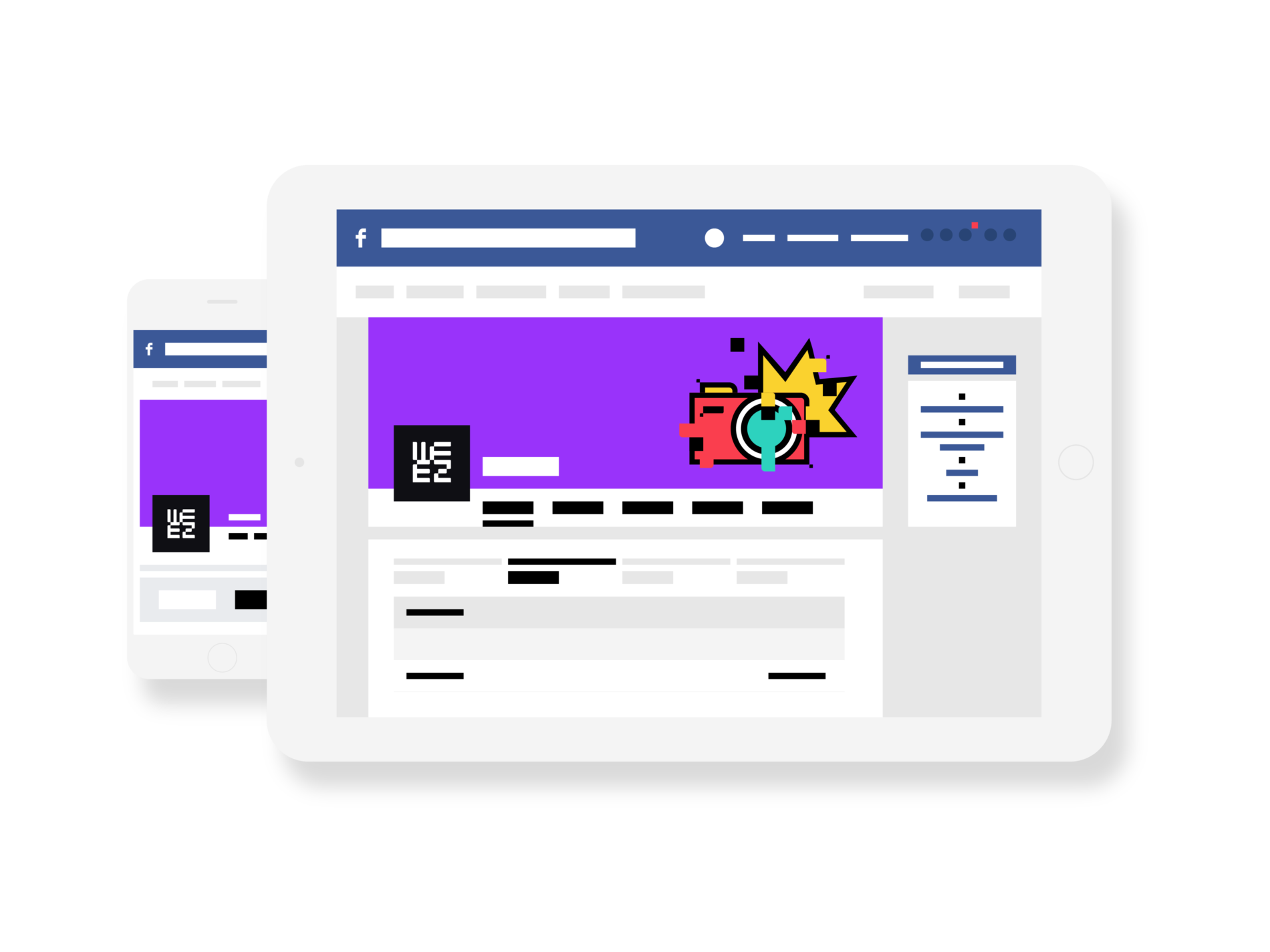 Ready in 5 min

No exclusivity requirement

No commitment and no minimum sales

Earnings paid twice a month
Create promo codes
If you plan to charge for your tick­ets, you can offer dis­counts for your best cus­tomers. Increase loy­al­ty and opti­mise your com­mu­ni­ca­tion by cre­at­ing pro­mo codes. Choose your dis­count, give a name to your codes and share them. Add an end date or lim­it the num­ber of par­tic­i­pants. All these fea­tures are free on Weezevent.
Start now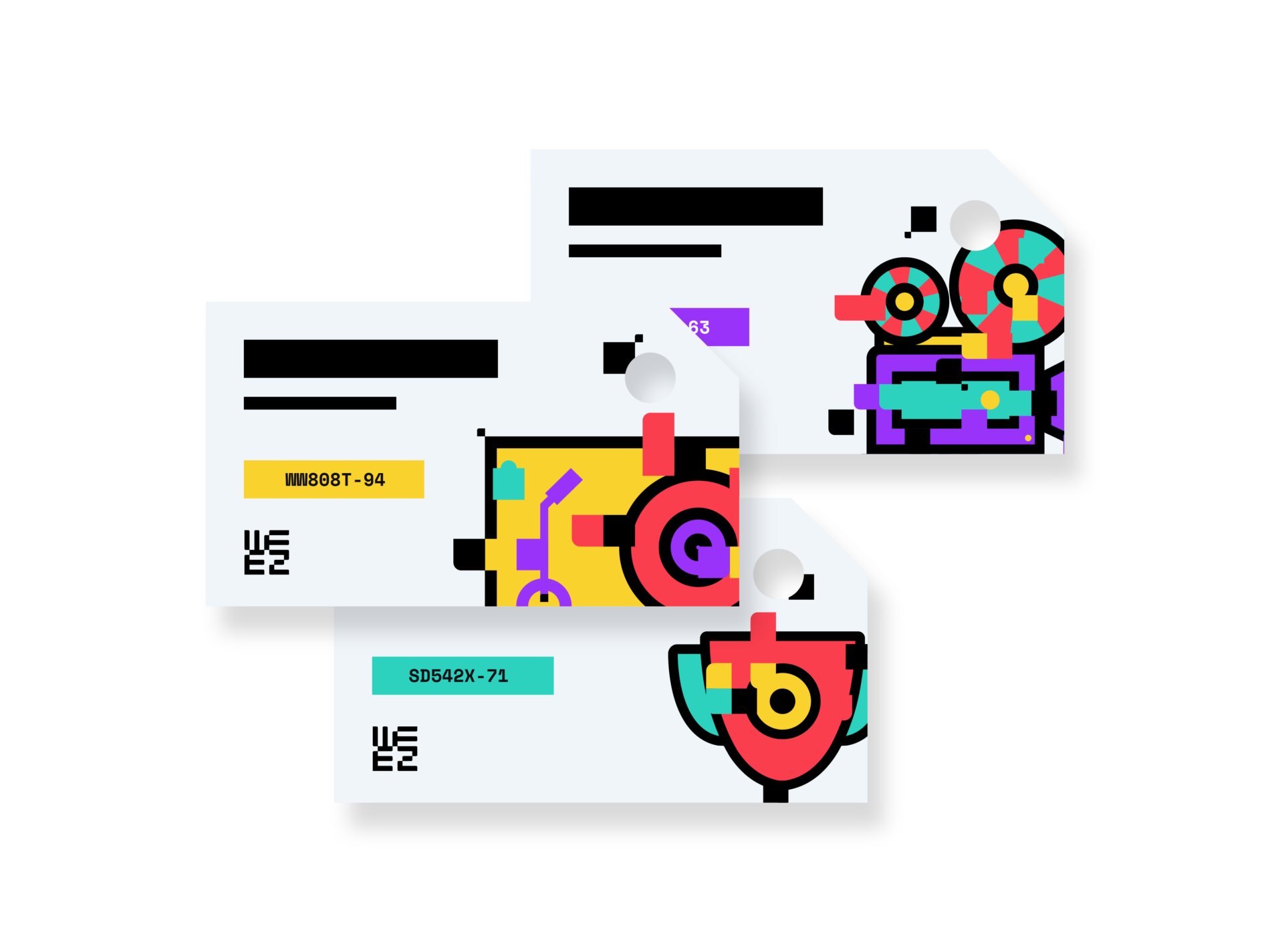 Send invitations for free
Weezevent gives you the oppor­tu­ni­ty to send invi­ta­tions to your event to your part­ners and VIPs. Send them an email from your event plan­ners sec­tion. Their event tick­et will be auto­mat­i­cal­ly attached. Cus­tomise the email and adapt it to each par­tic­i­pant. Send your invi­ta­tions for free!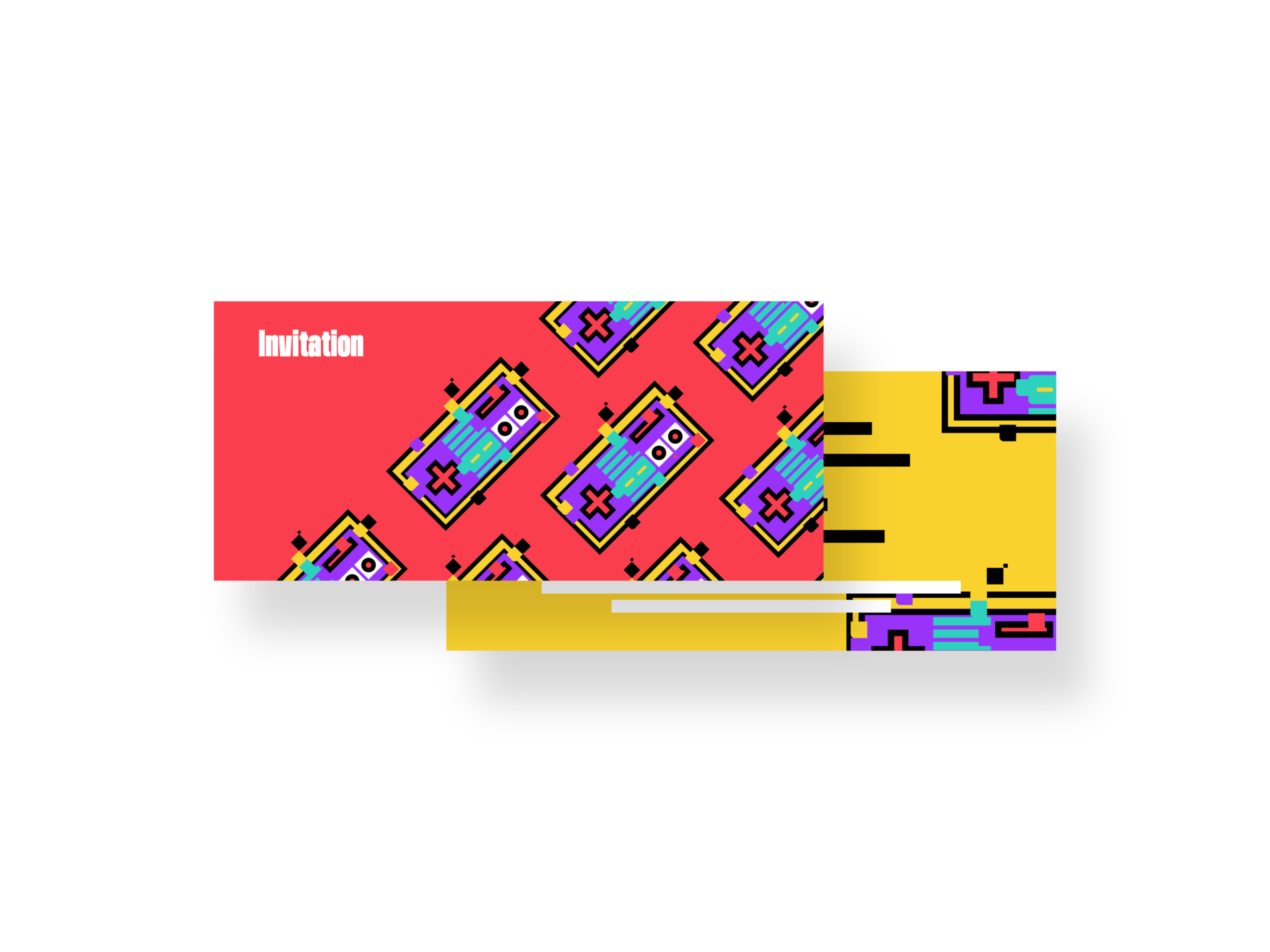 Track your sales in real time, for free
From your event dash­board, track your online sales as well as your sales on loca­tion. Cre­ate atten­dance reports after the event and analyse your com­mu­ni­ca­tion data. Down­load your stats and reports, they will be use­ful tools to plan your future events. Don't leave space for uncer­tain­ty.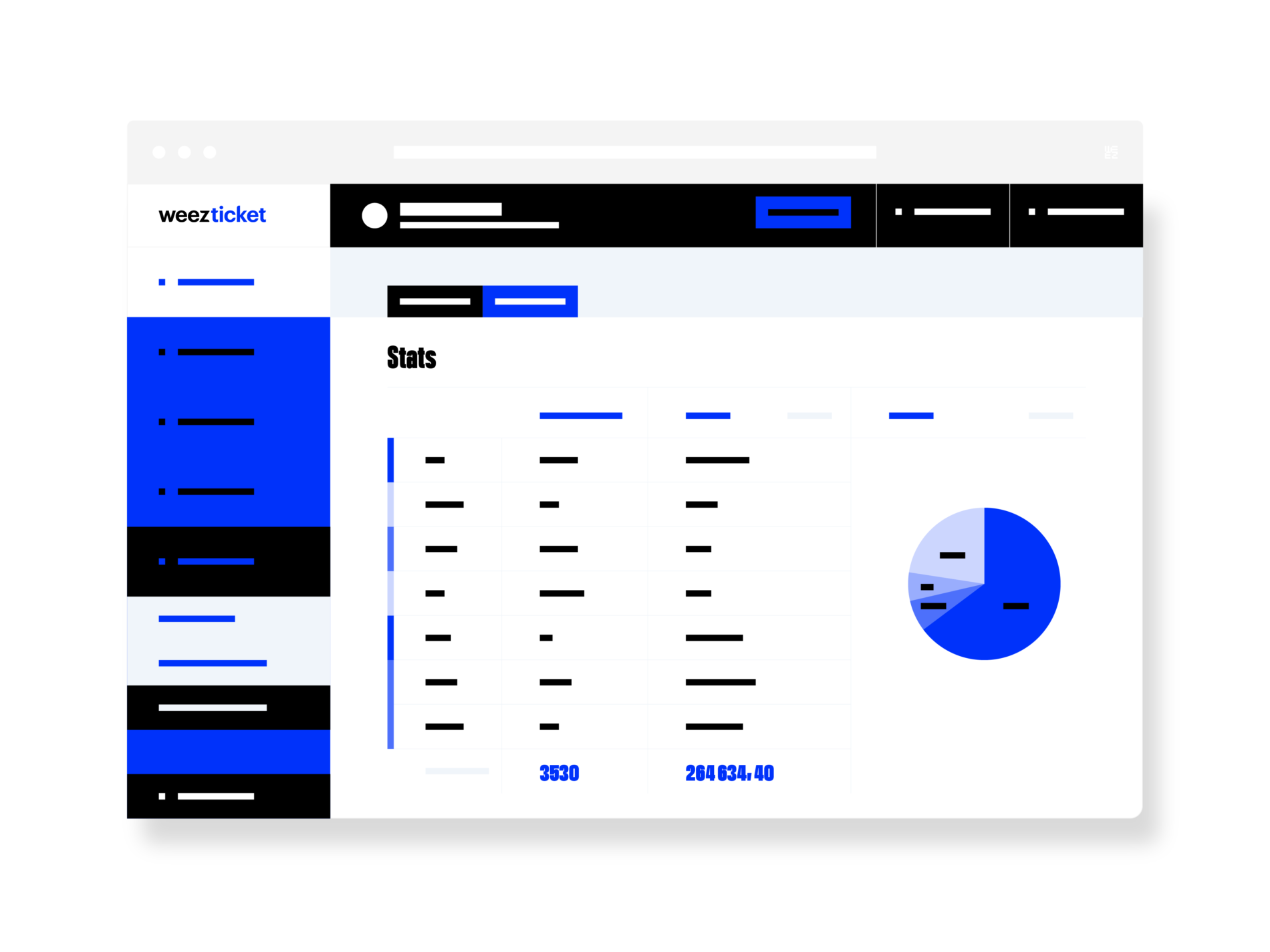 Control your access at no extra cost
Down­load our free mobile app — WeezA­c­cess — and turn your smart­phone into a con­trol ter­mi­nal for the event. Improve the flow of peo­ple at entrance points and pre­vent fraud. Track the num­ber of scanned tick­ets in real time. Pair one or more smartphone(s) to the same Weezevent account. The app is avail­able on iOS and Android. No need to pay to be in con­trol with Weezevent!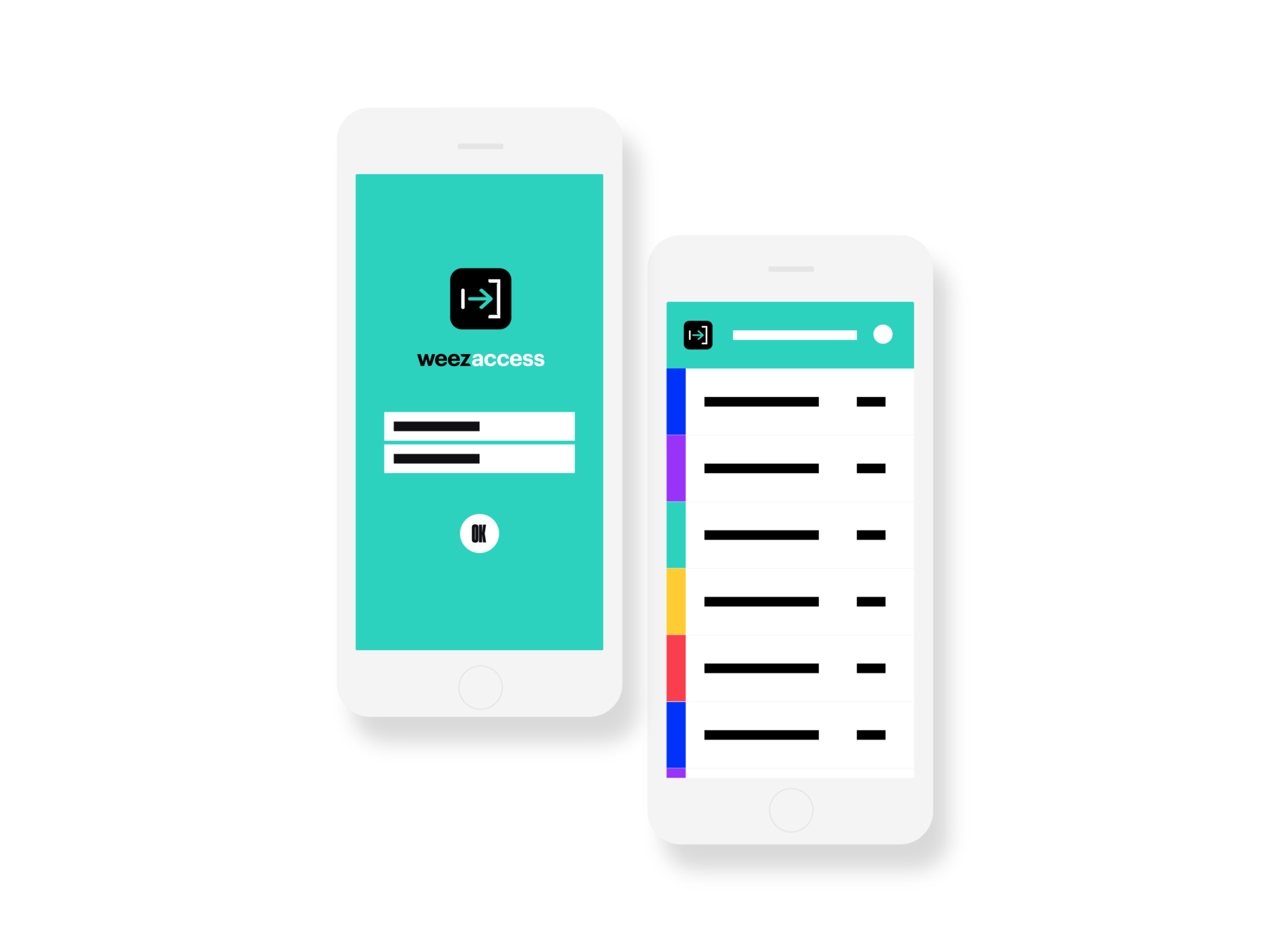 View your stats in real time

Export your data easily

Create promo codes
Ready to create your event ticketing for free?
Start now