Cashless payments: Make sure your events are one step ahead.
Discover our free handbook for event planners.
Download our white paper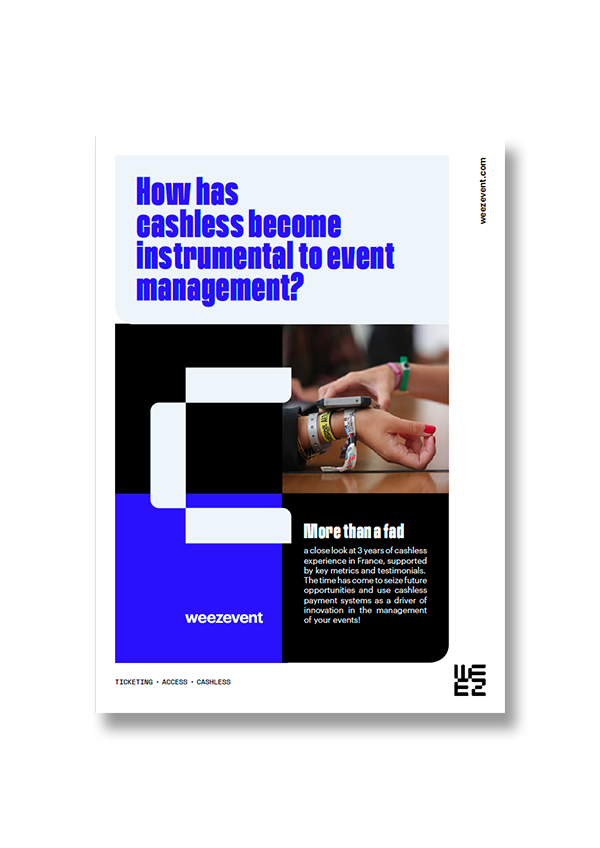 Receive a copy of our white paper

What are cash­less pay­ments? How do I set this up? What are the chal­lenges of event plan­ning? All you need to know about dema­te­ri­al­ized pay­ments is in this white paper.

The ben­e­fits for event plan­ners
Decreas­ing wait­ing time, increas­ing rev­enue, improv­ing access flow… Dis­cov­er the many ben­e­fits of cash­less pay­ments for your events.

The keys to a suc­cess­ful roll-out
To be a tru­ly use­ful tool, roll-out of cash­less pay­ments requires good project man­age­ment. In this white paper, oth­er event plan­ners share their expe­ri­ence along­side best prac­tices to roll-out cash­less the way that is best for you.

The future of event plan­ning
Our cash­less pay­ment sys­tem con­tin­u­ous­ly evolves based on the needs of event plan­ners. This hand­book out­lines where cash­less is head­ed over the next few years.

Tech part­ner of event plan­ners for the past 10 years, Weezevent shares here its exper­tise and analy­sis of new indus­try insights. This white paper is the result of 3 years of cash­less roll-outs and has been designed with all event plan­ners in mind.