Which dog-lover has never dreamed of organ­ising a dog event gathering hundreds of animals? Julie, Event Director & Business Developer at My Pet Agency, has been organ­ising Woof Run, a unique and popular dog event, since 2018. Her testimony is a breath of fresh air for all event planners – whether animals are involved or not. Here is how her event has gone from 100 to 800 attendees in just 1 year. Waiting to see what's next…
Contents
---
1. What is Woof Run?
Hello Julie! To start, can you tell us a bit more about Woof Run?
Woof Run is a day dedicated to dogs, on the grounds of the Château de Bertichères.
In the morning we organise:
a timed canicross, in partnership with the Fédération Française des Sports et Loisirs Canins (French Dog Sports Society) — including 100+ human-dog pairs.
a non-timed race with natural obstacles – including 700 human-dog pairs.
In 2019, we counted about 800 parti­cipants in total. As organ­isers, we are pleased because we see a real enthu­siasm from dog owners. In 2018, for the first event, we had about 150 parti­cipants so it's a great improvement. The event is becoming the meeting place for dog-lovers.
In the afternoon, our sponsors organise enter­tainment such as dog dancing – with guests such as Emma and Joy, semifinalists of the show La France a un incroyable talent (French version of Britain's Got Talent)
The event is free for all spectators and everyone can come with their dog(s). It's an oppor­tunity to watch the race or enjoy the enter­tainment in the village.
2. Origins of the concept
How was Woof Run born? Who came up with the idea for this dog event?
To under­stand the history of the Woof Run, it is important to know that the event is organised by two main organ­isa­tions:
My Pet Agency — a commu­nic­ation agency special­ising in star animals and animals of the stars.
Royal Jump — a high level inter­na­tional horse show.
The starting point was Royal Jump, our host, who organises horse shows like Eventing – dressage, cross-country, and show jumping. For the cross-country portion, horse riders generally do a recon­nais­sance of the course on foot to assess the diffi­culty of the obstacles. A lot of them do this with their dogs, who instinct­ively jump the obstacles. My Pet Agency has a long history of friendship with the Royal Jump. After a while, we thought about creating a race dedicated to dogs, including show jumping. This is how Woof Run was born and this collab­or­ation between two worlds seduced people.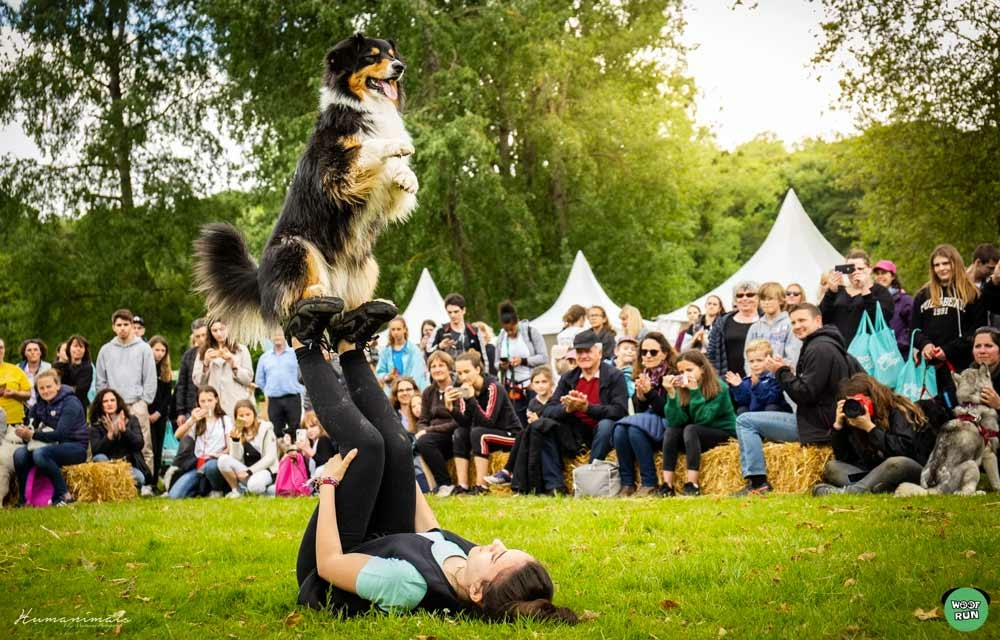 3. The commitment
How do you differentiate from other dog events?
We wanted to organise a fun day, where dogs are kings. For instance, one of our sponsors offered beer, wine, hamburgers and pizzas that were 100% made for dogs. Feedback has been very positive. Attendees have seen improvement compared with last year, which was important to us. Our sponsors are delighted. Some have already expressed interest in parti­cip­ating in future events. We are very pleased. Overall, the feedback has been very good. It is a day where people share fun with their pets in good spirits. It is fun to see all these breeds of dogs gathered in one place. Nothing spoiled the fun for attendees or parti­cipants.
4. The rules
For an event like this one, are there specific rules to follow?
Yes, the first rule of the Fédération des Sports et Loisirs Canins (French Dog Sports Society) is that all dogs must be 12 months and older to parti­cipate – as precaution for their growth. 5 vaccines are mandatory as well. This is quite strict but necessary for an event gathering so many animals. Finally each dog must be fitted with equipment suitable for its size – meaning a pulling harness for dog sports requiring one. Fortu­nately the associ­ation CaniPirates supports us for the technical organ­isation of the canicross and in welcoming dogs so as to meet the Society's require­ments.
5. Canicross equipment
Do you provide the canicross equipment yourself?
Each parti­cipant was required to come with their own equipment, but we managed to obtain some from CaniPirates in case someone needed to borrow equipment. This is a sensitive point because it represents an investment for parti­cipants. Our sponsor, Inlandsis, leader in the manufacture of dog canicross equipment in France, offered 30 complete sets for our influ­encers who attended the event. For future events, we are planning for Inlandsis to rent equipment on location.
6. Funding
If I understand correctly, ticket sales and sponsors are your main sources of income?
Yes, our main source of income is the sale of tickets to parti­cipants. Then, sponsors are present on the day and also represent a source of income to organise this event.
We are finding our footing step by step with the ticketing but we would like to develop it further in order to keep growing. For our first event, we opted for simplicity. This year we went further with discounted tickets and promo codes. It is nothing extraordinary in the world of ticketing but for us this is a first step into exploring the platform as a whole. For future events, we will pay more attention to ticketing and will really look into what your solution can do for us.
7. Ticketing and forms
Why did you choose Weezevent? Was there a specific feature that seemed essential?
We chose Weezevent as a platform because we have to provide a form and ask for supporting documents. We did this, in particular, to ensure that we meet the legal require­ments for the age of dogs and vaccin­ation documents. It saved us a lot of time on the day of the event! We didn't have to check point by point, vaccine by vaccine for each dog before handing out the bibs.
We asked the following inform­ation, among others:
Parti­cipants — last name, first name, email address, date of birth, city.
Dogs — name, date of birth, breed, electronic tag/tattoo number, medical certi­ficate, vaccin­ation reports.
It is all managed from the start. And for us, Woof Run really is a story to live with your dog from regis­tration to going home after the event. From the moment our parti­cipants access Weezevent, we want everything to be organised and perfect.
8. Pro tip
Any last word for event planners who would like to find ideas as original as Woof Run?
I would say it's important to look at everything around you with a fresh and inquis­itive perspective. There are so many ideas and concepts around us. You just need the strength to catch them at the right time, surround yourself with the right people and believe in your idea. Finally, it's important to enjoy yourself and realise that it is a great shared moment.
Thank you Julie, and congratulations on this fantastic event!
Find out more about Woof Run on Instagram. To organise events that are just as successful, discover the benefits of Weezevent by clicking below: