Which dog-lover has nev­er dreamed of organ­is­ing a dog event gath­er­ing hun­dreds of ani­mals? Julie, Event Direc­tor & Busi­ness Devel­op­er at My Pet Agency, has been organ­is­ing Woof Run, a unique and pop­u­lar dog event, since 2018. Her tes­ti­mo­ny is a breath of fresh air for all event plan­ners — whether ani­mals are involved or not. Here is how her event has gone from 100 to 800 atten­dees in just 1 year. Wait­ing to see what's next…
Con­tents
---
1. What is Woof Run?
Hello Julie! To start, can you tell us a bit more about Woof Run?
Woof Run is a day ded­i­cat­ed to dogs, on the grounds of the Château de Bertichères.
In the morn­ing we organise:
a timed cani­cross, in part­ner­ship with the Fédéra­tion Française des Sports et Loisirs Canins (French Dog Sports Soci­ety) — includ­ing 100+ human-dog pairs.
a non-timed race with nat­ur­al obsta­cles — includ­ing 700 human-dog pairs.
In 2019, we count­ed about 800 par­tic­i­pants in total. As organ­is­ers, we are pleased because we see a real enthu­si­asm from dog own­ers. In 2018, for the first event, we had about 150 par­tic­i­pants so it's a great improve­ment. The event is becom­ing the meet­ing place for dog-lovers.
In the after­noon, our spon­sors organ­ise enter­tain­ment such as dog danc­ing — with guests such as Emma and Joy, semi­fi­nal­ists of the show La France a un incroy­able tal­ent (French ver­sion of Britain's Got Talent)
The event is free for all spec­ta­tors and every­one can come with their dog(s). It's an oppor­tu­ni­ty to watch the race or enjoy the enter­tain­ment in the village.
2. Origins of the concept
How was Woof Run born? Who came up with the idea for this dog event?
To under­stand the his­to­ry of the Woof Run, it is impor­tant to know that the event is organ­ised by two main organisations:
My Pet Agency — a com­mu­ni­ca­tion agency spe­cial­is­ing in star ani­mals and ani­mals of the stars.
Roy­al Jump — a high lev­el inter­na­tion­al horse show.
The start­ing point was Roy­al Jump, our host, who organ­is­es horse shows like Event­ing — dres­sage, cross-coun­try, and show jump­ing. For the cross-coun­try por­tion, horse rid­ers gen­er­al­ly do a recon­nais­sance of the course on foot to assess the dif­fi­cul­ty of the obsta­cles. A lot of them do this with their dogs, who instinc­tive­ly jump the obsta­cles. My Pet Agency has a long his­to­ry of friend­ship with the Roy­al Jump. After a while, we thought about cre­at­ing a race ded­i­cat­ed to dogs, includ­ing show jump­ing. This is how Woof Run was born and this col­lab­o­ra­tion between two worlds seduced people.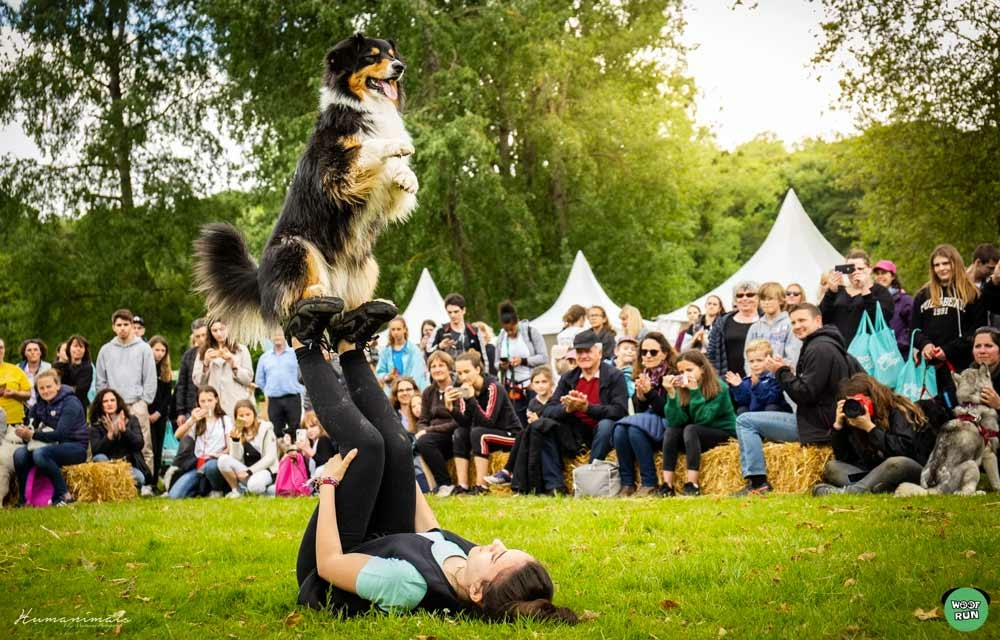 3. The commitment
How do you differentiate from other dog events?
We want­ed to organ­ise a fun day, where dogs are kings. For instance, one of our spon­sors offered beer, wine, ham­burg­ers and piz­zas that were 100% made for dogs. Feed­back has been very pos­i­tive. Atten­dees have seen improve­ment com­pared with last year, which was impor­tant to us. Our spon­sors are delight­ed. Some have already expressed inter­est in par­tic­i­pat­ing in future events. We are very pleased. Over­all, the feed­back has been very good. It is a day where peo­ple share fun with their pets in good spir­its. It is fun to see all these breeds of dogs gath­ered in one place. Noth­ing spoiled the fun for atten­dees or participants.
4. The rules
For an event like this one, are there specific rules to follow?
Yes, the first rule of the Fédéra­tion des Sports et Loisirs Canins (French Dog Sports Soci­ety) is that all dogs must be 12 months and old­er to par­tic­i­pate — as pre­cau­tion for their growth. 5 vac­cines are manda­to­ry as well. This is quite strict but nec­es­sary for an event gath­er­ing so many ani­mals. Final­ly each dog must be fit­ted with equip­ment suit­able for its size — mean­ing a pulling har­ness for dog sports requir­ing one. For­tu­nate­ly the asso­ci­a­tion CaniPi­rates sup­ports us for the tech­ni­cal organ­i­sa­tion of the cani­cross and in wel­com­ing dogs so as to meet the Society's requirements.
5. Canicross equipment
Do you provide the canicross equipment yourself?
Each par­tic­i­pant was required to come with their own equip­ment, but we man­aged to obtain some from CaniPi­rates in case some­one need­ed to bor­row equip­ment. This is a sen­si­tive point because it rep­re­sents an invest­ment for par­tic­i­pants. Our spon­sor, Inland­sis, leader in the man­u­fac­ture of dog cani­cross equip­ment in France, offered 30 com­plete sets for our influ­encers who attend­ed the event. For future events, we are plan­ning for Inland­sis to rent equip­ment on location.
6. Funding
If I understand correctly, ticket sales and sponsors are your main sources of income?
Yes, our main source of income is the sale of tick­ets to par­tic­i­pants. Then, spon­sors are present on the day and also rep­re­sent a source of income to organ­ise this event.
We are find­ing our foot­ing step by step with the tick­et­ing but we would like to devel­op it fur­ther in order to keep grow­ing. For our first event, we opt­ed for sim­plic­i­ty. This year we went fur­ther with dis­count­ed tick­ets and pro­mo codes. It is noth­ing extra­or­di­nary in the world of tick­et­ing but for us this is a first step into explor­ing the plat­form as a whole. For future events, we will pay more atten­tion to tick­et­ing and will real­ly look into what your solu­tion can do for us.
7. Ticketing and forms
Why did you choose Weezevent? Was there a specific feature that seemed essential?
We chose Weezevent as a plat­form because we have to pro­vide a form and ask for sup­port­ing doc­u­ments. We did this, in par­tic­u­lar, to ensure that we meet the legal require­ments for the age of dogs and vac­ci­na­tion doc­u­ments. It saved us a lot of time on the day of the event! We didn't have to check point by point, vac­cine by vac­cine for each dog before hand­ing out the bibs.
We asked the fol­low­ing infor­ma­tion, among others:
Par­tic­i­pants — last name, first name, email address, date of birth, city.
Dogs — name, date of birth, breed, elec­tron­ic tag/tattoo num­ber, med­ical cer­tifi­cate, vac­ci­na­tion reports.
It is all man­aged from the start. And for us, Woof Run real­ly is a sto­ry to live with your dog from reg­is­tra­tion to going home after the event. From the moment our par­tic­i­pants access Weezevent, we want every­thing to be organ­ised and perfect.
8. Pro tip
Any last word for event planners who would like to find ideas as original as Woof Run?
I would say it's impor­tant to look at every­thing around you with a fresh and inquis­i­tive per­spec­tive. There are so many ideas and con­cepts around us. You just need the strength to catch them at the right time, sur­round your­self with the right peo­ple and believe in your idea. Final­ly, it's impor­tant to enjoy your­self and realise that it is a great shared moment.
Thank you Julie, and congratulations on this fantastic event!
Find out more about Woof Run on Insta­gram. To organ­ise events that are just as suc­cess­ful, dis­cov­er the ben­e­fits of Weezevent by click­ing below: