This week sees our team part­ner with Stan­don Call­ing fes­ti­val from 25th-28th July. The fam­i­ly friend­ly event attracts up to 15,000 atten­dees each day and is head­lined by Rag'n'Bone Man, Wolf Alice, and Nile Rodgers & Chic. Locat­ed in the Hert­ford­shire, Stan­don Call­ing is an inno­va­tion pio­neer in cash­less tech­nol­o­gy and RFID wristbands.
It was one of the first fes­ti­vals to use a cash­less sys­tem in the UK in 2013. The fes­ti­val pre­vi­ous­ly worked with two dif­fer­ent cash­less providers, but have moved to Weezevent in order to take advan­tage of our unique cash­less solu­tion. As an expe­ri­enced tech com­pa­ny we offer an access con­trol sys­tem that is inde­pen­dent from the inter­net and has been used by over 400 fes­ti­vals and events across Europe since 2015. Stan­don Call­ing is lead­ing a fam­i­ly-friend­ly fes­ti­val that want­ed to give fam­i­lies more con­trol and sim­plic­i­ty regard­ing their cash­less accounts. Thanks to our tech­nol­o­gy, access and buy­ing rights can be set depend­ing on the age of the atten­dees through RFID microchips attached to cash­less wristbands.
On the prac­ti­cal side, all of the 180 staff at bars, restau­rants, and inde­pen­dent traders oper­at­ing at Stan­don Call­ing only use our cash­less sys­tem. Green­cop­per, our mobile part­ner, also let fes­ti­val-goers who down­load the Stan­don Call­ing app cre­ate and top-up their cash­less account in seconds.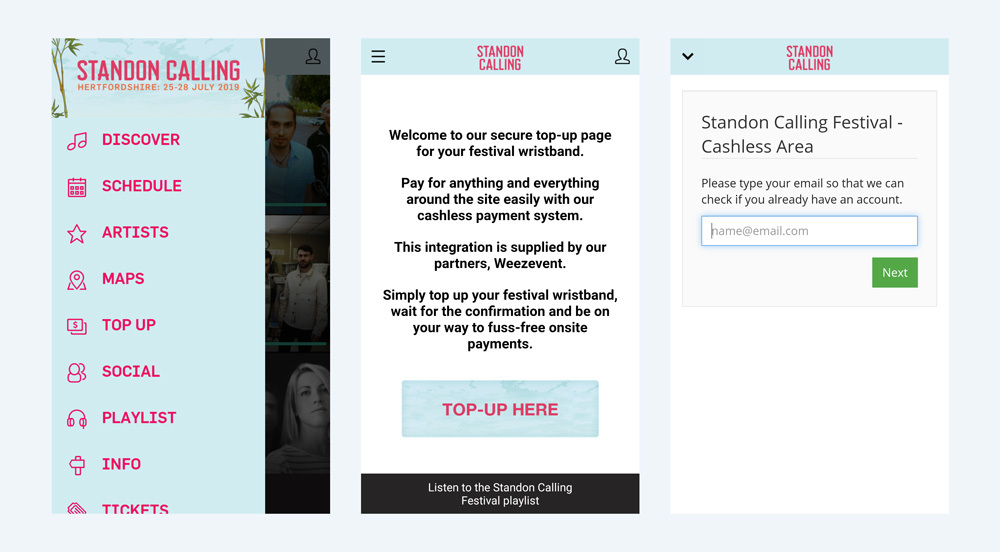 A UK led Weezevent team of 8 is also on site to deploy and super­vise the access con­trol and cash­less sys­tem of the festival.
Standon Calling & Weezevent in numbers:
8 Weezevent technicians;
40 access con­trol devices ;
312 cash­less pay­ment devices ;
180 staff at bars and restaurants;
50 inde­pen­dent traders.
To find out more about our cash­less sys­tem down­load our free white paper here.