Whether you are a start-up, an asso­ci­a­tion or a com­pa­ny that wants to organ­ise a spe­cif­ic event (trade fair, sem­i­nar, sports com­pe­ti­tion, etc.), spon­sor­ship is cru­cial to financ­ing your project. You must send a dossier and spon­sor­ship appli­ca­tion let­ter to get the best part­ner­ships. It is often over­looked that a well-draft­ed let­ter can make the dif­fer­ence between a request being tak­en seri­ous­ly or ignored.
Here are some tips to help you write your spon­sor­ship let­ter.
---
1. Find the right recipient
Take the time to find com­pa­nies or organ­i­sa­tions inter­est­ed in your project.
Avoid send­ing spon­sor­ship requests to com­pa­nies that are not relat­ed to your indus­try. To increase the impact of your let­ter, cus­tomise it accord­ing to your com­pa­ny's mis­sion, your events, your prod­ucts or ser­vices and the pur­pose of the spon­sor­ship (financ­ing, mar­ket­ing, com­mu­ni­ca­tion, etc.).
2. Present your project clearly
In your spon­sor­ship appli­ca­tion, you must explain what you want to do, why you want to do it (final goals) and how you will do it (process­es, over what peri­od, how many peo­ple will be involved, etc.).
It is essen­tial to be clear and con­cise so that the recip­i­ent quick­ly under­stands the pur­pose of your request. In fact, con­sid­er­ing the many spon­sor­ship requests they may receive, com­pa­nies often have lit­tle time to read a let­ter. Get to the point, be orig­i­nal and impact­ful.
3. Show the added value of sponsorship
Explain how spon­sor­ship can help you achieve your goals (whether com­mer­cial, sport­ing or part­ner­ship) and the impact your action will have on the spon­sor.
For exam­ple, imag­ine you want to pro­duce an annu­al report on renew­able ener­gy and present it at an event. In that case, you can clear­ly define how the spon­sor will ben­e­fit from the pos­i­tive pub­lic­i­ty of the event by asso­ci­at­ing its image with envi­ron­men­tal caus­es.
4. Conduct market research
If pos­si­ble, include details about the tar­get mar­ket and future atten­dees of your event in your appli­ca­tion. This can help demon­strate the rel­e­vance of your project and its ben­e­fits to your sponsor's busi­ness goals while ensur­ing cred­i­bil­i­ty and vis­i­bil­i­ty on your part.
5. Apply for funding
Don't beat around the bush; men­tion the amount you need in the spon­sor­ship let­ter if it is a finan­cial spon­sor­ship. If you are con­sid­er­ing col­lab­o­ra­tion in the form of equip­ment or ser­vices, please also clear­ly state your needs.
You must state how you will use the request­ed bud­get, object or ser­vice. Avoid mak­ing gen­er­al requests and indi­cate spe­cif­ic amounts to help the spon­sor assess the rel­e­vance and fea­si­bil­i­ty of your request.
6. Offer compensation
Offer some ben­e­fits in exchange for spon­sor­ship. This can be in the form of addi­tion­al pub­lic­i­ty gen­er­at­ed, appear­ing on your com­mu­ni­ca­tion media and link­ing the com­pa­ny name to the name of your event, etc. Off­sets can demon­strate to the spon­sor the added val­ue you can bring in the short, medi­um or long term.
7. End on a positive note
Thank the recip­i­ent for their time and atten­tion, and reas­sure them of your com­mit­ment to the project. Be sure to give a clear dead­line for respond­ing and pro­vide con­tact infor­ma­tion for get­ting in touch with you.
8. Check spelling and grammar
Make sure your spon­sor­ship appli­ca­tion let­ter is pro­fes­sion­al and error-free. Cor­rect gram­mar and care­ful pre­sen­ta­tion show the spon­sor that you are seri­ous and take care of the details. Do not hes­i­tate to use online proof­read­ing tools.
9. Use our sponsorship request letter template
To help you fur­ther, here is a sam­ple spon­sor­ship appli­ca­tion let­ter for you to adapt to your appli­ca­tion and your project: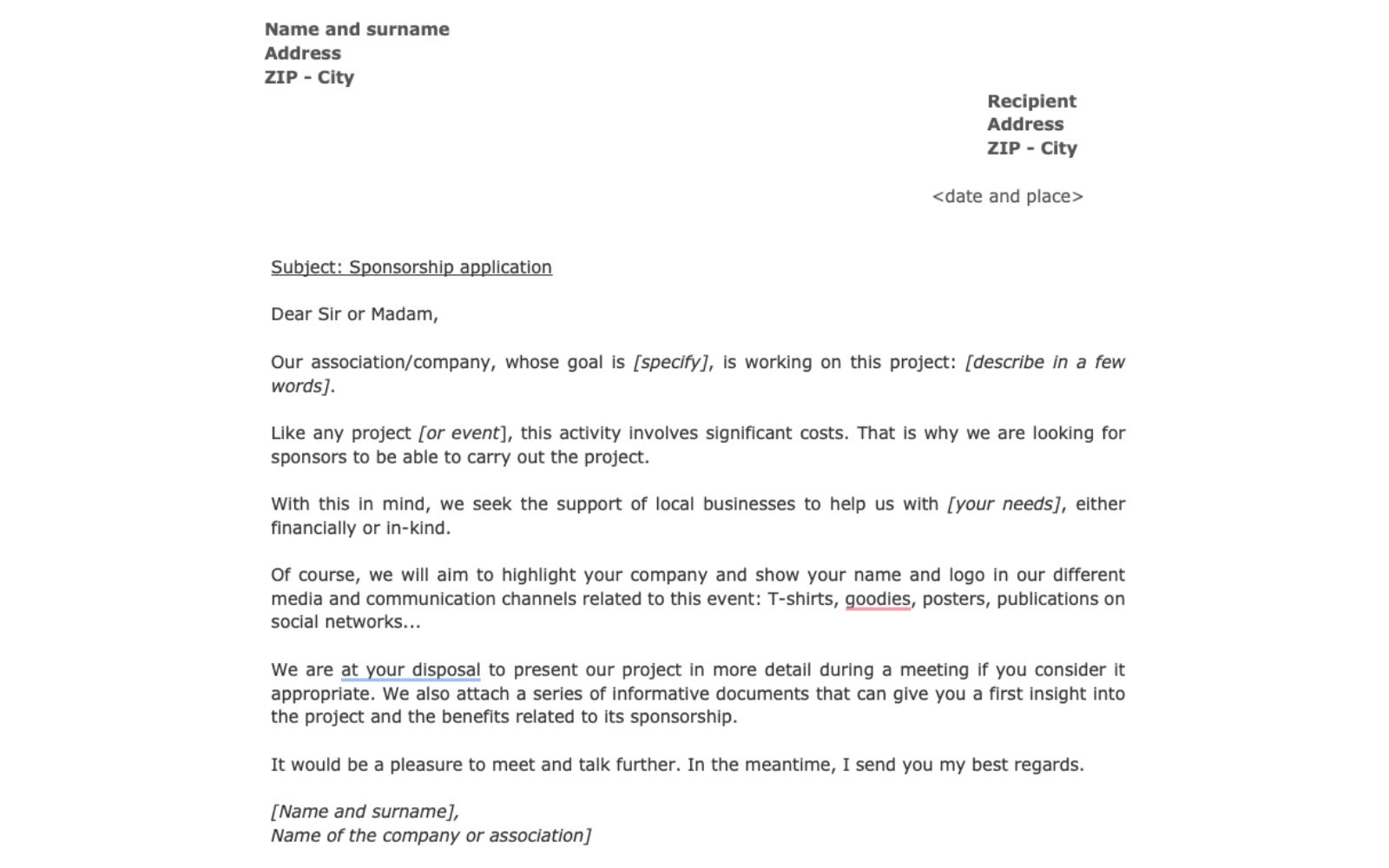 Down­load the tem­plate in text for­mat
In sum­ma­ry, to be suc­cess­ful in your spon­sor­ship appli­ca­tion let­ter, it is impor­tant to under­stand the spon­sor's goals, present a well-designed project and demon­strate how the spon­sor­ship can help achieve both your goals and those of the spon­sor­ing com­pa­ny. Final­ly, make sure you make a clear appli­ca­tion and present attrac­tive rewards to encour­age the spon­sor to sup­port your project.
---
What­ev­er the type of event you are organ­is­ing, Weezevent is there for you and offers you tick­et­ing, access con­trol, cash­less pay­ment and email­ing solu­tions suit­ed for your event and easy to install.