Whether you are a start-up, an association or a company that wants to organise a specific event (trade fair, seminar, sports competition, etc.), sponsorship is crucial to financing your project. You must send a dossier and sponsorship application letter to get the best partnerships. It is often overlooked that a well-drafted letter can make the difference between a request being taken seriously or ignored.
Here are some tips to help you write your sponsorship letter.
---
1. Find the right recipient
Take the time to find companies or organisations interested in your project.
Avoid sending sponsorship requests to companies that are not related to your industry. To increase the impact of your letter, customise it according to your company's mission, your events, your products or services and the purpose of the sponsorship (financing, marketing, communication, etc.).
2. Present your project clearly
In your sponsorship application, you must explain what you want to do, why you want to do it (final goals) and how you will do it (processes, over what period, how many people will be involved, etc.).
It is essential to be clear and concise so that the recipient quickly understands the purpose of your request. In fact, considering the many sponsorship requests they may receive, companies often have little time to read a letter. Get to the point, be original and impactful.
3. Show the added value of sponsorship
Explain how sponsorship can help you achieve your goals (whether commercial, sporting or partnership) and the impact your action will have on the sponsor.
For example, imagine you want to produce an annual report on renewable energy and present it at an event. In that case, you can clearly define how the sponsor will benefit from the positive publicity of the event by associating its image with environmental causes.
4. Conduct market research
If possible, include details about the target market and future attendees of your event in your application. This can help demonstrate the relevance of your project and its benefits to your sponsor's business goals while ensuring credibility and visibility on your part.
5. Apply for funding
Don't beat around the bush; mention the amount you need in the sponsorship letter if it is a financial sponsorship. If you are considering collaboration in the form of equipment or services, please also clearly state your needs.
You must state how you will use the requested budget, object or service. Avoid making general requests and indicate specific amounts to help the sponsor assess the relevance and feasibility of your request.
6. Offer compensation
Offer some benefits in exchange for sponsorship. This can be in the form of additional publicity generated, appearing on your communication media and linking the company name to the name of your event, etc. Offsets can demonstrate to the sponsor the added value you can bring in the short, medium or long term.
7. End on a positive note
Thank the recipient for their time and attention, and reassure them of your commitment to the project. Be sure to give a clear deadline for responding and provide contact information for getting in touch with you.
8. Check spelling and grammar
Make sure your sponsorship application letter is professional and error-free. Correct grammar and careful presentation show the sponsor that you are serious and take care of the details. Do not hesitate to use online proofreading tools.
9. Use our sponsorship request letter template
To help you further, here is a sample sponsorship application letter for you to adapt to your application and your project: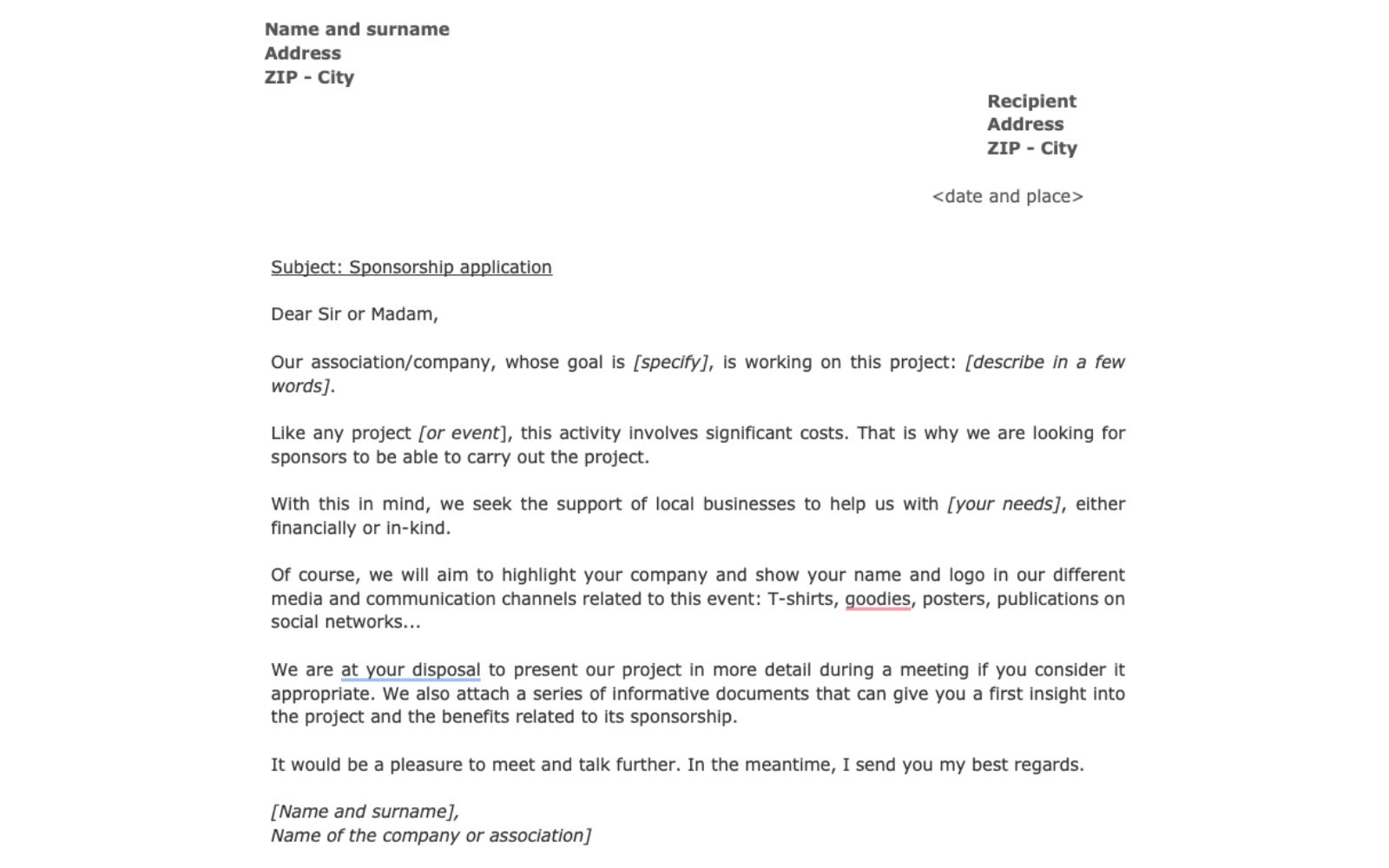 Download the template in text format
In summary, to be successful in your sponsorship application letter, it is important to understand the sponsor's goals, present a well-designed project and demonstrate how the sponsorship can help achieve both your goals and those of the sponsoring company. Finally, make sure you make a clear application and present attractive rewards to encourage the sponsor to support your project.
---
Whatever the type of event you are organising, Weezevent is there for you and offers you ticketing, access control, cashless payment and emailing solutions suited for your event and easy to install.