Back in 2008 we were the first to let organ­is­ers cre­ate a mini-site in the image of their event in just a few clicks enabling them to sell tick­ets and man­age reg­is­tra­tions autonomously.
Today, thanks to your feed­back, we are par­tic­u­lar­ly proud to unveil an updat­ed and improved ver­sion of the mini-site, in order to bet­ter respond to the ele­ments that make each of your events unique.
In this arti­cle, you will find a detailed review of the changes made to make your mini-sites bet­ter, more adapt­ed to all screen sizes and always true to the iden­ti­ty of your events.
Overview
---
1. Access the new version
From Tues­day 5 Octo­ber 2021, all new events cre­at­ed will have a mini-site with the update direct­ly inte­grat­ed. You don't have to do anything!
For events cre­at­ed before this date, you can acti­vate the new ver­sion of the mini-site for spe­cif­ic events from the organ­is­er por­tal. Just click on Sell -> On your mini-site -> Try now. This will take you to your new mini-site edi­tor with a brand new look.

Events already pub­lished will not be updat­ed with­out your action.
2. A modernised design, conceived for the mobile
We have designed the new lay­out to meet the expec­ta­tions of your future par­tic­i­pants. It is a new style of mini-site, designed for opti­mal mobile dis­play and easy to use from a smartphone.
No mat­ter how much con­tent you want to dis­play on your mini-site, a click­able "Tick­et­ing" but­ton is always vis­i­ble, so that your future par­tic­i­pants can access the sales or reg­is­tra­tion mod­ule at any time.
View a demo mini-site by click­ing on the but­ton below:
3. A redesigned design interface
The var­i­ous set­tings and fea­tures are more eas­i­ly acces­si­ble, even from your phone!
You can now pre­view your mini-site while edit­ing with a pre­view on mobile, tablet and desktop.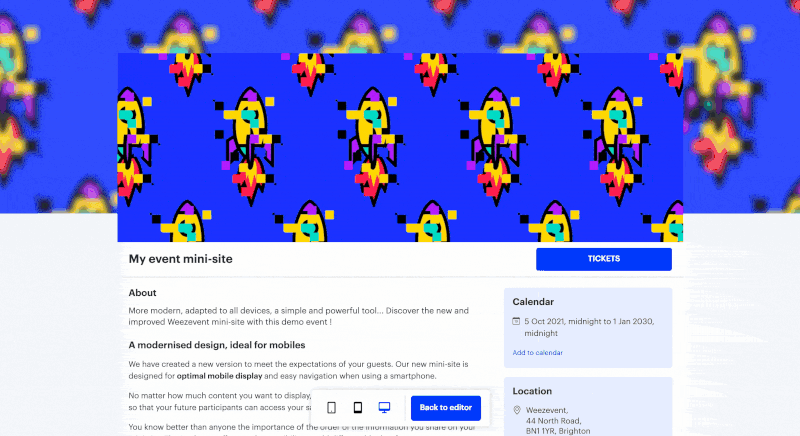 4. A design that suits you
As in the pre­vi­ous ver­sion, you still have the pos­si­bil­i­ty to customise:
the back­ground colour
the colour of the buttons
You can also choose the lan­guage in which the mini-site will be dis­played: French, Eng­lish, Ital­ian and Spanish.
The updat­ed ver­sion also includes the pos­si­bil­i­ty to choose from 7 dif­fer­ent fonts.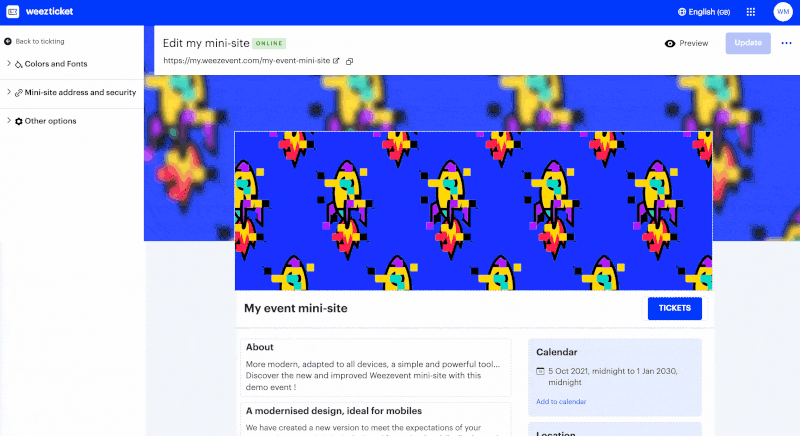 5. Add the illustrations of your choice
In order to respect your design and to bet­ter com­mu­ni­cate on your event, you can add the ban­ner of your choice:
your own illus­tra­tion (graph­ic cre­ation or photo),
an illus­tra­tion from pro­posed models,
an illus­tra­tion select­ed from the new inte­grat­ed free image bank.

Spec­i­fy the visu­al you wish to see appear­ing on the social net­works, when you, or your par­tic­i­pants, share the link of your mini-site.
Final­ly, cus­tomise the fav­i­con of your mini-site, which is the icon illus­trat­ing your page on the tabs of Inter­net browsers.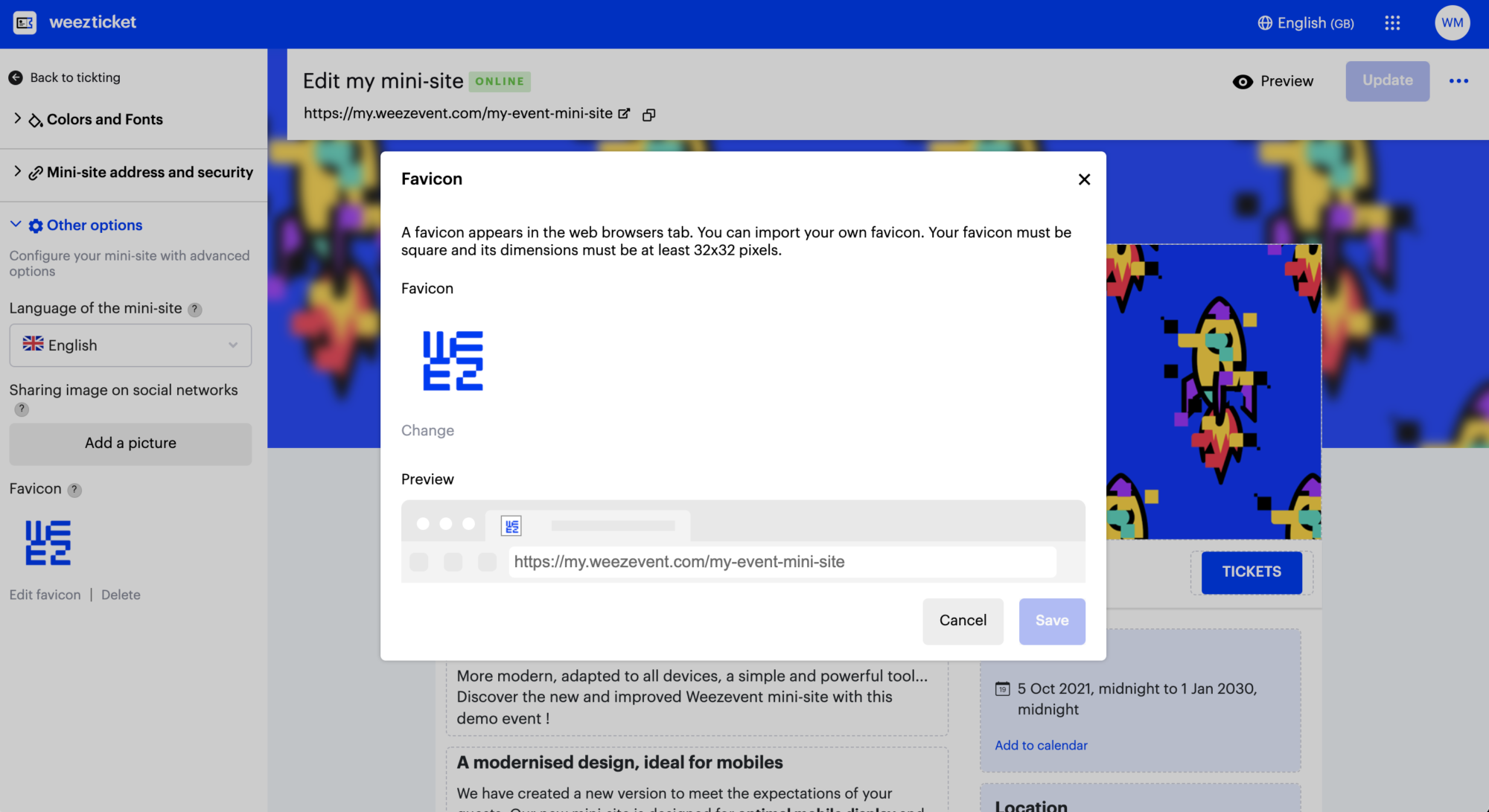 6. Simply organise your content
You know bet­ter than any­one how impor­tant well struc­tured infor­ma­tion you share on your mini-site is. That's why we offer you the pos­si­bil­i­ty to add dif­fer­ent blocks of con­tent to your page in the place that you think is most appro­pri­ate, allow­ing you to display:
cus­tomis­able text,
an image or a carousel of images,
a video,
items to download.
You will also find prac­ti­cal and addi­tion­al infor­ma­tion blocks: :
inclu­sion to the par­tic­i­pan­t's calendar,
an inter­ac­tive map of your even­t's location,
con­tact information,
your social networks.
In the new ver­sion of the mini-site all of these con­tent blocks have been redesigned to make them more under­stand­able to your par­tic­i­pants and eas­i­er to inte­grate into your mini-site where you think it is most appropriate.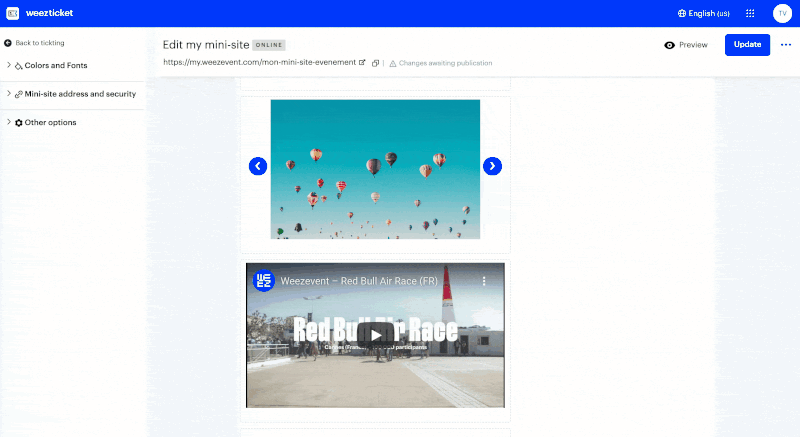 We are con­tin­u­ing to work to pro­vide you with the most rel­e­vant fea­tures pos­si­ble and more options will be avail­able in 2022, such as the fol­low­ing con­tent blocks: count­down, Insta­gram posts, Face­book posts, impor­tant mes­sage, tick­ets sold, weather…
7. Optimised Internet referencing
The best prac­tices to be well ref­er­enced on search engines evolve reg­u­lar­ly. With this new ver­sion, we have made sure that your mini-sites con­tin­ue to respect the fun­da­men­tals of the web, to guar­an­tee you the best pos­si­ble visibility:
Opti­mised load­ing speed in browsers,
Dis­play designed for all screen sizes (100% responsive),
Pos­si­bil­i­ty to mod­i­fy the title and descrip­tion of your event,
Clear source code that can be under­stood by search engines.
8. Removed elements for better accessibility
By analysing your use of the min­isites and lis­ten­ing to your feed­back, we have removed some fea­tures that had become obsolete.
News
You used to be able to use this fea­ture to pub­lish news in the form of dat­ed posts. While the "News" block has dis­ap­peared you can still give your par­tic­i­pants more infor­ma­tion by updat­ing the text block as many times as you need.
Google Maps
The fea­ture to add a Google Maps to your event has also been removed. It was a dupli­cate of the map of the event loca­tion, which was already dis­played automatically.
9. Do you have a question or need help?
We are always avail­able to answer your ques­tions. Please do not hes­i­tate to con­tact our cus­tomer ser­vice on +44 (0)20 3868 7483.
Dis­cov­er the new mini-sites now:
Your opin­ion counts! You can give it to us direct­ly from your mini-site cus­tomi­sa­tion interface.