Livestream­ing is a grow­ing trend among event organ­is­ers. It allows your audi­ence to watch a live video of your event from their lap­top, smart­phone or tablet. This sim­ple and easy-to-use method is a great way to pro­mote your event
3 reasons to livestream your event
Closeness
Video stream­ing to your audi­ence direct­ly, with­out any mid­dle­man involved, cre­ates a feel­ing of close­ness with your audi­ence and rein­forces the human qual­i­ty of your com­pa­ny. Your voice is authen­tic, unfil­tered and unscripted.
Inter­net users watch­ing your livestream will also feel that they are expe­ri­enc­ing your event from the com­fort of their own envi­ron­ment (home, work, etc.) which can­not be expe­ri­enced when phys­i­cal­ly attend­ing an event. Thus, you are link­ing inti­ma­cy and exclu­siv­i­ty all the while reach­ing a wider audience.
Exclusivity
Fol­low­ing an event in real time cre­ates a feel­ing of priv­i­lege for the per­son who made the effort to con­nect to your livestream at a spe­cif­ic time. They are part of a com­mu­ni­ty of like-mind­ed peo­ple who are more moti­vat­ed to fol­low this event than the aver­age per­son. Final­ly, what hap­pens live is unlike­ly to hap­pen again at anoth­er time. The audi­ence is, there­fore, exper­i­ment­ing some­thing unique.
Engagement and interaction
Com­ment and shar­ing fea­tures enhance the moment between you and your audi­ence, as well as the atten­dees. This last aspect is key at an event and tends to get overlooked.
Grow your event's audience, now and in the future
Your online pres­ence is a mean to grow your audi­ence and get you known. There are many ben­e­fits to it. If your event is restrict­ed to a small crowd, it will ben­e­fit from being livestreamed on ded­i­cat­ed plat­forms — Face­book Live, YouTube Live, Insta­gram Live, etc. This is a great way to increase your audience.
This can also be used as adver­tise­ment for your next events. Con­trary to pop­u­lar belief, live videos don't decrease the num­ber of atten­dees at an event. It can even gen­er­ate inter­est in new par­tic­i­pants to attend the next event or more gen­er­al­ly to learn more about your company/society/club/etc.
Adapt to modern times
Livestream­ing events is con­sid­ered com­mon­place at organ­i­sa­tions that are in touch with their time. You should stream live videos on social media plat­forms acces­si­ble on mobile devices – smart­phones and tablets – to reach mobile and tech-savvy audi­ences. You can also reach oth­er peo­ple as livestream­ing is usu­al­ly acces­si­ble on lap­tops using the same platforms.
Face­book Live, YouTube Live, or Insta­gram Live enable your audi­ence to fol­low you every­where using live video. This is a major asset at a time when 16 to 30-year-olds spend over 3 hours a day on their smart­phone.*
Livestream­ing can also be done on mobile. You can use a smart­phone as well as pro­fes­sion­al equip­ment. Flex­i­bil­i­ty in your choice of tools — equip­ment, plat­forms — enables you to play with formats.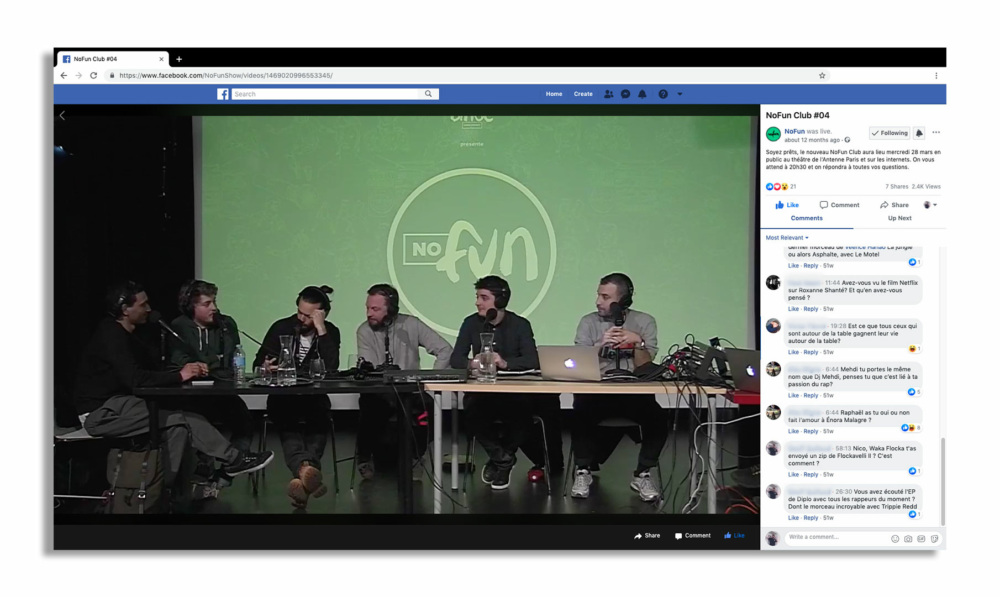 Livestream­ing a talk (con­fer­ence, round table, etc.) is one of the most com­mon for­mats. Most – or at least a part – of the live stream can include inter­ac­tions with the audi­ence in the form of Q&A. You can ask the audi­ence for ques­tions by hand­ing out a micro­phone and alter­nate with ques­tions from the online audi­ence using the live video com­ment sec­tion. Anoth­er for­mat is a behind-the-scenes sneak peek to show a dif­fer­ent angle of the event.
Livestream­ing will not rev­o­lu­tionise your event imme­di­ate­ly because it needs to start with a loy­al audi­ence. How­ev­er, start­ing small and pro­gres­sive­ly invest­ing time and mon­ey into it can prove very efficient.
Livestreaming and more
The live for­mat is not only rel­e­vant but can also be a great source of con­tent to be used again in the future. It is crit­i­cal to record and store the videos you make. They can be edit­ed to cre­ate a video sum­ma­ry of the event, to pro­mote your next edi­tion or for oth­er com­mu­ni­ca­tion cam­paigns. High­light­ing the best moments of the livestream will encour­age those who missed it to check out the next one, or even to phys­i­cal­ly attend your next event.
Which platform should you pick?
To broad­cast your live video, you have a choice of sev­er­al livestream­ing solu­tions. It is up to you to choose one that works for you, based on your needs and bud­get. You can also broad­cast on sev­er­al chan­nels at the same time.
Facebook Live
This is the most com­mon app on the mar­ket. It can livestream your videos on your pro­file, your page and your event. You can see the audi­ence and the com­ments in real time. After the event, your live video is archived to your time­line and can be viewed by the peo­ple who missed the live event.
YouTube Live
First appli­ca­tion ded­i­cat­ed to video broad­cast­ing, YouTube allows you to stream a live video from both mobile devices and lap­tops. How­ev­er, the mobile option is only avail­able to video cre­ators with 10,000 sub­scribers, thus plac­ing a lim­i­ta­tion on its use. Oth­er­wise, the sys­tem is sim­i­lar to livestream­ing using Facebook.
Instagram Live
The pop­u­lar­i­ty of Insta­gram Sto­ries has not waned since their launch. Insta­gram Live uses most of Sto­ries' fea­tures and codes. It is specif­i­cal­ly adapt­ed to mobile and hyper-con­nect­ed users. Inter­ac­tions and close­ness with the audi­ence come quite naturally.
With this overview of livestream­ing events, you are final­ly ready to jump in! You too can organ­ise your own event and livestream it by click­ing below: