Livestreaming is a growing trend among event organ­isers. It allows your audience to watch a live video of your event from their laptop, smart­phone or tablet. This simple and easy-to-use method is a great way to promote your event
3 reasons to livestream your event
Closeness
Video streaming to your audience directly, without any middleman involved, creates a feeling of closeness with your audience and reinforces the human quality of your company. Your voice is authentic, unfiltered and unscripted.
Internet users watching your livestream will also feel that they are exper­i­encing your event from the comfort of their own envir­onment (home, work, etc.) which cannot be exper­i­enced when physically attending an event. Thus, you are linking intimacy and exclus­ivity all the while reaching a wider audience.
Exclusivity
Following an event in real time creates a feeling of privilege for the person who made the effort to connect to your livestream at a specific time. They are part of a community of like-minded people who are more motivated to follow this event than the average person. Finally, what happens live is unlikely to happen again at another time. The audience is, therefore, exper­i­menting something unique.
Engagement and interaction
Comment and sharing features enhance the moment between you and your audience, as well as the attendees. This last aspect is key at an event and tends to get overlooked.
Grow your event's audience, now and in the future
Your online presence is a mean to grow your audience and get you known. There are many benefits to it. If your event is restricted to a small crowd, it will benefit from being livestreamed on dedicated platforms – Facebook Live, YouTube Live, Instagram Live, etc. This is a great way to increase your audience.
This can also be used as advert­isement for your next events. Contrary to popular belief, live videos don't decrease the number of attendees at an event. It can even generate interest in new parti­cipants to attend the next event or more generally to learn more about your company/society/club/etc.
Adapt to modern times
Livestreaming events is considered common­place at organ­isa­tions that are in touch with their time. You should stream live videos on social media platforms accessible on mobile devices – smart­phones and tablets – to reach mobile and tech-savvy audiences. You can also reach other people as livestreaming is usually accessible on laptops using the same platforms.
Facebook Live, YouTube Live, or Instagram Live enable your audience to follow you every­where using live video. This is a major asset at a time when 16 to 30-year-olds spend over 3 hours a day on their smart­phone.*
Livestreaming can also be done on mobile. You can use a smart­phone as well as profes­sional equipment. Flexib­ility in your choice of tools — equipment, platforms — enables you to play with formats.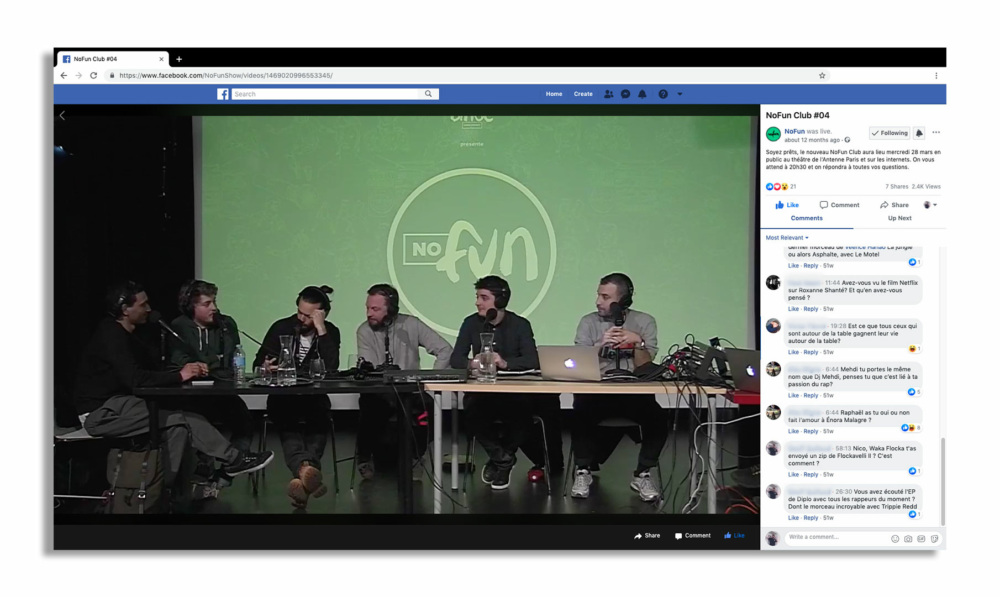 Livestreaming a talk (conference, round table, etc.) is one of the most common formats. Most – or at least a part – of the live stream can include inter­ac­tions with the audience in the form of Q&A. You can ask the audience for questions by handing out a micro­phone and alternate with questions from the online audience using the live video comment section. Another format is a behind-the-scenes sneak peek to show a different angle of the event.
Livestreaming will not revolu­tionise your event immedi­ately because it needs to start with a loyal audience. However, starting small and progress­ively investing time and money into it can prove very efficient.
Livestreaming and more
The live format is not only relevant but can also be a great source of content to be used again in the future. It is critical to record and store the videos you make. They can be edited to create a video summary of the event, to promote your next edition or for other commu­nic­ation campaigns. Highlighting the best moments of the livestream will encourage those who missed it to check out the next one, or even to physically attend your next event.
Which platform should you pick?
To broadcast your live video, you have a choice of several livestreaming solutions. It is up to you to choose one that works for you, based on your needs and budget. You can also broadcast on several channels at the same time.
Facebook Live
This is the most common app on the market. It can livestream your videos on your profile, your page and your event. You can see the audience and the comments in real time. After the event, your live video is archived to your timeline and can be viewed by the people who missed the live event.
YouTube Live
First applic­ation dedicated to video broad­casting, YouTube allows you to stream a live video from both mobile devices and laptops. However, the mobile option is only available to video creators with 10,000 subscribers, thus placing a limit­ation on its use. Otherwise, the system is similar to livestreaming using Facebook.
Instagram Live
The popularity of Instagram Stories has not waned since their launch. Instagram Live uses most of Stories' features and codes. It is specifically adapted to mobile and hyper-connected users. Inter­ac­tions and closeness with the audience come quite naturally.
With this overview of livestreaming events, you are finally ready to jump in! You too can organise your own event and livestream it by clicking below: