Creating an effective event communication strategy can be baffling for organisers. Whether it is a trade show, a sports competition or a team-building weekend, each organisation is looking for ways to stand out and be memorable to their attendees. That's why we would like to talk about a practice with proven effectiveness: giving out goodies. At your next event, they will become a powerful communication tool. Why? We will explain it in this article.
Contents
---
1. Use goodies to create a positive impression of your event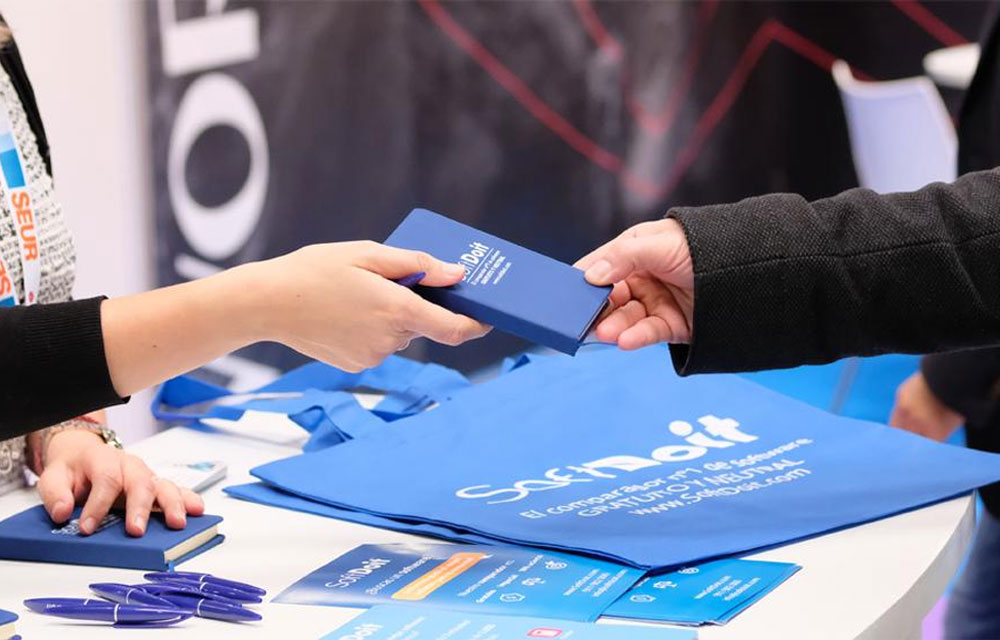 What is a goodie?
Goodies are promotional items given to an organisation's current and potential customers. They are often customised with a logo, tagline or message. Using these items in your communication strategy is a very powerful tool because the organisation handing them out can increase its awareness and exposure all the while creating a link with the recipients.
Promotional items: an ideal media for events
When creating an event, promotional items are part of a powerful marketing strategy for attracting customers and acquiring new markets. Indeed, they will be a visual representation of your brand and they will act as true ambassadors for your company. Since it is an inexpensive medium with a high memorisation power, it is a perfect ally for your event planning.
A highly appreciated mean of communication
For some time, we've been seeing a general distrust and frustration with advertising, whether on TV, radio or social media. However, customised goodies are one of the few communication channels that will get you a "Thank you!". With these items, you can be sure to earn points with your attendees and your audience.
2. Choose the right items for your communication strategy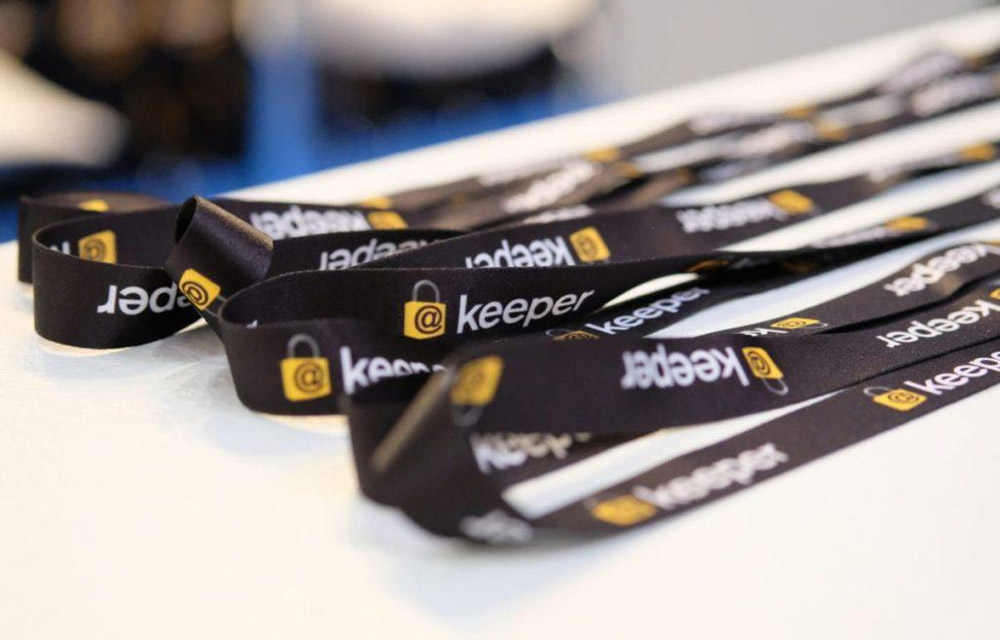 The market for promotional items includes many different products. If you want to use them for your next communication strategy, you will have to choose carefully. Here are some categories of promotional items suitable for different events.
Business goodies
Intended for a business and commercial audience, the "business" goodies can be used when organising fairs, trade shows, seminars, conferences, exhibitions or as part of the launch of a new product. Here personalised lanyards, notebooks, pens or candy should be favoured at your booth.
Important: promotional items should be of high quality to convey the seriousness and effectiveness of your company.
Sports goodies
Ideal for organisers of sports competitions or festivals, they are an important asset to defend your event's colours and give it some exposure. We recommend that you offer customised water bottles, cups or caps.
Important: the promotional item must be useful to contribute to the prestige and success of the organised sporting event.
Green goodies
With growing concerns about climate change, green promotional gifts are on the rise. Intended for event organisers in all areas, "natural" goodies are essential for companies concerned about their ecological footprint. If this is your case, choose recyclable cups, eco-friendly fabric bags, bamboo pens or notebooks.
Important: the chosen promotional item should be aligned with your actions in terms of environmental policy and reduction of your ecological impact.
High-tech goodies
Display a connected, modern and innovative corporate image with high-tech promotional items. These gifts are sure to delight your attendees. In this category, you can choose from USB sticks, speakers or portable power banks – an extremely trendy product.
Important: High-tech goodies should be related to your business or the theme of the event in order to project a modern and tech-oriented image.
In short, it is important for companies not to engage blindly in an advertising campaign. Indeed, just because you're handing out goodies doesn't mean your customers will automatically be happy. You have to know how to find the right goodies for the right person at the right time. It is therefore very important to adjust these items to both your audience and the event.
3. Stand out thanks to customised goodies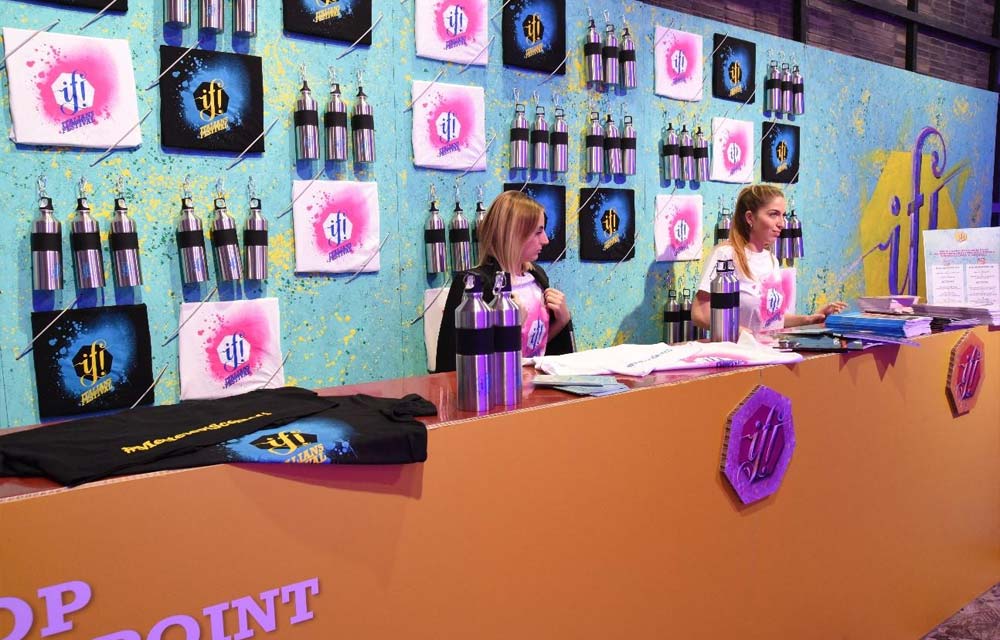 Gifts are a great way to keep up the momentum of an event, but if you want to make a significant impact on your attendees' minds, they should be chosen carefully. A unique and well-crafted gift will have more impact than one that will gather dust on the recipient's desk – or be thrown in the bin. You're spending a significant amount of money to attract an audience to your events, so do not underestimate the memories you will leave them with.
High-quality and well chosen promotional gifts will make your customers feel that you understand them, that you consider them and that you value your relationship with them. It is therefore essential to think carefully about your goodies strategy, which means going beyond the basic calendars and pens displaying your event logo.
Customisation, an important step
If you want to make a lasting impression and increase your event's exposure, customising your goodies with your logo is essential. We advise you to favour a good quality design, adapted to your brand. Pay attention to the position of your company logo, its size, the font used, and the choice of colours. These should be taken into account based on the design, size and shape of the promotional item to be customised.
Goodies are not dedicated to events only
A true reflection of your organisation's creativity, customised gifts are an ideal opportunity to stand out and boost your overall communication strategy, especially as the holiday season approaches. In addition to rewarding the loyalty of your attendees, colleagues, partners or suppliers, they also strengthen relationships and improve your organisation's exposure and brand image.
Customised goodies are an excellent way to show your various audiences and contacts that you appreciate them in an authentic way. Well thought-out, goodies offer an excellent return on investment and allow you to develop increasingly numerous and lasting relationships.
While you're preparing your customised goodies, create an event in your image with an online ticketing service in your colours, unique e-tickets, and more… To do so, discover Weezevent's many services by clicking on the button below: