Cre­at­ing an effec­tive event com­mu­ni­ca­tion strat­e­gy can be baf­fling for organ­is­ers. Whether it is a trade show, a sports com­pe­ti­tion or a team-build­ing week­end, each organ­i­sa­tion is look­ing for ways to stand out and be mem­o­rable to their atten­dees. That's why we would like to talk about a prac­tice with proven effec­tive­ness: giv­ing out good­ies. At your next event, they will become a pow­er­ful com­mu­ni­ca­tion tool. Why? We will explain it in this article.
Con­tents
---
1. Use goodies to create a positive impression of your event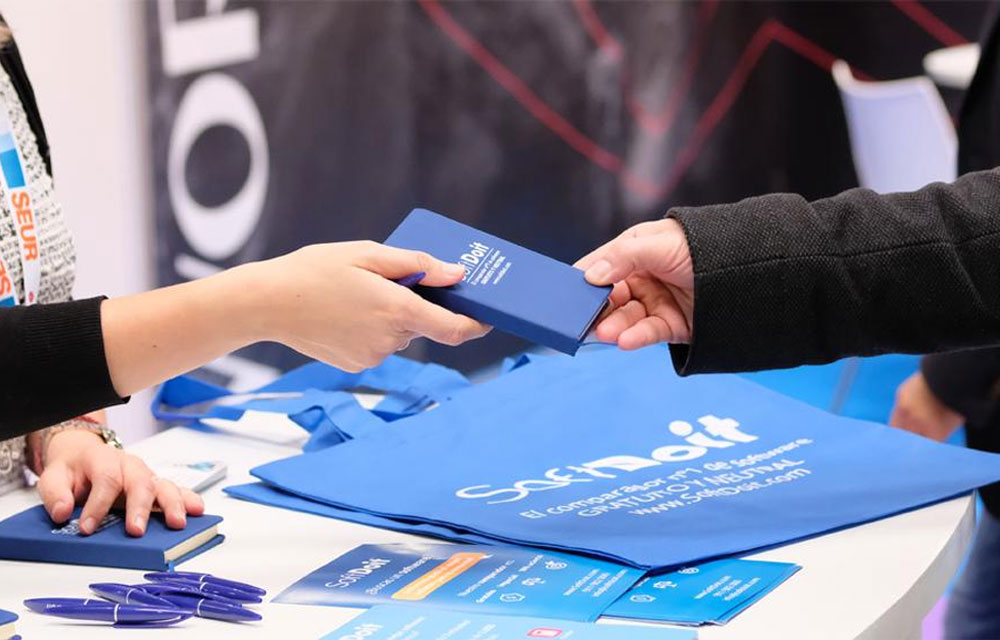 What is a goodie?
Good­ies are pro­mo­tion­al items giv­en to an organisation's cur­rent and poten­tial cus­tomers. They are often cus­tomised with a logo, tagline or mes­sage. Using these items in your com­mu­ni­ca­tion strat­e­gy is a very pow­er­ful tool because the organ­i­sa­tion hand­ing them out can increase its aware­ness and expo­sure all the while cre­at­ing a link with the recipients.
Promotional items: an ideal media for events
When cre­at­ing an event, pro­mo­tion­al items are part of a pow­er­ful mar­ket­ing strat­e­gy for attract­ing cus­tomers and acquir­ing new mar­kets. Indeed, they will be a visu­al rep­re­sen­ta­tion of your brand and they will act as true ambas­sadors for your com­pa­ny. Since it is an inex­pen­sive medi­um with a high mem­o­ri­sa­tion pow­er, it is a per­fect ally for your event planning.
A highly appreciated mean of communication
For some time, we've been see­ing a gen­er­al dis­trust and frus­tra­tion with adver­tis­ing, whether on TV, radio or social media. How­ev­er, cus­tomised good­ies are one of the few com­mu­ni­ca­tion chan­nels that will get you a "Thank you!". With these items, you can be sure to earn points with your atten­dees and your audience.
2. Choose the right items for your communication strategy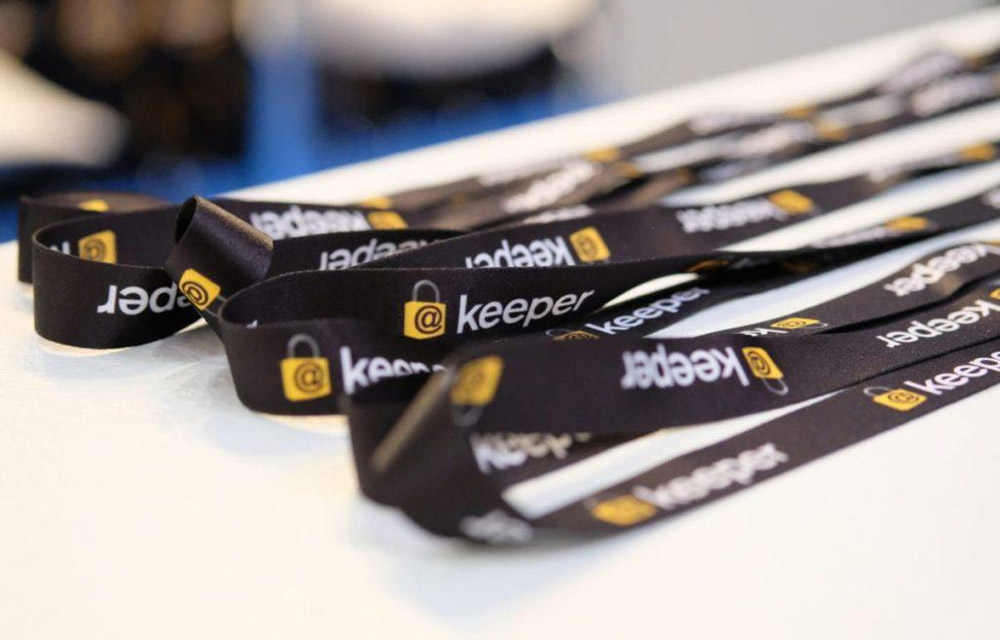 The mar­ket for pro­mo­tion­al items includes many dif­fer­ent prod­ucts. If you want to use them for your next com­mu­ni­ca­tion strat­e­gy, you will have to choose care­ful­ly. Here are some cat­e­gories of pro­mo­tion­al items suit­able for dif­fer­ent events.
Business goodies
Intend­ed for a busi­ness and com­mer­cial audi­ence, the "busi­ness" good­ies can be used when organ­is­ing fairs, trade shows, sem­i­nars, con­fer­ences, exhi­bi­tions or as part of the launch of a new prod­uct. Here per­son­alised lan­yards, note­books, pens or can­dy should be favoured at your booth.
Impor­tant: pro­mo­tion­al items should be of high qual­i­ty to con­vey the seri­ous­ness and effec­tive­ness of your company.
Sports goodies
Ide­al for organ­is­ers of sports com­pe­ti­tions or fes­ti­vals, they are an impor­tant asset to defend your event's colours and give it some expo­sure. We rec­om­mend that you offer cus­tomised water bot­tles, cups or caps.
Impor­tant: the pro­mo­tion­al item must be use­ful to con­tribute to the pres­tige and suc­cess of the organ­ised sport­ing event.
Green goodies
With grow­ing con­cerns about cli­mate change, green pro­mo­tion­al gifts are on the rise. Intend­ed for event organ­is­ers in all areas, "nat­ur­al" good­ies are essen­tial for com­pa­nies con­cerned about their eco­log­i­cal foot­print. If this is your case, choose recy­clable cups, eco-friend­ly fab­ric bags, bam­boo pens or notebooks.
Impor­tant: the cho­sen pro­mo­tion­al item should be aligned with your actions in terms of envi­ron­men­tal pol­i­cy and reduc­tion of your eco­log­i­cal impact.
High-tech goodies
Dis­play a con­nect­ed, mod­ern and inno­v­a­tive cor­po­rate image with high-tech pro­mo­tion­al items. These gifts are sure to delight your atten­dees. In this cat­e­go­ry, you can choose from USB sticks, speak­ers or portable pow­er banks — an extreme­ly trendy product.
Impor­tant: High-tech good­ies should be relat­ed to your busi­ness or the theme of the event in order to project a mod­ern and tech-ori­ent­ed image.
In short, it is impor­tant for com­pa­nies not to engage blind­ly in an adver­tis­ing cam­paign. Indeed, just because you're hand­ing out good­ies does­n't mean your cus­tomers will auto­mat­i­cal­ly be hap­py. You have to know how to find the right good­ies for the right per­son at the right time. It is there­fore very impor­tant to adjust these items to both your audi­ence and the event.
3. Stand out thanks to customised goodies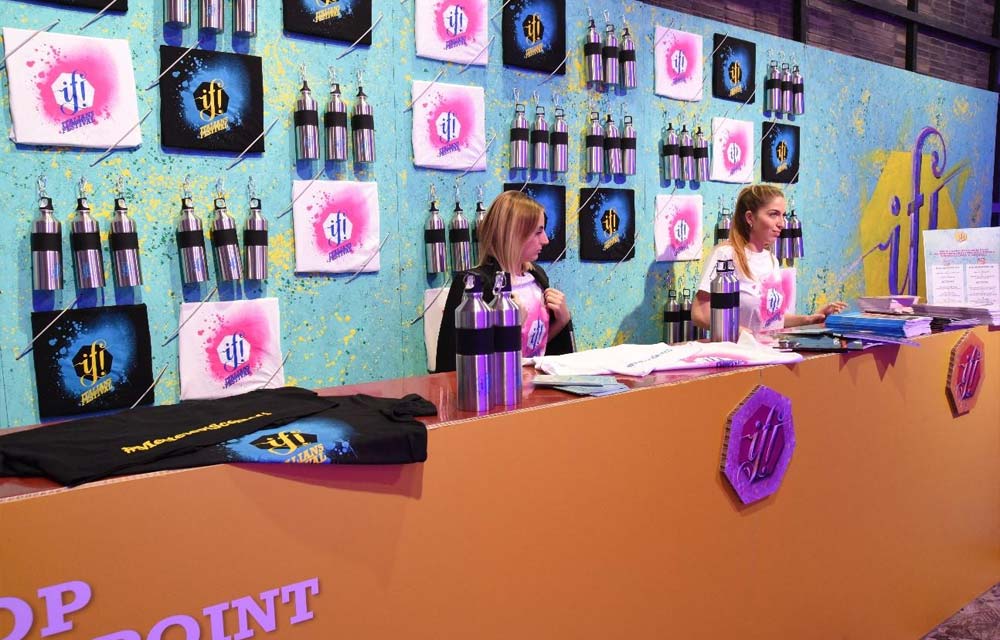 Gifts are a great way to keep up the momen­tum of an event, but if you want to make a sig­nif­i­cant impact on your atten­dees' minds, they should be cho­sen care­ful­ly. A unique and well-craft­ed gift will have more impact than one that will gath­er dust on the recip­i­en­t's desk — or be thrown in the bin. You're spend­ing a sig­nif­i­cant amount of mon­ey to attract an audi­ence to your events, so do not under­es­ti­mate the mem­o­ries you will leave them with.
High-qual­i­ty and well cho­sen pro­mo­tion­al gifts will make your cus­tomers feel that you under­stand them, that you con­sid­er them and that you val­ue your rela­tion­ship with them. It is there­fore essen­tial to think care­ful­ly about your good­ies strat­e­gy, which means going beyond the basic cal­en­dars and pens dis­play­ing your event logo.
Customisation, an important step
If you want to make a last­ing impres­sion and increase your event's expo­sure, cus­tomis­ing your good­ies with your logo is essen­tial. We advise you to favour a good qual­i­ty design, adapt­ed to your brand. Pay atten­tion to the posi­tion of your com­pa­ny logo, its size, the font used, and the choice of colours. These should be tak­en into account based on the design, size and shape of the pro­mo­tion­al item to be customised.
Goodies are not dedicated to events only
A true reflec­tion of your organ­i­sa­tion's cre­ativ­i­ty, cus­tomised gifts are an ide­al oppor­tu­ni­ty to stand out and boost your over­all com­mu­ni­ca­tion strat­e­gy, espe­cial­ly as the hol­i­day sea­son approach­es. In addi­tion to reward­ing the loy­al­ty of your atten­dees, col­leagues, part­ners or sup­pli­ers, they also strength­en rela­tion­ships and improve your organ­i­sa­tion's expo­sure and brand image.
Cus­tomised good­ies are an excel­lent way to show your var­i­ous audi­ences and con­tacts that you appre­ci­ate them in an authen­tic way. Well thought-out, good­ies offer an excel­lent return on invest­ment and allow you to devel­op increas­ing­ly numer­ous and last­ing relationships.
While you're prepar­ing your cus­tomised good­ies, cre­ate an event in your image with an online tick­et­ing ser­vice in your colours, unique e‑tickets, and more… To do so, dis­cov­er Weezevent's many ser­vices by click­ing on the but­ton below: