To sup­port our growth, Weezevent is recruit­ing new tal­ent in France and abroad.
To learn more about the Client Suc­cess team, which accom­pa­nies our organ­is­ers' biggest events, read Mae­va's pro­file below.
In this inter­view, Mae­va dis­cuss­es her pas­sion for the events indus­try and how it led her to join Weezevent 5 years ago. She address­es her mis­sions as a Client Suc­cess Offi­cer, her role as team leader, and her way of work­ing with the dif­fer­ent depart­ments at Weezevent.
1. Can you tell us about your career path to date?
I start­ed my career in a very dif­fer­ent field: biol­o­gy applied to the food indus­try. In addi­tion to my job, I start­ed vol­un­teer­ing at music events.
Whilst vol­un­teer­ing at Rock en Seine, I realised that I want­ed a career in the music indus­try. I start­ed a course to become a con­tem­po­rary music pro­duc­tion man­ag­er and I worked for con­cert halls, record­ing stu­dios, fes­ti­vals…
As an intern for the French fes­ti­val "Nuits Sonores", I accom­pa­nied the pro­duc­tion direc­tor in the deploy­ment of cash­less pay­ment with Weezevent. I had a great time, full of emo­tions and dis­cov­er­ies.
After this adven­ture, I want­ed to join the Weezevent team. I was con­vinced that the tech­nol­o­gy was super inno­v­a­tive for its time — and it was — and that it brought some­thing new to both the par­tic­i­pants' expe­ri­ence and the organ­is­ers' work.I was free­lanc­ing for Weezevent dur­ing the sum­mer of 2017, and then I was giv­en a chance to become a CSM (Client Suc­cess Man­ag­er).
Since 2021, I have been a CSO (Client Suc­cess Offi­cer), and am respon­si­ble for a team of CSMs.
2. What are your tasks within the Client Success division?
The pur­pose of the Client Suc­cess divi­sion is to sup­port event organ­is­ers in their events, advise and train them on our tech­nolo­gies.
As a man­ag­er with­in this divi­sion, I sup­port the growth of Weezevent by recruit­ing, train­ing, and coach­ing the CSMs that join us. I have a team of 4 CSMs that I man­age. I guide them in the qual­i­ta­tive accom­pa­ni­ment of the organ­is­ers that they are respon­si­ble for.
With my pro­mo­tion from CSM to CSO my objec­tive is to be a rela­tion­al ref­er­ence rather than an oper­a­tional one for the organ­is­ers I accom­pa­nied. Client ser­vice is essen­tial to Weezevent, and we do every­thing we can to facil­i­tate the dai­ly life of the organ­is­ers we work with.
I also work along­side the oth­er CSOs to cre­ate and opti­mise our mon­i­tor­ing, per­for­mance and train­ing tools.
Last­ly, I also con­tribute to the sup­port of the teams that devel­op in oth­er coun­tries includ­ing the UK.
3. Can you tell us about a project or success you have contributed to?
In Sep­tem­ber 2021, I accom­pa­nied the Glob­al Cit­i­zen Paris event in imple­ment­ing tick­et­ing, access con­trol and con­tact­less pay­ments.
This event is one of sev­er­al events organ­ised in var­i­ous cities around the world to sup­port impor­tant caus­es such as glob­al warm­ing and pover­ty.
The french event took place on the Champs de Mars, in Paris. It wel­comed around 20,000 par­tic­i­pants, mak­ing it one of the few major events in 2021.
The reg­is­tra­tion process, mul­ti-audi­ence access con­trol, con­fig­u­ra­tion of the venue, and san­i­tary restric­tions all made the event a great chal­lenge, but above all a great suc­cess.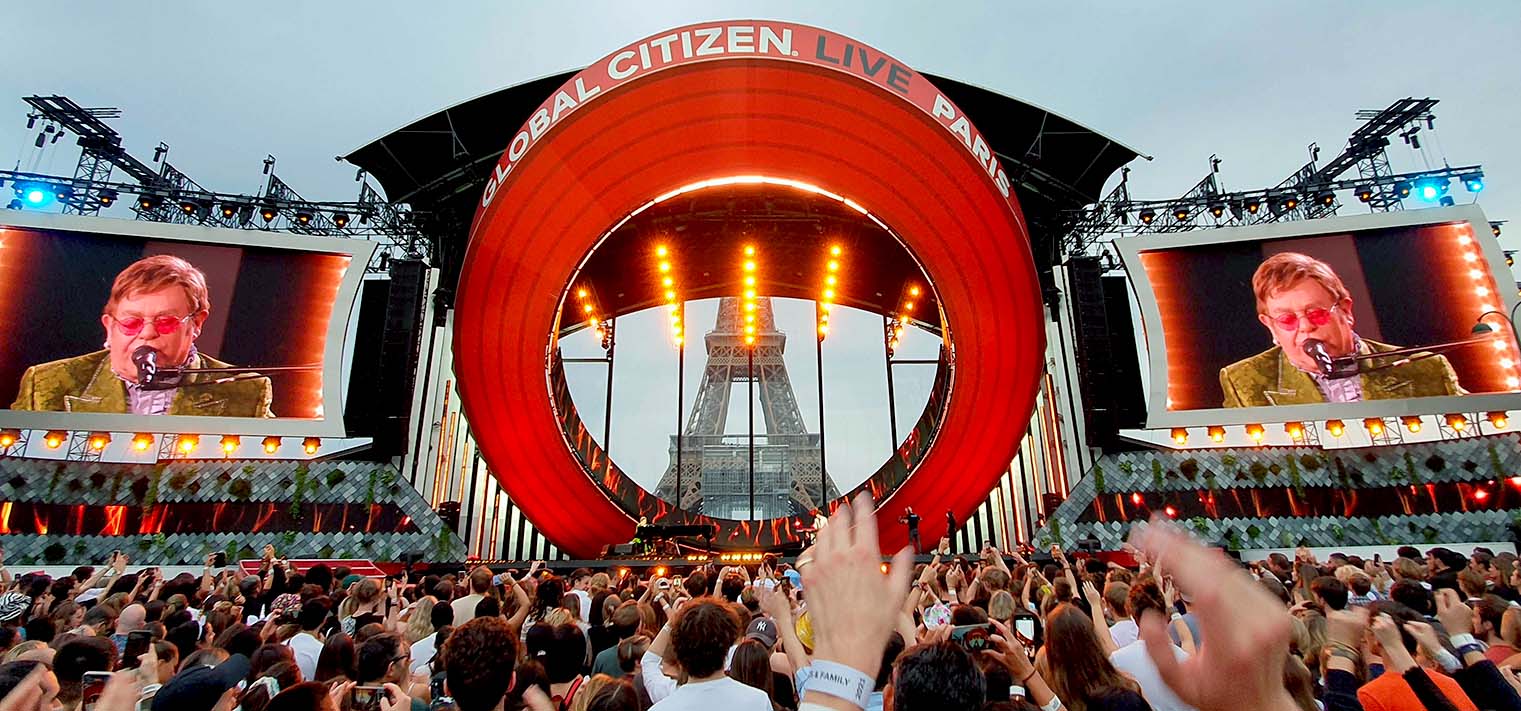 4. Can you tell us about an outstanding experience you had at Weezevent?
My first vol­un­teer mis­sion was at the French fes­ti­val "Rock en Seine". When, in 2019, I accom­pa­nied them as CSM, it was a gen­uine recog­ni­tion for me, as it was the very same fes­ti­val that pushed me to change my career path.
My work con­cerned two major areas for the fes­ti­val: access con­trol and cash­less pay­ments. Every­thing went smooth­ly, leav­ing me with a sense of pride. This is when I said to myself "I know exact­ly why I am doing this job". A very spe­cial moment for me!
5. How does the Tech team collaborate with the other Weezevent teams?
At Weezevent there are two client rela­tion­ship depart­ments : the Client Suc­cess team, which sup­ports large accounts, and the Client Ser­vice team, which takes care of organ­is­ers who only require occa­sion­al guid­ance.
We work togeth­er to exchange infor­ma­tion between our depart­ments. Our aim is to fol­low the same guide­lines and to han­dle sub­jects in the same way to ensure the same ser­vice qual­i­ty for every event organ­is­er who choos­es Weezevent.
Our activ­i­ty implies that we work close­ly with the Oper­a­tions team. They are a very valu­able resource for us as they are respon­si­ble for ensur­ing the deliv­ery of all nec­es­sary equip­ment to the organ­is­ers on time. They also man­age the sched­ul­ing of free­lancers, trans­port and accom­mo­da­tion arrange­ments for on-site teams. There would be no event with­out them!
The oth­er CSOs and I col­lect feed­back and sug­ges­tions from the organ­is­ers and for­ward them to the Tech and Prod­uct teams. This allows us to devel­op the roadmap togeth­er, and to deter­mine the pri­or­i­ties for the com­ing year.
6. How would you describe Weezevent to a stranger?
Weezevent is a dynam­ic, inno­v­a­tive, and famil­ial com­pa­ny.
Dynam­ic, because we nev­er get bored. Our sec­tor, the events indus­try, is very rich in chal­lenges and excit­ing sub­jects. We work with event organ­is­ers from all sec­tors and of all sizes, which dri­ves us to be as flex­i­ble as pos­si­ble to meet their needs. It's very stim­u­lat­ing, you nev­er get bored!
Inno­v­a­tive, because we live in tune with the present. It is vital to stay in sync with our cus­tomers' expec­ta­tions. We don't rest on our lau­rels, and this is very stim­u­lat­ing in our dai­ly work.
Famil­ial, because even though we now have over 100 employ­ees world­wide, we have kept a start-up spir­it. The work atmos­phere is very enjoy­able. We are all very invest­ed, and with­out this atmos­phere and sup­port among the teams, it would be com­pli­cat­ed.
7. Weezevent is constantly growing and becoming more international. How do these changes translate into your daily life?
One of the biggest chal­lenges for 2022 for the CSOs is the inter­na­tion­al­i­sa­tion. We are work­ing on the best way to include all the inter­na­tion­al offices to our work­ing process.
Our mis­sion is to stan­dard­ise the expe­ri­ence of those who are already part of our group's work­force, and to sup­port and train those who are join­ing us. It is also about allow­ing event organ­is­ers to have a sim­i­lar expe­ri­ence with Weezevent, regard­less of their loca­tion.
8. Do you have an anecdote about your daily life or your team to share with us?
Every Fri­day, the Deliv­ery teams (Client Suc­cess, Client Ser­vice and Oper­a­tions) get togeth­er and every­one is invit­ed to share their views. It's a relax­ing moment where we can assess our week and unwind as a team. This allows us to keep in touch and to pre­serve our cross-team rela­tion­ships.
9. Aside from Weezevent, what motivates you or what drives you everyday?
Music is the rhythm of my life! When I'm not work­ing for live events (con­certs, fes­ti­vals, clubs etc.) I'm attend­ing them. How­ev­er, with the cur­rent san­i­tary sit­u­a­tion, it has­n't been easy… So I dis­cov­ered a new hob­by: hik­ing!
After two years of "down­time" for music, I can now name all the best hik­ing trails in and around Paris.
Does Maeva's sto­ry inspire you and would you like to join the Weezevent adven­ture?
Send your appli­ca­tion to us now!