With Weezevent, you can quick­ly and eas­i­ly cus­tomise your PDF e‑tickets to cre­ate a tick­et that reflects your event! With more than 180,000 events under their belts, our teams have select­ed a range of best prac­tices to help you achieve the best result pos­si­ble.
Sum­ma­ry
---
1. The e‑ticket
Much more than a tick­et, an e‑ticket is an addi­tion­al ele­ment that con­tributes to the over­all image of your event. With an e‑ticket pro­mot­ing your brand image, you'll be able to show your atten­dees that you've made the effort to cus­tomise a medi­um that, in the­o­ry, doesn't require this. It's proof of pro­fes­sion­al­ism that also cre­ates con­fi­dence in your organ­i­sa­tion. And it adds a nice touch, strength­en­ing the link between your atten­dees and your event.
Access rights: the primary function of an e‑ticket
Elec­tron­ic tick­ets — also referred to as e‑tickets — are paper­less tick­ets that replace tra­di­tion­al paper tick­ets. Put sim­ply, they give hold­ers the right to access your event.
E‑tickets have sev­er­al advan­tages over paper tick­ets. First of all, they can't be lost. An e‑ticket is gen­er­at­ed auto­mat­i­cal­ly as a PDF file for each order placed and sent with a con­fir­ma­tion email. The attendee can thus have it on their mobile phone on the day of the event. A fre­quent objec­tion is that this is a good solu­tion, but par­tic­i­pants won't be able to enter the event if they have no bat­tery left on their phone. This is an under­stand­able but incor­rect state­ment, as the pri­ma­ry advan­tage of an online tick­et­ing sys­tem is the auto­mat­ic cre­ation and real-time update of a data­base of atten­dees. This allows organ­is­ers to find atten­dees who have prob­lems with their tick­ets very eas­i­ly via an access con­trol ter­mi­nal.
Atten­dees there­fore no longer need to print their tick­ets, which is of course an advan­tage from an eco­log­i­cal and prac­ti­cal point of view! But the advan­tages of e‑tickets go beyond this, since in addi­tion to giv­ing atten­dees the right to access to your event, e‑tickets can be used for oth­er pur­pos­es.
E‑tickets as a communication medium
Paper­less tick­ets also pro­vide a com­mu­ni­ca­tion medi­um that should not be under­es­ti­mat­ed. All of your event's atten­dees will need to have one and read the infor­ma­tion found on it. It there­fore seems rel­e­vant and appro­pri­ate for your organ­i­sa­tion to make these tick­ets a com­mu­ni­ca­tion space.
Use them to men­tion infor­ma­tion for your atten­dees to remem­ber, includ­ing the event pro­gramme, pro­hib­it­ed items, prac­ti­cal infor­ma­tion, access, and so on. You can also use them to high­light your part­ners, or sell unused space to sponsors/companies. A sim­ple logo added to the graph­ic on tick­ets that will be dis­trib­uted to all atten­dees can thus become a sig­nif­i­cant source of rev­enue.
2. Customising the graphic
Cus­tomise your e‑ticket accord­ing to your pre­ferred style and be proud to dis­trib­ute it to your atten­dees. Imag­ine their reac­tion when they receive a tick­et that reflects your event's image. If the graph­ic is suc­cess­ful, the tick­et buy­er will be even more excit­ed about attend­ing your event. It's time to let your imag­i­na­tion run wild!
Classic customisation
Cus­tomis­ing an e‑ticket using your Weezevent organ­is­er account is high­ly intu­itive. Go to the Con­fig­ure sec­tion, then select the Tick­et graph­ics sub-sec­tion.
The infor­ma­tion avail­able on the elec­tron­ic tick­et is:
Event name;
Event date;
Event loca­tion;
Attendee's first and last name;
Price name and amount;
Order date;
Organiser's name;
Buyer's first and last name;
Tick­et num­ber;
Order num­ber;
Spe­cif­ic con­tact details — to be set in the Tick­et­ing options sub-sec­tion.
Once on the gener­ic tem­plate page, you can:
Choose whether to dis­play the event dates;
Add an image to the tick­et;
Cus­tomise the con­tent of the text.
Tip: You can apply a dif­fer­ent tick­et graph­ic to each price (nor­mal, stu­dent, VIP, etc.), in order to eas­i­ly recog­nise the dif­fer­ent tick­et cat­e­gories on the day of the event, for exam­ple.
Dis­cov­er all the tech­ni­cal details and how to begin cus­tomis­ing your e‑tickets via our medi­um by click­ing here.
Exam­ples of tick­ets cre­at­ed through clas­sic cus­tomi­sa­tion: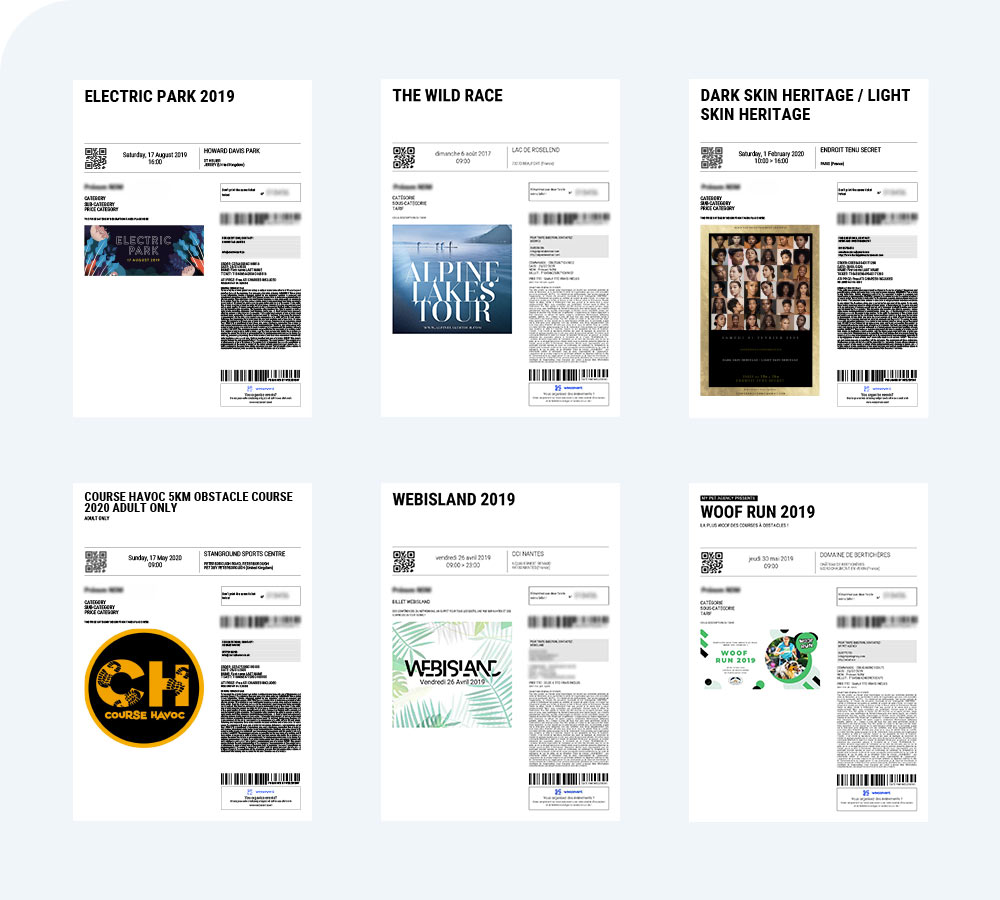 Full customisation
If you want to change the lay­out of your tick­et or add new infor­ma­tion, you can do so thanks to the pre­mi­um cus­tomi­sa­tion option. The major advan­tage of this option is that you can inte­grate one or more graph­ics into your tick­et, which can cov­er the entire tick­et.
You can also per­son­alise the tick­et using infor­ma­tion pro­vid­ed by the attendee via your reg­is­tra­tion form, such as their com­pa­ny name. E‑tickets can also be used as badges with our cus­tomi­sa­tion option. Once their badges have been set up, your atten­dees will need to print them. Then, on the day of your event, all you will need to do is fold them in four and insert them into badge hold­ers.
Selec­tion of e‑tickets cus­tomised on Weezevent: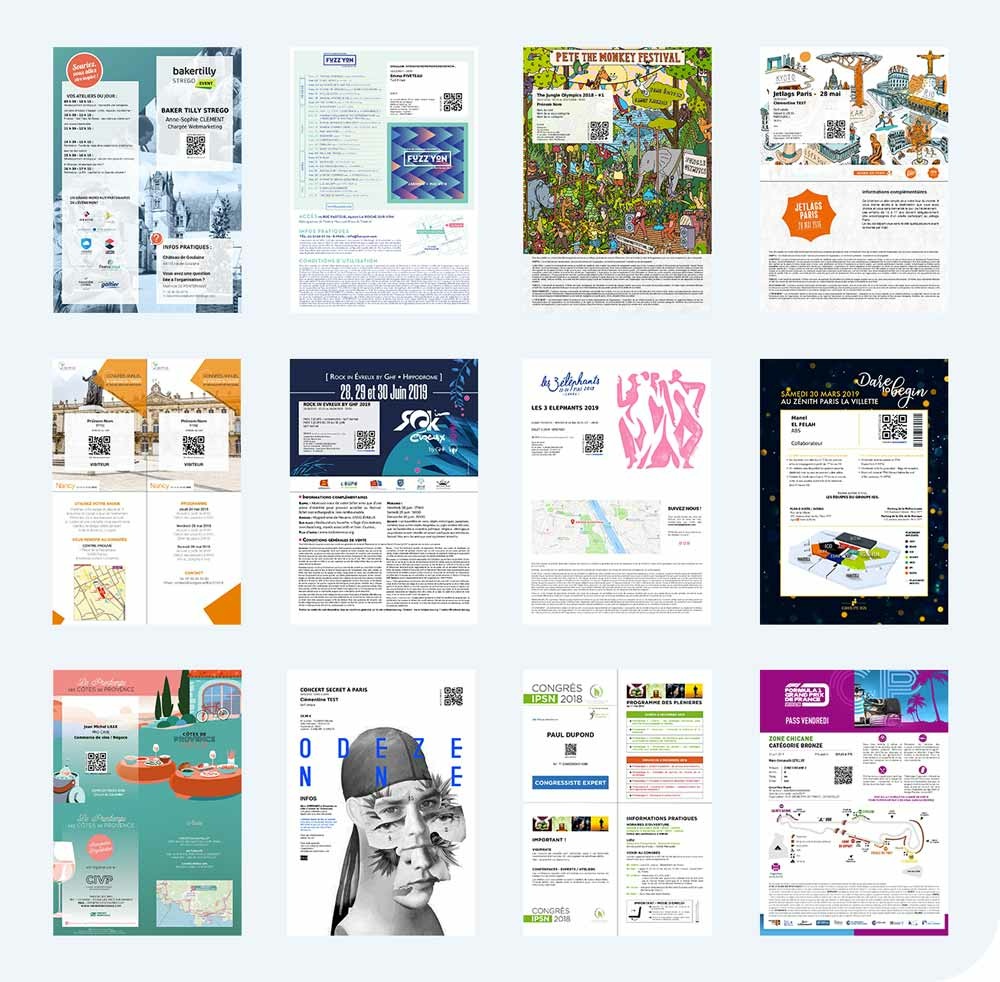 Over to you!
To cre­ate a suc­cess­ful tick­et­ing sys­tem, dis­cov­er all the advan­tages of our solu­tions by click­ing on the but­ton below: