With Weezevent, you can quickly and easily customise your PDF e-tickets to create a ticket that reflects your event! With more than 180,000 events under their belts, our teams have selected a range of best practices to help you achieve the best result possible.
Summary
---
1. The e-ticket
Much more than a ticket, an e-ticket is an additional element that contributes to the overall image of your event. With an e-ticket promoting your brand image, you'll be able to show your attendees that you've made the effort to customise a medium that, in theory, doesn't require this. It's proof of professionalism that also creates confidence in your organisation. And it adds a nice touch, strengthening the link between your attendees and your event.
Access rights: the primary function of an e-ticket
Electronic tickets — also referred to as e-tickets — are paperless tickets that replace traditional paper tickets. Put simply, they give holders the right to access your event.
E-tickets have several advantages over paper tickets. First of all, they can't be lost. An e-ticket is generated automatically as a PDF file for each order placed and sent with a confirmation email. The attendee can thus have it on their mobile phone on the day of the event. A frequent objection is that this is a good solution, but participants won't be able to enter the event if they have no battery left on their phone. This is an understandable but incorrect statement, as the primary advantage of an online ticketing system is the automatic creation and real-time update of a database of attendees. This allows organisers to find attendees who have problems with their tickets very easily via an access control terminal.
Attendees therefore no longer need to print their tickets, which is of course an advantage from an ecological and practical point of view! But the advantages of e-tickets go beyond this, since in addition to giving attendees the right to access to your event, e-tickets can be used for other purposes.
E-tickets as a communication medium
Paperless tickets also provide a communication medium that should not be underestimated. All of your event's attendees will need to have one and read the information found on it. It therefore seems relevant and appropriate for your organisation to make these tickets a communication space.
Use them to mention information for your attendees to remember, including the event programme, prohibited items, practical information, access, and so on. You can also use them to highlight your partners, or sell unused space to sponsors/companies. A simple logo added to the graphic on tickets that will be distributed to all attendees can thus become a significant source of revenue.
2. Customising the graphic
Customise your e-ticket according to your preferred style and be proud to distribute it to your attendees. Imagine their reaction when they receive a ticket that reflects your event's image. If the graphic is successful, the ticket buyer will be even more excited about attending your event. It's time to let your imagination run wild!
Classic customisation
Customising an e-ticket using your Weezevent organiser account is highly intuitive. Go to the Configure section, then select the Ticket graphics sub-section.
The information available on the electronic ticket is:
Event name;
Event date;
Event location;
Attendee's first and last name;
Price name and amount;
Order date;
Organiser's name;
Buyer's first and last name;
Ticket number;
Order number;
Specific contact details — to be set in the Ticketing options sub-section.
Once on the generic template page, you can:
Choose whether to display the event dates;
Add an image to the ticket;
Customise the content of the text.
Tip: You can apply a different ticket graphic to each price (normal, student, VIP, etc.), in order to easily recognise the different ticket categories on the day of the event, for example.
Discover all the technical details and how to begin customising your e-tickets via our medium by clicking here.
Examples of tickets created through classic customisation: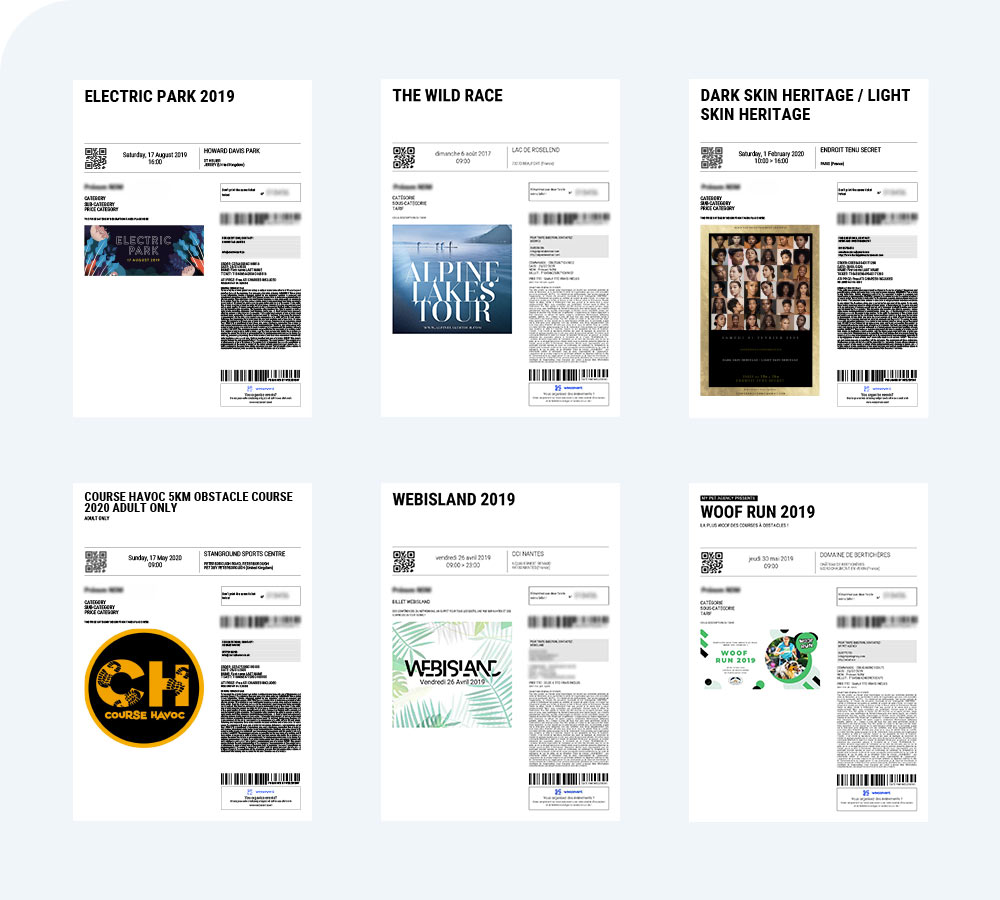 Full customisation
If you want to change the layout of your ticket or add new information, you can do so thanks to the premium customisation option. The major advantage of this option is that you can integrate one or more graphics into your ticket, which can cover the entire ticket.
You can also personalise the ticket using information provided by the attendee via your registration form, such as their company name. E-tickets can also be used as badges with our customisation option. Once their badges have been set up, your attendees will need to print them. Then, on the day of your event, all you will need to do is fold them in four and insert them into badge holders.
Selection of e-tickets customised on Weezevent: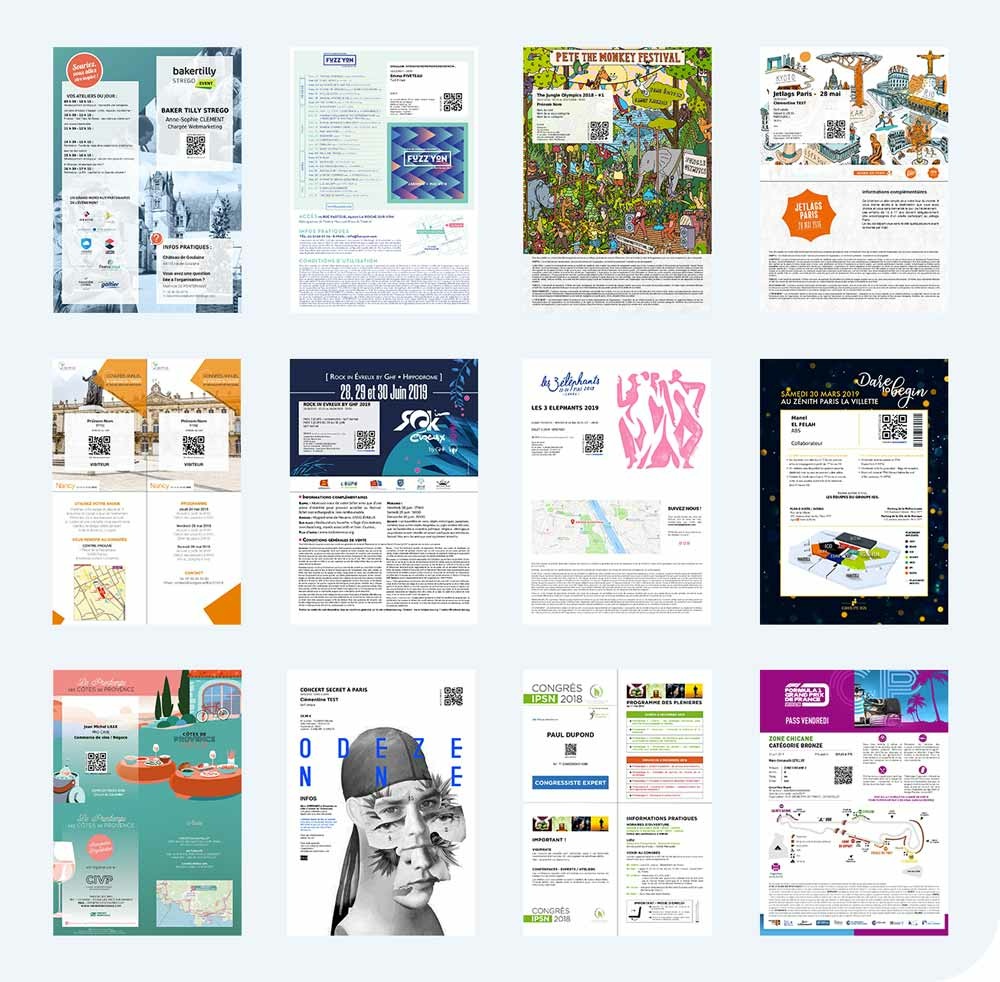 Over to you!
To create a successful ticketing system, discover all the advantages of our solutions by clicking on the button below: