Organising charity events has always been an effective way of raising funds for different causes and non-profit organisations. But there is another way. Even if it is not primarily charity-oriented, any event can make a difference by serving as a megaphone for a cause. Events allow you to reach many people, so use them to make a positive impact on society.
Content
1. Organising a charity event

If you are an association, a school, an NGO etc, then organising a charity event is one of the most popular and effective ways to raise funds for your projects. You can collect donations through the sale of tickets for the event, but also through different actions during the event, such as auctions, competitions, raffles etc…
When selling online tickets for your charity event, use a ticketing platform that allows you to manage the sales with a simplified setup and tracking, and one that offers a quick and easy donation process for participants.
When taking donations online, a good idea is to allow the buyer to choose the donation amount with a minimum contribution amount. This way, you know that you will cover the costs of the event and each participant can donate an amount depending on their means. With WeezTicket, you can easily configure the price of the "ticket-donation" for your event, with a fixed amount or leave it to the participant to choose.

Some charity event ideas that work best
When choosing the type of fundraising event you want to organise, consider the type of audience you are targeting and can most easily reach, as well as the in-kind support you can get for your event – such as free or a highly discounted venue or equipment. Some brands may also be willing to fund or provide materials for your event in exchange for visibility.
With this in mind, here are some of the types of charity events that work best. You can always turn these basic ideas into a more original event:
Sporting event/competition
Charity fairs
Charity dinners and galas
Cultural events: also with a "zero rank" to be able to donate without attending the event
Charity auctions
Competitions
Art exhibitions
Musical performances
2. Micro-donations integrated with your online ticketing
If you are running an event that is not primarily about raising money for a cause, but you want to do your part and act as a donation collection channel for a particular organisation, you can facilitate micro-donations during the ticket purchase or registration process for your event.
The easiest way to integrate a donation into the purchase process is to include an option at the stage where the buyer fills in their details. By simply ticking a box, they add a donation to their ticket purchase – and if they don't want to donate, they can simply ignore the relevant box. With WeezTicket, you can set up these micro-donations as a complementary product, with different contribution options. Simply add an item to your shop, and offer it by way of cross-selling.​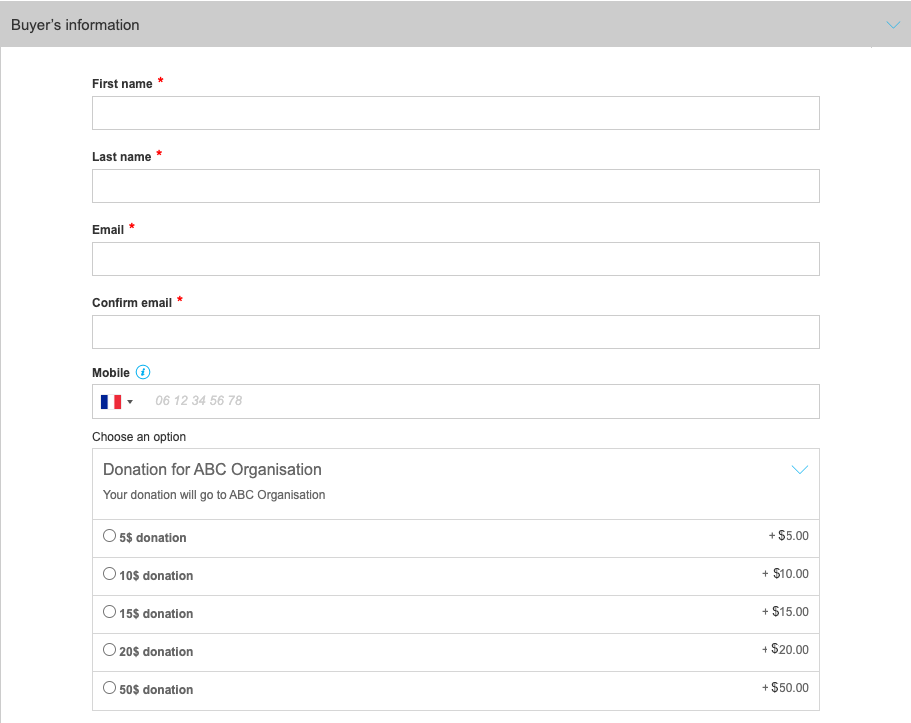 3. Offer attendees the option of donating their cashless account balance
Are you organising a large event and have decided to set up a cashless payment system? Participants top up their cashless account and spend their balance during the event and after the event they may have some money left in their account. What happens to this money?
Once the event is over, the options for a refund are multiple. Automatically refund participants the balance in their account, give a window of couple of weeks for attendees to request a refund or something in between.
The WeezPay cashless payment system allows you to include a step in the refund request process to make a donation of the remaining balance on the account (or part of it) to the organisation or association chosen.
Another way to get involved and raise funds for a cause that is important to you and your event participants!
4. Ideas for supporting a cause with your event besides direct donations

Of course, charitable projects need funds to be able to function on a daily basis as well as to raise awareness. But any help is welcome and there are many ways to help beyond direct fundraising.
As mentioned earlier, events have a real capacity to reach a large number of people, thus providing valuable visibility. Moreover, an event's social media presence in which a cause or a project can be integrated is important: website, blog, social networks, flyers, posters, tickets, emails, on-site signage, cups for the event's drinks, wristbands or cashless cards, merchandising, on-site stands…the list goes on.
If you want to go further, you can organise a raffle for tickets to your event or even a charity auction, giving away exclusive prizes.
---
The need to integrate corporate social responsibility actions into an events' ethos is growing and, in many cases, it becomes part of the brand's identity. Furthermore, if your event incorporates these values, it will also attract potential sponsors and collaborators who are close to these values and with whom you can join forces.
As we have seen, there are many ways to support a cause with your event. To set up the collection of donations and micro-donations through the sale of tickets or the use of the cashless balance, do not hesitate to create a free account on Weezevent. If you have any questions, we are at your disposal to discuss your project.