Organ­is­ing char­i­ty events has always been an effec­tive way of rais­ing funds for dif­fer­ent caus­es and non-prof­it organ­i­sa­tions. But there is anoth­er way. Even if it is not pri­mar­i­ly char­i­ty-ori­ent­ed, any event can make a dif­fer­ence by serv­ing as a mega­phone for a cause. Events allow you to reach many peo­ple, so use them to make a pos­i­tive impact on soci­ety.
Content
1. Organising a charity event

If you are an asso­ci­a­tion, a school, an NGO etc, then organ­is­ing a char­i­ty event is one of the most pop­u­lar and effec­tive ways to raise funds for your projects. You can col­lect dona­tions through the sale of tick­ets for the event, but also through dif­fer­ent actions dur­ing the event, such as auc­tions, com­pe­ti­tions, raf­fles etc…
When sell­ing online tick­ets for your char­i­ty event, use a tick­et­ing plat­form that allows you to man­age the sales with a sim­pli­fied set­up and track­ing, and one that offers a quick and easy dona­tion process for par­tic­i­pants.
When tak­ing dona­tions online, a good idea is to allow the buy­er to choose the dona­tion amount with a min­i­mum con­tri­bu­tion amount. This way, you know that you will cov­er the costs of the event and each par­tic­i­pant can donate an amount depend­ing on their means. With WeezTick­et, you can eas­i­ly con­fig­ure the price of the "tick­et-dona­tion" for your event, with a fixed amount or leave it to the par­tic­i­pant to choose.

Some charity event ideas that work best
When choos­ing the type of fundrais­ing event you want to organ­ise, con­sid­er the type of audi­ence you are tar­get­ing and can most eas­i­ly reach, as well as the in-kind sup­port you can get for your event — such as free or a high­ly dis­count­ed venue or equip­ment. Some brands may also be will­ing to fund or pro­vide mate­ri­als for your event in exchange for vis­i­bil­i­ty.
With this in mind, here are some of the types of char­i­ty events that work best. You can always turn these basic ideas into a more orig­i­nal event:
Sport­ing event/competition
Char­i­ty fairs
Char­i­ty din­ners and galas
Cul­tur­al events: also with a "zero rank" to be able to donate with­out attend­ing the event
Char­i­ty auc­tions
Com­pe­ti­tions
Art exhi­bi­tions
Musi­cal per­for­mances
2. Micro-donations integrated with your online ticketing
If you are run­ning an event that is not pri­mar­i­ly about rais­ing mon­ey for a cause, but you want to do your part and act as a dona­tion col­lec­tion chan­nel for a par­tic­u­lar organ­i­sa­tion, you can facil­i­tate micro-dona­tions dur­ing the tick­et pur­chase or reg­is­tra­tion process for your event.
The eas­i­est way to inte­grate a dona­tion into the pur­chase process is to include an option at the stage where the buy­er fills in their details. By sim­ply tick­ing a box, they add a dona­tion to their tick­et pur­chase — and if they don't want to donate, they can sim­ply ignore the rel­e­vant box. With WeezTick­et, you can set up these micro-dona­tions as a com­ple­men­tary prod­uct, with dif­fer­ent con­tri­bu­tion options. Sim­ply add an item to your shop, and offer it by way of cross-sell­ing.​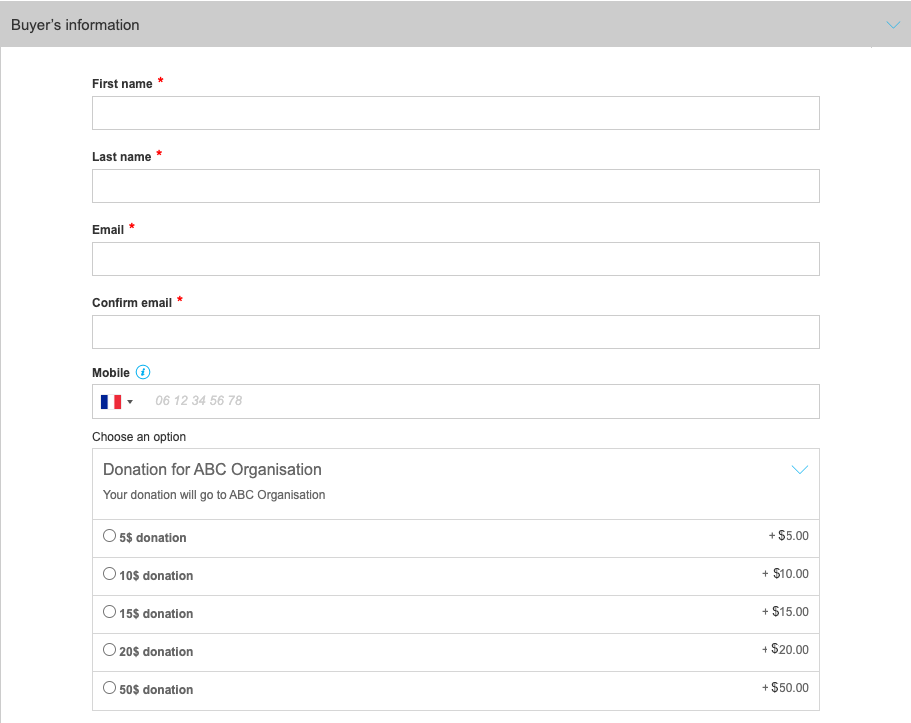 3. Offer attendees the option of donating their cashless account balance
Are you organ­is­ing a large event and have decid­ed to set up a cash­less pay­ment sys­tem? Par­tic­i­pants top up their cash­less account and spend their bal­ance dur­ing the event and after the event they may have some mon­ey left in their account. What hap­pens to this mon­ey?
Once the event is over, the options for a refund are mul­ti­ple. Auto­mat­i­cal­ly refund par­tic­i­pants the bal­ance in their account, give a win­dow of cou­ple of weeks for atten­dees to request a refund or some­thing in between.
The Weez­Pay cash­less pay­ment sys­tem allows you to include a step in the refund request process to make a dona­tion of the remain­ing bal­ance on the account (or part of it) to the organ­i­sa­tion or asso­ci­a­tion cho­sen.
Anoth­er way to get involved and raise funds for a cause that is impor­tant to you and your event par­tic­i­pants!
4. Ideas for supporting a cause with your event besides direct donations

Of course, char­i­ta­ble projects need funds to be able to func­tion on a dai­ly basis as well as to raise aware­ness. But any help is wel­come and there are many ways to help beyond direct fundrais­ing.
As men­tioned ear­li­er, events have a real capac­i­ty to reach a large num­ber of peo­ple, thus pro­vid­ing valu­able vis­i­bil­i­ty. More­over, an event's social media pres­ence in which a cause or a project can be inte­grat­ed is impor­tant: web­site, blog, social net­works, fly­ers, posters, tick­ets, emails, on-site sig­nage, cups for the even­t's drinks, wrist­bands or cash­less cards, mer­chan­dis­ing, on-site stands…the list goes on.
If you want to go fur­ther, you can organ­ise a raf­fle for tick­ets to your event or even a char­i­ty auc­tion, giv­ing away exclu­sive prizes.
---
The need to inte­grate cor­po­rate social respon­si­bil­i­ty actions into an events' ethos is grow­ing and, in many cas­es, it becomes part of the brand's iden­ti­ty. Fur­ther­more, if your event incor­po­rates these val­ues, it will also attract poten­tial spon­sors and col­lab­o­ra­tors who are close to these val­ues and with whom you can join forces.
As we have seen, there are many ways to sup­port a cause with your event. To set up the col­lec­tion of dona­tions and micro-dona­tions through the sale of tick­ets or the use of the cash­less bal­ance, do not hes­i­tate to cre­ate a free account on Weezevent. If you have any ques­tions, we are at your dis­pos­al to dis­cuss your project.