At Weezevent, event plan­ner sup­port is done in two com­ple­men­tary ways: on the field and remote­ly. Today, 400 of our pro­fes­sion­al event plan­ners receive sup­port from our Client Suc­cess team, and tens of thou­sands of oth­er event plan­ners all receive sup­port from our Cus­tomer Ser­vice team, if they wish to.
In this arti­cle, we give an overview of the work done by our Client Suc­cess team:
---
1. Preparation before the event: from D‑120 to D‑1
Ticketing and access control management
The 400 event plan­ners requir­ing sup­port in man­ag­ing their projects are divid­ed among our Client Suc­cess Man­agers, project man­agers who are experts in Weezevent's full range of prod­ucts and ser­vices: online and on loca­tion tick­et­ing, access con­trol and cash­less pay­ments. Sup­port varies based on the event planner's lev­el of auton­o­my and will­ing­ness to use all our solu­tions. For instance, some event plan­ning teams know — from per­son­al expe­ri­ence or hav­ing worked with Weezevent a few times — how to use the tick­et­ing plat­form and the access con­trol devices on their own and don't require sup­port.
Thus, when a project man­ag­er starts a new col­lab­o­ra­tion with an event wish­ing to use our online tick­et­ing and/or access con­trol solu­tion, he/she starts by giv­ing an overview of the tick­et­ing inter­face. We then rec­om­mend that the event plan­ner takes a bit of time to test the tool — such as cre­ate a dum­my event, set-up tick­et types, etc. — then gets back to the Weezevent project man­ag­er with any ques­tions or feed­back.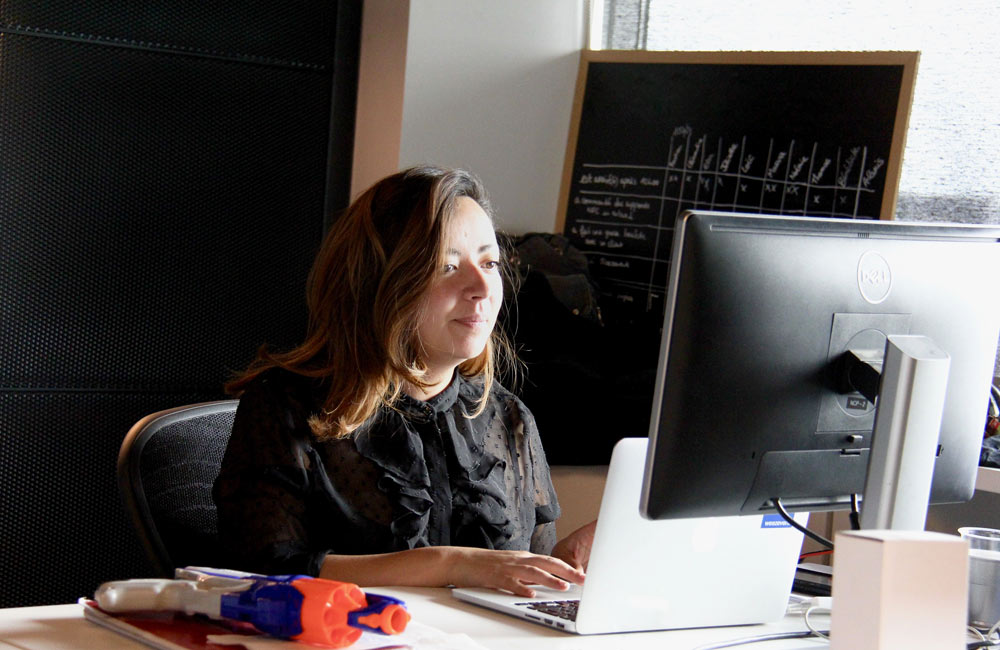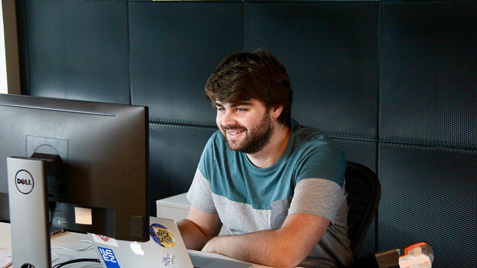 Even if the tick­et­ing plat­form can be used as a self-ser­vice solu­tion, our pri­or­i­ty is to offer a sup­port sys­tem when peo­ple are famil­iaris­ing them­selves with the soft­ware, if need­ed. At the same time, project man­agers also han­dle more com­plex oper­a­tions, such as cus­tom design of tick­ets and emails — tasks that require more advanced IT skills.
All of this also applies to our access con­trol solu­tion. Both plat­forms are actu­al­ly com­ple­men­tary. Event plan­ners can be autonomous with scan­ning devices, but can also be trained in per­son or remote­ly if they wish.
Cashless project
The cash­less solu­tion sup­port sys­tem works a lit­tle bit dif­fer­ent­ly. First, we organ­ise a meet­ing with the event plan­ner to under­stand their expec­ta­tions and needs. After the meet­ing, the project man­ag­er designs a pro­pos­al with tan­gi­ble solu­tions, tai­lored to the event planner's objec­tives. If they are dif­fi­cult to iden­ti­fy — due to the rel­a­tive nov­el­ty of cash­less pay­ments and tight dead­lines typ­i­cal in event man­age­ment — the project man­ag­er can make the most of the mul­ti­ple oppor­tu­ni­ties offered by our cash­less pay­ment sys­tem to find solu­tions match­ing the expec­ta­tions of the event plan­ner: cat­e­gories of atten­dees and rights grant­ed to each one, syn­chro­ni­sa­tion rules, auto­mat­ic top-up…
Weezevent's strength lies in its sup­port sys­tem. This is why its 400 pro­fes­sion­al event plan­ners are in touch with their project man­agers on an almost dai­ly basis. In per­son con­tact is also impor­tant to man­age the project, fol­low its progress, and also train event plan­ners and their teams on how to use Weezevent's solu­tions.
2. Service provided during the event
Dur­ing the event — last­ing gen­er­al­ly 1–4 days — two sit­u­a­tions can arise for the project man­agers. The first one occurs when the event plan­ner is com­plete­ly autonomous. In this case, the event plan­ner and his/her team are trained before the event, so as to be able to use the rented/purchased equip­ment with­out any Weezevent team on-site at the event, i.e. our apps, access con­trol devices, and the on-site box office. On the day of the event, the event plan­ner is giv­en a hot­line num­ber in case of ques­tions.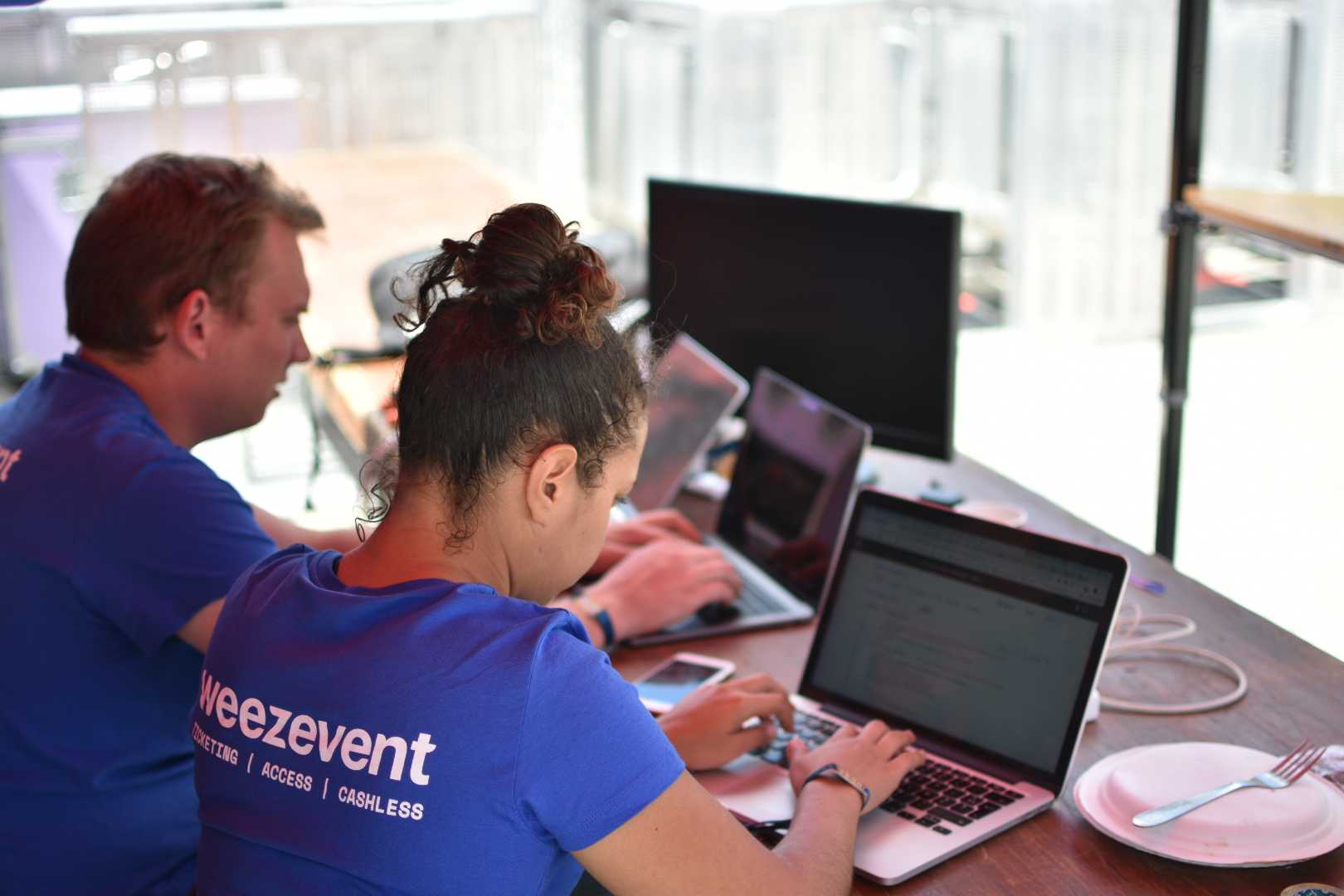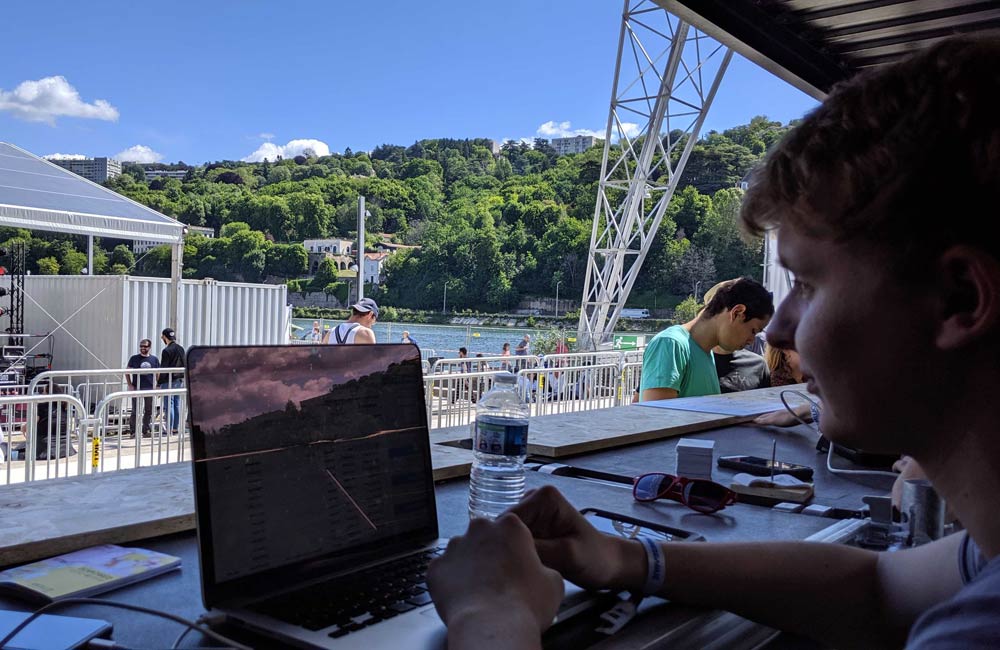 The sec­ond sit­u­a­tion occurs when the event requires a lot of access con­trol devices on-site, or when the plan­ner uses our Weez­Pay cash­less pay­ment solu­tion. In this case, the project man­ag­er is on-site for the event — for the dura­tion of the event but also at least a day before the launch. This allows them to assess the venue, train teams, set-up the equip­ment, test it, then man­age the project in real time.
The project man­ag­er may be accom­pa­nied by a team of 2–40 peo­ple — max­i­mum num­ber allo­cat­ed for the Vieilles Char­rues fes­ti­val in France, gen­er­al­ly teams are 2–8 peo­ple. The team includes entrance and tick­et con­trol man­agers, cash­less pay­ment man­agers but also ver­sa­tile team mem­bers fill­ing var­i­ous roles — with a pre­de­fined rota­tion based on each person's pro­file. This Weezevent team also has a hot­line they can reach remote­ly for the more tech­ni­cal issues.
3. Post-event assessment: from D+1 to D+30
As soon as the event is over, it is crit­i­cal to make an assess­ment and think about what's next! That's why our project man­agers, upon request from some event plan­ners, pro­duce detailed reports with key fig­ures: num­ber of cash­less top-ups done online and on-site, cur­rent requests for refunds, over­all and itemised income amounts, num­ber of tick­ets scanned and on-site sales rev­enues, cash­less transactions…This report also includes sug­gest­ed improve­ments to ensure that the next edi­tion of the event is even bet­ter: adjust­ed num­ber of devices on-site, or even adjust­ment in the on-site teams. A debrief meet­ing is rec­om­mend­ed to fol­low up on the con­tent of the report.
To go even further…
The var­i­ous steps described in this arti­cle are usu­al­ly spread out over 5 months, with var­i­ous mile­stones and deliv­er­ables over the 4 months before the event, and one deliv­er­able a month after the event. So this is just a sum­ma­ry of the work done by this team of 14 project man­agers.
Do you have any ques­tions regard­ing your large-scale event? Would you like to co-man­age it with Weezevent? Get in touch with our team by click­ing below: