Although the terms "cashless" and "contactless" are often used interchangeably, there are some important differences between these two payment systems. If you're looking into implementing an electronic payment system at your event or place of business, it's vital that you understand the subtle differences between the two systems and the benefits that each of them offer.
Cashless payment systems, based on RFID / NFC technology, are often the system of choice for large-scale events such as festivals, especially when they take place in remote areas. Why is this type of system more popular? This article covers all the key features to consider when choosing between these two payment systems.
Cashless and Contactless: 15 Key Differences.
1. Transaction speed
Cashless payment is practically instantaneous, while paying by bank card takes between 15 and 20 seconds (as the card needs to connect to the network). That's a 30% difference. This means that 30% more staff is needed to achieve the same order processing speed and minimise attendees' waiting time. Due to its direct impact on service quality, this factor should be taken into account.
2. Reliance on Internet connection
Cashless payment does not require an Internet connection, whereas a network connection is vital for bank card transactions. Choosing cashless therefore ensures that service can continue in the event of network failure. Moreover, when a pre-payment system is available, 60 to 80% of online top-ups are completed before attendees arrive at the venue, which guarantees that the majority of transactions are secure.
3. Hardware
Cashless payment terminals are durable, waterproof and designed to withstand difficult conditions, with a 14-hour battery life. That's much longer than the 6-hour battery life of all-in-one card machines. With a contactless system, more hardware is required (+30%) to guarantee continuous service for more than 6 hours.
4. Cost & ROI
The costs involved in using a cashless or contactless system are similar. However, contactless systems fall short due to the higher inherent cost of card terminals, as well as the greater number of devices required to make up for a transaction speed that is 30% slower and a battery life that is shorter by an average of 30%. Whereas contactless solutions only generate costs, cashless systems can also generate revenue.
5. User experience
Although cashless systems rely on attendees topping up before they pay, this process has been greatly simplified by new technology. Online top-ups, which make up 80% of all top-ups, allow attendees to add credit remotely, streamlining user experience.
Innovations such as "Fast top-up", a system for quick top-ups using the QR code displayed on cashless media, make the process even easier. Users can top up their account independently and instantly, without having to queue or interact with staff, making user experience smoother and more autonomous.
6. Eco-Cup management
With more and more reusable Eco-Cups being used at mass events, cashless systems allow organisers to put in place a safer, more effective deposit system. Organisers can count how many cups are purchased and returned and easily keep track of all paid and refunded deposits to prevent any abuse of the system.
7. Sharing revenue with Food and Beverage partners
By creating a "closed-loop" ecosystem, cashless systems allow organisers to closely track all revenue generated at their event and put in place a transparent commission scheme with all parties selling food and beverages (F&B). This solution is based on the token system and is clear and unambiguous from a legal point of view. On the other hand, putting in place a contactless system for other vendors to use presents two important issues: collection on behalf of a third party, legally speaking, and a loss of control over payments received, as the organiser's card terminals can be used fraudulently.
8. All-in-one cashless media
Not only do NFC media simplify the payment process, they also streamline several access control operations. By speeding up ticket checks, they optimise the flow of attendees and ensure that the event runs more smoothly. By adding a value (the cost of a ticket) only when it has been paired with a ticket, cashless systems make your data more precise and secure.
The chips in cashless media also allow you to efficiently manage crowding in real time, giving you more control over your events. They also offer a unique advantage when it comes to multi-day passes, making it impossible to split passes and therefore ensuring better access control.
Wristbands equipped with an NFC chip can be quickly verified, giving attendees easy access to all of the experiences on offer at the venue. Not only do wristbands allow attendees to interact more easily, they are also a clear sign that they are taking part in the event. By taking them home as a souvenir, attendees can prolong their experience of your event long after it has ended.
9. A digital experience
Thanks to cashless payments, festival-goers can enjoy a more immersive online experience before, during and after the festival, which also provides you with a deeper knowledge of your audience and community. An online cashless account allows attendees to access their spending history and download receipts in compliance with legal regulations. Further information and features may soon be added, such as giving users the option to rate food and drink stands or view the carbon footprint of their transactions.
The Click & Collect system encourages attendees to explore food and drink options and speeds up their transactions.
10. Managing specific groups
Cashless systems also make it easier to manage people at the event who have a special status, such as staff and partners. Organisers can provide free products or services by crediting specific groups with virtual cash (free drinks, staff credit). For partners, using virtual cash means that they can easily request chargebacks after the event. Generally speaking, cashless systems can also benefit from NFC technology to deal with various data linked to the event, such as access to restricted areas (catering, VIP). Cashless systems offer more than just a digital wallet. They provide a range of versatile solutions tailored to different uses.
11. Pre-payment and additional income
The remaining balance on cashless accounts at the end of an event is around 30% of the total top ups, not including the service charge and the balance remaining after the refund period. This provides organisers with further opportunities, whether they wish to collect donations for charity partners, issue vouchers for exclusive pre-sales of tickets for the next event or offer merchandise. Our system opens up a number of ways for attendees to spend their remaining balance, providing various alternatives to refunds.
12. Cash handling
With 60-80% of cashless top-ups made online before the event, the amount of cash on-site is drastically reduced. To comply with current legislation, cashless payment systems enable organisers to fulfill their obligation to accept cash payments, while limiting this type of transaction to a small number of top-up points that accept cash. This approach fully complies with regulations and makes cash handling as secure as possible. When using a contactless system, cash payments must be allowed at all points of sale, unless a hybrid solution is put in place involving a cashless top-up station accepting cash.
13. Curbing consumption
Contrary to what is commonly believed, cashless systems do not lead to a drop in sales caused by attendees not having enough credit. In fact, only 3% of cashless transactions fail due to this issue, and only 1% of these failed transactions are not followed up by a top up. As for contactless payment, the failure rate is 6%, twice that of cashless payment, with unsuccessful transactions leading to unpredictable outcomes: the use of the same card by entering the PIN, use of a different card, etc.
14. Brand activation
Sponsorship is a cornerstone of an event's financial plan. It is one of the primary drivers of growth and revenue, ahead of ticket sales and F&B, which are inherently capped. Contactless payment is anonymous, unlike cashless payment (which requires an email address, phone number, etc.). Cashless systems make it easy to implement marketing operations: for example, buying an X drink gives the attendee access to a VIP area.
15. Communication
Attendees must be informed of how cashless payments work before the event. To make sure the system works efficiently on-site, you should create at least one social media post on the subject and mention it in the pre-event email providing useful information. You should also create a notification about it on the festival app. When using a contactless system, attendees should be informed that points of sale accepting cash will be limited. Whichever payment system you choose, clear and effective communication is required to make sure attendees can organise their spending at your event.
9 Benefits of Going Cashless.
The only way to secure on-site transactions
Cashless systems can work 100% offline, while contactless payments are totally dependent on a Wi-Fi/4G network. This allows you to complete transactions even in the event of network failure.
The number of online top-ups made before the event is constantly rising, constituting up to 80% of total top-ups.
Cashless systems allow Click & Collect orders, which are more convenient for both buyers and sellers.
The only way to offer an immersive attendee experience
NFC cards and wristbands act as event passes and can be used for payments, access control, brand activation, gamification, etc.
They enable organisers to offer a more immersive attendee experience by providing a variety of fun and engaging activities.
They improve attendees' overall experience at the festival, making processes easier and faster, offering VIP benefits, customisable options and a link to the mobile app.
The only way to form a strong relationship with your attendees
Cashless systems collect contact details and consumption data from all your attendees. Organisers can track attendees' behaviour, including types of purchases, consumption peaks, etc. This is impossible with contactless payment as all data is collected by the bank alone.
Attendees' data can be used to create targeted marketing campaigns. The results of these operations can be measured with precise indicators, such as open rates and turnover generated.
By identifying and rewarding their most loyal attendees, organisers can develop a lasting relationship with them and grow their community with the help of trusted ambassadors.
Cashless or Contactless: To Sum Up.
The cashless era is well and truly upon us, with contactless payment available everywhere and mobile payment on the rise. However, is opting exclusively for payments by bank card (open-loop) a viable and appropriate choice for mass events, when compared to the cashless experience (closed-loop)?
Open-loop payment has 3 main weaknesses:
Transaction time: 30% longer than cashless.
Reliance on a network: 70% of card payments require online authorisation.
Hardware: 30% more devices are required for operations lasting more than 6 hours.
Proven to be the better solution on most counts, cashless systems are more than just
payment solutions. Cashless systems turn the classic festival wristband into a versatile connected medium that improves attendee experience and streamlines organisation, with satisfaction rates reaching 95% from the first year of use.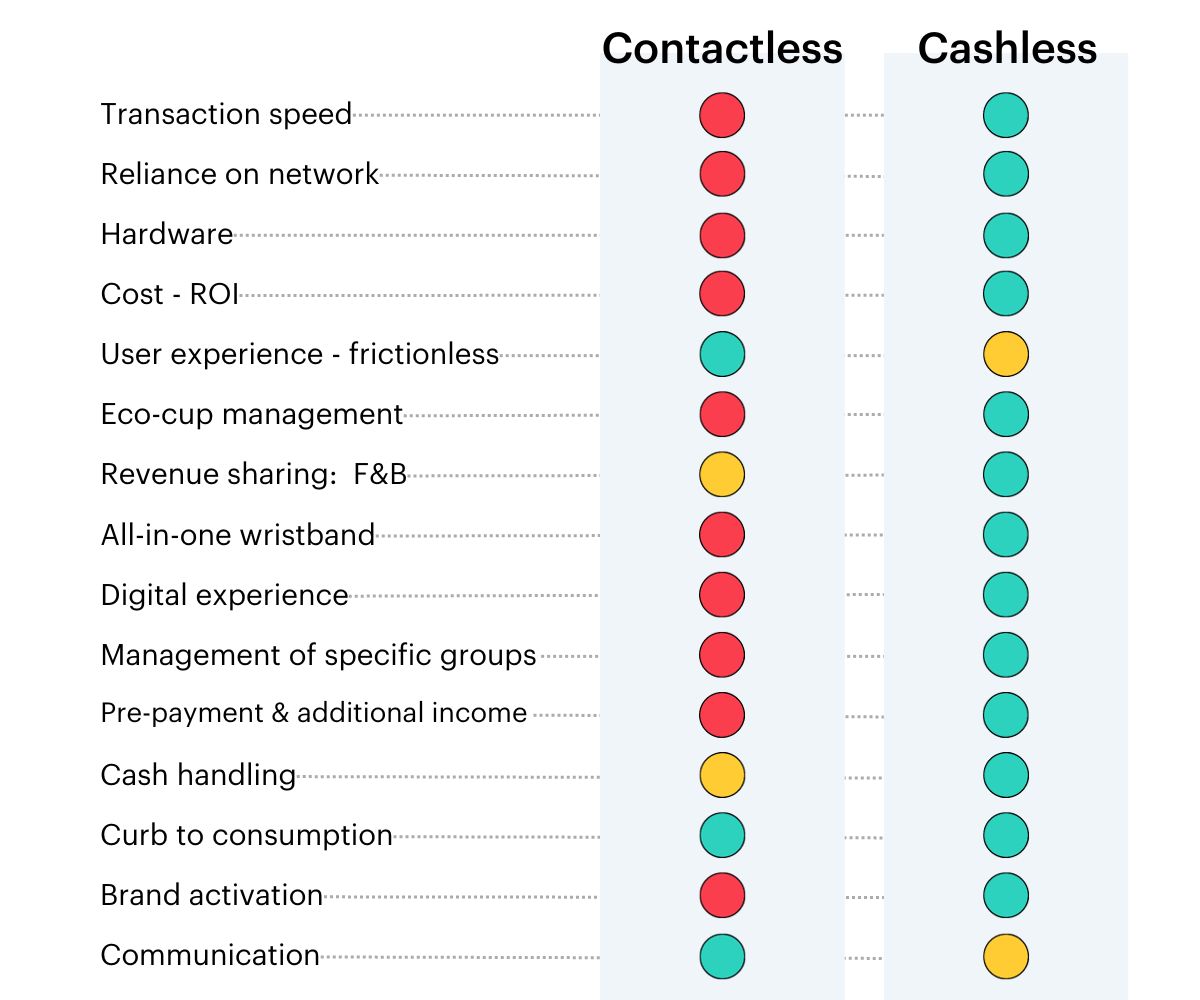 Weezevent has already deployed its cashless system at over 650 events across Europe. Over 150,000 partners and operators have used our terminals. Our solution is designed to be easy to use by everyone, including your staff members.
Our experience has shown us that cashless payment is generally well received by attendees once they have had the chance to try it out, regardless of audience demographics, the type of music performed, and the location and length of the event. Visitors often request that events remain cashless after experiencing the system for the first time.
---
If you would like to find out more about our cashless payment systems and how they can benefit your organisation, please do not hesitate to contact us.