When you plan your first cash­less event, it is essen­tial to let your atten­dees know about it ahead of time. You will have to repeat expla­na­tions about how the sys­tem works in order to ensure that the entire audi­ence knows. Oth­er­wise, you are fac­ing poten­tial dis­putes and dis­con­tent — all eas­i­ly avoid­ed with a bit of preparation.
This isn't lim­it­ed to your first cash­less event. It is in your inter­est- and that of your atten­dees — to apply the same com­mu­ni­ca­tion strat­e­gy to all your cash­less events. Here is how to best pre­pare your atten­dees to expe­ri­ence a ful­ly cash­less event.
Con­tents
---
1. Give your cashless currency a name
Giv­ing your cash­less cur­ren­cy a name may seem point­less and unim­por­tant at first. How­ev­er, look­ing clos­er, you'll realise how much pos­i­tive impact it can have on the over­all attendee expe­ri­ence. If fes­ti­vals and oth­er types of events have come up with a name and logo for their cur­ren­cy, it is first and fore­most to turn their cash­less project into a com­mu­ni­ca­tion asset.
Pro­mot­ed on all your com­mu­ni­ca­tion chan­nels, a clever name — in line with the event's brand­ing — can favour adop­tion of cash­less sys­tems by the audi­ence. Inverse­ly, the name "cash­less" is rather imper­son­al and some­times poor­ly per­ceived because of the "cash" root of the word. It can invoke mon­ey a bit too strong­ly, which is not nec­es­sar­i­ly aligned with the val­ues of com­mu­ni­ty and shar­ing gen­er­al­ly pro­mot­ed by events.
Giv­ing a name to a cash­less cur­ren­cy is some­times so suc­cess­ful that it is not uncom­mon to hear fes­ti­val goers talk about "Mon­eiz", the cash­less cur­ren­cy of the Vieilles Char­rues fes­ti­val at oth­er events across Brittany.
Here are a few exam­ples of names rein­forc­ing their event's branding:
John E‑Cash — Beau­re­gard Fes­ti­val; Celti'Cash — Inter-Celtic Fes­ti­val of Lori­ent; No Cash In Hell — Hellfest Festival.
2. Communicate with the general public online
In our arti­cle Cash­less: Key fac­tors for a suc­cess­ful roll out, we talked about why you should hone your com­mu­ni­ca­tion with your audi­ence when rolling out a cash­less project. To build on this foun­da­tion, we have list­ed the best com­mu­ni­ca­tion chan­nels below. If you choose to use Weezevent for your cash­less project, a ded­i­cat­ed project man­ag­er will sup­port you dur­ing roll-out and pro­vide you with per­son­alised advice, a com­pre­hen­sive com­mu­ni­ca­tion kit and suc­cess­ful examples.
The event's website
Cen­tral hub of your com­mu­ni­ca­tion, your web­site includes all the avail­able infor­ma­tion about your event. Every­thing must be there and well organ­ised. This is why you must include some ele­ments, so that every attendee can access the nec­es­sary infor­ma­tion to have a good time before, dur­ing and after your event.
You should start with the cash­less page and tab — which should be eas­i­ly accessed from your website's main nav­i­ga­tion bar.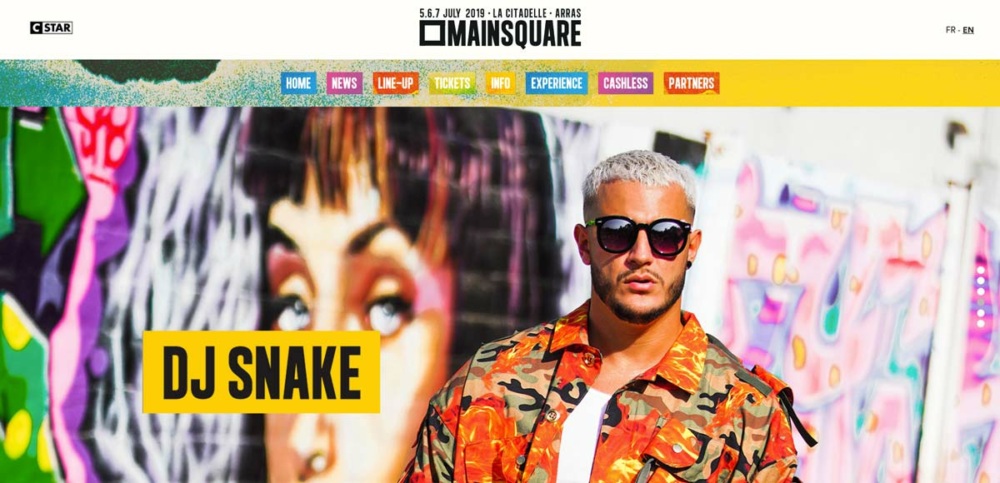 Source: Main Square Fes­ti­val home page. The "CASHLESS" but­ton redi­rects to mainsquarefestival.fr/en/cashless.
Then, your cash­less page should include the fol­low­ing ele­ments, in this order:
cash­less wid­get — always at the top of the page
instruc­tion­al icons
detailed expla­na­tions

Ben­e­fits of the cash­less system
Before/during/after
Refund times

fre­quent­ly asked questions
a sup­port email address
spe­cif­ic infor­ma­tion — if necessary
video tuto­ri­als — as shown below
Final­ly, post a noti­fi­ca­tion to explain why you chose to switch to cash­less pay­ments; how it will impact, cre­ate changes and ben­e­fits for the attendee; and explain how it works.
Social media — pages and events
Most of your audi­ence is already on social media. From there, they can fol­low your page and/or your event. You can use social media to expand your com­mu­ni­ca­tion cam­paign and increase your chances that the infor­ma­tion about your cash­less sys­tem is read and understood.
We have been sup­port­ing roll-outs of cash­less projects since 2015, so we know how to opti­mise your com­mu­ni­ca­tion so that your mes­sage is under­stood. Here is a preview:
"Cre­ate your cash­less account and top-up your card in a cou­ple of min­utes! All you need is your tick­et number."
"Many of you have not yet topped-up your cash­less account in advance. We rec­om­mend that you do so from the com­fort of your home so you can enjoy the shows and the food & drinks as soon as you access the event."
"Our cash­less kiosks open when the site opens — head there now to top-up your account."
Add pic­tures, gifs, videos or memes to your mes­sages to increase your chances of being read.
Emails — marketing and newsletter
Just as effec­tive as the pre­vi­ous­ly men­tioned chan­nels, emails are high­ly use­ful because you can send them to all your tick­et hold­ers. In order to deliv­er your emails, we strong­ly advise to use an e‑mail mar­ket­ing tool linked with your event reg­is­tra­tion sys­tem, like Weez­tar­get. That way, you can encour­age them to cre­ate a cash­less account. You can then give more infor­ma­tion to those who have cre­at­ed their account. Weezevent helps you tar­get each of these audiences.
2 days pri­or to the event, Weezevent's cash­less plat­form sends a cus­tom email to your atten­dees to encour­age them to top-up their account. This means small­er queues on site.
Mobile push notifications
We have part­nered with Green­cop­per so you can send push noti­fi­ca­tions on your atten­dees' mobile phones if they have down­loaded your event's app. Depend­ing on what you need, you can tar­get only the peo­ple who have not topped-up yet, or those who have spent a spe­cif­ic amount to reward them. The pos­si­bil­i­ties are endless!
3. Answer your attendees' questions
It may be that doing all the above will not be enough, as atten­dees may have spe­cif­ic ques­tions about your cash­less sys­tem. You should there­fore plan for this sit­u­a­tion by cre­at­ing a ded­i­cat­ed email address for any enquiries peo­ple may have. You could even set-up a phone num­ber specif­i­cal­ly for cash­less enquiries. The goal is to aim for a great user expe­ri­ence for atten­dees and fes­ti­val goers.
4. Inform your staff charged with managing cashless payments
Cash­less pay­ment sys­tems are main­ly for atten­dees, but your staff will be han­dling the devices reg­is­ter­ing all trans­ac­tions. The best way to train them is to send a newslet­ter with prac­ti­cal guide­lines on how to use the devices and descrip­tion of the festival's cash­less pol­i­cy — how it works, key dates, etc. You can remind them about all this infor­ma­tion on site so you can ensure a smooth roll-out.
5. Increase information on site
Once your atten­dees are on site, they may have for­got­ten some of the infor­ma­tion they have read a cou­ple of days or a cou­ple of months before. You'll need to remind them of the essen­tial infor­ma­tion and good prac­tices to ensure smooth sail­ing dur­ing the event.
Good sig­nage will direct atten­dees to the right peo­ple, if need be, and fly­ers will let them know how to top-up on site or online, how to get a refund after the event, etc.
Great com­mu­ni­ca­tion means that roll-out of a cash­less project can be more than just a change of pay­ment method for the fes­ti­val goers and organ­is­ers alike. It can strength­en the bond between both par­ties and increase loyalty.
We have designed and observed so many good prac­tices since 2015 that we have put togeth­er a free guide­book for event plan­ners. Down­load it now by click­ing below:
Feel free to get in touch with us if you have any ques­tions about cash­less pay­ment systems.