When you plan your first cashless event, it is essential to let your attendees know about it ahead of time. You will have to repeat explanations about how the system works in order to ensure that the entire audience knows. Otherwise, you are facing potential disputes and discontent – all easily avoided with a bit of preparation.
This isn't limited to your first cashless event. It is in your interest- and that of your attendees – to apply the same communication strategy to all your cashless events. Here is how to best prepare your attendees to experience a fully cashless event.
Contents
---
1. Give your cashless currency a name
Giving your cashless currency a name may seem pointless and unimportant at first. However, looking closer, you'll realise how much positive impact it can have on the overall attendee experience. If festivals and other types of events have come up with a name and logo for their currency, it is first and foremost to turn their cashless project into a communication asset.
Promoted on all your communication channels, a clever name – in line with the event's branding – can favour adoption of cashless systems by the audience. Inversely, the name "cashless" is rather impersonal and sometimes poorly perceived because of the "cash" root of the word. It can invoke money a bit too strongly, which is not necessarily aligned with the values of community and sharing generally promoted by events.
Giving a name to a cashless currency is sometimes so successful that it is not uncommon to hear festival goers talk about "Moneiz", the cashless currency of the Vieilles Charrues festival at other events across Brittany.
Here are a few examples of names reinforcing their event's branding:
John E-Cash — Beauregard Festival; Celti'Cash — Inter-Celtic Festival of Lorient; No Cash In Hell — Hellfest Festival.
2. Communicate with the general public online
In our article Cashless: Key factors for a successful roll out, we talked about why you should hone your communication with your audience when rolling out a cashless project. To build on this foundation, we have listed the best communication channels below. If you choose to use Weezevent for your cashless project, a dedicated project manager will support you during roll-out and provide you with personalised advice, a comprehensive communication kit and successful examples.
The event's website
Central hub of your communication, your website includes all the available information about your event. Everything must be there and well organised. This is why you must include some elements, so that every attendee can access the necessary information to have a good time before, during and after your event.
You should start with the cashless page and tab – which should be easily accessed from your website's main navigation bar.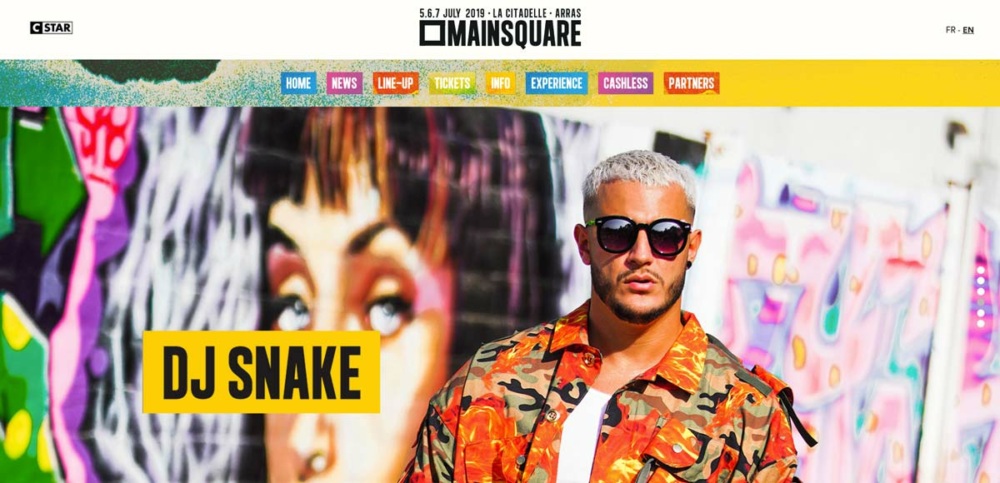 Source: Main Square Festival home page. The "CASHLESS" button redirects to mainsquarefestival.fr/en/cashless.
Then, your cashless page should include the following elements, in this order:
cashless widget — always at the top of the page
instructional icons
detailed explanations

Benefits of the cashless system
Before/during/after
Refund times

frequently asked questions
a support email address
specific information — if necessary
video tutorials — as shown below
Finally, post a notification to explain why you chose to switch to cashless payments; how it will impact, create changes and benefits for the attendee; and explain how it works.
Social media — pages and events
Most of your audience is already on social media. From there, they can follow your page and/or your event. You can use social media to expand your communication campaign and increase your chances that the information about your cashless system is read and understood.
We have been supporting roll-outs of cashless projects since 2015, so we know how to optimise your communication so that your message is understood. Here is a preview:
"Create your cashless account and top-up your card in a couple of minutes! All you need is your ticket number."
"Many of you have not yet topped-up your cashless account in advance. We recommend that you do so from the comfort of your home so you can enjoy the shows and the food & drinks as soon as you access the event."
"Our cashless kiosks open when the site opens – head there now to top-up your account."
Add pictures, gifs, videos or memes to your messages to increase your chances of being read.
Emails — marketing and newsletter
Just as effective as the previously mentioned channels, emails are highly useful because you can send them to all your ticket holders. In order to deliver your emails, we strongly advise to use an e-mail marketing tool linked with your event registration system, like Weeztarget. That way, you can encourage them to create a cashless account. You can then give more information to those who have created their account. Weezevent helps you target each of these audiences.
2 days prior to the event, Weezevent's cashless platform sends a custom email to your attendees to encourage them to top-up their account. This means smaller queues on site.
Mobile push notifications
We have partnered with Greencopper so you can send push notifications on your attendees' mobile phones if they have downloaded your event's app. Depending on what you need, you can target only the people who have not topped-up yet, or those who have spent a specific amount to reward them. The possibilities are endless!
3. Answer your attendees' questions
It may be that doing all the above will not be enough, as attendees may have specific questions about your cashless system. You should therefore plan for this situation by creating a dedicated email address for any enquiries people may have. You could even set-up a phone number specifically for cashless enquiries. The goal is to aim for a great user experience for attendees and festival goers.
4. Inform your staff charged with managing cashless payments
Cashless payment systems are mainly for attendees, but your staff will be handling the devices registering all transactions. The best way to train them is to send a newsletter with practical guidelines on how to use the devices and description of the festival's cashless policy – how it works, key dates, etc. You can remind them about all this information on site so you can ensure a smooth roll-out.
5. Increase information on site
Once your attendees are on site, they may have forgotten some of the information they have read a couple of days or a couple of months before. You'll need to remind them of the essential information and good practices to ensure smooth sailing during the event.
Good signage will direct attendees to the right people, if need be, and flyers will let them know how to top-up on site or online, how to get a refund after the event, etc.
Great communication means that roll-out of a cashless project can be more than just a change of payment method for the festival goers and organisers alike. It can strengthen the bond between both parties and increase loyalty.
We have designed and observed so many good practices since 2015 that we have put together a free guidebook for event planners. Download it now by clicking below:
Feel free to get in touch with us if you have any questions about cashless payment systems.