To allow some of your events' atten­dees to ben­e­fit from spe­cif­ic prices, you can offer them the chance to sub­scribe through your tick­et­ing plat­form to become mem­bers and enjoy exclu­sive ben­e­fits. Use this WeezTick­et pre­mi­um fea­ture and cre­ate new sales for­mats which are espe­cial­ly use­ful for con­cert venues and shows, cours­es, sport events and even workshops.
In this arti­cle, we present you with 3 exam­ples of how to use this fea­ture to offer an exclu­sive expe­ri­ence to your most loy­al audience.
---
1. Live music venue
As an exam­ple of a con­cert venue, we select­ed L'Astrolabe, which since 2014 has used a for­mat that's won over thou­sands of members.

How do they use this feature?
Atten­dees can choose a sub­scrip­tion, either indi­vid­u­al­ly or in pairs, which is valid for 12 months from the date of pur­chase and pro­vides access to the mem­ber­ship price and oth­er advan­tages at the dif­fer­ent con­certs in the venue. Mem­bers have free access to cer­tain con­certs, receive the pro­gramme direct­ly in their mail­box and enjoy reduced prices at part­ner con­cert venues. In addi­tion, all mem­bers have access to tick­et sales for con­certs pro­duced by L'Astrolabe sev­er­al days before sales open to the gen­er­al public.
2. Handball club
The sub­scrip­tion fea­ture is also high­ly val­ued in the sports sec­tor. To illus­trate this use, let's look at the Hen­nebont-Lochrist Hand­ball club as an example.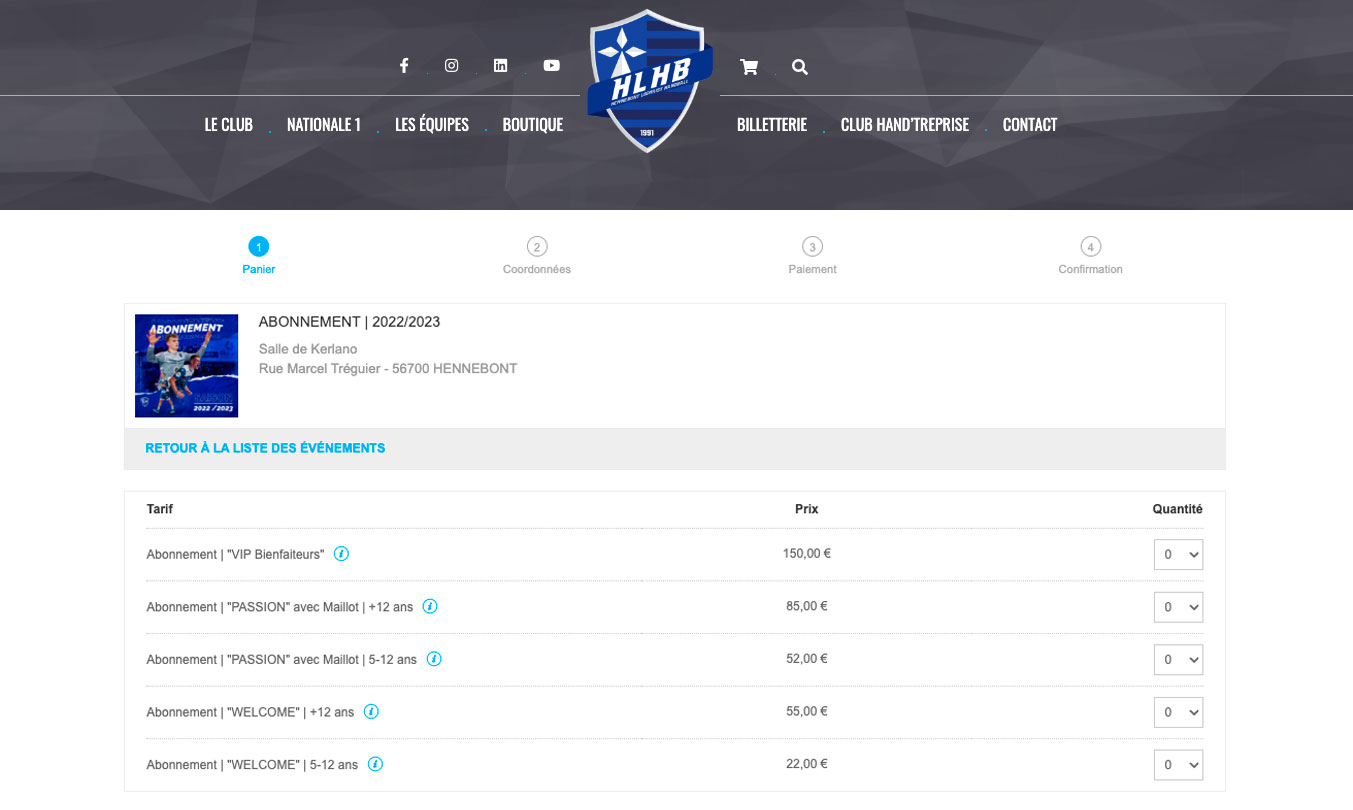 How do they use this feature?
Thanks to WeezTicket's sub­scrip­tion fea­ture, the club is able to offer sales for­mats that are suit­ed to its dif­fer­ent mem­ber profiles:
The Wel­come sub­scrip­tion (prices for ages 5–12 and 13+) allows mem­bers to attend all home match­es of the season.
The Pas­sion sub­scrip­tion (prices for ages 5–12 and 13+) offers access to all match­es and includes a per­son­alised gift shirt.
The even more exclu­sive VIP sub­scrip­tion offers the ben­e­fits of the Pas­sion sub­scrip­tion plus 3 nights exclu­sive­ly reserved for VIPs.
3. Gift cards
The Les Cer­cles cabaret uses our sub­scrip­tion fea­ture to sell gift cards.


How do they use this feature?
Whether giv­ing one as a gift or enjoy­ing it at a lat­er date, it's always a good idea to offer the option of pur­chas­ing gift cards. The Les Cer­cles cabaret offers dif­fer­ent for­mats: show only, pack­age with show and drink, or com­plete pack­age with show, drink and food.
To exchange a gift card for a tick­et, the hold­er sim­ply enters the code on the card, which they'll have received by email at the time of purchase.
---
Were you inspired by these 3 ways of using the WeezTick­et tick­et­ing platform's sub­scrip­tion fea­ture? You can offer sim­i­lar for­mats to build loy­al­ty among your audience!