We are proud that the recent merg­er of Weezevent and Play­Pass has tak­en shape in Spain as a tech­no­log­i­cal col­lab­o­ra­tion for the first major music event with no restric­tions on move­ment or phys­i­cal dis­tanc­ing — but with FFP2 masks required — since the out­break of the COVID-19 pan­dem­ic: Fes­ti­val Cruïl­la, which will take place in Barcelona from 8–10 July 2021 and will wel­come 25,000 atten­dees. Our solu­tions help to man­age the strict health and safe­ty pro­to­col imple­ment­ed, which includes anti­gen test­ing every day of the fes­ti­val and 100% cash­less pay­ments to min­imise con­tact and offer fes­ti­val­go­ers an unbeat­able expe­ri­ence. Here's how it works!
Sum­ma­ry
---
1. An innovative solution: cashless payment & antigen testing in one
Giv­en the spe­cif­ic needs of Fes­ti­val Cruïl­la for this very spe­cial edi­tion, our tech­ni­cal team has devel­oped an inno­v­a­tive and unique solu­tion for a flaw­less process: an 'all-in-one' mod­ule for cash­less pay­ment and book­ings and pay­ment of the anti­gen tests which atten­dees will have to take each day they attend the festival.
This mod­ule is a wid­get inte­grat­ed into the fes­ti­val web­site, mean­ing it can be accessed from any device, whether mobile or com­put­er, and will man­age up to 25,000 anti­gen test book­ings and pay­ment for all of them in the space of a few days. The wid­get is also used for man­ag­ing cash­less pay­ment top-ups before and dur­ing the fes­ti­val. These will be car­ried out 100% online, com­plete­ly elim­i­nat­ing cash trans­ac­tions at the venue.
2. Before the festival: managing antigen testing and cashless top-ups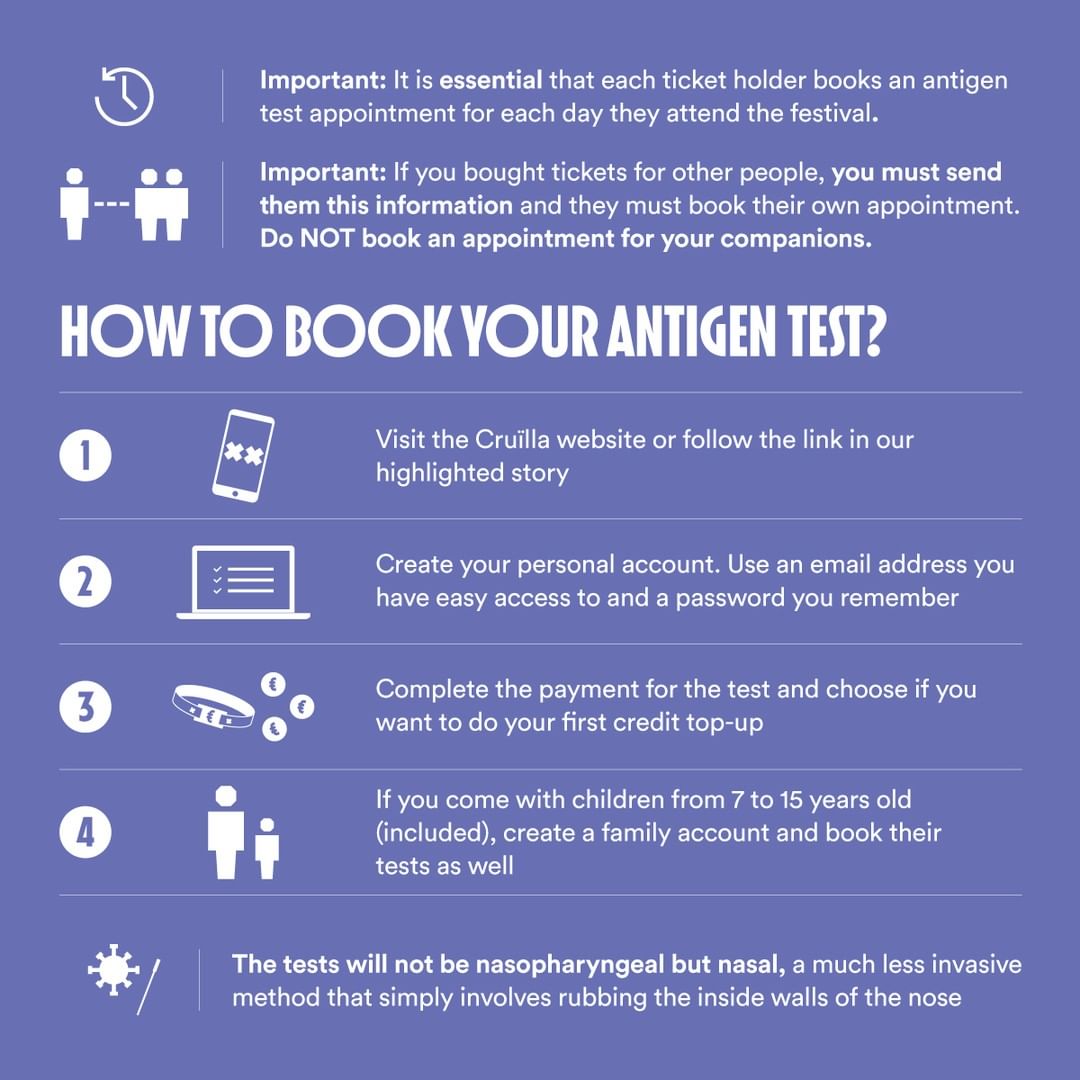 All fes­ti­val­go­ers aged 7 and above have to take a dai­ly anti­gen test and obtain a neg­a­tive result in order to access the fes­ti­val. To make this process as smooth and con­ve­nient as pos­si­ble, atten­dees must book their dai­ly test via their cash­less pay­ment account, pay­ing the price of the test upfront (with a decreas­ing unit price depend­ing on the num­ber of days of atten­dance at the fes­ti­val). Atten­dees will also be able to add mon­ey to their cash­less account at this point. Here's the process step by step:
1. Access the Fes­ti­val Cruïl­la web­site, where the wid­get is inte­grat­ed as a white box, reflect­ing the com­pa­ny colours and image of the festival.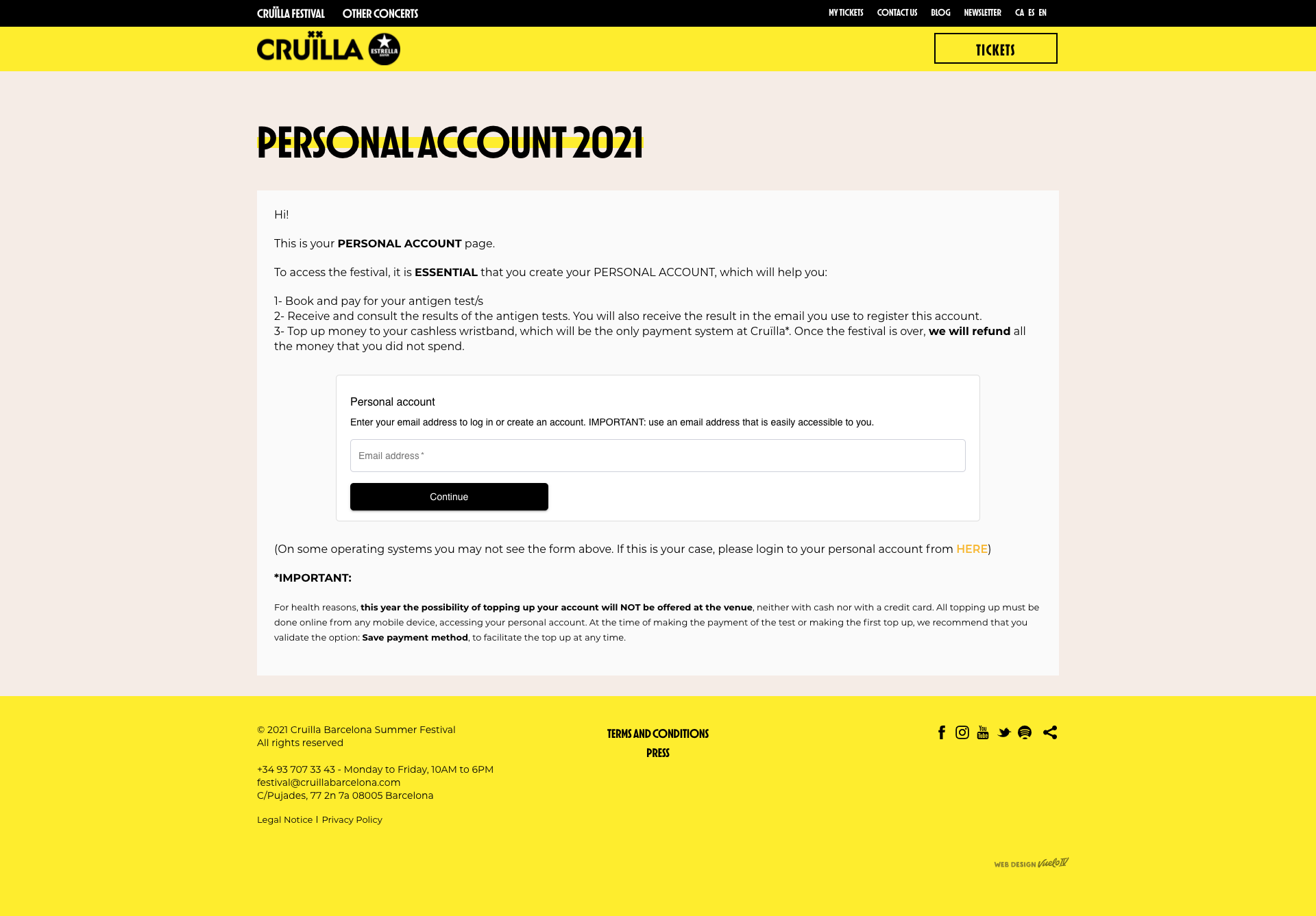 2. Cre­ate a cash­less account, using Weezevent tech­nol­o­gy and with­out leav­ing the fes­ti­val web­site, by enter­ing an email address and password.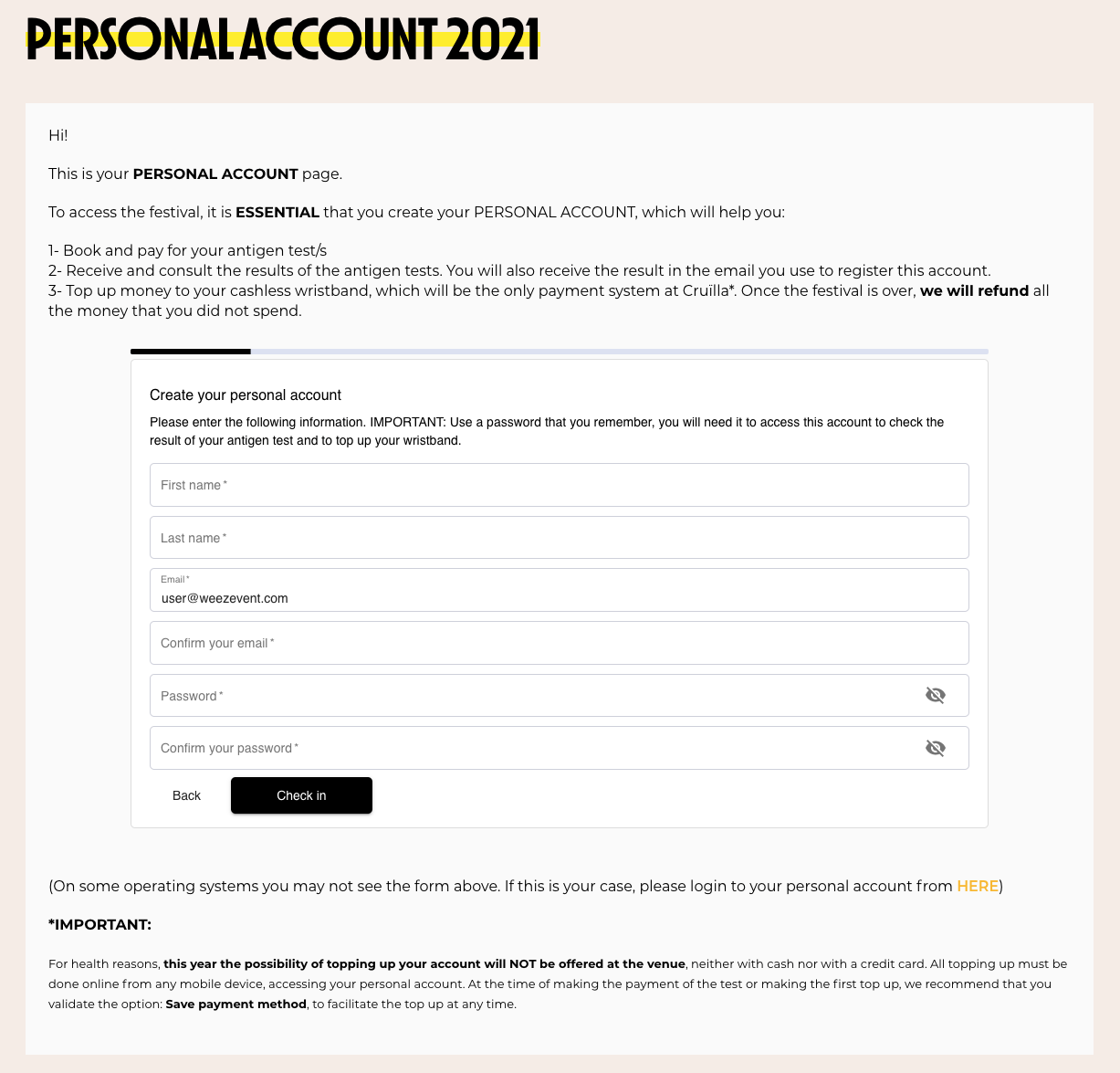 3. Fill in your per­son­al details.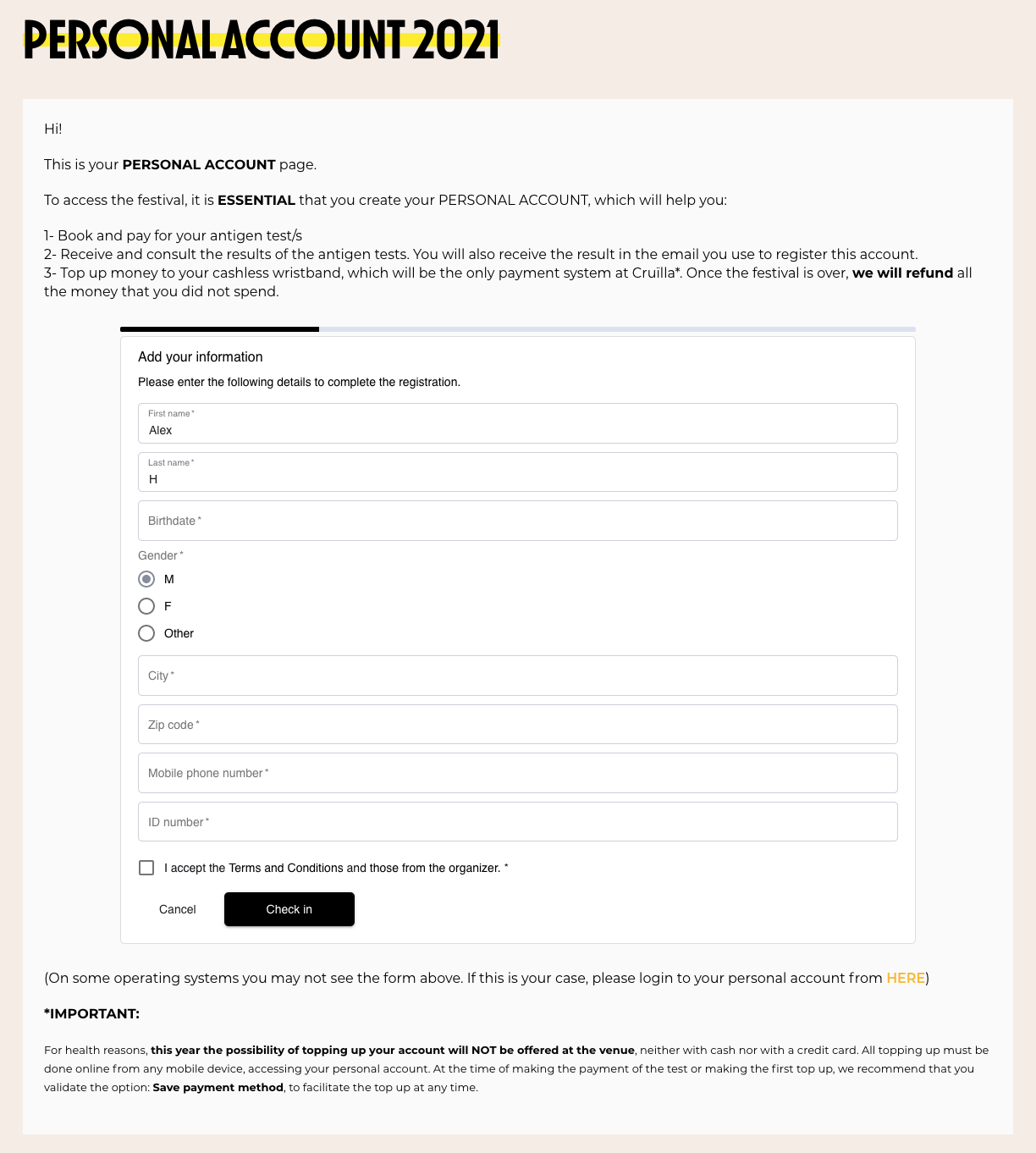 4. Enter the tick­et bar­code to asso­ciate it with the cash­less account.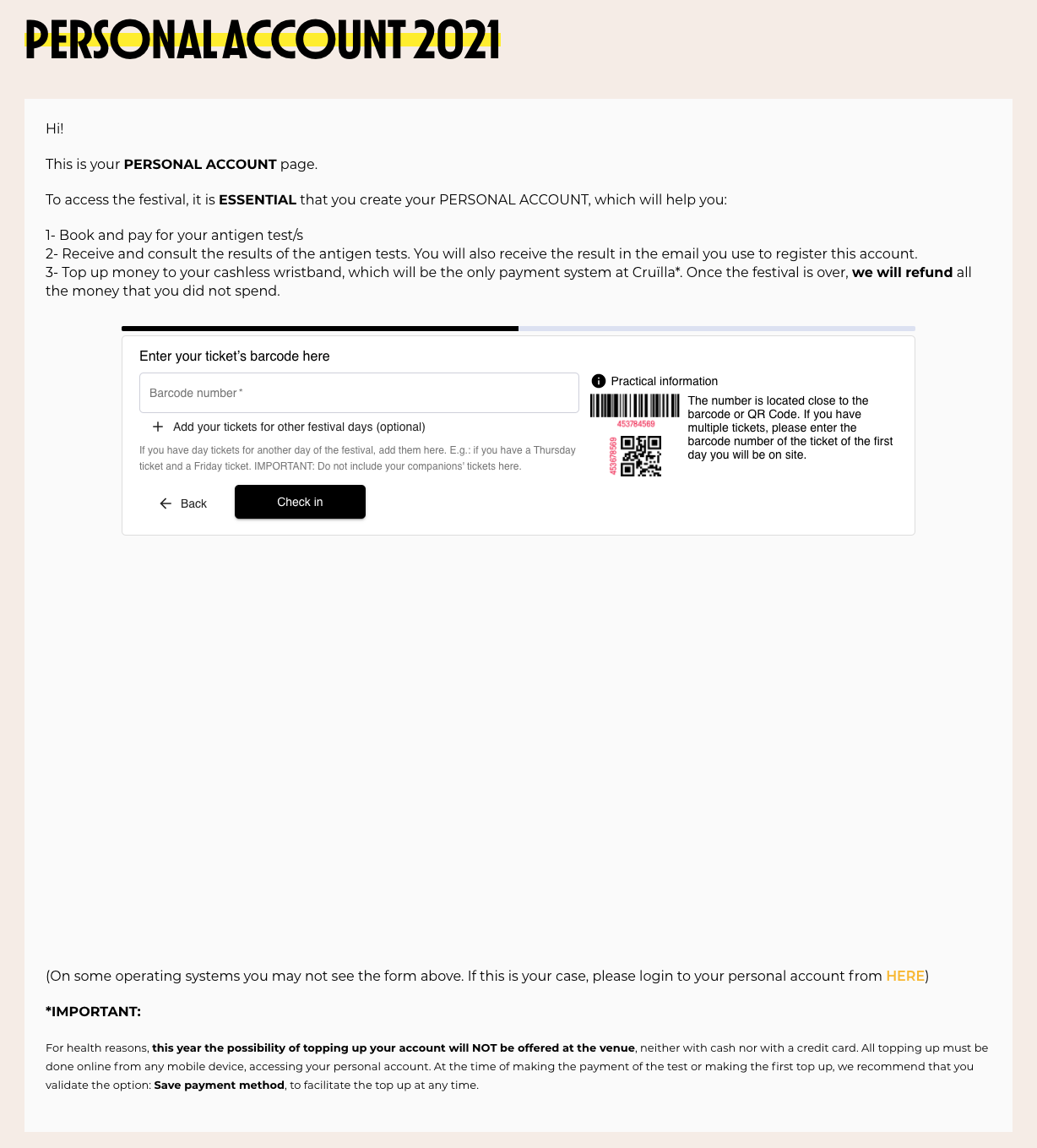 5. The cash­less account can be topped up at this point with one of the selec­table amounts in just one click, or by enter­ing the desired amount man­u­al­ly. It is also pos­si­ble to skip this step and leave the account top-up for later.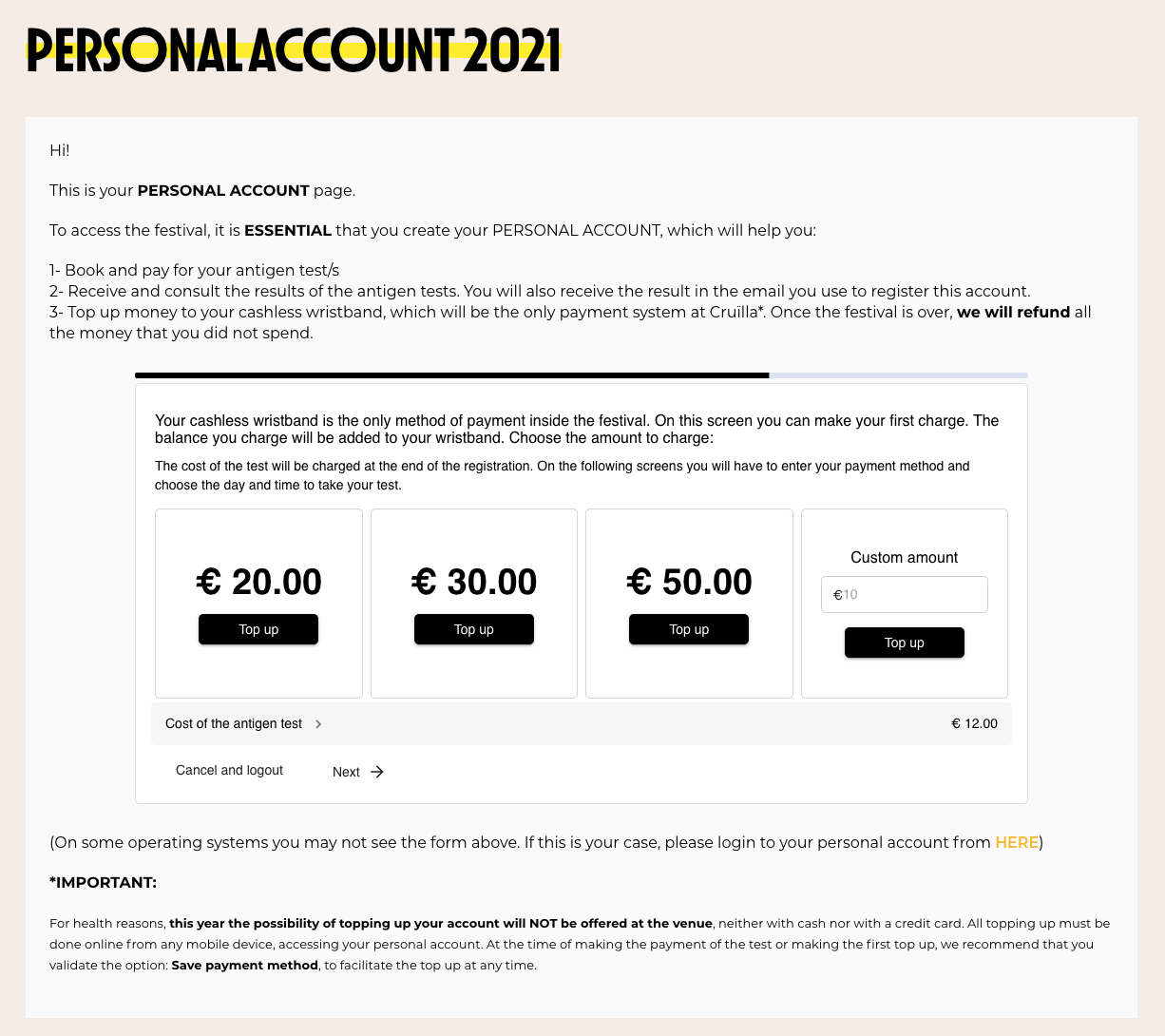 6. Enter the details of the card that will be used to make the pay­ment. It's pos­si­ble (and rec­om­mend­ed) to save the data entered in order to speed up the process for future top-ups.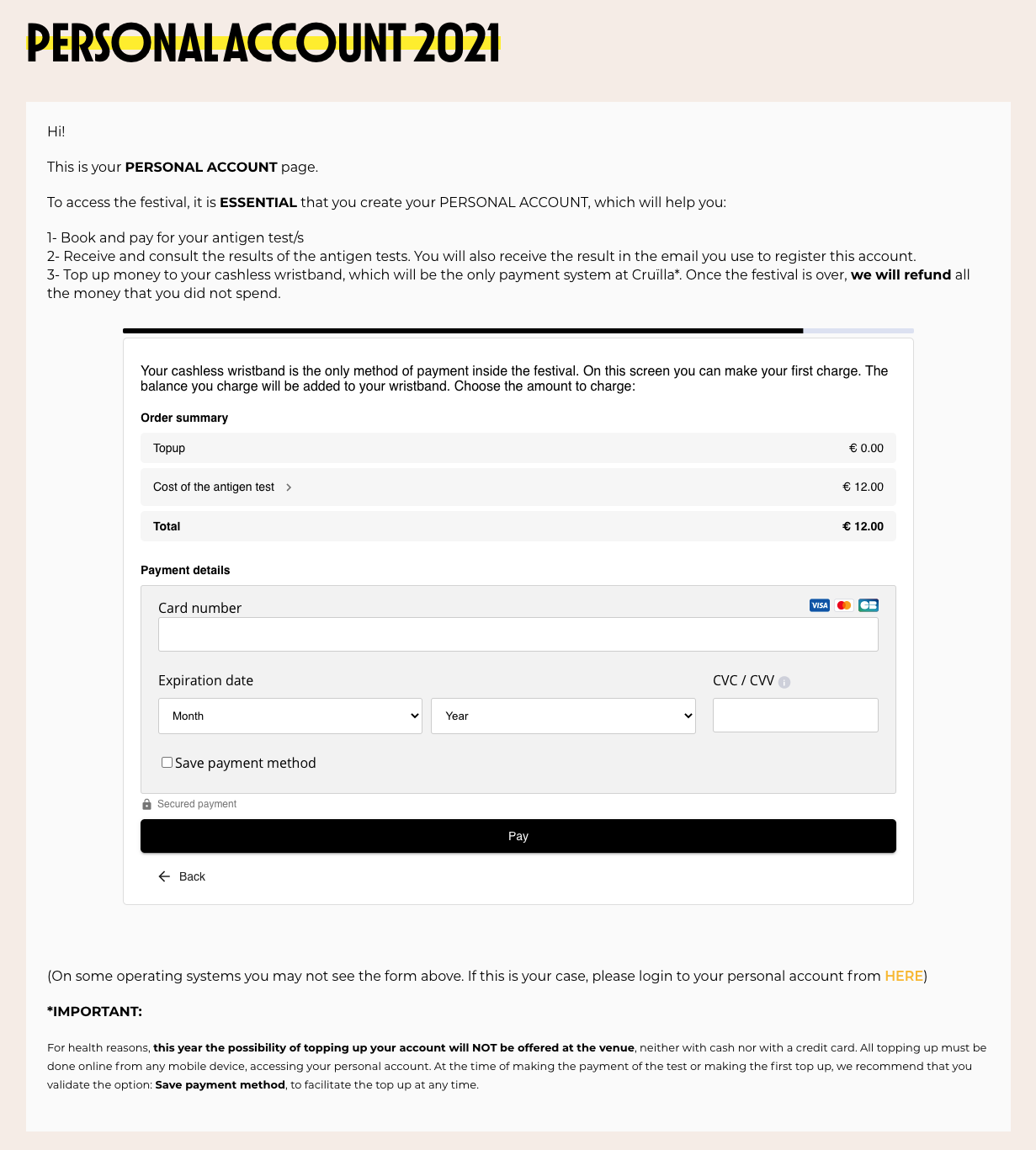 7. Book a time slot for the anti­gen test(s), one per day of atten­dance at the fes­ti­val. When you select the time, it will be auto­mat­i­cal­ly allo­cat­ed and the access gate will be indicated.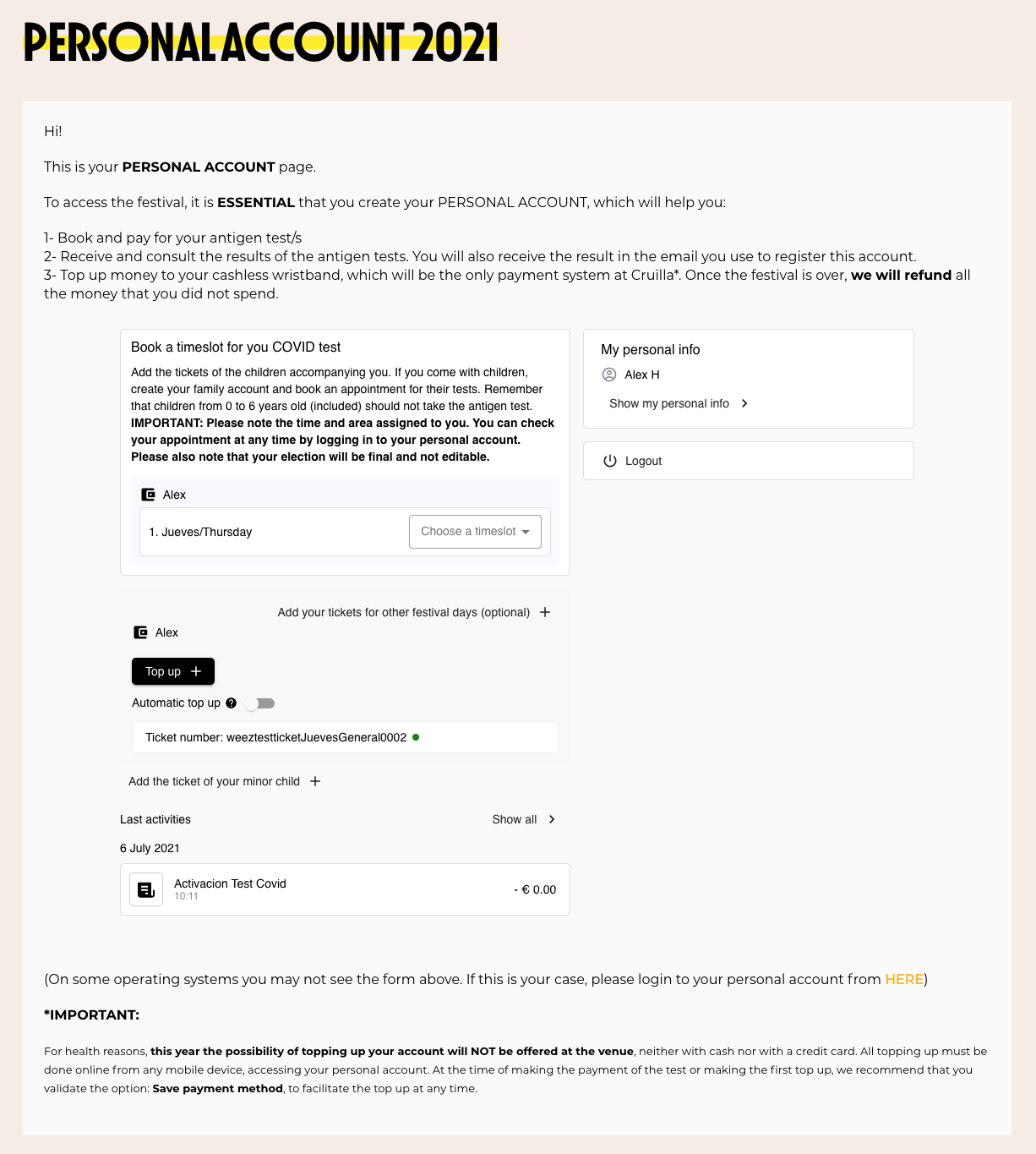 8. If attend­ing with chil­dren aged up to 15, you will be able to cre­ate a fam­i­ly account. If the chil­dren are aged between 7 and 15, their anti­gen tests can also be man­aged from a sin­gle space. All atten­dees, regard­less of age, must have an account created.
The devel­op­ment of this 'all-in-one' mod­ule by our tech­ni­cal team has also involved flex­i­bil­i­ty and adap­ta­tion in order to reflect key details, such as:
Man­ag­ing the dif­fer­ent prices of tests depend­ing on whether the indi­vid­ual holds a sea­son tick­et or a day tick­et, as well as free test­ing for cer­tain types of tickets.
The option for an adult to include a child in the same account in order to book anti­gen tests for both. In this case they will be direct­ed to the 'fam­i­ly zone' for testing.
Auto­mat­i­cal­ly assign­ing a zone accord­ing to the time select­ed for the test and the num­ber of places remain­ing in each zone at that time.
3. The day of the festival: antigen testing, delivering cashless wristbands, and access control
On the day of the fes­ti­val, or each day if attend­ing on sev­er­al days, atten­dees must go to the CCIB (next to the Parc del Fòrum) at the time booked in order to under­go the cor­re­spond­ing anti­gen test. Atten­dees will only be able to access the fes­ti­val if their anti­gen test result is neg­a­tive. Here are the spe­cif­ic details:
Iden­ti­fi­ca­tion and deliv­ery of the wrist­band: Before the test is car­ried out, the attendee's tick­et is scanned and the per­son­al details that appear on the screen (the cash­less account details) are checked to ensure that they match. If they do, the tick­et is linked to a wrist­band, although this will not yet be valid for access­ing the fes­ti­val (this requires the test result).
Car­ry­ing out the anti­gen test: If step 1 is suc­cess­ful­ly com­plet­ed, Aina Group will car­ry out the test and approve the result, which will be sent to Weezevent via API.
Updat­ing the results received and acti­vat­ing access rights: Once the test result has been received, again using Weezevent tech­nol­o­gy, the attendee's online account will be updat­ed to include the result (pos­i­tive or neg­a­tive) and they will receive an email with this infor­ma­tion. If the result is neg­a­tive, the attendee's access rights will be acti­vat­ed, allow­ing them to enter the festival.
Access con­trol: The wrist­band rep­re­sents both a tick­et and proof of being free of COVID-19. Access con­trol is car­ried out togeth­er with anoth­er iden­ti­ty check, ver­i­fy­ing the attendee's ID once again.
Enjoy: The attendee can now enjoy the fes­ti­val and, if they've topped up their cash­less account before enter­ing, can go straight to get their first drink with­out delay.
4. During the festival: a 100% cashless operation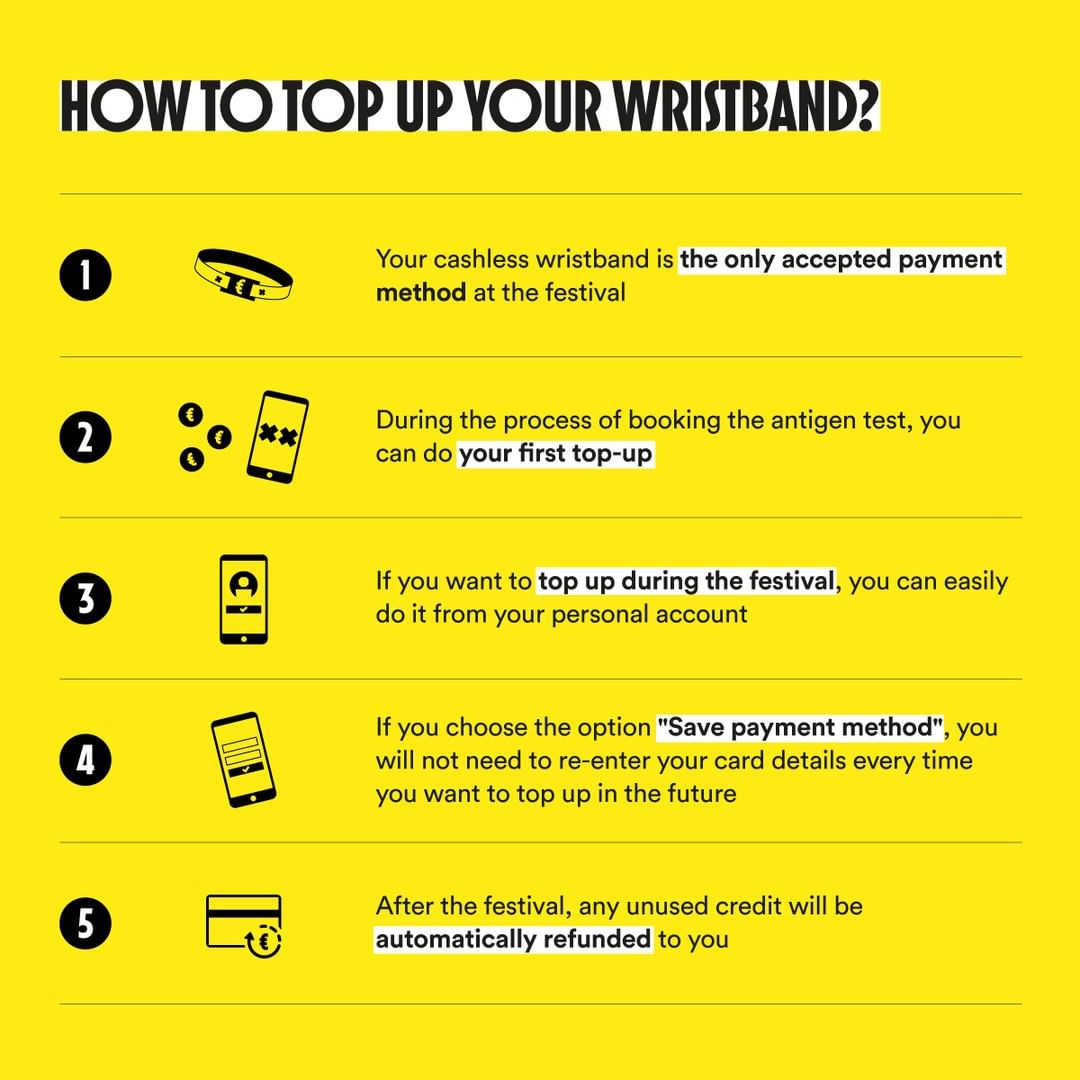 Once at the fes­ti­val, pay­ment man­age­ment with­in the venue is 100% cash­less: atten­dees can only pay for their drinks, mer­chan­dis­ing, and so on with their wrist­bands. Here's how it works:
Cash­less pay­ment is the only form of pay­ment accept­ed at the fes­ti­val site and cash­less account top-ups are car­ried out 100% online through the per­son­al account already cre­at­ed for the book­ing and pay­ment of the anti­gen test, although there will be some ter­mi­nals avail­able on site for top-ups if needed.
Atten­dees can top up their cash­less account at the same time as pay­ing for their anti­gen test, which guar­an­tees the adop­tion of cash­less pay­ment by some atten­dees, as they will all have cre­at­ed an account for the test and there­fore will have under­stood the pay­ment sys­tem imple­ment­ed at the fes­ti­val — hav­ing cre­at­ed an account, half the work is already done.
If the pay­ment details were saved when the attendee cre­at­ed the account and paid for the anti­gen test, the online top-up process is even eas­i­er and faster.
Pay­ing for drinks at the fes­ti­val is very con­ve­nient: just hold the wrist­band up to the waiter's pay­ment ter­mi­nal. The bal­ance will be auto­mat­i­cal­ly updat­ed and, if it runs out, you can sim­ply top up your account online. It's a fast and queue-free process.
5. After the festival: refunding the remaining balance
After the fes­ti­val, atten­dees' cash­less accounts will be reim­bursed for any unspent cred­it. This process is car­ried out auto­mat­i­cal­ly, with­out the attendee need­ing to make a request. This is not only con­ve­nient, but also invites atten­dees to top up their cash­less account with­out any con­cerns, and with­out hav­ing to wor­ry about top­ping up exact­ly the amount they'll spend, which also encour­ages consumption.
Are you organ­is­ing a fes­ti­val? Get in touch with our team to find out how the cash­less pay­ment sys­tem (and much more!) can be adapt­ed to your needs, par­tic­u­lar­ly in the cur­rent context.