Your event is hap­pen­ing today. Your online box office did great num­bers, but there are still a few tick­ets left. It's time to tar­get new clients in order to sell out. It can be engag­ing to use alter­na­tive com­mu­ni­ca­tion tech­niques to con­vince new atten­dees. If you're inter­est­ed in this type of com­mu­ni­ca­tion, SpotEv is per­fect for you.
Here's how the appli­ca­tion works. For exam­ple, a tourist who has lit­tle knowl­edge about the city in which they are in is look­ing for an event to learn more about the cul­tur­al scene, but doesn't know how to spot upcom­ing events. By using SpotEv, this per­son is eas­i­ly able to learn about the cul­tur­al events hap­pen­ing in his region. Since its foun­da­tion, SpotEv was able to reach new clients such as res­i­dents who want to broad­en their cul­tur­al hori­zons and meet new peo­ple. SpotEv defines itself as a friend who intro­duces you to new cul­tur­al events accord­ing to your pref­er­ences and location.
Why are applications such as SpotEv helpful for events organizers?
First of all, you will be able to reach a new clien­tele who hasn't heard about your event. It is a way to expand your num­ber of poten­tial atten­dees. More­over, SpotEv users are already look­ing for events to attend. There­fore, they are fur­ther down the con­ver­sion fun­nel and the orga­niz­er is more like­ly to make a sale. Final­ly, when using Weezevent, there are no addi­tion­al fees in order to appear on SpotEv!
You are sold, but how to appear on applications such as SpotEv?
It's easy and sim­ple with Weezevent's online box office! On your per­son­al back office, head towards the « com­mu­ni­cate » sec­tion. Then, click on « Ref­er­enc­ing and Expo­sure » and acti­vate « Appear in our part­ner's agen­das ». More­over, this solu­tion applies to all sorts of events. Whether you are host­ing a con­cert, a com­e­dy night or a fam­i­ly event, you are encour­aged to use Weezevent referencing!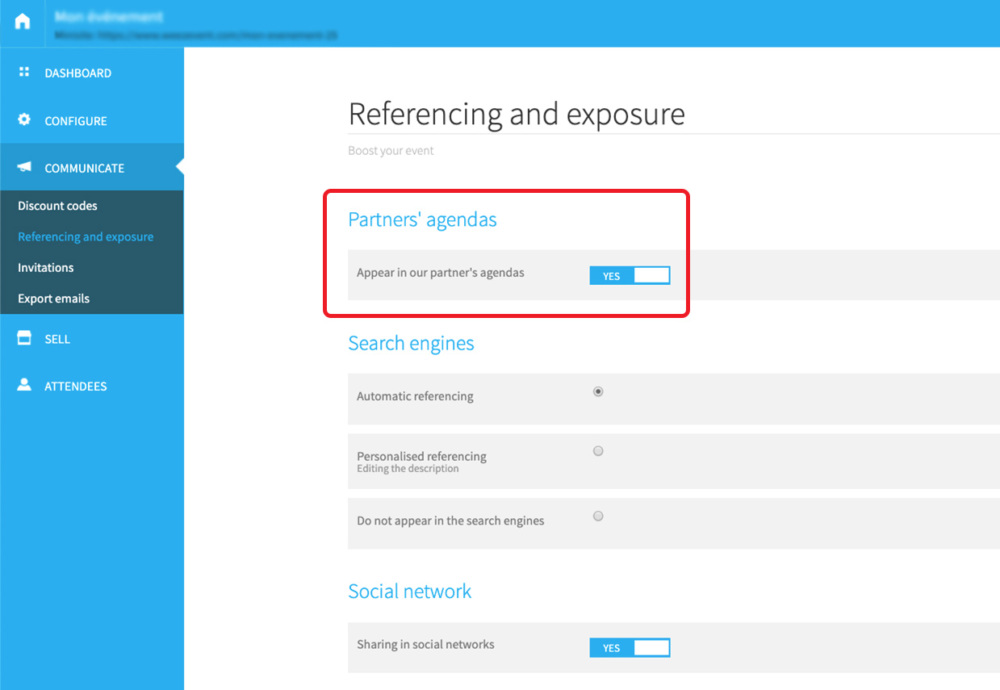 If you wish to learn more about SpotEv, fol­low this link!