Con­tents
---
On 2nd April 2019, the release of tick­ets for Avengers: Endgame in the Unit­ed-King­dom, caused sev­er­al online tick­et plat­forms to fal­ter. Buy­ers were faced with mul­ti­ple types of slow­downs and errors. This kind of high-expec­ta­tion sale hap­pens more and more often. Anoth­er inci­dent hap­pened two month before with the book­ing site of Les Mis­er­ables con­cert — 20,000 fans were try­ing to buy tick­ets at the same time and expe­ri­ence sim­i­lar issues.
1. Online ticketing and queues, when demand exceeds supply
At Weezevent, we are inter­est­ed in cur­rent and future strate­gic issues relat­ed to the sale of high-demand tick­ets, both for event organ­is­ers and pro­duc­ers and for their audi­ence. That's why we devel­op solu­tions to keep our organ­is­ers in con­trol of their events.
This arti­cle is an oppor­tu­ni­ty to share our feed­back, our learn­ings from work­ing with dif­fer­ent organ­is­ers, and the chal­lenges that have led us to be able to offer the fairest queue­ing sys­tem for atten­dees of high-demand events. We'll also share our thoughts on queue­ing mod­els and alter­na­tive solu­tions, in order to cre­ate the best user expe­ri­ence, today and in the future.
1.1 First come, first served… even for an online sale?
Thanks to online tick­et sales, the pur­chase of tick­ets for events no longer has any geo­graph­i­cal bound­aries. Indi­vid­u­als from all over the world can pur­chase the gold­en tick­ets. This cre­ates an explo­sion in demand for the most pop­u­lar events. It is not uncom­mon for demand to be much high­er than sup­ply. In these cas­es, a sys­tem must be able to decide who will have the chance to get tick­ets, and who will have to pass. The chal­lenge then lies in our abil­i­ty to reduce the frus­tra­tion of poten­tial buy­ers who do not obtain the gold­en tick­ets, which will inevitably hap­pen because it is math­e­mat­i­cal­ly impos­si­ble to sat­is­fy a demand greater than the sup­ply. To do this, it is pos­si­ble to sim­u­late the queue­ing sys­tem used when access­ing high-traf­fic events or areas, which is con­sid­ered fair by every­one. This sys­tem has even been the­o­rised by math­e­mati­cians study­ing opti­mal queue man­age­ment.
How­ev­er, sim­u­lat­ing does not mean repeat­ing it in the same way, because when a web­site releas­es tick­ets online, thou­sands of peo­ple log into the same web page with­in min­utes or even sec­onds. The event organ­is­er and tick­et­ing ser­vice provider then face two major chal­lenges. The first is the prob­a­bil­i­ty that the tick­et­ing ser­vice servers will not be able to with­stand the thou­sands of simul­ta­ne­ous con­nec­tions. The sec­ond is the com­plex­i­ty of assess­ing the order of arrival of the thou­sands of inter­net users con­nect­ing to the sales page with­in sec­onds.
Thanks to Hellfest, we were able to mas­ter these prob­a­bil­i­ties to devel­op a reli­able and fair sys­tem for all organ­is­ers and par­tic­i­pants.
1.2 Hellfest, an exciting challenge for our queueing system
Hellfest Fes­ti­val is known around the world both for its artis­tic pro­gram­ming and for the enor­mous expec­ta­tions of its fans when tick­ets go on sale. This is a case study in high-demand events and Weezevent has expe­ri­enced it first-hand by col­lab­o­rat­ing with the fes­ti­val to release tick­ets for its 2019 edi­tion.
The fes­ti­val has sold out tick­ets for the past few years and must live up to its rep­u­ta­tion to sat­is­fy its large fan­base. To facil­i­tate the smooth sale of 50,000 3‑Day pass­es, 30,000 Knot­fest tick­ets and 15,000 1‑Day pass­es, Hellfest chose a sale date for each tick­et type, i.e 10 Octo­ber, 2018, 7 Decem­ber, 2018, and 20 Feb­ru­ary, 2019.
2. Hellfest, a case study with a demand equal to twice the supply
2.1 First sale: holding the load and meeting the organiser's demands
A sys­tem was already in place at Weezevent before the first sale, that of the 3‑day pass­es. We there­fore stud­ied its capac­i­ty to han­dle the num­ber of con­nec­tions using cal­cu­la­tions to assess the system's lim­i­ta­tions — num­ber of machines required, num­ber of simul­ta­ne­ous bank­ing trans­ac­tions allowed, etc. Var­i­ous tests were per­formed under dif­fer­ent sce­nar­ios. First with free tick­ets for a reg­u­lar size event, then it was repeat­ed with an infor­ma­tion col­lec­tion form for Hellfest fes­ti­val.
Then, a real-life case with a com­plete sce­nario was planned in pre-pro­duc­tion with the bank, because the num­ber of simul­ta­ne­ous bank­ing trans­ac­tions requires sig­nif­i­cant resources. Each of the tests was run with sev­er­al sets of val­ues — num­ber of buy­ers and max­i­mum num­ber of peo­ple in the queue. The behav­iour of the infra­struc­ture was observed based on the num­ber of machines ded­i­cat­ed to scal­a­bil­i­ty. The sale of tick­ets with high-wait­ing time can over­load the servers host­ing the pur­chase pages due to the thou­sands of poten­tial buy­ers vis­it­ing them simul­ta­ne­ous­ly. Weezevent wants to keep con­trol of these machines to ensure suc­cess for its organ­is­ers. We there­fore have con­trol over the choice and quan­ti­ty of machines allo­cat­ed to a sale.
For this first sale, vis­i­tors to the Hellfest site queued on our wait­ing screen, with an inter­face and mes­sages designed in Hellfest's brand­ing. For their part, the organ­is­ers could view key per­for­mance indi­ca­tors dur­ing the sale: num­ber of peo­ple on the sales wid­get, num­ber of trans­ac­tions com­plet­ed and in progress. Our devel­op­ment efforts focused on addi­tion­al fea­tures: shut­tles, t‑shirts, refund options. These are increas­ing­ly pop­u­lar because fes­ti­vals — and most oth­er events — no longer sell just a musi­cal show, but an over­all expe­ri­ence and that includes what hap­pens before, dur­ing and after the event. We are increas­ing­ly tak­ing this into account, which has led us to fur­ther improve the cus­tomer expe­ri­ence fol­low­ing this first sale.
The tick­et­ing plat­form sold-out these 50,000 3‑Day pass­es in 10 min­utes. In real­i­ty, the sale last­ed 2 hours because some par­tic­i­pants who had added tick­ets to their bas­ket final­ly can­celled their pur­chase. This allowed said tick­ets to be put back on sale, which result­ed in an exten­sion of the sale. Nev­er­the­less, the max­i­mum rate of 1,200 tick­ets sold per minute shows how effec­tive online sales are com­pared to sales at a phys­i­cal point of sale.
2.2 Second sale: improving the queueing experience
The user expe­ri­ence is our pri­or­i­ty. Noth­ing should be left to chance, espe­cial­ly in the con­text of high­ly antic­i­pat­ed sales, such as Hellfest, where the small­est detail impacts thou­sands of users.

Léa Brochard — Head of Prod­uct at Weezevent
After this first major sale, we pushed the queue­ing sys­tem fur­ther. A reflec­tion was car­ried out on the key infor­ma­tion to be giv­en to buy­ers when wait­ing, to reas­sure them and pre­vent any feel­ing of dis­ap­point­ment. It is very impor­tant to Weezevent that the queue should guar­an­tee to give a good image of the organ­is­er. In just two months, an effi­cient queue­ing sys­tem was devel­oped to max­i­mize the expe­ri­ence of both poten­tial buy­ers and Hellfest organ­is­ers.
This com­plete over­haul of the queue­ing sys­tem made it pos­si­ble to add valu­able indi­ca­tors to the organ­is­ers' man­age­ment inter­face. With a dash­board updat­ed in real time, the organ­is­er can con­trol the sale serene­ly (see screen­shot below):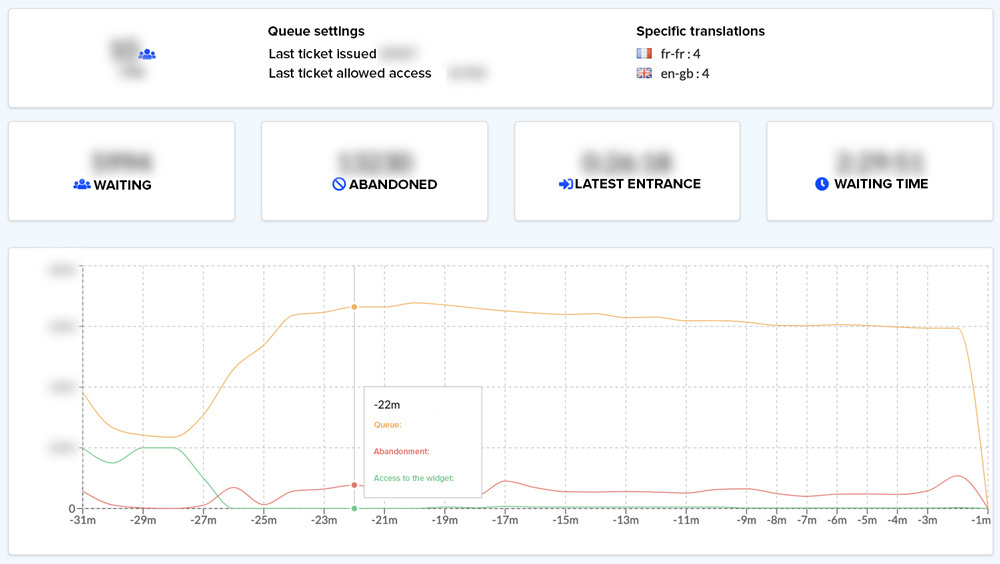 The num­ber of peo­ple allowed to access the sale per minute can be mod­i­fied in real time because it is impor­tant that the organ­is­er is able to adjust the queue­ing pace depend­ing on the progress of the sale and the num­ber of tick­ets still avail­able. In the case of Hellfest, 240 peo­ple accessed the book­ing sys­tem every minute and the infra­struc­ture remained total­ly sta­ble. This lim­it can be great­ly increased but our tests lead us not to exceed a thresh­old of 3,000 peo­ple per minute so as not to risk a slow­down.
As for the web­site itself, the book­ing page can also be mod­i­fied for each organ­is­er: dis­play of the remain­ing time and/or posi­tion in the queue, cus­tom mes­sages, text and back­ground colours in the organ­is­er's brand­ing. For Hellfest, the time lim­it for shop­ping carts, pre­vi­ous­ly set at 8 min­utes, was increased when switch­ing to the "Pay­ment" sec­tion. This reduces the pres­sure felt by vis­i­tors.
As with the first release of tick­ets, the queue was live-test­ed and launched on events of increas­ing size, before being launched on the Knot­fest tick­et­ing plat­form. This made it pos­si­ble to check its prop­er func­tion­ing and iter­ate, if nec­es­sary, before the day.
Out­come of this sale: 30,000 tick­ets sold or added to bas­kets in 10 min­utes. The sale end­ed in 2 hours and 15 min­utes with a max­i­mum rate of 2,100 tick­ets sold per minute, and can­cel­la­tions dur­ing the pur­chase process enabled the most patient buy­ers to be sat­is­fied. As a result, the queue met its objec­tives and pro­vid­ed a seam­less expe­ri­ence for buy­ers and vis­i­tors to the book­ing and pay­ment page. In addi­tion, real-time mon­i­tor­ing and con­trol by our team and the Hellfest team was made eas­i­er by the ded­i­cat­ed back office page (screen­shot above).
2.3 Third sale: validating the technical nonevent
Upon the release of tick­ets, our queue­ing sys­tem is able to han­dle sev­er­al thou­sand requests by answer­ing them in less than 10 mil­lisec­onds. We are proud of this per­for­mance and own­ing this tech­nol­o­gy allows us to see inter­est­ing devel­op­ments to fur­ther improve the par­tic­i­pan­t's buy­ing expe­ri­ence.

Matthieu Guf­froy — Chief Tech­ni­cal Offi­cer at Weezevent
The last sale for the Hellfest fes­ti­val was for 1‑Day pass­es. The objec­tive was to val­i­date our queue­ing sys­tem and to make this sale a tech­ni­cal non­event, i.e. ensur­ing that it would become a for­mal­i­ty for our organ­is­ers and teams. Lever­ag­ing the expe­ri­ence of the first two sales, the objec­tive was achieved because all Fri­day, Sat­ur­day and Sun­day pass­es were sold with­in 1 hour for the Sat­ur­day pass­es and 1.5 hrs for the Fri­day and Sun­day pass­es.
This third sale allowed us to iden­ti­fy new areas for improve­ment, espe­cial­ly at the end of the sale. Indeed, when few tick­ets are still avail­able, two user behav­iours slow down the end of the sale:
Peo­ple who have opened sev­er­al tabs in the queue and leave them open once their pur­chase is val­i­dat­ed, and thus remain unnec­es­sar­i­ly in the queue;
Poten­tial buy­ers still in the queue although the tick­ets they are inter­est­ed in are no longer avail­able — for exam­ple, the buy­er only wants a Sat­ur­day tick­et and there are only Fri­day tick­ets left.
Our teams, in col­lab­o­ra­tion with event organ­is­ers, are there­fore work­ing on pro­vid­ing infor­ma­tion to poten­tial buy­ers, to make them aware of best prac­tices when sell­ing on this scale.
2.4 An experience that benefits all our customers today
Our phi­los­o­phy — to make prod­ucts that suit organ­is­ers of all indus­tries and sizes — has led us to make our queue­ing set­tings avail­able to every­one. We have also cre­at­ed guide­lines and per­son­alised sup­port for our organ­is­ers who are like­ly to face these chal­lenges. Prepa­ra­tion ahead of time, fol­low-up dur­ing the sale, and post-event assess­ment are essen­tial to make your next tick­et sale and sub­se­quent ones a suc­cess.
The queue­ing sys­tem has been made avail­able to all our cus­tomers since the end of Novem­ber in order to align with Weezevent's DNA — that each organ­is­er ben­e­fits from the same fea­tures. This sys­tem ensures that the queue is auto­mat­i­cal­ly trig­gered for all our organ­is­ers above a cer­tain thresh­old. The lat­est case was Track­ma­nia Cup 2019 organ­ised by Zer­a­toR, an influ­encer in the gam­ing world with 600,000 sub­scribers on YouTube. The 7,700 tick­ets for the event were sold out in a few hours, with­out over­load­ing our infra­struc­ture, because our queue­ing sys­tem was trig­gered. The lat­ter is thus able to meet the needs of both large and small organ­is­ers and pro­tects their events and our sys­tem from over­load.

🇬🇧 Eng­lish trans­la­tion: "All tick­ets for the show at the Zenith in Stras­bourg, France are now sold out. You will be more than 7,700 to attend…Amazing. Thank you for your trust, the place will be on fire! ❤️ 🔥 🏎🏎"
The sys­tem gives an instruc­tion before the start of the sale to have the page dis­play a count­down. This set-up works in the back­ground — with­out adding machines — with more than 30,000 requests per minute and an aver­age response time below 10ms. An auto-scal­ing sys­tem allows, if nec­es­sary, to be able to han­dle more than 150,000 requests per minute.
When releas­ing tick­ets, this queue­ing sys­tem dis­trib­utes num­bered tick­ets in the order of arrival of vis­i­tors and allows peo­ple to go through the shop­ping fun­nel at a set rate — by default 240 peo­ple per minute. We can increase this set­ting by plan­ning the addi­tion of machines to the tick­et­ing sys­tem. Based on our expe­ri­ence and exten­sive test­ing, we decid­ed to restrict the flow to a max­i­mum of 3,000 peo­ple per minute.
Ask our team for their opin­ion
3. Towards the end of the queue?
3.1 Alternatives to queueing
Not being the only ser­vice provider affect­ed by the chal­lenges of high-demand sales, we have reflect­ed on what a fair sale is. Should it work on a "first come first served" basis? Should it be based on com­plete fair­ness by per­form­ing a draw? Weezevent wants to offer options to its organ­is­ers, because there are sev­er­al ways to sell dif­fer­ent­ly.
Our obser­va­tions showed that Hellfest par­tic­i­pants had placed tick­ets in their bas­kets so quick­ly that they were no longer avail­able for sale after only a few min­utes. It there­fore seems essen­tial to con­sid­er the val­ue of a queue in its cur­rent form. For exam­ple, it would be appro­pri­ate to trig­ger the queue only for par­tic­i­pants who were unable to add tick­ets to their bas­ket dur­ing these few min­utes. They would then queue to pick up tick­ets from par­tic­i­pants who have can­celled their pur­chase after adding tick­ets to their shop­ping cart.
The draw is anoth­er option that's reg­u­lar­ly used for inter­na­tion­al events such as the Olympics. The sys­tem is accept­ed by peo­ple wish­ing to buy tick­ets because it is fair and quick­ly under­stand­able: the poten­tial buy­er books their tick­et by giv­ing their bank details; if s/he is not select­ed, the organ­is­er refunds the amount drawn. Con­vinced that this sys­tem alle­vi­ates the frus­tra­tion felt by poten­tial buy­ers, we will soon put it in place when a fes­ti­val with an audi­ence of tens of thou­sands releas­es its tick­ets. It is also a way for organ­is­ers to col­lect email address­es and oth­er data on their poten­tial audi­ence, with their con­sent and in a ful­ly GDPR-com­pat­i­ble man­ner.
3.2 Whatever the solution, the effort is in communication
To date, the queue is no longer a tech­ni­cal issue for us and our organ­is­ers. The expe­ri­ences described above have enabled us to achieve a very good lev­el of per­for­mance. How­ev­er, this sys­tem, although fair, still has a mixed image among par­tic­i­pants. The chal­lenge of a suc­cess­ful queue­ing sys­tem today lies in the com­mu­ni­ca­tion around it. It is essen­tial to edu­cate par­tic­i­pants, so one of our cur­rent pri­or­i­ties is to post an explana­to­ry note for peo­ple queue­ing, or using its future alter­na­tive solu­tion, that will ease the ten­sions that these sys­tems can gen­er­ate. Infor­ma­tion about their posi­tion in the queue in real time, an easy-to-under­stand expla­na­tion of the tech behind the sys­tem and lis­ten­ing to the audi­ence are among the pri­or­i­ties. In fact, many of the solu­tions con­sid­ered to improve queue­ing sys­tems come from the feed­back of fes­ti­val­go­ers who par­tic­i­pat­ed in these tick­et sales — real enthu­si­asts who are will­ing to give us and the event organ­is­ers a lit­tle bit of their time.
In order to pre­vent frus­tra­tions, we are also con­sid­er­ing what actions to sug­gest to peo­ple who have not been able to buy tick­ets when sup­ply is low­er than demand. Should organ­is­ers auto­mat­i­cal­ly add them to a queue for tick­et re-sales? Should they offer them to sub­scribe to a newslet­ter to be informed of a forth­com­ing sale? The pos­si­bil­i­ties are end­less.
3.3 The queue — a marketing tool at the expense of participants?
Organ­is­ing an event and sell­ing tick­ets for it should mean as few frus­tra­tions and con­straints for par­tic­i­pants as pos­si­ble, because with­out them noth­ing would be pos­si­ble. How­ev­er, some play­ers do not hes­i­tate to use queues pure­ly for com­mer­cial pur­pos­es. Apple, Aber­crom­bie, and oth­ers man­age, for exam­ple, to make their long queues break records and give them free pub­lic­i­ty — at the expense of their most loy­al cus­tomers.
Some play­ers even go so far as to dis­play ques­tion­able infor­ma­tion such as "x peo­ple added this tick­et to their shop­ping cart", in order to encour­age impulse buy­ing. We even observed with our tick­et­ing plat­form, organ­is­ers delib­er­ate­ly caus­ing bugs to make the pub­lic believe that the event is extreme­ly pop­u­lar.
Last point — the sus­pi­cion around resellers who buy tick­ets in bulk using com­put­er pro­grams — i.e. bots — to then sell them at high­er prices. It does not ease the pres­sure felt by all those involved in sell­ing high-demand tick­ets. How­ev­er, our obser­va­tions dur­ing the sale of Hellfest tick­ets showed that this prac­tice was total­ly absent.
To con­clude this series of three arti­cles, remem­ber that it is in the inter­est of all those involved in high-demand sales to reflect on how to con­tin­u­ous­ly improve the sys­tem in place. The cus­tomer expe­ri­ence must be at the heart of deci­sion-mak­ing. If the issues raised through­out these arti­cles are part of your dai­ly life, we would be hap­py to lis­ten to you and dis­cuss them with you, so that you can be in con­trol when you release your high-demand tick­ets: