Every­one at Weezevent was delight­ed to see that sum­mer 2021 marked by the return of events in France and around the world.
Our teams sup­port­ed more than 70 events on the ground in 7 dif­fer­ent coun­tries and our tech­nol­o­gy ensured the best pos­si­ble expe­ri­ence for organ­is­ers and atten­dees alike.
Dis­cov­er a selec­tion of events which Weezevent sup­port­ed with our exper­tise and tech­ni­cal solutions.
Carefully managed return of French events

Delta Festival
The music, sports and art fes­ti­val took place in Mar­seille and was one of the high­lights of the French fes­ti­val scene this summer.
A total of 85,000 peo­ple attend­ed the beach fes­ti­val which imple­ment­ed Weez­Pay cash­less pay­ments at its 42 bars and food stands. 98 WeezA­c­cess ter­mi­nals were deployed for access con­trol and check­ing Covid passes.
Festival Interceltique de Lorient
The Fes­ti­val Inter­cel­tique de Lori­ent is anoth­er impor­tant fes­ti­val in the French mar­ket. It cel­e­brat­ed its 50th edi­tion in 2021 and pro­vid­ed a meet­ing point for the cul­ture, music and tra­di­tions of the Celtic coun­tries and regions.
The fes­ti­val chose Weezevent to han­dle online tick­et­ing, access con­trol and cash­less pay­ments, cen­tral­is­ing these inter­con­nect­ed ser­vices with a trust­ed partner.
The return of festivals in the United Kingdom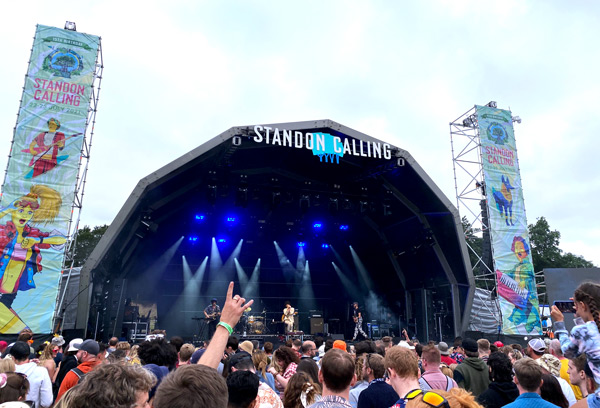 Standon Calling
Stan­don Call­ing made a tri­umphant return in July with Weezevent at its side as a sup­pli­er of cash­less pay­ments, access con­trol and tick­et­ing technologies.
The 4‑day event broke its own record by min­imis­ing the use of cash at the fes­ti­val and max­imis­ing the num­ber of online top-ups. We are proud to announce that Stan­don Call­ing has decid­ed to extend its part­ner­ship with Weezevent for 3 more editions.
Lakefest
Locat­ed in the heart of the Malvern Val­ley in the majes­tic park of East­nor Cas­tle, Lake­fest returned with huge momen­tum in sum­mer 2021 with increased capac­i­ty and an extra day. This was the sec­ond time the fes­ti­val had imple­ment­ed cash­less pay­ments with Weezevent, allow­ing it to increase onsite spend­ing by 50%.
80% of atten­dees chose to top up online rather than at the festival's phys­i­cal banks, thanks to a fric­tion­less online cus­tomer path. This helped to pre­vent queues at bars, food stands and top-up points, reduc­ing top-ups in cash to just 3%. After the suc­cess of the first cash­less edi­tion in 2019, this cash­less part­ner­ship has been extend­ed for anoth­er 3 editions.
The merger of Weezevent and Playpass for Spanish events

Cruïlla Festival
Cruïl­la Fes­ti­val wel­comed 25,000 atten­dees in July and saw the recent merg­er of Weezevent and Play­Pass mate­ri­alised on the ground with a tech­no­log­i­cal col­lab­o­ra­tion for the first major music event with no lim­its on move­ment or phys­i­cal dis­tanc­ing — although with manda­to­ry FFP2 masks in place.
Our solu­tions made it pos­si­ble to man­age the strict safe­ty pro­to­col that were imple­ment­ed to con­trol the results of anti­gen tests (car­ried out every day at the fes­ti­val by the firm Aina) and access rights, and cre­ate an envi­ron­ment with 100% cash­less pay­ments in order to min­imise con­tact and offer a unique expe­ri­ence to all festivalgoers.
O Son Do Camiño — 'Perséides' concert series
The O Son Do Camiño fes­ti­val had to be post­poned to 2022 but the music returned to Monte do Gozo in San­ti­a­go de Com­postela in the form of a con­cert series: O Son Do Camiño — Per­séides. The co-pro­duc­tion between Esmer­arte and Bring the Noise was one of the country's major cul­tur­al attrac­tions dur­ing sum­mer 2021, con­tribut­ing to the revi­tal­i­sa­tion of tourism and culture.
The 10 con­certs, divid­ed into 5 zones with cor­re­spond­ing access points, attract­ed a total of 35,000 spec­ta­tors who were able to access the venue in an order­ly fash­ion by pre­sent­ing their tick­ets obtained through WeezTick­et and scanned by 20 of our WeezA­c­cess pro­fes­sion­al access con­trol terminals.
From the Swiss mountains to the Canadian plains …
Cirque au Sommet
Cirque au Som­met, a con­tem­po­rary cir­cus fes­ti­val in the heart of the Swiss Alps, brought togeth­er more than 9,000 peo­ple for a 2021 edi­tion marked by restric­tions linked to Covid-19. Despite this, the fes­ti­val has become an essen­tial event at the Euro­pean lev­el. Thanks to the WeezTick­et and WeezA­c­cess solu­tions the event was able to sim­pli­fy its online tick­et sales and access con­trol management.
Lausanne Sport
Weezevent's flag­ship solu­tions (tick­et­ing, access con­trol and cash­less tick­et­ing) were put to use dur­ing the first pub­licly attend­ed match­es of the Swiss foot­ball team Lau­sanne Sport at their new home, the Stade de la Tuil­lière. The 12,000 capac­i­ty sta­di­um will also be host to sem­i­nars, con­fer­ences, exhi­bi­tions and con­certs going forward.
Expo Agricole de Saint-Hyacinthe (agricultural exhibition)
The Expo Agri­cole de Saint-Hyacinthe (Que­bec, Cana­da) is the largest agri­cul­tur­al fes­ti­val in the region and has been around for 180 years! It's Quebec's largest sum­mer event and is ide­al for fam­i­lies. The fes­ti­val boasts some impres­sive num­bers; more than 1,600 ani­mals, 50 attrac­tions and inflat­able games, activ­i­ties and shows, live music, farm ani­mal com­pe­ti­tions, a rodeo, a demo­li­tion der­by, a horse-drawn car­riage com­pe­ti­tion, trac­tor pulling, dog and horse com­pe­ti­tions, a mini-farm … and much more!
With 20,000 atten­dees over 4 days, the organ­is­ers were able to man­age tick­et sales online and on site thanks to WeezTick­et. Despite there being 73 price cat­e­gories cre­at­ed to man­age dif­fer­ent activ­i­ties (e.g. shows, races) our agile and prac­ti­cal solu­tion allowed the organ­is­er to con­nect with cer­tain part­ners via API. The 16 access con­trol ter­mi­nals and 2 phys­i­cal box offices deployed for the event enabled opti­mal on-site man­age­ment for all concerned.
Our solu­tions have also been deployed in oth­er coun­tries, includ­ing Bel­gium and Ger­many with events such as Kamp­ing Kitsch, Cram­me­rock, Nation of Gomwana … and many others!
Join those who already trust us.