Everyone at Weezevent was delighted to see that summer 2021 marked by the return of events in France and around the world.
Our teams supported more than 70 events on the ground in 7 different countries and our technology ensured the best possible experience for organisers and attendees alike.
Discover a selection of events which Weezevent supported with our expertise and technical solutions.
Carefully managed return of French events

Delta Festival
The music, sports and art festival took place in Marseille and was one of the highlights of the French festival scene this summer.
A total of 85,000 people attended the beach festival which implemented WeezPay cashless payments at its 42 bars and food stands. 98 WeezAccess terminals were deployed for access control and checking Covid passes.
Festival Interceltique de Lorient
The Festival Interceltique de Lorient is another important festival in the French market. It celebrated its 50th edition in 2021 and provided a meeting point for the culture, music and traditions of the Celtic countries and regions.
The festival chose Weezevent to handle online ticketing, access control and cashless payments, centralising these interconnected services with a trusted partner.
The return of festivals in the United Kingdom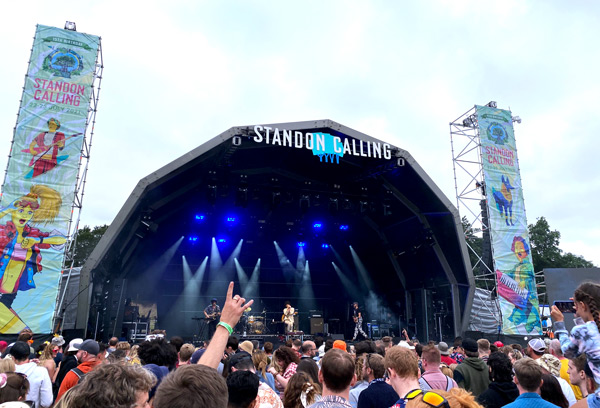 Standon Calling
Standon Calling made a triumphant return in July with Weezevent at its side as a supplier of cashless payments, access control and ticketing technologies.
The 4-day event broke its own record by minimising the use of cash at the festival and maximising the number of online top-ups. We are proud to announce that Standon Calling has decided to extend its partnership with Weezevent for 3 more editions.
Lakefest
Located in the heart of the Malvern Valley in the majestic park of Eastnor Castle, Lakefest returned with huge momentum in summer 2021 with increased capacity and an extra day. This was the second time the festival had implemented cashless payments with Weezevent, allowing it to increase onsite spending by 50%.
80% of attendees chose to top up online rather than at the festival's physical banks, thanks to a frictionless online customer path. This helped to prevent queues at bars, food stands and top-up points, reducing top-ups in cash to just 3%. After the success of the first cashless edition in 2019, this cashless partnership has been extended for another 3 editions.
The merger of Weezevent and Playpass for Spanish events

Cruïlla Festival
Cruïlla Festival welcomed 25,000 attendees in July and saw the recent merger of Weezevent and PlayPass materialised on the ground with a technological collaboration for the first major music event with no limits on movement or physical distancing – although with mandatory FFP2 masks in place.
Our solutions made it possible to manage the strict safety protocol that were implemented to control the results of antigen tests (carried out every day at the festival by the firm Aina) and access rights, and create an environment with 100% cashless payments in order to minimise contact and offer a unique experience to all festivalgoers.
O Son Do Camiño – 'Perséides' concert series
The O Son Do Camiño festival had to be postponed to 2022 but the music returned to Monte do Gozo in Santiago de Compostela in the form of a concert series: O Son Do Camiño – Perséides. The co-production between Esmerarte and Bring the Noise was one of the country's major cultural attractions during summer 2021, contributing to the revitalisation of tourism and culture.
The 10 concerts, divided into 5 zones with corresponding access points, attracted a total of 35,000 spectators who were able to access the venue in an orderly fashion by presenting their tickets obtained through WeezTicket and scanned by 20 of our WeezAccess professional access control terminals.
From the Swiss mountains to the Canadian plains …
Cirque au Sommet
Cirque au Sommet, a contemporary circus festival in the heart of the Swiss Alps, brought together more than 9,000 people for a 2021 edition marked by restrictions linked to Covid-19. Despite this, the festival has become an essential event at the European level. Thanks to the WeezTicket and WeezAccess solutions the event was able to simplify its online ticket sales and access control management.
Lausanne Sport
Weezevent's flagship solutions (ticketing, access control and cashless ticketing) were put to use during the first publicly attended matches of the Swiss football team Lausanne Sport at their new home, the Stade de la Tuillière. The 12,000 capacity stadium will also be host to seminars, conferences, exhibitions and concerts going forward.
Expo Agricole de Saint-Hyacinthe (agricultural exhibition)
The Expo Agricole de Saint-Hyacinthe (Quebec, Canada) is the largest agricultural festival in the region and has been around for 180 years! It's Quebec's largest summer event and is ideal for families. The festival boasts some impressive numbers; more than 1,600 animals, 50 attractions and inflatable games, activities and shows, live music, farm animal competitions, a rodeo, a demolition derby, a horse-drawn carriage competition, tractor pulling, dog and horse competitions, a mini-farm … and much more!
With 20,000 attendees over 4 days, the organisers were able to manage ticket sales online and on site thanks to WeezTicket. Despite there being 73 price categories created to manage different activities (e.g. shows, races) our agile and practical solution allowed the organiser to connect with certain partners via API. The 16 access control terminals and 2 physical box offices deployed for the event enabled optimal on-site management for all concerned.
Our solutions have also been deployed in other countries, including Belgium and Germany with events such as Kamping Kitsch, Crammerock, Nation of Gomwana … and many others!
Join those who already trust us.