You are probably asking yourself whether you need an internet connection or not to check guests in and control the access, or to sell tickets at the door. Find below how Weezevent answers your concerns with its all-in-one solution.
What can I do without Internet connection ?
Guest check-in and access control :
Paper list­ing edit­ed by Weezevent : you have a per­ma­nent access to your guest lists, you can down­load and print it by last name, first name, tick­et no. or by type of tick­ets. This list comes with a box easy to check. In order to down­load this list, con­nect your­self to > Access Con­trol > Access Con­trol Lists > BUTTON "Down­load this list in PDF con­trol for­mat.
Using your iPhone, iPad or iPod togeth­er with WeezA­c­cess app : turn one or sev­er­al of these devices into a mobile box office with our WeezA­c­cess free app and man­age your atten­dees with­out inter­net con­nec­tion. How­ev­er, be sure to upload via an inter­net con­nec­tion the rel­e­vant Access Con­trol list, if you don't want to be blocked once on your event site. Once this data­base saved on your device, you get access with­out using inter­net, so there will be no updat­ing and no real-time sales track­ing. Fur­ther­more, when using many devices that don't talk to each oth­er, the same ticket/bar code could be scanned more than one time. That kind of sce­nario can lead to fraud. After the event, the device can be syn­chro­nized to get local­ly stored data on each device and then go online to get the list of present par­tic­i­pants (a « val­i­dat­ed » col­umn can be found in the export of the atten­dance list).
Rent pro­fes­sion­al scan­ners via Weezevent : you don't own an iPhone, iPod or iPad or for com­fort and per­for­mance rea­sons, Weezevent can rent you some iPods equipped with a pro­fes­sion­al bar code read­er (WeezA­c­cessPro). As those devices use the WeezA­c­cess free appli­ca­tion, they don't require an inter­net con­nec­tion (please read the above para­graph to learn about this mat­ter).
Sell tickets at the door :
By print­ing tick­et stock via Weezevent : if the event is not sold out, you may want to print a tick­et stock of each tick­et type avail­able. Use this func­tion called « Stock print­ing » (menu Sell > Stock print­ing) to gen­er­ate one or sev­er­al PDF con­tain­ing one tick­et per page, ready to be print­ed using any com­mon print­er. Be care­ful ; pro­ceed to this edit­ing before upload­ing your access con­trol list if you want those tick­ets to be scannable. And you won't receive any com­mis­sion ! If you are equipped with a ther­mal print­er com­pat­i­ble with our ser­vice, use it to print these tick­ets. If you want to bal­ance once the event is closed, think about delet­ing your unsold tick­ets from the Atten­dance List.
By print­ing tick­ets via a com­mer­cial print­er: if you want a high qual­i­ty prod­uct or because it's more con­ve­nient, you may ask a pro­fes­sion­al to print per­fo­rat­ed tick­ets. Though this is not a require­ment, but if you want to scan those tick­ets, don't for­get to import from Weezevent (menu Sell > Dis­trib­u­tors > Import dis­trib­u­tors > oth­er)the bar code series gen­er­at­ed by the print­er.
What can be performed with an Internet connection ?

Access control :
Using your iPhone, iPad or iPod togeth­er with WeezA­c­cess app or with our WeezA­c­cessPro : you keep track in real-time of the num­ber of atten­dees who were scanned or expect­ed to attend, about the fill­ing up rate, or to check if Mr.Dupont was admit­ted to the event. Wher­ev­er you are on the site of your event, the con­nec­tion gives you a direct access to all those pre­cious data. It becomes easy to install sev­er­al Access con­trol points as the bar code read­ers are per­ma­nent­ly linked through the Wi-Fi net­work. And you will under­stand that as those devices are syn­chro­nized, it makes fraud impos­si­ble. You also get a quick overview of the lev­el of atten­dance (don't have to add each scan­ner timer). Anoth­er impor­tant advan­tage is that on-line and on-site sales can be let open if your event is not sold out.
- You face a Wi-Fi fail­ure dur­ing your con­trol ?
No prob­lem ! Our asyn­chro­nous scan­ners will stay oper­a­tional no mat­ter what ! They will resyn­chro­nize once Wi-Fi will be back !
Through my Weezevent inter­face on my PC or Mac :if you don't have any scan­ner, you can use the Weezevent inter­face to val­i­date direct­ly atten­dees ! Pro­ceed to your event man­age­ment and then the « tool box » icon at the top right of the screen => Access Con­trol => Access Con­trol Lists => But­ton « See atten­dees of the Access Con­trol List » => Val­i­date. You can search by last name, first name, bar codes or tick­et no.
Sell tickets at the door :
Use Weezevent tick­et office : when you have a sta­ble con­nec­tion to the inter­net, the best way to sell tick­ets at the door is to use our tick­et office because it is direct­ly linked to your Weezevent account, and update in real-time all your entries. Also, the sold tick­ets are imme­di­ate­ly scanned. In case of theft of blank tick­ets, those can­not be scanned at the ter­mi­nal con­trary to pre-print­ed tick­ets.
Good practices and tips
Back-up solu­tion : if you depend on inter­net for your point of sales, if you use Weezevent tick­et office par­tic­u­lar­ly, think about hav­ing a 3G/4G USB key to be used as a tem­po­rary back-up. Be aware that this method can be quite unsta­ble because it depends on the cell net­work of each user (Orange,Rogers, Bell) and con­se­quent­ly con­sid­er it only as a back-up option ! (Con­tact us) By default, you can print a stock of tick­ets to be used in case of fail­ure of your online ser­vice.
For large events : hire a local com­pa­ny spe­cial­ized in pro­vid­ing inter­net net­work on the site.
Check­ing your instal­la­tion : if you have any doubts con­cern­ing your instal­la­tion, don't hes­i­tate to ask us what we think about it, we will ask you the right ques­tions !
A Weezevent tech­ni­cian by your side : if you want to be sure every­thing goes smooth­ly and to be sup­port­ed with team train­ing, orga­ni­za­tion and dis­patch­ing … you can order one of our tech­ni­cal experts accord­ing to a dai­ly wage of 400$ (trans­port and cater­ing at the expense of the orga­niz­er).
In case of emer­gency : if you own a smart­phone, use its shar­ing con­nec­tion (depends on the cel­lu­lar net­work and the bat­tery runs down quick­ly) to con­nect tem­porar­i­ly your devices.
Tech­ni­cal sup­port : if you meet dif­fi­cul­ties dur­ing your oper­a­tion, call us at (01 85 07 75 75) dur­ing busi­ness hours or call the tech­ni­cian on duty (01 85 07 75 76) reserved to orga­niz­ers on week-end and evenings after 7 p.m.
In sum­ma­ry :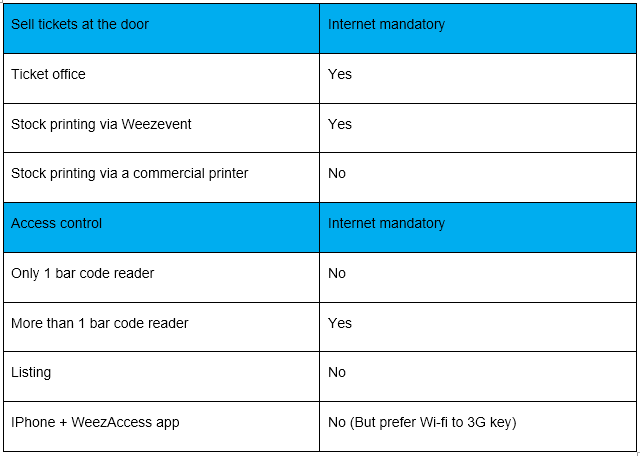 __________________________
If you want to learn more about spe­cif­ic tech­ni­cal inter­net fea­tures, go to our tech­ni­cal sup­port sec­tion.
The dif­fer­ent con­trol solu­tions are briefly described in your orga­niz­er inter­face, go to Access Con­trol > Con­trol solu­tions.
Ready to organ­ise your event? Start now with Weezevent: